The Ethics of Citizenship in the Trump Era
Abstract
What does it mean to be an American citizen in the Trump era? What vision of citizenship is the Trump Administration modeling, celebrating, and codifying? And what vision of citizenship is Trump inspiring or strengthening among those who resist his vision? At the final Boisi Center lunch colloquium of the year, Owens will discuss alternative visions of good citizenship, and the religious and moral resources we can bring to bear upon them.
Erik Owens is interim director of the Boisi Center and associate professor of the practice in theology and international studies at Boston College. His research explores a variety of intersections between religion and public life, with particular attention to the challenge of fostering the common good of a religiously diverse society. His interdisciplinary scholarship bridges the fields of theological ethics, political philosophy, law, education, international studies, and public policy.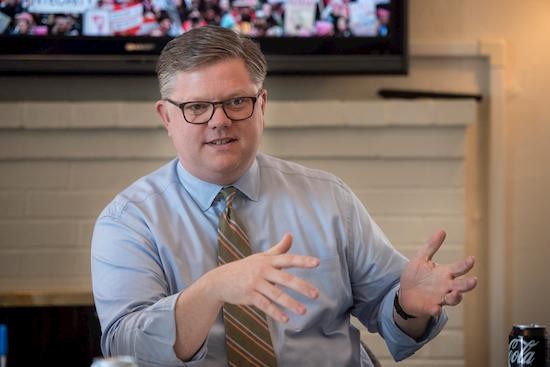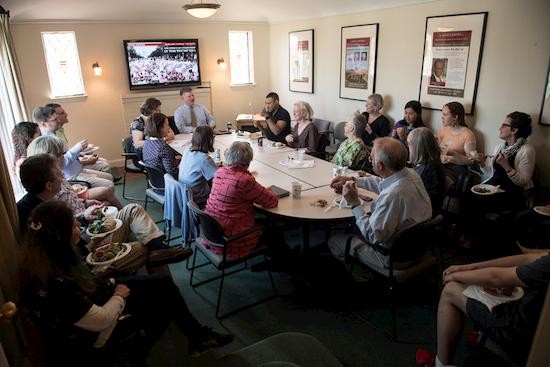 Event Recap
At our final lunch colloquium of the year, Boisi Center interim director Erik Owens spoke about the oppositional politics at the center of the new ethics of citizenship in the Trump era. Owens sketched two prevailing visions of citizenship that derive from liberal and civic republican political traditions, noting the inclinations of the latter toward protecting individual rights, and the former toward fostering collective self-government.
He argued that President Trump is promoting, implicitly and explicitly, an exclusive vision of citizenship driven by the binaries of trust/fear, popular/elite, chaos/control, patriotism/globalism, and that "America First" is a rejection of so-called "global citizenship" that frequently animates conversations work for human rights. Some of the most popular responses to Trump's civic vision have been satirical or  despairing, and some resistance movements have failed to offer any constructive vision. Owens argued that we ought to nourish the latent strain in oppositional politics that offers a more generative vision of human flourishing and inter-relationality, through conceptions of solidarity and the common good.
The ensuing discussion considered voting, impediments to the common good, political compromise, and the limits of "global citizenship."
Read More
Local News
Callahan, Molly. "Professor: Polarizing politics prompts 'louder and more frequent calls to action.'" http://news.northeastern.edu/2017/02/expert-polarizing-politics-prompts-louder-and-more-frequent-calls-for-political-action/
McLaughlin, Nina. "Porter Square Books Promotes Civic-Engagement in Trump Era." https://www.bostonglobe.com/arts/books/2017/03/02/porter-square-books-promotes-civic-engagement-trump-era/tMClyD3MwqXnFj9u3UzSdK/story.htmlOn the Jesuit Missionaries
Yu, Doris. "Silence": The True Story of the Jesuits in Japan. www.jesuits.org/story?TN=PROJECT-20161220114257
National News
Dionne, E.J. "In Today's Troubling Times, Where are Our Faith Leaders?" Washington Post 8.24.2016
Galston, William, and William Kristol. "A New Center," Weekly Standard and Brookings Report, 11.29.2016.
Haglund, David. "Evan McMullin Is Trying to Save Democracy." http://www.newyorker.com/culture/persons-of-interest/evan-mcmullins-quest-to-save-democracy
Harris, Elizabeth. "The Snapchat Cohort Gets Into Politics, and Civics Is Cool." https://www.nytimes.com/2017/02/14/nyregion/social-media-schools-politics-civics.html?_r=2
Ignatieff, Michael. "The Myth of Citizenship," in Ronald Beiner, ed., Theorizing Citizenship (SUNY, 1995)
Levin, Yuval. "Taking the Long Way: Disciplines of the Soul are the Basis of a Liberal Society" First Things, October 2014.

Levine, Judith. "The Bartleby Strategy," Boston Review, 2.1.2017
McNeill, Erin. "Trump Inspires Civic Engagement, Media Literacy Shows the Way." https://medium.com/@erinmcnll/trump-is-helping-america-reach-our-full-potential-as-a-model-of-democracy-4fddd09578f3#.fcyc1funp
Rosenberg, Alyssa. "Calling Basic Civics 'Resistance' Will Only Make It Harder to Stand Up to Trump." https://www.washingtonpost.com/news/act-four/wp/2017/01/27/calling-basic-civics-resistance-will-only-make-it-harder-to-stand-up-to-trump/?utm_term=.c3e1eaa3de8e
Rothman, Joshua. "How to Restore Your Faith in Democracy," New Yorker 11.11.2016

Schmitt, Mark. "Congress has a Responsibility to Engage with Constituents." http://www.vox.com/polyarchy/2017/2/10/14569306/congress-shut-off-phones
Books
Barrett, Martyn D., and Bruna Zani, eds. Political and Civic Engagement: Multidisciplinary Perspectives. London: Routledge, 2015.
Bretherton, Luke. Resurrecting Democracy. Cambridge: CUP 2015.

Callan, Eamonn. Creating Citizens: Political Education and Liberal Democracy. Oxford, 1997.
Dreher, Rod. The Benedict Option: A Strategy for Christians in a Post-Christian Nation. Sentinel Press, 2017
Gorski, Phillip. American Covenant: A History of Civil Religion from the Puritans to the Present. New Haven: Yale, 201.
Gregory, Eric Politics and the Order of Love: An Augustinian Ethic of Democratic Citizenship. Chicago: Chicago University Press, 2008.
Kaveny, Cathleen. Prophesy without Contempt: Religious Discourse in the Public Square. Cambridge, MA: Harvard, 2016.

Levinson, Meira. No Citizen Left Behind. Cambridge, MA: Harvard, 2012.
Macedo, Stephen Diversity and Distrust: Civic Education in a Multicultural Democracy. Cambridge, MA: Harvard, 2000.
Nussbaum et al., Martha. For Love of Country: Debating the Limits of Patriotism. Beacon, 1996.

Mathewes, Charles The Republic of Grace: Augustinian Thoughts for Dark Times. Grand Rapids, MI: Eerdmans, 2010. 
Owens, Erik. (Edited, with John Carlson and Eric Elshtain.) Religion and the Death Penalty: A Call for Reckoning. Grand Rapids, MI: Eerdmans Publishing Co., 2004.
Owens, Erik. (Edited, with John Carlson.)The Sacred and the Sovereign: Religion and International Politics. Washington DC: Georgetown University Press, 2003.
Ravitch, Diane and Joseph P. Viteritti, eds., Making Good Citizens: Education and Civil Society. Yale 2003.
Rosenblum, Nancy L., ed., Obligations of Citizenship and Demands of Faith: Religious Accommodation in Pluralist Democracies (Princeton 2000)