An American Conscience: The Reinhold Niebuhr Story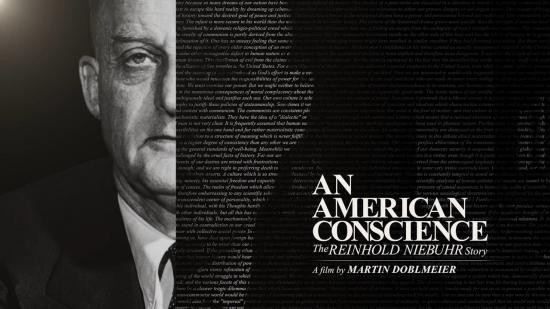 Film Screening and Panel Discussion
Featuring filmmaker Martin Doblmeier and scholars Lisa Sowle Cahill, Andrew Finstuen, Mark Massa, S.J., Jeremy Sabella, and Erik Owens.
Date: February 1, 2017

Co-sponsored with the Theology Department and the History Department.

Abstract
This film offers a comprehensive treatment of the life and thought of one of America's most important public intellectuals and ethicists, Reinhold Niebuhr. Guided by acclaimed filmmaker Martin Doblmeier and the best Niebuhr scholars in the world, the film foregrounds Niebuhr as an ethical source for resistance to the Nazis (Dietrich Bonhoeffer studied with Niebuhr), promotion of civil rights (Martin Luther King, Jr. credits Niebuhr in "Letter from Birmingham City Jail"), advocacy for Democratic organization, stimulus for cold war foreign policy, and inspiration to Alcoholics Anonymous (Niebuhr authored the Serenity Prayer). Doblmeier will weave these threads together in "real time" with the effect of introducing Americans to one of the most pivotal American figures they never knew.
This film promises renewed ethical consideration of the American experiment. It shows how Niebuhr became a voice of conscience amid depression, war, and racism. The film also charts his endurance as an ethical touchstone for contemporary economic, racial, and global challenges.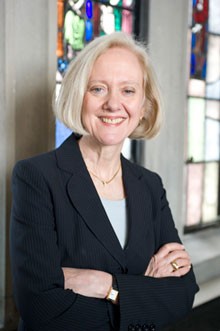 Lisa Sowle Cahill is the J. Donald Monan professor of theology at Boston College. Cahill has taught at Boston College since 1976 and has also been a visiting professor at Georgetown and Yale Universities. She received her Ph.D. from the University of Chicago, and is a past president of the Catholic Theological Society of America and the Society of Christian Ethics. Her research interests include the history of Christian ethics, New Testament ethics, Catholic social ethics, feminist theology, bioethics, and the ethics of war and peace.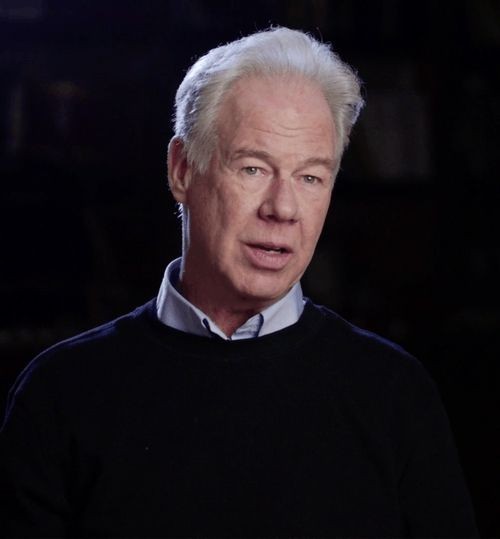 Martin Doblmeier holds degrees in religious studies and broadcast journalism, and honorary degrees in fine arts and humane letters. Since 1984 he has produced and directed more than 30 films focused on religion, faith, and spirituality. Martin combines a lifelong interest in religion with a passion for storytelling. Over the years he has traveled on location to more than forty countries to profile numerous religious leaders, spiritual communities, heads of state, and Nobel Laureates.  His films explore how belief can lead individuals to extraordinary acts, how spirituality creates and sustains communities, and how faith is lived in extraordinary ways.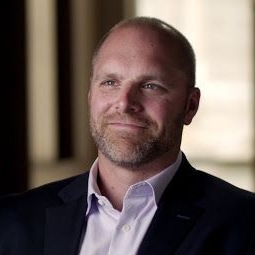 Andrew Finstuen is the Dean of the Honors College and Interim Vice Provost at Boise State University. Prior to his arrival at Boise State University, Finstuen directed the International Honors Program at Pacific Lutheran University, served as a Lilly Fellow in Humanities and History in the Honors College at Valparaiso University, and was the Assistant Director of the Boisi Center for Religion and American Public Life at Boston College. Finstuen teaches courses in modern American history, the history of American Christianity, and the history of genocide and mass killing. His first book, Original Sin and Everyday Protestants: The Theology of Reinhold Niebuhr, Billy Graham, and Paul Tillich in an Age of Anxiety (University of North Carolina Press, 2009) won the 2010 American Society of Church History's Brewer Prize.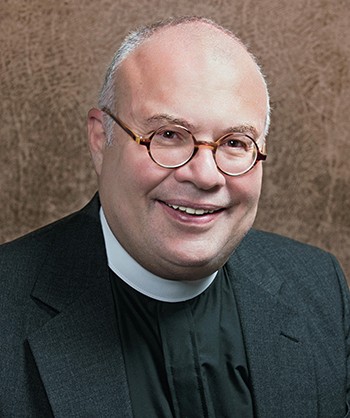 Fr. Mark S. Massa, S.J. was born and raised in Ohio, and educated at the University of Detroit, the University of Chicago, and Harvard. He received his M.Div. from the Weston School of Theology in 1980. After ordination he lived for a year in North Cambridge (St. John the Evangelist).  At Fordham, Fr. Massa was the Karl Rahner, S.J. Professor of Theology, and directed the American Studies Program for 12 years.  In 2001 he founded and directed the Curran Center for American Catholic Studies.  Fr. Massa will be on sabbatical during the 2016-2017 academic year, before returning to serve as the new director of the Boisi Center for Religion and American Public Life.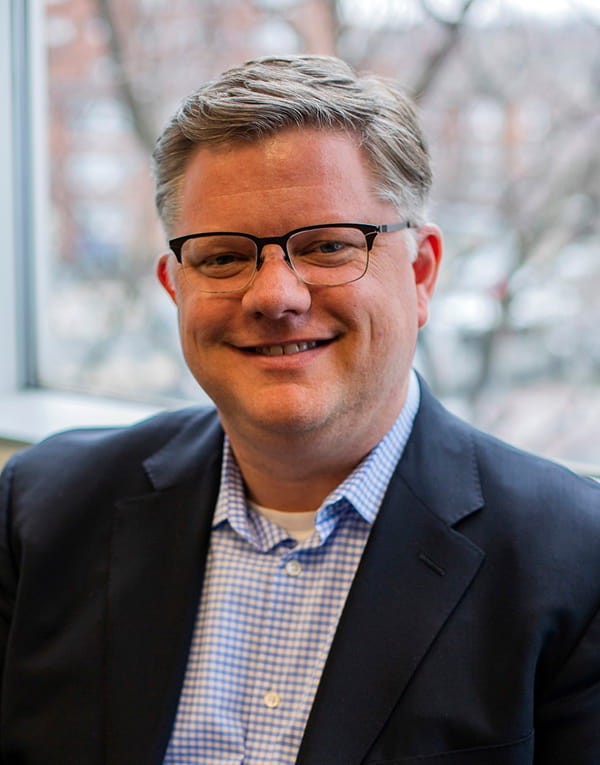 Erik Owens is interim director of the Boisi Center and associate professor of the practice in theology and international studies at Boston College. His research explores a variety of intersections between religion and public life, with particular attention to the challenge of fostering the common good of a religiously diverse society. His interdisciplinary scholarship bridges the fields of theological ethics, political philosophy, law, education, international studies, and public policy.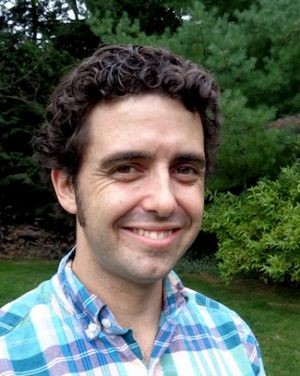 Jeremy Sabella obtained a Ph.D. in theology from Boston College in 2013. His dissertation, entitled "The Politics of Original Sin," examines how the concept of original sin shaped U.S. foreign policy in the early Cold War era. He has taught courses on theology, ethics, and American religious history at Yale Divinity School, Fairfield University, and Kalamazoo College. He is the author of An American Conscience's companion volume, slated for release in April 2017 by Eerdmans.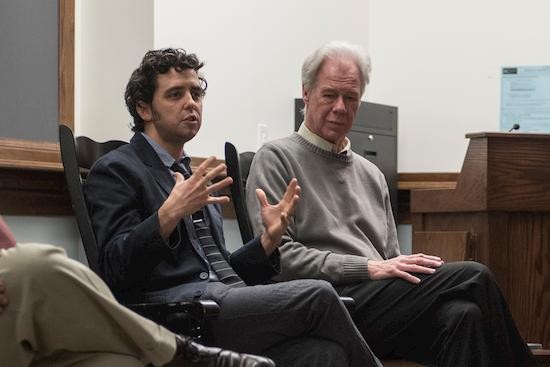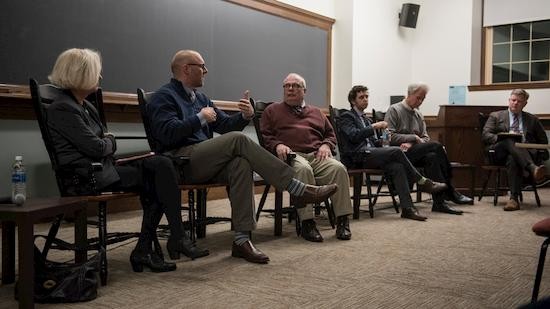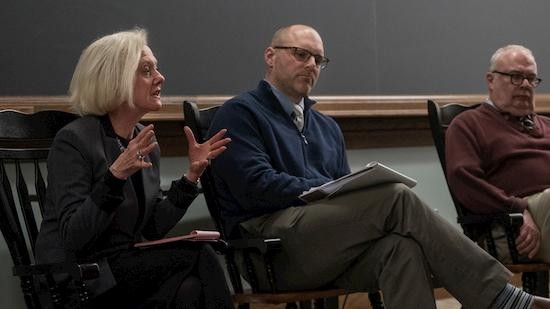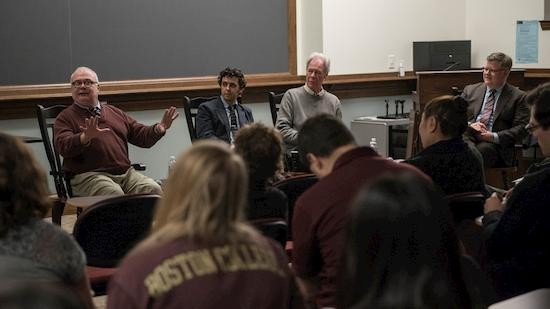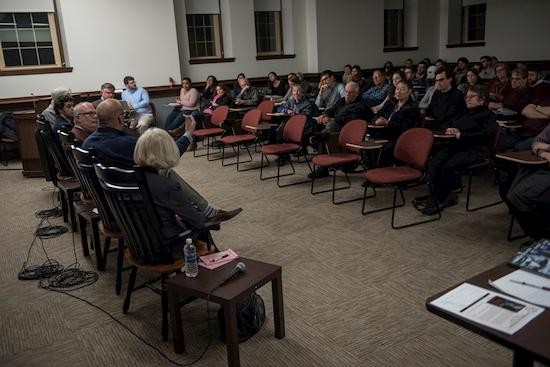 Event Recap
On February 1, the Boisi Center hosted a film screening and panel discussion for An American Conscience: The Reinhold Niebuhr Story by award-winning filmmaker Martin Doblmeier. The panelists included Doblmeier along with Lisa Sowle Cahill, professor of theology at BC; Andrew Finstuen, dean of the Honors College and interim vice provost at Boise State University (Ph.D in history, BC, and former assistant director at the Boisi Center); Mark Massa, S.J., who will serve as the new director for the Boisi Center beginning in the fall of 2017; and Jeremy Sabella (Ph.D. in theology, BC). Erik Owens, interim director of the Boisi Center, moderated. The event took place before a packed house in Simboli Hall at the School of Theology and Ministry.
The film focuses on the decorated career and vibrant life of Reinhold Niebuhr, one of America's most prominent theologians. The documentary captures how Niebuhr's work was influenced by the events of his time, two world wars, economic depression, and the civil rights movement. Niebuhr's work also bears the impressions of his theological surroundings, the faculty of Union Seminary, students like Dietrich Bonhoeffer, and friends like Rabbi Abraham Joshua Heschel. The panel discussion highlighted the timeliness and relevance of Niebuhr's insights and wisdom, even in a 21st-century world nearly half a century removed from his death.
Doblmeier, along with Sabella and Finstuen, who were involved in the production of the film, began by discussing the inspiration for the film. They cited Niebuhr's voluminous, robust output; how his thoughts continue to resonate with theology and ethics in America; and how interpreting his work in the context of present problems could lead to a greater realization of the common good.
Sabella highlighted Niebuhr's belief that flawed institutions and structures implicate the people that act within them. Sabella argued that, "We have a responsibility as people of faith to extricate ourselves from them." Niebuhr offers a framework to do this that is attuned to both the potential goodness and natural inclinations of mankind, he said. Sabella also stressed the extent to which the events taking shape around Niebuhr's life affected him.
Massa joked that buying and reading Niebuhr's Moral Man and Immoral Society should be a prerequisite to voting in America. In the 2016 presidential election, "Democrats were naïve in precisely the way that Niebuhr critiqued," he observed. He also noted that Catholics, who are occasionally overly trusting of institutions or blindly optimistic, could pay more attention to one of Niebuhr's central theses—namely, the Protestant understanding that politics and theology are all about coercion and power.
Cahill commented on how Niebuhr's opinions square so well with the realities around us. She argued that Niebuhr is Augustinian, in that he acknowledges the power of sin in human history, and emphasized his realist views on collective egotism. At a time when the world is seeing an uptick in nationalism and parochialism, Moral Man and Immoral Society is highly relevant, she noted.
Finstuen contextualized some of Niebuhr's theological points. He mentioned the difficulty of using the terminology of "sin," in what Niebuhr and many others agree is an inherently problematic and fallen world. He talked—in a Niebuhrean sense—about the predictability of an event like a Trump victory, and concluded that hope—not optimism—should be the guiding principle in international relations, political science, and finding the common good in general.
The questions from the audience centered around comparisons between Niebuhr and other philosophers and frameworks; discussions of how to interpret and define rights; and how Niebuhr would address topics such as suffering and historical events, for example, Gandhi's confrontation with colonialism.
The panelists wrapped up by discussing how to apply and implement Niebuhr's theology in the world around us. "We cannot close the door on the world," Doblmeier noted, to which Cahill agreed: "We are called to resist and change." Finstuen added to this by saying that love is the instrument to attain the end goal of justice.  Massa concurred: "Love is the carrot at the end of the stick."
Read More
Books
Finstuen, Andrew S. "Original Sin and Everyday Protestants: The Theology of Reinhold Niebuhr, Billy Graham, and Paul Tillich in an Age of Anxiety," The University of North Carolina Press, 2009
Niebuhr, Reinhold. "Moral Man and Immoral Society: A Study in Ethics and Politics ," Charles Scribner's Sons, 1932
Niebuhr, Reinhold. "The Irony of American History," Charles Scribner's Sons, 1952
Sabella, Jeremy L. "An American Conscience: The Reinhold Niebuhr Story," Eerdmans, forthcoming
Articles
Blake, John. "How Obama's favorite theologian shaped his first year in office," CNN, February 2010, cnn.com/2010/POLITICS/02/05/Obama.theologian/
Elie, Paul. "A Man for All Reasons," The Atlantic, November 2007 theatlantic.com/magazine/archive/2007/11/a-man-for-all-reasons/306337/
Schlesinger, Arthur Jr. "Reinhold Niebuhr's Long Shadow," The New York Times, June 1992 permalink
Other Resources
Trailer: An American Conscience: The Reinhold Niebuhr Story vimeo.com/192202247
"Illusions of Managing History: The Enduring Relevance of Reinhold Niebuhr." University lecture given by Andrew J. Bacevich, October 9, 2007  pbs.org/moyers/journal/08152008/profile3.html