Is There a New Anti-Semitism?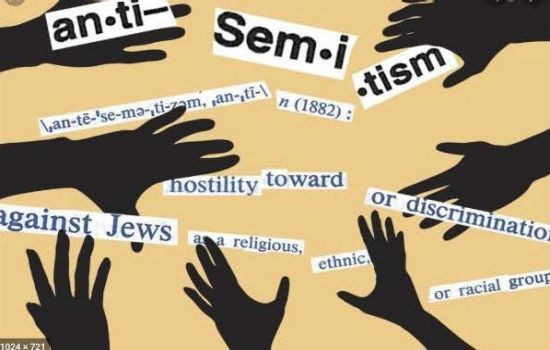 James Bernauer, S.J.
Boston College
Susannah Heschel
Dartmouth College
Mark Silk
Trinity College
Date: February 18, 2020
Co-sponsored with the Center for Christian-Jewish Learning and BC Hillel.
Abstract
"Is There a New Anti-Semitism?" will offer a blue ribbon panel to discuss the disturbing rise of anti-Semitic speech and hate crimes during the past few years. James Bernauer, S.J., Susannah Heschel, and Mark Silk will begin the evening by assessing the meaning(s) of this disturbing trend, followed by a conversation with the audience.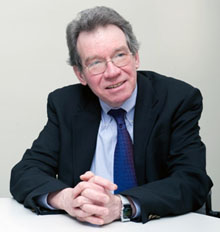 James Bernauer, S.J., is the Kraft Family Professor at Boston College where he has been in the philosophy department since 1980. He is also currently the director of the Center for Christian-Jewish Learning at Boston College. His fields of interest include Holocaust Studies, German Jewry, and the philosophies of Michel Foucault and Hannah Arendt. His new book will appear in March 2020: Jesuit Kaddish: Jesuits, Jews and Holocaust Remembrance (University of Notre Dame Press).  Other publications include a book co-edited with Robert Maryks entitled The Tragic Couple: Encounters Between Jews and Jesuits (2014); the author of "The Flawed Vision in Claude Lanzmann's Shoah and the Corrective Lens of Pierre Sauvage" in Through a Lens Darkly: Films of Genocide, Ethnic Cleansing and Atrocities (2013); "Secular Self-Sacrifice: On Michel Foucault's Courses at the Collège de France," in Michel Foucault: The Legacy (2009); "A Catholic Conversation with Hannah Arendt" in Friends on the Way: Jesuits Encounter Contemporary Judaism (2007); and "Philosophizing After the Holocaust" in Jesuit Postmodern: Scholarship, Vocation, and Identity in the 21st Century (2006). He was also the guest editor of an 2018 issue of the Journal of Jesuit Studies that was principally dedicated to those Jesuits who have been honored by Israel's Yad Vashem as "Righteous of the Nations."
Susannah Heschel is the Eli Black Professor and Chair of the Jewish Studies Program at Dartmouth College. She is the author of Abraham Geiger and the Jewish Jesus, The Aryan Jesus: Christian Theologians and the Bible in Nazi Germany, and Jüdischer Islam: Islam und jüdisch-deutsche Selbstbestimmung. She has also edited several books, including Moral Grandeur and Spiritual Audacity: Essays of Abraham Joshua Heschel, Insider, Outsider: American Jews and Multiculturalism, and most recently co-edited, with Umar Ryad The Muslim Reception of European Orientalism. She is a Guggenheim Fellow and the recipient of four honorary doctorates and has held research grants from the Carnegie Foundation, the Ford Foundation, the National Humanities Center, and the Wissenschaftskolleg zu Berlin.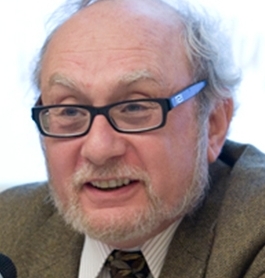 Mark Silk is the director of the Leonard Greenberg Center for the Study of Religion in Public Life and professor of religion in public life at Trinity College in Hartford, Connecticut. Silk served as editor of the Boston Review as well as a reporter, editoral writer, and columnist for the Atlanta Journal-Constitution. He is the founding editor of Religion in the News, a magazine published by the Center for the Study of Religion in Public Life that examines how the news media handle religious subject matter. Silk's publications include: Spiritual Politics: Religion and America Since World War II (New York: Simon and Schuster) and Unsecular Media: Making News of Religion in America (Urbana: University of Illinois Press). Silk received his A.B from Harvard College and earned his Ph.D. in medieval history from Harvard University.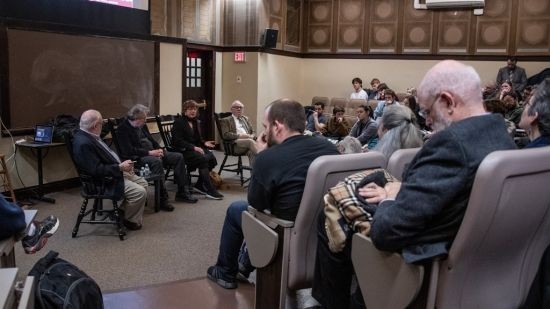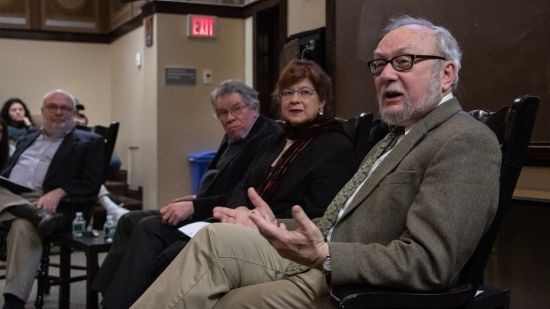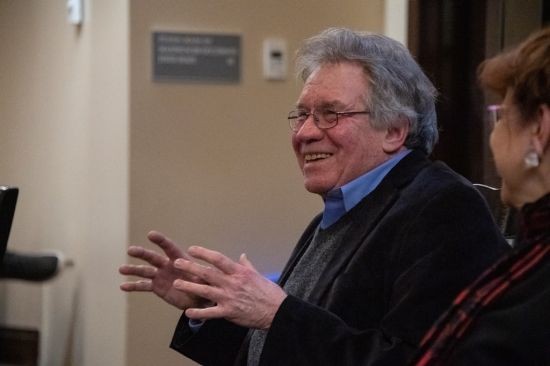 Event Recap
On February 18, Gasson was filled to the brim as faculty, community members, and several dozen undergraduate and graduate students filed in to hear James Bernauer, S.J., Susannah Heschel, and Mark Silk discuss the pressing question of whether there is a new anti-Semitism proliferating in the United States. 
The question was, and is, an important one, as several recent instances of violence against Jews have rendered the American public fearful and concerned about this seemingly drastic spike in anti-Semitic sentiment. Mark Massa, S.J., the evening's moderator, began directly: "Is there a new anti-Semitism?", he asked the three scholars. 
The panelists seemed to reach a consensus that the anti-Semitism we are seeing today is new, in some ways, but also a continuation of a prior anti-Semitism, in other ways. To illustrate this point, Heschel explained that throughout history, we see bumps in anti-Semitism any time society undergoes a major cultural or political shift. Much of the anti-Semitism today, she argued, is because we are in the one of those shifts. But, she says, what's new today is the virulence and the intensity attached to this hatred of Jews. Anti-Semitism has become more widespread, accessible, and attached to the person--not the behavior. Whereas in earlier times, anti-Semitic feeling often manifested itself as an opposition to a certain behavior of Jewish people, today it comes as a threat to the very life of the person. On a more positive note, Heschel insisted that, among other new elements, there is now broad solidarity with victims and outrage regarding anti-Semitism. 
Mark Silk added that, as is the case today, anti-Semitism has historically come from both the right and the left, referring to age-old and simultaneous accusations of Jews as communists and as capitalists. But, he argued, the two-sided anti-Semitism of today has new "twists"--the right-wing chants, "Jews will not replace us," tying the economic success of Jews to immigrant influxes, while the left-wing weaponizes Israel. 
James Bernauer segmented anti-Semitism into two "silos", claiming one to be old and the other to be new, but insisting that today's anti-Semitism is a combination of both. The first he explains as "post-Holocaust" anti-Semitism, in which Jews are viewed as powerful, as conspiratory, and as having control over the economy. The second--"post-Israel" anti-Semitism--has reduced Jews from the "moral pedestal" from which they once stood in the public's eye. Bernauer explained that Jewish involvement with the Civil Rights Movement, among other social justice movements, had once granted them a moral reverence, but linkage between today's Jews and Israel's politics has stripped the Jewish population of that prestige. 
Going off of Bernauer's point, Massa asked the panel to discuss the role Israeli politics has played in modern anti-Semitism. Silk noted how Israel being viewed as a powerful force, plus concerns about Palestinian rights, has produced anxiety among the Jewish community. The right to the land of Israel is in the core of Jewish doctrine, so calling that into question has the potential to encroach on anti-Semitism, he explained. 
Bernauer explained how some zealous, theologically-based views regarding Israeli politics have also contributed to the "backslide" of Jews from atop the so-called moral-hierarchy, which he feels has contributed greatly to anti-Semitism, particularly among the left. 
Heschel added that, despite the creation of Israel being a decision made by the United Nations, its existence is so often weaponized in anti-Semitic arguments, taken far beyond a dislike of Israeli policy or its government. 
The three panelists agreed that the prevalence of gun-use in anti-Semitic violence is cause for concern and action, and has contributed to the public's perception of the severity of anti-Semitism. Silk pointed out some interesting statistics, revealing that while anti-Semitic acts have not risen much, the public is under the impression that it has. In other words, frequency has not increased, but public attention has. Gun violence has much to do with this trend. Heschel added, "On the right, anti-Semitism comes with guns. On the left, it comes with words. But both are dangerous". 
This segwayed into the age-old debate surrounding the classification of anti-Semitism. Is it a form of racism? A religious prejudice? The answer is a difficult one. Silk insisted on a religious origin, but Bernauer cited anti-Semitic tropes stemming both from doctrine and from fantasy. Heschel insisted that Jews cannot be placed into any one category, making anti-Semitism a beast of entirely its own nature. She explained that in anti-Semitic arguments, Jews are seen with power, which is a markedly different aspect from typical prejudice or marginalization which, instead, strips the victim of power. 
At this point, the panel opened up to the audience. Questions addressed matters such as the contributions of "infamous" Jews to anti-Semitic sentiment, the effect of the declining number of holocaust survivors, and how college campuses can better address instances of anti-Semitism among students and faculty.
Read More
Books
Chesler, Phyllis. The New Anti-Semitism. New York: Gefen Publishing House, 2015.  
Cohn-Sherbok, Dan. The Paradox of Anti-Semitism. New York: Continuum, 2006.  
Jewish Voice for Peace. On Anti-Semitism: Solidarity and the Struggle for Justice. Chicago: Haymarket Books, 2017.
Kertzer, David. Old Demons, New Debates: Anti-Semitism in the West. Teaneck: Holmes & Meier Publishers, 2005. 
Lipstadt, Deborah E. Antisemitism: Here and Now. New York: Schocken Books, 2019.
Weitzman, Marc. Hate: The Rising Tide of Anti-Semitism in France and What It Means for Us. Boston: Houghton Mifflin Harcourt, 2019.
Articles
Coughlin, Ellen K. "The Schock of Anti-Semitism." The Chronicle of Higher Education (April 13, 1994). https://www.chronicle.com/article/The-Shock-of-Anti-Semitism/93597.  
Judaken, Jonathan. "Rethinking Anti-Semitism." American Historical Review 123, no.4 (2018): 1122-1238.  
Rebhun, Uzi. "Correlates of Experiences and Perceptions of Anti-Semitism Among Jews in the United States." Social Science Research 47 (September 2014): 44-60. 
Romeyn, Esther. "Anti-Semitism and Islamaphobia: Spectropolitics and Immigration." Theory, Culture, & Society 31, no. 6 (2014): 77-101. 
Silk, Mark. "Trump's anti-Semitism order is much ado about not much." Religion News Service (December 11, 2019). https://religionnews.com/2019/12/11/trumps-anti-semitism-order-much-ado-about-not-much/.
In the News
As the New York Times reported , this past Hanukkah saw another attack on a Jewish community in Monsey, New York.  The 38-year-old man entered the home of Rabbi Chaim Rottenberg, stabbing and wounding five people.  This adds to a number of anti-Semitic attacks: "recent assaults against Jews [the week before] in Brooklyn, as well as a deadly anti-Semitic shootin at a kosher market in Jersey City this month."  In her article in the Atlantic , Professor Deborah Lipstadt explores what a rise in anti-Semitism will mean the Jewish community worldwide.  She writes, "When Jews feel it is safer for them to go 'underground' as Jews, something is terribly wrong--wrong for them and, even more so, wrong for the society in which they live."