For God and Country: Religion and the U.S. Military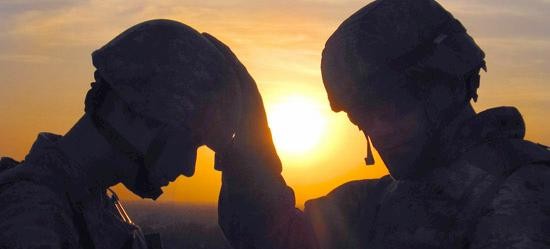 Fr. Richard Erikson, U.S. Air Force
Jonathan Ebel, University of Illinois
Moderator: Erik Owens, Boston College
Date: February 9, 2012
Abstract
What does it mean to fight for God and country? For at least the past hundred years, Americans have invested the American soldier with a deep religious significance connected to heroism, purity of sacrifice and devotion to the nation. But soldiers themselves have not always seen things the same way. From Charles Whittlesey in the Great War to Pat Tillman in Afghanistan, military servicemen and women have frequently reconfigured or contested the religious perspectives cast upon them by civilians, even as they struggled to make sense of their own experience in religious terms. The Boisi Center is pleased to bring together two people with unique scholarly, military and religious experiences to wrestle with these broad and important themes.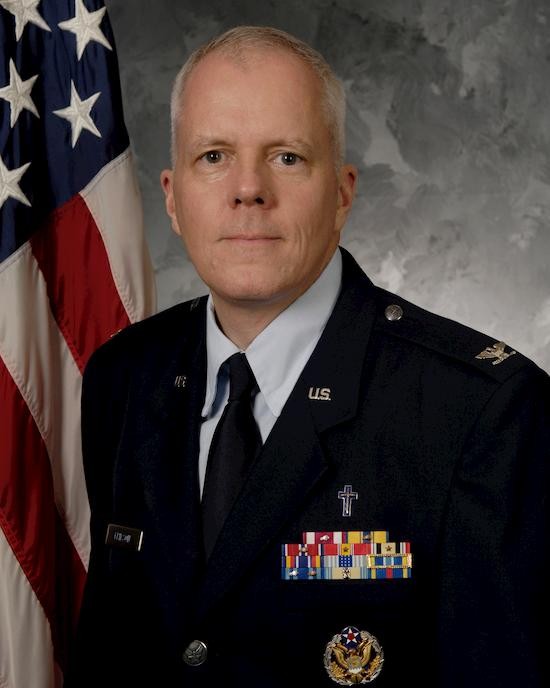 Rev. Richard Erikson Fr. Richard Erikson is a chaplain and colonel in the United States Air Force (USAF) Reserve, and mobilization assistant to the Deputy Chief of Chaplains in the USAF. From 2006-2011 he served as Vicar General and Moderator of the Curia of the Catholic Archdiocese of Boston. He has served in the USAF Reserve for 29 years, including seven years as an active duty chaplain, with a tour in Iraq in 2004. From 1992-1999 Fr. Erikson was Chair of the Social Science Department at St. John's Seminary in Brighton. He holds an M.A. in Theology from St. John's Seminary, and an M.A. and Ph.D. in sociology from the University of Southern California.
Jonathan Ebel is Assistant Professor of Religion at the University of Illinois at Urbana-Champaign and former Lieutenant Commander in the U.S. Navy and Navy Reserve. His research focuses on religion and war, religion and violence, and lay theologies of economic hardship. Professor Ebel is author of Faith in the Fight: Religion and the American Soldier in the Great War (Princeton, 2010). He received an A.B. from Harvard University and an M.A. and Ph.D. from the University of Chicago.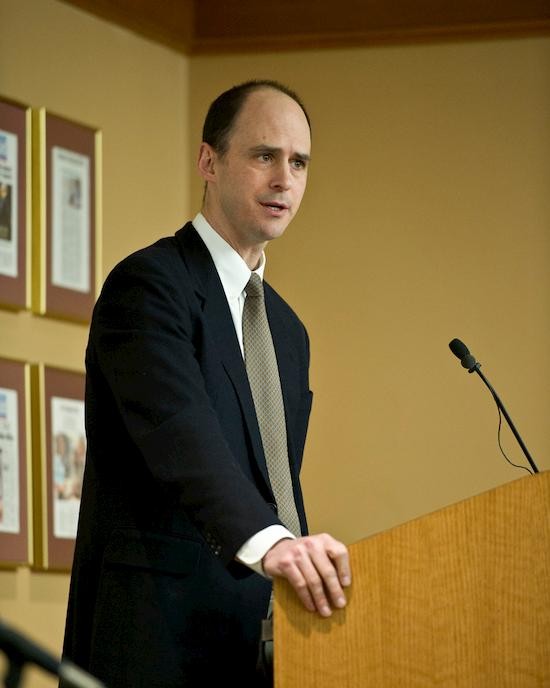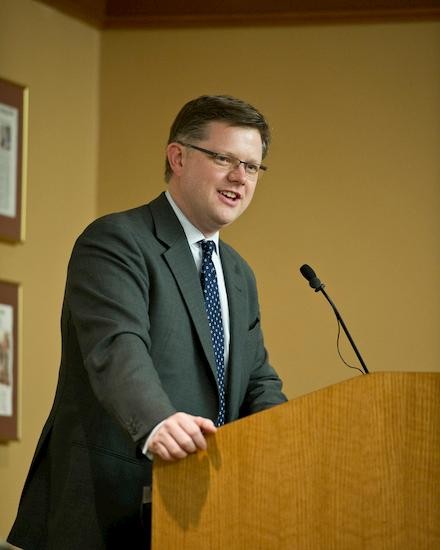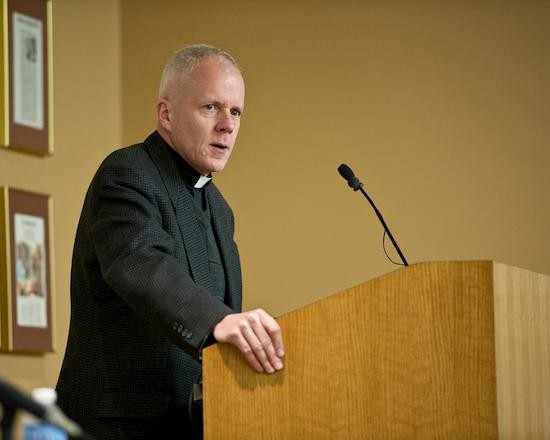 Event Recap
Hundreds of thousands of American soldiers in recent years have endured long wartime deployments and the physical, spiritual and psychological challenges that accompany them. How they handle this experience—how they make sense of what they are asked to do, of the unspeakable things they see, of the choices they are required to make—is in part the province of the chaplain corps, which ministers to the spiritual needs of America's servicemen and women.
As the wars in Iraq and Afghanistan come to an end, there are also broader cultural questions about how the rest of us respond to their return. For at least the past hundred years, Americans have invested the American soldier with a deep religious significance connected to heroism, purity of sacrifice, and devotion to the nation. But the soldiers themselves have not always seen things the same way. To ponder these and other crucial issues about religion in the U.S. military today, the Boisi Center invited two experienced servicemen and academics to a panel discussion on February 9.
Jonathan Ebel, a religious studies professor at the University of Illinois and former naval officer, began with observations about how God and country inspire similarly strong emotions (from love and hate to compassion, duty and awe) and rituals (hymns, holidays, ceremonies), and indeed are frequently joined together through a distinctive American civil religion. He then discussed three American servicemen— Salvatore Giunta, David Senft and Pat Tillman—whose ambivalent stories of sacrifice and heroism confounded the traditional judgments that Americans bestow upon its honored and fallen warriors.
Fr. Richard Erikson, chaplain and colonel in the U.S. Air Force, gave specific focus to Ebel's reflections by exploring the role of military chaplains, who naturally blend patriotism and religious practice in their daily duties. Chaplains are unarmed noncombatants in the battlefield who must minister to all soldiers' religious needs—from crises of faith and matters of conscience to faithful observance and last rites—without proselytizing for their own faith tradition. Because existential threats are simply a part of the job for servicemen and women, said Erikson, their spiritual wellness is a crucial component to achieving military readiness. The chaplain corps thus serves an essential function in the armed services, and in so doing presents a fascinating case study of the ways God and country are intertwined in the military.
Read More
Further Reading
Carlson, John and Jonathan Ebel. From Jeremiad to Jihad: Religion, Violence, and America. (University of California Press, 2012).
Carlson and Ebel explore the religious dimensions of violence—which are often left untouched— in order to make sense of American history in terms of its institutions, ideas, and identities.
Carlson, John. "Winning Souls and Minds: The Military's Religion Problem and the Global War on Terror," Journal of Military Ethics, Vol. 7, No. 2. 2008.
America's role in the religiously charged War on Terror has yielded calls for greater 'religious situational awareness' in political life and conflict. Though Carlson endorses such proposals, he suggests that such awareness can only be kindled by the broad-based study of religion.
Durward, Rosemary and Lee Marsden. Religion, Conflict, and Military Intervention. (Ashgate, 2009).
Drawing from both Christian and Islamist theology, Durward and Marsden flesh out the role of religion in conflict in the twenty-first century. 
Ebel, Jonathan. Faith in the Fight: Religion and the American Soldier in the Great War. (Princeton University Press, 2010).
Using letters and diaries from servicemen and women, Ebel reveals the fundamental role that religion, particularly Christianity, played during the Great War. Interpreted by many as a religious calling, the conflict both strengthened the faith commitment of soldiers and helped launch a religious revival in the postwar period. 
Hassner, Ron and Michael Horowitz. "Debating the Role of Religion in War," International Security, Vol. 35, No. 1. 2010.
Hedges, Christopher. War Is a Force that Gives Us Meaning. (Anchor, 2003).
For many, war provides a sense of purpose. Hedges describes the impact of this myth on soldiers, politicians, the media, artists, and ordinary citizens as he encourages readers to treat this and other war myths with a discerning eye.
Krakauer, Jon. Where Men Win Glory: The Odyssey of Pat Tillman. (Anchor, 2010).
Krakauer details the life of Pat Tillman, an elite Army Ranger who turned down a multi-million dollar NFL contract to join the military. Tillman's reflections on combat in Iraq and Afghanistan illuminate the complicated and sometimes contradictory nature of war.
Preston, Andrew. Sword of the Spirit, Shield of Faith: Religion in American War and Diplomacy. (Knopf, 2012).
Preston gives a massive historical overview of religion in U.S. foreign policy from the American Revolution to present day.