"We Are BC": Academic and Athletic Excellence on the Heights
Abstract
Boston College's graduation rates rank among the national leaders, and the university is home to one of the most competitive athletics programs in the Atlantic Coast Conference. How do the Eagles do it? What are the challenges of upholding such a standard? The Boisi Center hosts a conversation with Director of Athletics Gene DeFilippo on the successes of the Boston College athletics program, and how the university's Catholic and Jesuit mission informs athletics on the Heights.
Since Gene DeFilippo became Director of Athletics in September of 1997, he has led the Boston College athletics program to an unprecedented period of innovation, growth, fundraising, athletic and academic success. He also led the program through one of the most significant periods in its history as it transitioned to full membership in the Atlantic Coast Conference. DeFilippo previously served as Director of Athletics at Villanova University from 1993-97.  He also served as Associated Director of Athletics at the University of Kentucky from 1987-93, Director of Athletics at the University of South Carolina-Spartanburg from 1984-87 and Director of Administrative Services at Vanderbilt University from 1983-84. DeFilippo received his B.S. from Springfield College in 1973 and earned three varsity letters as a quarterback in football during his undergraduate career.  He received a master's degree in educational administration from the University of Tennessee in 1974.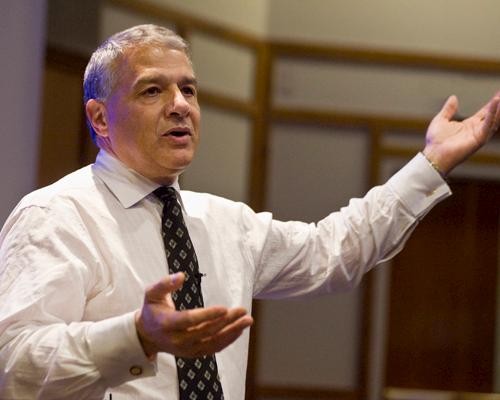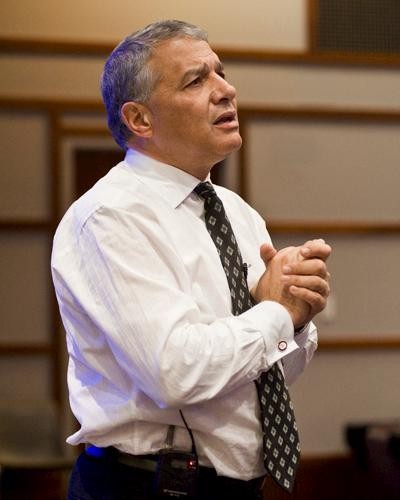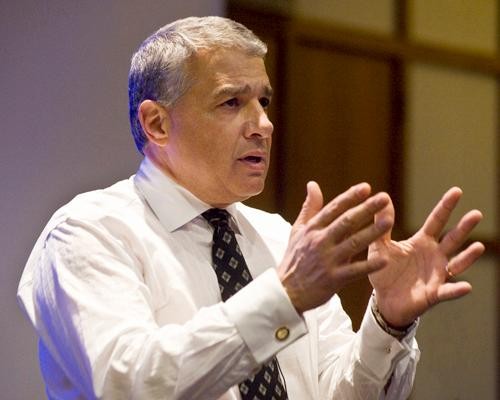 Event Recap
In an era when low graduation rates are the norm among student athletes at competitive NCAA Division I schools, Boston College has consistently managed to combine athletic and academic success. The key, said athletic director Gene DeFilippo at a November 5 talk, lies in careful recruiting, constant academic support, and attention to the university's Jesuit values.
Since DeFilippo began as athletic director in 1997, the Eagles have enjoyed unprecedented success on the field, rink, and court. The football team recently played its 11th consecutive bowl game; the men's hockey team has won two national championships and six conference titles; and women's and men's teams frequently play in NCAA basketball and soccer championships.
BC student-athletes continue to meet remarkable academic standards as well. In 2006 the NCAA publicly recognized the university for an extraordinary accomplishment: 14 of its teams' graduation rates ranked in the top 10 percent nationally, tying BC with Notre Dame for the highest total of any Division I university.
So what's the secret? DeFilippo gave primary credit for the academic successes of student-athletes to careful selection at the outset. "Most of the problems get taken care of in the recruiting process," he said, when coaches and admissions officers seek athletes who can handle a full academic load and who demonstrate strong moral character. Once at BC, the staff of Learning Resources for Student-Athletes provides crucial academic advising and tutoring.
But the Jesuit call to service also plays an important role in student-athletes' development, DeFilippo noted. He expressed pride that varsity athletes are such active participants in community service, regularly volunteering at local schools, hospitals, and shelters. Whatever the religious background of incoming players, they—like all BC students—are strongly encouraged to "buy into the mission of being 'men and women for others.'" It is a primary goal of Jesuit education, and one that fits perfectly into an ethic of teamwork that also wins games.
Read More
Further Reading
Derrick Z. Jackson's College Football Rankings
At the end of each college football season, Boston Globe columnist Derrick Z. Jackson publishes a list of graduation rates for white and black student-athletes, arguing that any school with a Graduation Success Rate (GSR) of 50% or below for either, or any school that has a sizable gap between white and black graduation rates, should be disqualified from postseason bowl games. In this table, based on 2007's GSRs, Boston College is the only school with white and black graduation rates both over 90%.
"Wise Guys" by Dan Wetzel
In 2007, as Boston College's football team started the season 7-0 and moved into the top 5 nationally, Yahoo Sports columnist Dan Wetzel honored BC for its high academic standards.
DeFilippo's official biography from Boston College's website.
"Playing By His Own Rules": Boston Magazine, August 27, 2009
Boston Magazine article on Gene DeFilippo, focusing on his choice of Frank Spaziani as head football coach and his overall style as athletic director.
EagleInsider.com interview with Gene DeFilippo
Discussing the 2008-09 athletic year as well as graduation rates and balancing athletics and academics.