Setting the Agenda for Global Dialogue: A Theoretical and Practical Approach to Business Ethics in Saudi Arabia
David Cowan
Boisi Center, Boston College
Date: April 10, 2014
This event is co-sponsored with Islamic Civilization and Societies and the Winston Center for Leadership and Ethics at Boston College.
Abstract
Participation in the globalized, international market system presents opportunities for countries and business firms to access a global network of expertise and knowledge. However, for countries like Saudi Arabia, global standards in business ethics often run counter to cultural norms and to Islamic ideas. This also presents a challenge to notions of what is in fact normative, and whether "West knows best." At this event, Boisi Center visiting scholar David Cowan will discuss Saudi Arabia's attempt to establish a modern business culture while grappling with globalization's challenges to Arabic social values. This case study will provide insight into the modern challenges facing developing nations at the intersection of culture, ethics, and business.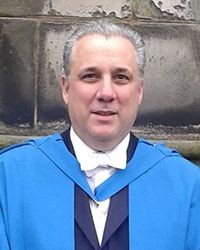 David Cowan is a visiting scholar at the Boisi Center during the Spring 2014 semester, where he is researching diplomacy and communication regarding religion in American foreign policy, with a focus on Christianity and Islam. A senior tutor in Politics and Religion at King's Evangelical Divinity School and approved tutor at the University of Chester, he is also a communications advisor with over twenty-five years experience working for such organizations as the World Bank and the Institute of Islamic Banking & Insurance. He has lived and worked in North America, Europe and the Middle East. He is the author of Strategic Internal Communication (2014) and Economic Parables: The Monetary Teachings of Jesus Christ (2007), among other works. He is also a regular reviewer for the Journal of Theological Studies. Cowan earned his Ph.D. at the University of St. Andrews, jointly undertaken in the School of Divinity and the School of International Relations, and holds a B.Th. and M.Th. from the University of Oxford, an M.Litt. from the University of St. Andrews, and a Diploma in Theology from Westfield House, Cambridge, where he was Lutheran chaplain to the University of Cambridge.
Read More
Further Reading
Habiba Anwar and Anthony Shoult, eds., Doing Business with Saudi Arabia 3rd ed. (London: GMB Publishing Ltd, 2006).
Ben Casselman, "Facing Up to End of 'Easy Oil,'" Wall Street Journal, May 24, 2011.
Adam Coogle, "Saudi Arabia Backs Religious Tolerance—Except at Home," HumanRightsWatch.org, August 1, 2013.
David Cowan, Economic Parables: The Monetary Teachings of Jesus Christ (Downers Grove, IL: IVP Books, 2012).
Kelly Currie, John Beaumont, and Dalal Hasan, "Doing Business in Saudi Arabia," New York Law Journal, January 10, 2013.
Hugh Eakin, "Will Saudi Arabia Ever Change," New York Review of Books (January 10, 2013). 
Karen Elliott House, On Saudi Arabia: Its People, Past, Religion, Fault Lines—and Future (New York: Knopf, 2012). 
Ben Hubbard, "In Taking Jobs, Women Take On a Saudi Taboo," New York Times, December 2, 2013.
Ben Hubbard, "Saudi Women Rise Up, Quietly, and Slide into the Driver's Seat," New York Times, October 26, 2013.
Ellen Knickmeyer, "Saudi Students Flood In as U.S. Reopens Door," Wall Street Journal, November 8, 2012.
Hao Li, "Business in Saudi Arabia: Culture Differences to Watch For," International Business Times, February 6, 2012.
Thomas W. Lippman, Saudi Arabia on the Edge: The Uncertain Future of an American Ally (Washington, DC: Potomac Books, 2012). 
Michael O'Kane, Doing Business in Saudi Arabia (Sharjah, UAE: Dar Al Andalus,  2010).
Tyler O'Neil, "Muslim Leader Calls on U.S., Obama to Stop Ignoring Saudi Arabia's Religious Freedom Violations," Christian Post, August 3, 2013.
Joe Sharkey, "On a Visit to Saudi Arabia, Doing What the Saudis Do," New York Times, March 14, 2011.