Truth and Lies in a Polarized Time
E.J. Dionne
Brookings Institution, The Washington Post
Date: April 5, 2018
Abstract
E.J. Dionne's Prophetic Voices Lecture is a journalistic, political, and ethical take on the polarized landscape of the contemporary United States. As a journalist, Dionne examines these debates within the context of news media. He investigates how print, digital, and broadcast news platforms can work either to counter or perpetuate disinformation, propaganda, and falsehood during a time of "post-truth," "fake news," and "alternative facts." He will discuss how recent upsurges of populism should push journalists to report on and understand the sources of discontent and the hurt that are producing such populist sentiment. He will also speak about how journalists should disentangle genuine bigotry from frustrations rooted in injustice.
As a student of government, he will explore matters of civic nationalism, exclusionary populism, liberal democracy, and ethnocultural identity politics under the Trump administration.
As a Christian, he will draw a distinction between faith as a social marker used to exclude or aggrandize a particular social group and faith as the invocation of principles advocating for human dignity, belonging, and fellowship.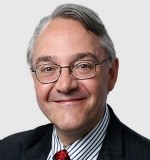 E.J. Dionne is a senior fellow at the Brookings Institution, a columnist for the Washington Post, and university professor in the Foundations of Democracy and Culture at Georgetown University. He appears weekly on National Public Radio and regularly on MSNBC. He began his career with New York Times, where he spent fourteen years reporting on state and local government, national politics, and from around the world, including stints in Paris, Rome, and Beirut. 
He is the author and editor or co-editor of several books and volumes, including Why the Right Went Wrong: Conservatism––From Goldwater to Trump and Beyond (Simon & Schuster, 2016). His latest book is One Nation After Trump: A Guide for the Perplexed, the Disillusioned, the Desperate, and the Not-Yet-Deported with Thomas Mann and Norman Ornstein (St. Martin's Press, 2017).
Dionne has received numerous awards, including the American Political Science Association's Carey McWilliams Award to honor a major journalistic contribution to the understanding of politics. He has also been named among the 25 most influential Washington journalists by the National Journal. Raised in Fall River, Massachusetts, Dionne graduated summa cum laude with a B.A. from Harvard University in 1973 and received his doctorate from Oxford University, where he was a Rhodes Scholar.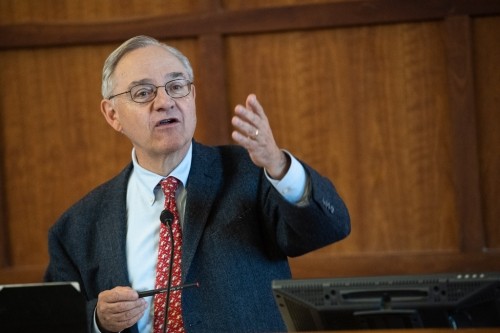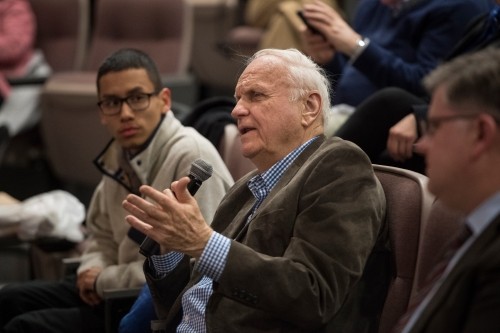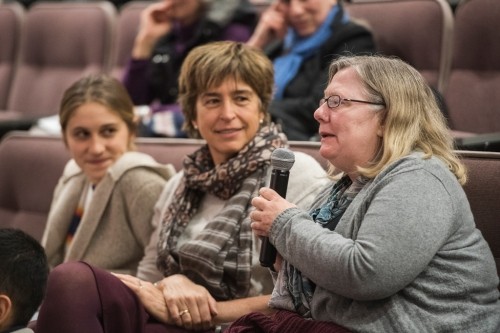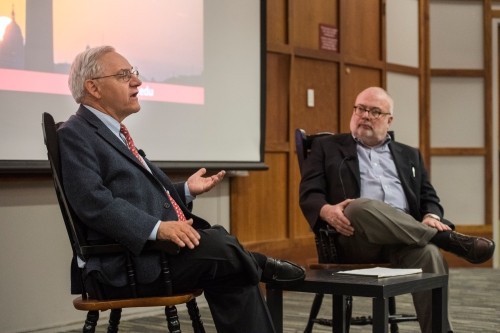 Event Recap
For the first event of the 2018-2019 academic year, the Boisi Center welcomed Peter Folan, S.J. (Boston College), Mary Ann Hinsdale, IHM (Boston College), and Theresa O'Keefe (Boston College STM) for a screening of Pope Francis: A Man of His Word, a 2018 documentary by German filmmaker Wim Wenders. Following the screening, Interim Assistant to the Director Jack Nuelle guided the panelists through a discussion which alternated between reviewing the film and discussing Pope Francis' papacy more broadly. Each panelist gave their initial reactions, with Hinsdale commenting on how Francis seemed to be a Catholic particularly formed by the Second Vatican Council and its messages of love, service, dialogue, and difference. O'Keefe echoed Hinsdale's sentiment, remarking on the changing role of the Papacy as it becomes a platform increasingly suited to speak about issues of a global nature. She stressed the courage Francis exhibiOn April 5, E.J. Dionne spoke to an audience of students and professors about political polarization in the United States under the Trump administration. Dionne is a senior fellow at the Brookings Institution, columnist for the Washington Post, and university professor in the Foundations of Democracy and Culture at Georgetown University. His lecture was both a meditation on what he calls "Trump's attack on the truth," as well as an exhortation to scholars, media personnel, and citizens about responsible knowledge-sharing in a time of resurgent ethno-nationalism.
Dionne began by examining the strained relationship between Trump as a politician and fact-driven opinion. He cited some examples of Trump's intolerance in the early parts of his campaign, especially casting the media as an enemy of the people and Kelly Conway's statement about "alternative facts." Such behavior, he contended, necessarily sprouted from developments in American politics since the mid-twentieth century, including shifts in the strategies of the Republican Party and the partisan manipulation of digital technology. The former refers to assaults on the role of accountable media and bipartisan agreement in public governance. The latter entails the burgeoning of right-wing media wings such as Breitbart that subordinate reasoned judgement and sound evidence to unfounded opinion, perception, and emotion.
Dionne then explored the implications of Trumpism for American politics, religion, and journalism. According to Dionne, à la Alexander Hamilton, Trump has chosen not just to "ride the storm" of conservatism, but has importantly begun to "direct the storm." Trump has particularly rearticulated one example of what Dionne calls "essentially contested topics," concepts whose very definitions are constantly challenged: populism. Trumpian populism, Dionne argues, posits an exclusionary form of democracy premised on identity politics, reactionary ideology, and anti-pluralism.
Dionne concluded with some admonitions for upholding truth in this polarized time. Citing Peruvian liberation theologian Gustavo Gutiérrez, he called upon people of faith to place a renewed emphasis on human dignity and social suffering. Equally significant, he urged journalists to report on the sources of today's discontent, or what Jonathan Cobb and Richard Sennett call "the hidden injuries of class."
In closing, Dionne recalled a story from his son, erstwhile canvasser for a political campaign, who once asked an African American constituent, "Are you going to vote in the upcoming election?" "It's our job," he proclaimed, "because we're Americans."ts by speaking up about issues like poverty and climate change when addressing world leaders with tremendous authority. Folan and Hinsdale both initially commented on the exhaustive nature of the film, in its scope of Francis' activities as well as the length of the film itself.
The discussion moved to the topics Francis addressed and those left unsaid. Panelists noted that not only was this film released before recent allegations against Francis, but also that Francis' interviews were subject to editing and directorial review. With this in mind, all three panelists expressed their satisfaction with the breadth of topics the film portrayed, while questioning the depth and specifics of Francis' answers, particularly regarding the role of women and the problem of clerical abuse. Hinsdale noted that we may be too early to judge if Pope Francis is "A Man of His Word," adding her unease at the manner in which the Pope answered the question of the role of women. O'Keefe agreed, saying it was clear the director chose to focus on other issues as the core of the piece and position the Church in a listening stance, but it left these remaining topics to seem like "cameo appearances". Folan concluded that while he appreciated that they were at least addressed, he disliked the specific phrasing of the Francis' answers on the importance of dialogue and the response to clerical abuse. He characterized Francis' response on this last issue as viewing the problem as episodic, not systemic.
That issue was the topic of the final section of the night, first with the final question asking if the film should be viewed differently now, post-allegations, returning later with audience questions. Folan stressed that Francis showed authentic anger at the problem, but it is difficult to translate that into direct action. Hinsdale agreed, mentioning that the Pope's emphasis on discernment leads often to careful but slow action. O'Keefe, responding to these critiques, highlighted that the film focused on showing Francis as human more than as bureaucratic leader. As Hinsdale mentioned, the film was almost hagiographic in its style. The evening concluded with our panelists discussing the roles of subsidiarity and authority in Church accountability and reform, agreeing that we have and want to retain an ordered church, but wondering if that order needs to be quite so hierarchical.
Read More
Books
Dionne Jr, E.J. et al. One Nation After Trump: A Guide for the Perplexed, the Disillusioned, the Desperate, and the Not-yet Deported. St. Martin's Press, 2017.
Lewandowsky, Stephan et al. "Beyond Misinformation: Understanding and Coping with the 'Post-Truth' Era." Journal of Applied Research in Memory and Cognition 6, no. 4 (2017): 353-369.
Saeki, Manabu. The Phantom of a Polarized America: Myths and Truths of An Ideological Divide. New York: State University of New York Press, 2016.
Articles
Glasser, Susan B. "Covering Politics in a 'Post-Truth' America." Brookings Institution. Dec 2, 2016, http://brook.gs/2FXUvez
Mann, Thomas E. "Explanatory Journalism: A Tool in the War against Polarization and Dysfunction." Brookings Institution. Feb 29, 2017, http://brook.gs/2si1j4T
Tharoor, Ishaan. "'Fake News' and the Trumpian Threat to Democracy." The Washington Post. Feb 7, 2018, http://wapo.st/2H1rjVd
Wampole, Christy. "What is the Future of Speculative Journalism?" New York Times. Jan 22, 2018, http://nyti.ms/2EpC7ON
Other Resources
"Top Political Journalists Discuss Politics in a 'Post-Truth' America." A panel discussion with James Glassman (George W. Bush Public Policy Institute), Shani Hilton (Buzzfeed News), and Susan Glasser (Politico) at the Brookings Institution. Dec 13, 2016, http://brook.gs/2FYAG6O
"The End of White Christian America." A conversation with E.J. Dionne and Robert P. Jones at Harvard Divinity School. Feb 21, 2018, http://bit.ly/2FFM6Oa
In the News
In 2016, the Brookings Institution organized a roundtable discussion about the role and prospects of journalism under the Trump administration. Panelists included James Glassman (George W. Bush Public Policy Institute), Shani Hilton (Buzzfeed News), and Susan Glasser (Politico). They discussed how print, digital, and broadcast news platforms can work to counter disinformation, propaganda, and falsehood through "fact-checking" and other journalistic practices.