Invisibility Syndrome of African Americans in Educational Institutions
Abstract
Building upon Ralph Ellison's classic novel "Invisible Man," Dr. Franklin will discuss his theory about how marginalization of African Americans continues their invisibility in educational institutions in ways more profound than their presence represents.   Dr. Franklin's "invisibility syndrome" theory addresses the psychological experience of confronting disillusionment when talents and potential are ignored, misrepresented or misguided in the service of intellectual traditions.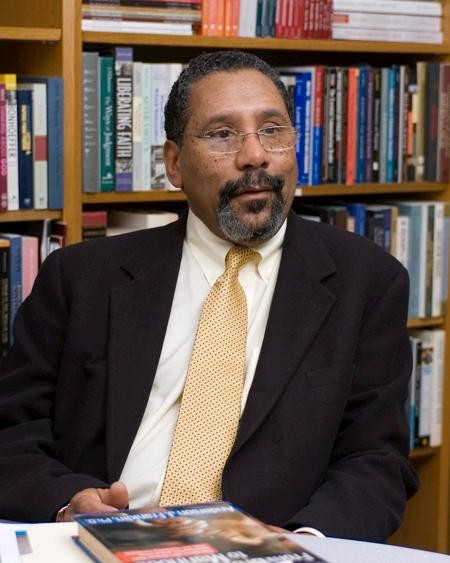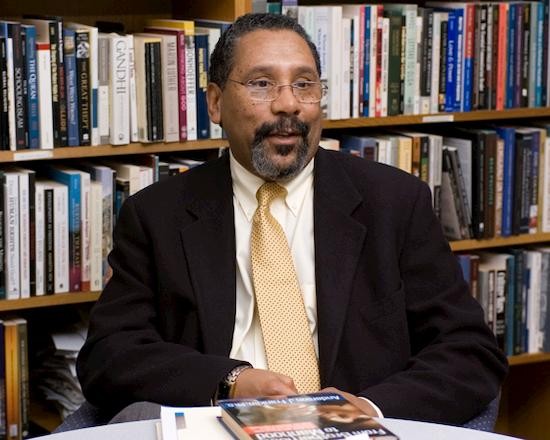 Event Recap
Members of racial minorities face challenges as they strive to succeed as students at institutions of higher education. African Americans in particular often struggle to discover and express their identities within the university, according to psychologist Anderson J. Franklin, who spoke to a packed Boisi Center colloquium on October 1. Franklin, the Hon. David S. Nelson Professional Chair at Boston College's Lynch School of Education, has written extensively about the resulting "invisibility syndrome" among African-Americans.

While the name of the syndrome is inspired by Ralph Ellison's 1952 novel The Invisible Man, Franklin's work is focused upon helping current students find their own identity, and thus rendering them visible again. He has found that a vicious cycle begins when faculty and fellow students ignore the insights and contributions of African-American students, whose academic performance can then falter out of frustration or insecurity. Social and academic invisibility also prevents African-American students from integrating into the social networks that define campus life and cultivate an individual's identity. 
In an attempt to avoid just this problem, Franklin said, some faculty or students overcompensate by singling out for attention minority students, who are then (implicitly or explicitly) forced to stand as the representative of an entire group of people. The pressure resulting from this "spotlight phenomenon" can be as crippling as that arising from invisibility syndrome.

African-American students will only realize their full academic potential, argued Franklin, when they are able to find their place within the university as complete individuals, bridging their past and present experiences and roles into an integrated identity. For university administrators, this means helping them cultivate friendships and social networks with others who face similar challenges; support services and opportunities for minority students to meet together are essential to this process.
Read More
Further Reading
"Invisibility Syndrome: A Clinical Model of the Effects of Racism on African-American Males"
Anderson J. Franklin and Nancy Boyd-Franklin
"Thin Ice: Stereotype Threat and Black College Students"
Claude M. Steele
Book Chapter
"Epilogue." Beverly Daniel Tatum. "Why Are All the Black Kids Sitting Together in the Cafeteria?" And Other Conversations about Race. (Basic Books: 2003).
Boyd-Franklin, N. (2003). Black families in therapy: Understanding the African American experience (2nd ed.). New York, NY, US: Guilford Press.
Boyd-Franklin, N., Franklin, A. J., & Toussaint, P. (2000). Boys into men: Raising our African American teenage sons. New York, NY, US: Dutton/Penguin Books.
Chavous T, Rivas D, Green L, & Helaire L. (2008). Role of student background, perceptions of ethnic fit, and racial identification in the academic adjustment of African American students at a predominantly white university. Journal of Black Psychology, 28, 234.
Connor, M. E., & White, J. L. (Eds.). (2006). Black fathers: An invisible presence in America. Mahwah, NJ, US: Lawrence Erlbaum Associates Publishers.
Cross, W. E., Jr. (1991). Shades of black: Diversity in African-American identity. Philadelphia, PA, US: Temple University Press.
Ellison, R. (1952). Invisible man. New York: Random House.
Franklin, A. J. (1999). Invisibility syndrome and racial identity development in psychotherapy and counseling African American men. Counseling Psychologist, 27(6), 761-793.
Franklin, A. J. (2004). From brotherhood to manhood: How black men rescue their relationships and dreams from the invisibility syndrome NY: John Wiley & Sons.
Steele, C. M. (1997). A threat in the air: How stereotypes shape intellectual identity and performance. American Psychologist, 52(6), 613-629.
Steele, C. M., & Aronson, J. (1995). Stereotype threat and the intellectual test performance of African Americans. Journal of Personality and Social Psychology, 69(5), 797-811.
Tatum, B. D. (1997). "Why are all the black kids sitting together in the cafeteria?" and other conversations about the development of racial identity. New York: Basic Books.
White, J. L., & Cones, J. H. (1999). Black man emerging: Facing the past and seizing a future in America. New York, London: Routledge.
Wright, R. (1940). Native son. New York: Harper.