Ethical Responsibilities toward Forced Migrants as a Framework for Advocacy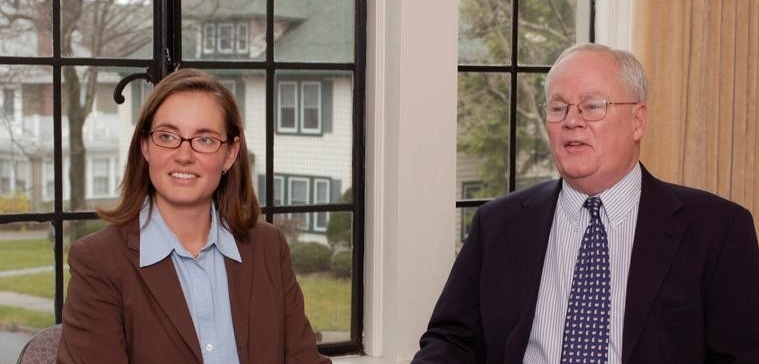 David Hollenbach, S.J., and Elizabeth King, Esq.
Boston College Center for Human Rights and International Justice
Date: November 29, 2006
Abstract
The colloquium will discuss a conference recently sponsored in Nairobi, Kenya by the Boston College Center for Human Rights and International Justice. The conference addressed key ethical issues arising in efforts to respond to the plight of refugees and internally displaced people in Africa, and responses that can guide the policies and decisions of both governments and non-governmental agencies, such as Catholic Relief Service, the Jesuit Refugee Service, and others.
David Hollenbach, S.J. is the Margaret O'Brien Flatley Professor of Theology at Boston College, and founding Director of the Center for Human Rights and International Justice. His research interests are in the foundation of Christian social ethics, particularly in the areas of the human rights, theory of justice, the common good, and the role of religion in social and political life. He also teaches periodically at Hekima College of the Catholic University of Eastern Africa, in Nairobi, Kenya. Among his many publications are The Global Face of Public Faith: Politics, Human Rights, and Christian Ethics (2003), ad The Common Good and Christian Ethics (2002). Professor Hollenbach holds a Ph.D. in religious ethics from Yale University, an M.A. and Ph.L. in Philosophy from St. Louis University, and a B.S. in Physics from St. Joseph's University.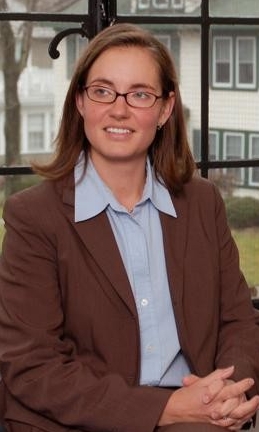 Elizabeth Ludwin King is Executive Director of the Boston College Center for Human Rights and International Justice. Her research interests include satisfying the many goals of truth commissions and war crimes tribunals, the responsibilities a government inherits upon declaring a situation "genocide," and the current state of international law as a binding norm. She has extensive experience in the field of international human rights, and her chapter on "Trials and Truth Commissions in Argentina and El Salvador" is published in Accountability for Atrocities: National and International Responses, edited by Jane E. Stromseth (2003). Ms. King holds a J.D. from Georgetown University Law Center and a B.A from Duke University.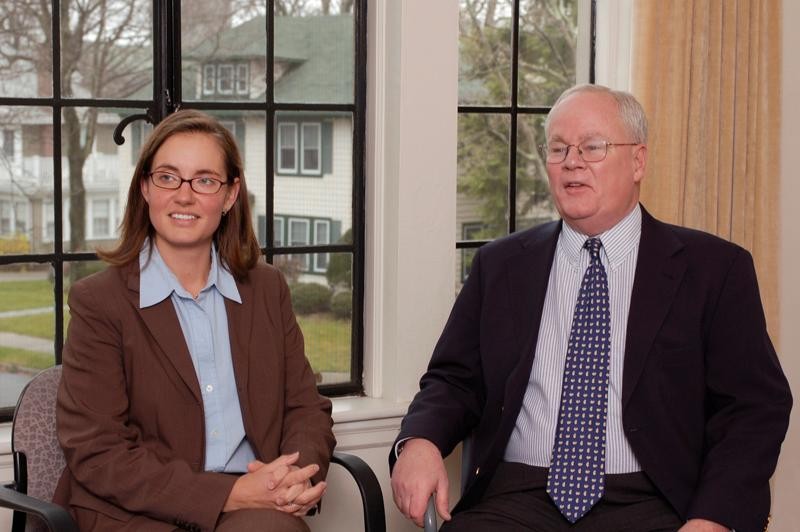 Event Recap
Our final luncheon colloquium of the semester featured David Hollenbach, S.J. and Elizabeth King, the Director and Assistant Director, respectively, of Boston College's new Center for Human Rights and International Justice.  Hollenbach and King had recently returned from Nairobi, Kenya, where the Center had sponsored a conference on ethical responsibilities toward forced migrants and internally displaced persons in Africa.
Fr. Hollenbach, the Margaret O'Brien Flatley Professor of Theology at Boston College, provided an overview of the issues raised at the conference. He began by noting the urgency of the refugee problem: there are 33 million refugees and internally displaced people in the world today, a high percentage of which are in Africa. He then outlined five principles that ought to guide the treatment of refugees in every country.  First, there should be respect for the right to freedom of movement by refugees in order to alleviate the dehumanizing experience of confinement in camps. Thus confinement should be a last resort; it should be temporary; and it should be introduced only if the harm it causes is proportionately less than the harm that would otherwise occur. Second, richer countries have a moral responsibility to share the burdens of aiding the displaced. Third, such countries should share in addressing the deeper causes and consequences of displacement. Here Hollenbach stressed the admittedly partial success that the United States has achieved in southern Sudan with the peace agreement of 2005; the situation there remains unstable, but it shows that Western powers can make a difference. Fourth, the responsibility to protect the rights of displaced persons necessitates peace-making efforts in affected regions. Finally, protection of the rights of internally displaced persons likewise demands a response from neighboring countries, regional organizations, and the United Nations.
King spoke at a more practical level about the particular vulnerability of women in refugee camps. She pointed out how a "gender lens" might be used to address issues such as food distribution and camp security. But she also admitted the dangers of focusing on women's issues in this way; it might appear as a challenge to the traditional culture and prompt an unforeseen reaction. As she concluded: "there are no easy answers."
Read More
Further Reading