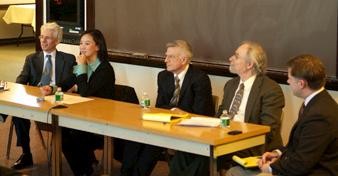 William Galston, Brookings Institution & University of Maryland
Hahrie Han, Wellesley College
Marc Landy, Boston College
Alan Wolfe, Boston College
Date: March. 29, 2007
Abstract
The recent book Red and Blue Nation? Characteristics and Causes of America's Polarized Politics, edited by Pietro S. Nivola and David W. Brady (Brookings Institution Press and the Hoover Institution, 2006), investigates what analysts and pundits increasingly perceive as a widening gulf between "red states" and "blue states." Advocates of this view argue that America's polarized politics pose fundamental dangers for democratic and accountable government, and that heightened partisanship degrades congressional deliberation and threatens the integrity of societal institutions from the courts to the media. Yet as Red and Blue Nation demonstrates, the research supporting this perception is scattered and difficult to interpret. How deep do the country's political divisions actually run? Are they truly wreaking havoc upon the social fabric? How severe is the "culture war"? Has America become a house divided? Our panelists will consider the problems underlying this perplexing issue from diverse perspectives.
William Galston is Senior Fellow in Governance Studies at the Brookings Institution and College Park Professor at the University of Maryland School of Public Policy. He is a political theorist who both studies and participates in American politics and domestic policy. His expertise includes American political thought, institutions, and processes; contemporary political and social philosophy; history of political thought; and U.S. domestic policy. Galston was Deputy Assistant to the President for Domestic Policy during the first Clinton Administration and Executive Director of the National Commission on Civic Renewal, which was chaired by Sam Nunn and William Bennett. His books include Public Matters: Essays on Politics, Policy and Religion (Rowman & Littlefield, 2005); The Practice of Liberal Pluralism (Cambridge, 2004); and Liberal Pluralism: The Implications of Value Pluralism for Political Theory and Practice (Cambridge, 2002).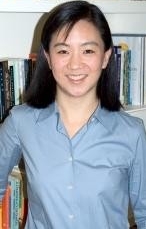 Hahrie C. Han is the Sidney R. Knafel Assistant Professor of Social Sciences in the Department of Political Science at Wellesley College. Han received her Ph.D. in American Politics from Stanford University and her B.A. in American History and Literature from Harvard University. She served as a National Issues and Policy Advisor to Senator Bill Bradley's presidential campaign in 1999-2000, where she focused on issues related to the environment, campaign finance reform, race relations, and agriculture. She also served as a Research Associate with the National Issues Project in Washington D.C from 1997-1999. Han's principal research interests focus on political participation, congressional elections, and the role of organized interests in American politics. She is currently working on a book examining the sources of people's motivation to participate in politics and the implications this has for institutions of democracy.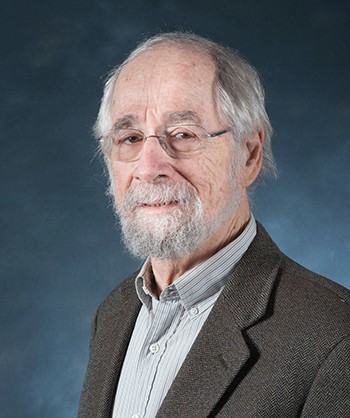 Marc Landy is Professor of Political Science and Faculty Chair of the Irish Institute at Boston College. In addition to instructing Boston College students, he regularly teaches public officials from Ireland and Northern Ireland about American politics through a series of executive programs run by the Irish Institute. He has written two books with Sidney Milkis, American Government: Balancing Democracy and Rights (McGraw Hill, 2003); and Presidential Greatness (Kansas, 2000). He co-edited Seeking the Center: Politics and Policymaking at the New Century with Martin Levin and Martin Shapiro (Georgetown, 2001) and The New Politics of Public Policy with Martin Levin (Johns Hopkins, 1995).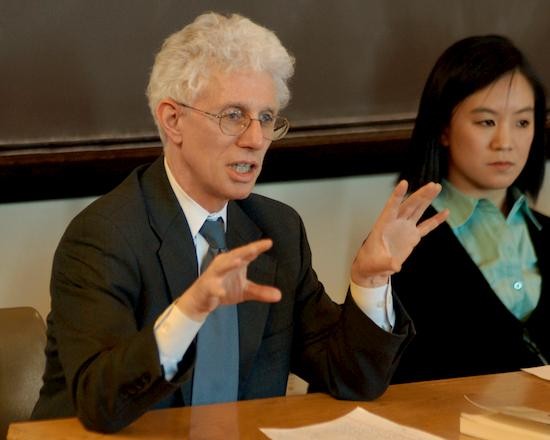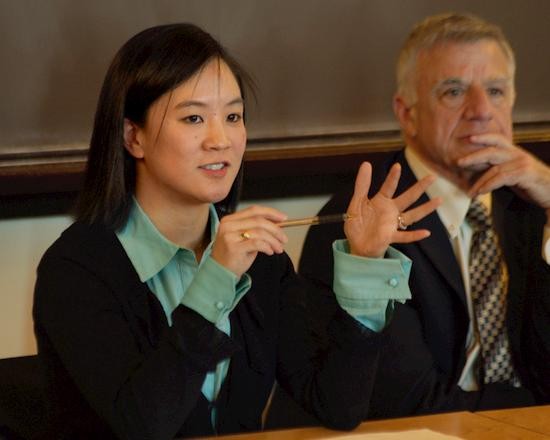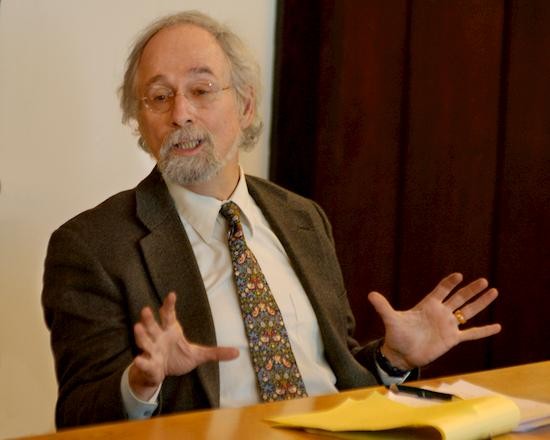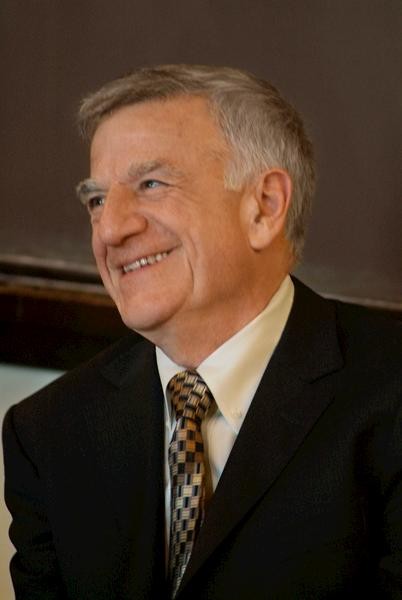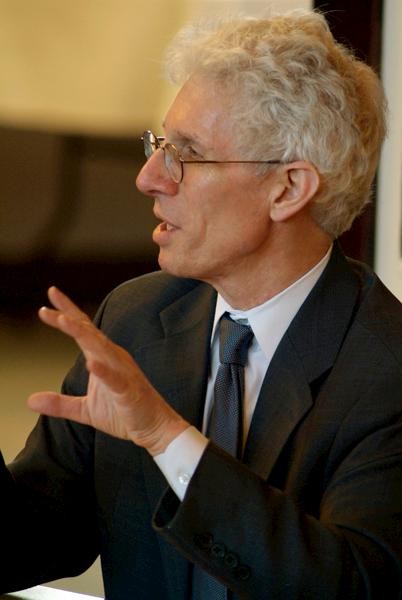 Event Recap
On March 29 the Boisi Center hosted a panel to discuss the extent to which America has become a nation politically polarized between "red states" and "blue states."
William Galston, senior fellow at the Brookings Institution, began by defining "polarization" as a drift of the public away from the political center toward the extremes.  He cited clear empirical evidence that such a drift has occurred over the past forty years. The most important reason behind this polarization, Galston argued, was the profound weakening of a (formerly) shared American framework of assumptions about the world and the economy. Although polarization affords voters more distinct choices (because candidates represent more deeply opposed positions), Galston feared its corrosive effects on the body politic.
Hahrie Han, the assistant professor of social sciences at Wellesley College, provided the historical context for our discussion. She recalled the early twentieth century as a period of great change and polarization, not unlike today. In fact, she said, the most notable aspect of the recent polarization in American politics is the period of bipartisanship that preceded it.  Although Han argued that polarization enhances participation (by motivating voters in adversarial elections), she felt that today's single-issue politics inhibits the growth of an organized center.
Our own Alan Wolfe focused his remarks on the role of religion in contemporary American politics, arguing that the major religious alignment of the late twentieth century is ending. This alignment was characterized by alliances among conservatives and liberals across denominational lines and by conflict between conservatives and liberals within single denominations. But the way politics has shaped these conflicts over the past twenty years has called into question the significance of religion as an organizing force. Wolfe's primary concern was that the country will now become less polarized politically—but more religiously polarized.
The final panelist, Marc Landy, professor of political science at Boston College, claimed that political polarization is too often exaggerated in the United States. He acknowledged the paradoxically high incidence of divorce in the religiously inclined "red" states, but suggested that social instability (which causes divorce) is the reason religion has taken hold there. Landy also pointed out that foreign policy is always a source of discord.
Read More
Further Reading
Red and Blue Nation? Characteristics and Causes of America's Polarized Politics, ed. Pietro S. Nivola and David W. Brady (Brookings Institution Press and the Hoover Institution, 2006).
James Davison Hunter, Culture Wars: The Struggle to Define America (Basic Books, 1992).
Morris P. Fiorina, Samuel J. Abrams, Jeremy C. Pope, Culture War? The Myth of a Polarized America (Longman, 2005).
James Davison Hunter, Alan Wolfe, Is there a Culture War? (The Brookings Institution, 2006).