Israel and Palestine: the State of the Question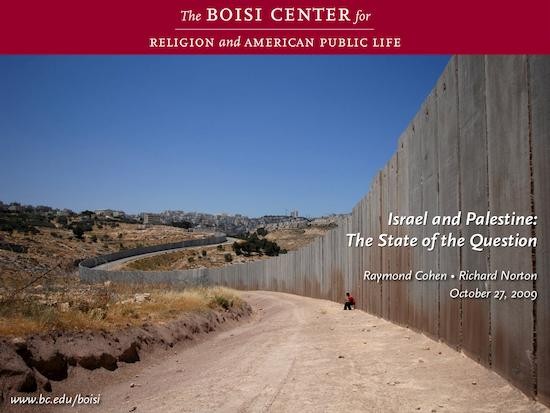 Raymond Cohen, Hebrew University of Jerusalem
Augustus Richard Norton, Boston University
Col. Desmond Travers, The International Institute for Criminal Investigations
Date: October 27, 2009
Abstract
Over the past six months, President Obama has sent several of his top diplomats to the Middle East to open new lines of communication regarding the Palestinian and Israeli conflict. News reports indicate that a new round of talks is set to begin in October. In an effort to analyze the state of the question and ways forward, the Boisi Center puts together a panel of leading scholars in their respective fields.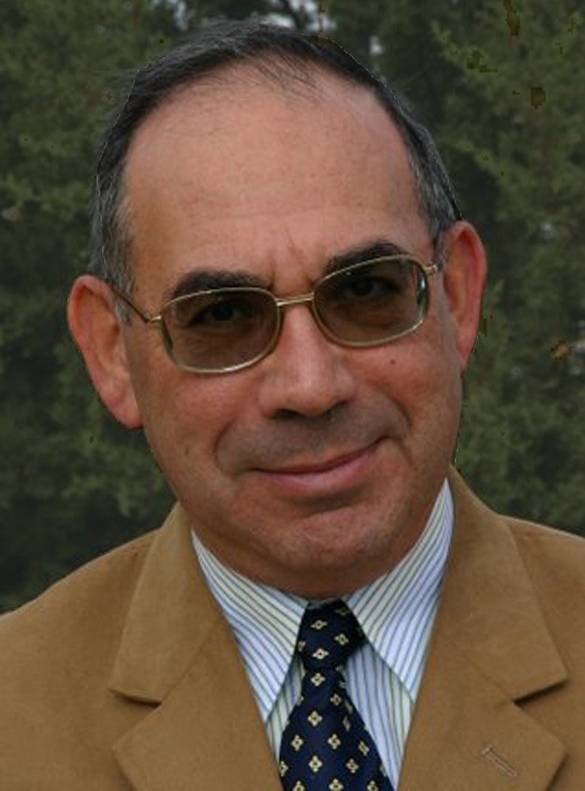 Raymond Cohen recently retired from the Chaim Weizmann Chair of International Relations at the Hebrew University of Jerusalem and is spending his second year at Boston College as Corcoran Visiting Professor in the Center for Christian-Jewish Learning. His interests include international diplomacy, ancient and modern, and reconciliation across religions and cultures. His books include Culture and Conflict in Egyptian-Israeli Relations (Indiana, 1990), Negotiating across Cultures (U.S. Institute of Peace, 1991), Amarna Diplomacy (Johns Hopkins, 2002) and Isaiah's Vision of Peace in Biblical and Modern International Relations (Palgrave Macmillan, 2008). His latest book is entitled Saving the Holy Sepulchre (Oxford, 2008). The famous Jerusalem church is a diplomatic system in microcosm, and its restoration provides a fascinating lesson in cooperation between historical rivals. Raymond Cohen is presently working on a study of the relationship between the Holy See and the State of Israel.
Augustus Richard Norton is a professor of international relations and anthropology at Boston University. He received his Ph.D. from the University of Chicago. Professor Norton is also a Visiting Professor in Politics of the Middle East at the University of Oxford and a Fellow at the Oxford Centre for Islamic Studies. His current research focuses on inter-sectarian relations in the Middle East, reformist Muslim thought, and strategies for political reform and opposition in authoritarian states. Professor Norton is the author of multiple books on the Middle East including Hezbollah: A Short History (Princeton, 2007), Civil Society in the Middle East (Brill Academic, 2005), Amal and the Shi'a (University of Texas, 1987), and Security in the Middle East (in Arabic). He is also co-author of UN Peacekeepers (Foreign Policy Assn, 1990) and Political Tides in the Arab World (Foreign Policy Assn, 1992).

Colonel Desmond Travers is the Director of the International Institute for Criminal Investigations (IICI), The Hague. He is a former Officer of the Irish Army. In a career spanning over forty years he served in command, instructional and staff appointments in the Infantry Corps and in the Army's Military College where he retired as its Commandant. He served also in a variety of UN or UN-mandated peacekeeping missions abroad: Cyprus (Peacekeeping in 1964, 1969-1970), Middle East (Observer Mission in Lebanon in 1980-1982), Lebanon (Peacekeeping in 1984-1985 and 1987-1988), Croatia, Ex Yugoslavia (EU Monitor in 1993) and Bosnia and Herzegovina Ex Yugoslavia (2000-2001).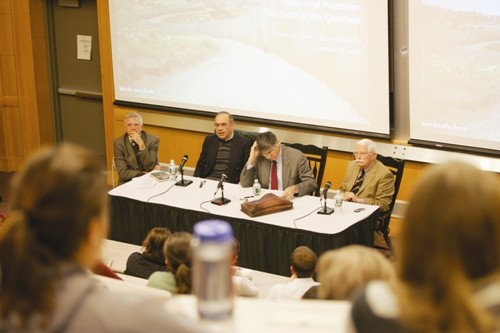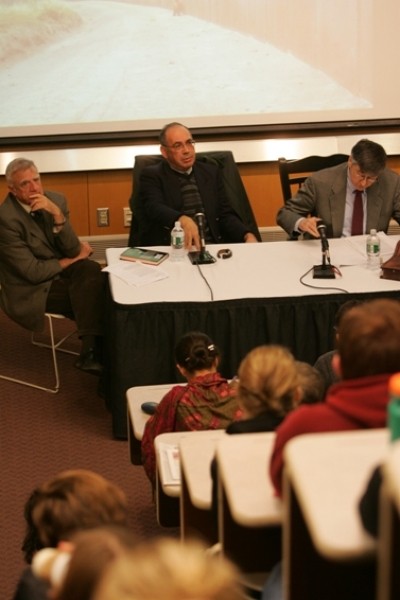 Event Recap
On October 27 a packed lecture hall engaged three experts in a lively discussion of the state of the Israeli-Palestinian conflict and possible ways forward in the peace process. Raymond Cohen, Augustus Richard Norton and Desmond Travers brought their unique experience and insight to bear upon the complex issue just weeks after the controversial Goldstone Report had implicated soldiers from both sides in possible war crimes during Israel's late 2008 incursion into Gaza.
Recently retired from his chair in international relations at the Hebrew University of Jerusalem, Raymond Cohen is now the Corcoran visiting professor in the Center for Christian-Jewish Learning at Boston College. He began the panel with a brief overview of the current deadlock, then presented three recommendations if negotiations are to move forward. First, the Palestinian Authority must re-emerge as a unified government for Palestinians in the West Bank and Gaza alike. This would require some form of reconciliation between Fatah and Hamas, but if achieved it could provide the domestic stability crucial to sustained peace talks. Second, Israel must freeze construction on new settlements in occupied territories. And third, President Obama should leverage diplomatic and personal relationships to see that the settlement freeze actually take place, even if it means delivering a televised speech directly to the Israeli people.
Augustus Richard Norton, a professor of international relations and anthropology at Boston University, signaled his agreement with much of Cohen's remarks. He added that Israel must act quickly to change its policy on West Bank settlements if it is to reverse what appear to be strong shifts in Turkish and American public opinion against Israel. Norton argued that Israeli actions in Gaza have hardened regional support for radical organizations like Hezbollah and Hamas, as well as extremist groups in other parts of the world. This, in turn, has undermined American relations with the Muslim world more broadly. Without substantial progress in the region, President Obama's promises in Cairo earlier this year will appear empty gestures.
The final speaker was Desmond Travers, recently retired colonel in the Irish Defense Forces who spent much of his career as a commander of UN missions in Lebanon, Cyprus and the former Yugoslavia. Travers was also one of the four authors of the Goldstone Report, upon which he focused his remarks. He vigorously defended the integrity of the commission's data collection, saying that no factual errors had yet been found in the report. He also defended its key assertion that war crimes committed by both Israeli and Hamas soldiers should be punished—if not by internal authorities, then by the international community—if any movement toward reconciliation can be made in the region.
Panelists then fielded questions from the audience that centered on the peace process ahead. Norton explained that the Palestinian people already feel they have made a huge concession, given that any modern Palestinian state would only comprise 22% of the its pre-1967 territory. Cohen argued that the Palestinians' best move would be to create an impeccable democracy. All panelists agreed that the window of opportunity for a peaceful resolution is coming to a close, and that action is urgently needed. We know what the blueprint of the two-state solution looks like, Norton said, since it has been determined in previous rounds of negotiation; it's simply a matter of finding the capacity on the Palestinian side, and the will on the Israeli side, to implement it.