Evolution and Innovation in Legal Education
Abstract
Over the last decade, legal education has gone through one of its most significant adjustments in decades.  After experiencing a major decline in applications from 2011-2016, law schools began making adjustments to their curricula to offer more experiential learning and more opportunities for students to develop business skills. In addition, the legal academy and the legal profession are working more closely to promote law as a career and, in particular, to increase diversity within the profession. Finally, law schools that are parts of universities are looking at new ways to create interdisciplinary partnerships, cross-disciplinary programs, and opportunities to engage undergraduates.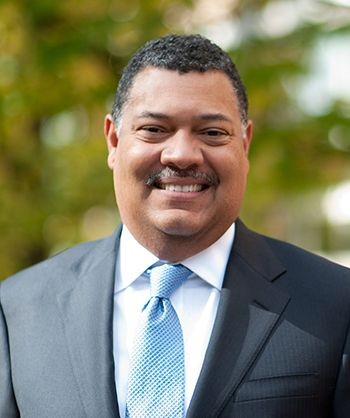 Vincent Rougeau became dean of Boston College Law School in July of 2011. He previously served as a professor of law and Associate Dean for Academic Affairs at Notre Dame. Rougeau was recently named Association of American Law Schools (AALS) President-elect.
A vocal advocate for change in legal education, Rougeau has led a reorganization in leadership structure at the law school that supports a more holistic approach to student services, expands the school's national and international recruitment of a diverse student body, and enhances the School's commitment to experiential learning and global engagement. BC Law's new Center for Experiential Learning brings all the school's hands-on training programs under one roof, while the Global Practice Program builds on the school's longstanding presence in Europe by launching new opportunities for students in Dublin, Germany, Chile, France and other locations around the globe.
An expert in Catholic social thought, Rougeau's current research and writing consider the relationship between religious identity and citizenship and membership in highly mobile and increasingly multicultural democratic societies. He serves as Senior Fellow at the Centre for Theology and Community in London, where he researches broad-based community organizing, migration and citizenship in the United Kingdom as part of the Just Communities Project.
Rougeau has served as a member of the Executive Committee of AALS, as chair of the AALS Deans Steering Committee, and on the Council of the Boston Bar Association. His teaching interests are in contract and real estate law, as well as in law and religion. Before entering the academy, he practiced law at the Washington, DC office of Morrison & Foerster from 1988-1991.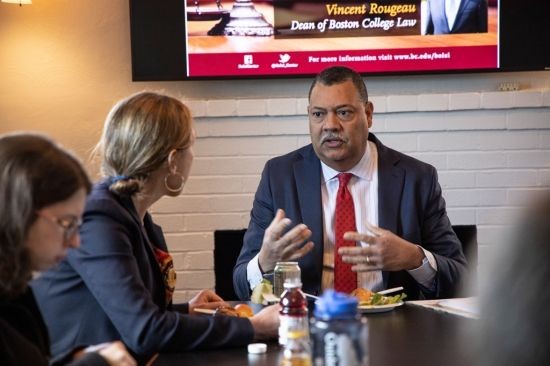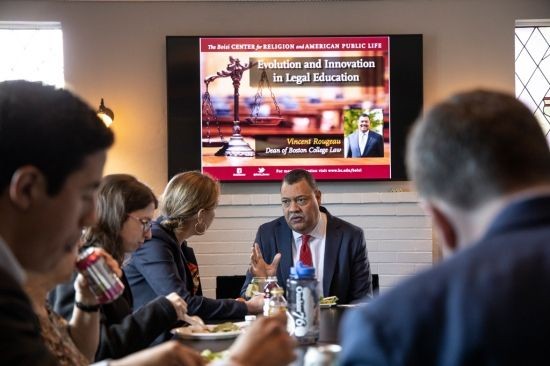 Event Recap
On Wednesday, February 19th, the Boisi Center had the honor of hosting Vincent Rougeau, dean of Boston College Law School, for a lunch colloquium entitled "Evolution and Innovation in Legal Education." 
In the past decade, the conversations surrounding legal education have addressed the successes and failures of the merits of going to Law school. Rougeau begins his presentation by providing the audience with a historical overview of legal education in the United States since World War II. After the Second World War, higher education was perceived as the "great equalizer"--pulling many Americans into the middle class. However, this rapidly changed with the advent of the 2008 global financial crisis. From 2010-2015 there was a precipitous decline in law school enrollment. Since then, enrollment has leveled off but has not reached its previous highs.  
Why did law school enrollment drop so suddenly? A change in attitudes towards legal education. For decades, legal education did not change--it stayed relatively the same. This was because the original purpose of law school is to introduce students to a particular way of thinking. As a consequence of this method of teaching, many law schools did not teach technical skills or basic training for the legal professions. At the time, it was law firms--or more accurately, their clients--that incurred the costs of training the new graduates. After 2008, clients refused to absorb the costs of training lawyers which resulted in firms hiring fewer graduates and increased job insecurity. Moreover, firms began to expect graduates to enter the job market with more skills and requiring little-to-no on the job training. Ultimately, with less job security and increased student loan debt, many began to question the benefits of going to law school. 
Although law schools have faced plenty of criticism in the past decades for the aforementioned reasons, many law schools have remained true to their mission while also making some important changes. At Boston College Law School, the main purpose of law school--to learn to think like a lawyer--has not been diminished or changed. However, administrators have responded to many student criticisms. One such example is focusing on thinking like a lawyer for the first year and the second and third focusing on practical skills and how the legal profession fits into today's economy. Lastly, BC Law offers support for navigating the job process. 
The Q&A session that followed included questions that ranged from the impact of globalization on the legal profession to the tensions in the relationships between law schools and firms, to the merits of working in public or private law. The luncheon concluded with a discussion on responses to mental health and addiction concerns that plague law schools and the legal profession.
Read More
Books
Barton, Benjamin H. Fixing Law Schools: From Collapse, to the Trump Bump, and Beyond. New York: New York University Press, 2019.
Moss, David M. and Debra Moss Curtis, eds. Reforming Legal Education: Law Schools at the Crossroads. Charlotte, NC: Information Age Publishing, Inc., 2012.
Tamanaha, Brian Z. Failing Law Schools. Chicago: University of Chicago Press, 2012.
West, Robin. Teaching Law: Justice, Politics, and the Demands of Professionalism. New York: Cambridge University Press, 2014.
Articles
Dilloff, Niel J. "Law School Training: Bridging the Gap Between Legal Education and the Practice of Law." Stanford Law and Policy Review 24, no. 2 (2013): 425-457. 
Graves, Jack. "An Essay On Rebuilding and Renewal in the American Legal Education." Touro Law Review 29, no. 2 (Summer 2013): 375-388. 
Schlein, Daniel. "Overcoming Barriers to Delivering an Effective Legal Education: Repairing a Flawed Instructional Model." Rutgers Law Record 41 (2014): 154-166.
In the News
As Aebra Coe writes, the conversation about new ways of preparing students for the world of law is a relevant one, as the industry increasingly requires business know-how and creative innovation to remain competitive amidst a rapidly changing landscape. UPenn Law's "Future of the Profession Initiative" program is reflecting on these new industry trends and is influencing other law schools to create similar programs. Should law schools teach skills that segway into other fields or should these "hard skills" be learned on the job or pursued elsewhere?  But isn't it the responsibility of these schools to make sure students leave prepared? The answer is unclear, but one thing isn't: careers in law have changed significantly, and don't show sign of slowing.