The Papacy after Benedict XVI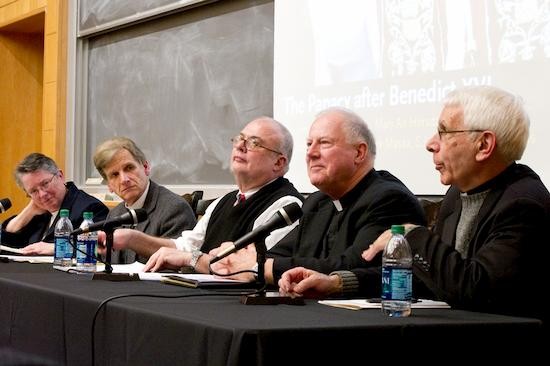 Rev. James Bretzke, S.J., Boston College
Sr. Mary Ann Hinsdale, I.H.M., Boston College
Rev. Robert Imbelli, Boston College
Rev. James M. Weiss, Boston College
Moderated by Rev. Mark Massa, S.J., Boston College
Date: February 27, 2013
Abstract
The Boisi Center convened three distinguished scholars from diverse perspectives to discuss the nature of poverty in the United States and the issue's place (or lack thereof) among American national priorities.
Rev. James T. Bretzke, S.J., hails from Milwaukee, Wisconsin. Prior to coming to BC he served as Chair of the Department of Theology & Religious Studies at the University of San Francisco. He taught for three years at the Pontifical Gregorian University in Rome. In 1993, he came to the Graduate Theological Union and the Jesuit School of Theology-at-Berkeley. Fr. Bretzke taught for several years in Korea at Sogang University and is a regular Visiting Professor of Moral Theology at the Loyola School of Theology of the Ateneo de Manila, Philippines where he teaches Moral Theology and Bioethics. Besides teaching, Fr. Bretzke worked for 13 years on weekends at Our Lady of Lourdres Parish in Oakland, and was very active in giving workshops in various aspects of moral theology throughout the dioceses of California and Nevada. Fr. Bretzke earned his doctorate at the Pontifical Gregorian University (Rome).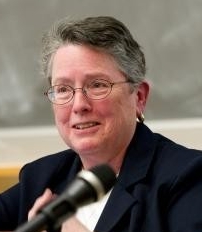 Sr. Mary Ann Hinsdale, I.H.M., is a native of Chicago. She came to Boston College in 2000 and was Director of the Insitute for Religious Education and Pastoral Ministry from 2000-2003. From 1987-2000, she taught theology at the College of the Holy Cross in Worcester, MA where she was Chair of the Religious Studies department and also served as Director of Women's Studies. From 1982-1987, she taught systematic theology at St. John's Provincial Seminary, Plymouth, MI. She is a member of the Sisters, Servants of the Immaculate Heart of Mary (Monroe, MI). Sr. Hinsdale holds a B.A. from Marygrove College, an M.A. in Religious Education from the Catholic University of America, an S.T.L. from Regis College (Toronto), and a Ph.D. in systematic theology from the University of St. Michael's College (Toronto).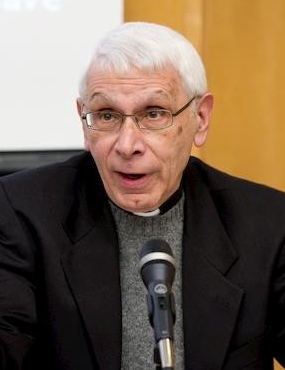 Rev. Robert P. Imbelli, a priest of the Archdiocese of New York, studied in Rome during the years of the Second Vatican Council and was ordained there in 1965. He has taught theology at the New York Archdiocesan Seminary and at the Maryknoll School of Theology and has been visiting lecturer at Princeton Theological Seminary and Fordham University. From 1986-1993 Father Imbelli was Director of the Institute of Religious Education and Pastoral Ministry at Boston College and is currently Associate Professor of Theology at Boston College. He holds an A.B. from Fordham Univeristy, an S.T.L. from Gregorian University (Rome), and a Ph.D. from Yale University.
Rev. James M. Weiss moved from Chicago to Boston College in 1979. He has taught on visiting appointments at the Universities of Munich, Harvard, and Notre Dame. Trained in history and church history, his work has turned from Renaissance and Reformation spirituality to contemporary spirituality, 1900 to present. The Capstone Program, which he founded and has directed since 1990, offers over 30 sections a year to 400 seniors on subjects of lifelong commitment in work, relationship, citizenship, and spirituality. Twenty-four faculty from 18 departments teach in the program. An Episcopal priest with a ministry in spiritual direction, Rev. Weiss serves two different parishes in Boston's Back Bay and the inner-city Dorchester neighborhood. He holds an M.A. and Ph.D. from the University of Chicago.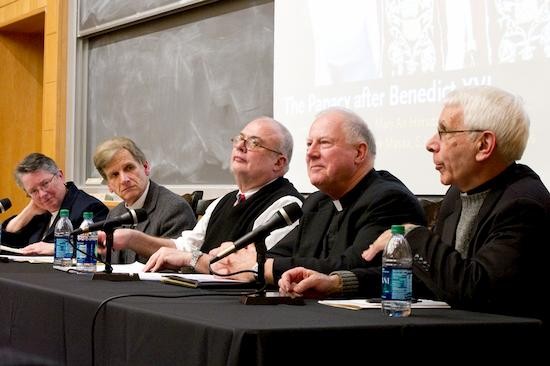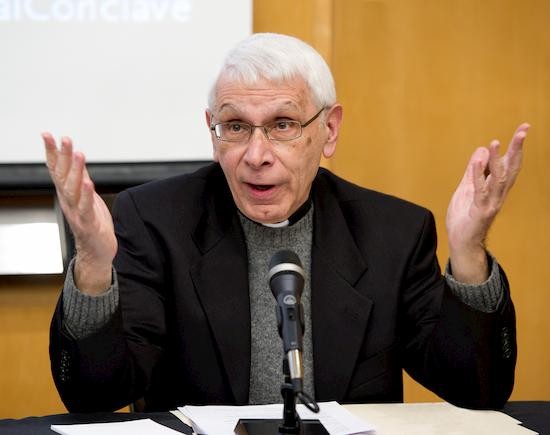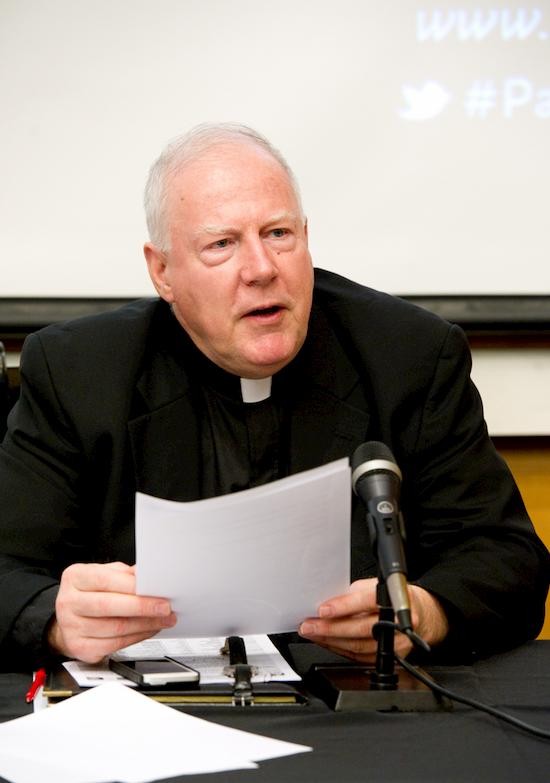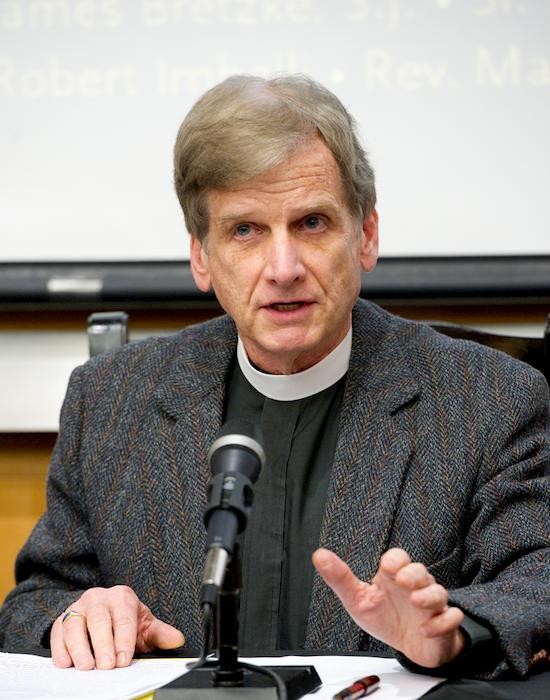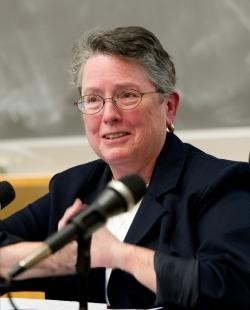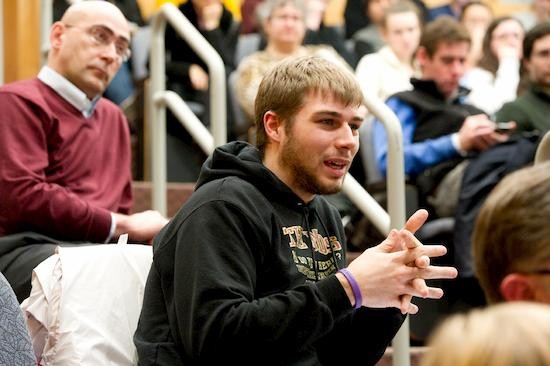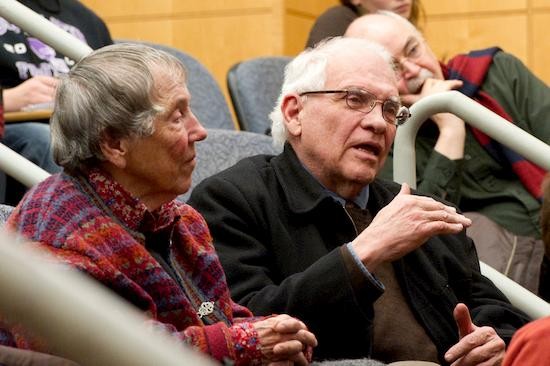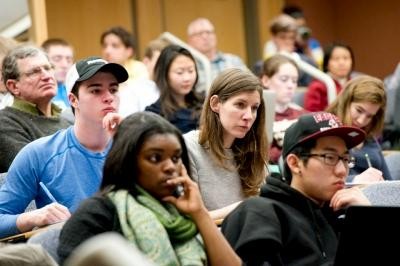 Event Recap
Less than 24 hours before Pope Benedict XVI formal­ly resigned as Bishop of Rome and head of the global Catholic Church, the Boisi Center co-hosted a major panel discussion of Benedict's legacy and the challenges he left to his successor. Boston College theologians Robert Imbelli, James Bretzke S.J., Mary Ann Hinsdale, I.H.M. and James Weiss shared insights, opinions and historical anecdotes on the forthcoming papal conclave, with Church historian Mark Massa, S.J., dean of BC's School of Theol­ogy and Ministry, moderating the spirited conversation.
Fr. Imbelli, a priest of the Catholic archdiocese of New York, began the conversation by examining the strengths and weaknesses of Benedict's papacy. Among the pope's strengths, Imbelli argued, was his loyalty to Vatican II's call for evangelization and his attempt to refocus the Church's social teaching upon Christological grounds. Imbelli also cited Benedict's brilliant writings on the mu­tually enriching relationship between faith and reason. As for the outgoing pope's weaknesses, Imbelli agreed with the conventional wisdom that the pontiff lacked the strong administrative skills and foresight necessary to manage Vatican affairs and the global church in the wake of the sexual abuse scandals.
Fr. Bretzke, who has studied and worked in many coun­tries in Europe and Asia, examined Benedict's legacy from a cross-cultural perspective. Noting that neither John Paul II nor Benedict XVI were well-travelled prior to their elections, he hoped for a new pope who will be better grounded in a multi-cultural understanding of the Catho­lic Church. Bretzke also argued that the speculation and introspection that prevail in advance of a papal conclave provide a healthy service to the Church by drawing out many views of what the Church truly needs. Despite his optimism, Bretzke also reminded the audience that the world should in some sense expect "more of the same"—semper idem, in Latin—from the Vatican because major changes are quite rare.
Fr. Weiss, an Episcopal priest, gave a brief history of papal conclaves while highlighting the unprecedented nature of this particular transition. He began his remarks by won­dering, "What are the cardinals thinking?" He argued that there is a high level of distrust between the cardinals and the Curia, resulting from a general mismanagement of Vatican affairs during Benedict's papacy. As a result, he argued, the new pope's chief of staff may be as important as the pope himself if administrative reforms are to be effective. Weiss also noted that Benedict's early resigna­tion meant that the cardinals have had more time than any of their predecessors since 1800 to deliberate prior to the conclave. As a result, said Weiss, "We know what they are thinking about, but not what they are thinking about it. No front-runner has emerged."
Sr. Hinsdale called Benedict's resignation a "progressive act," and expressed her hope that his departure will allow a greater voice for women within and outside of the Church hierarchy. She called upon Church leaders to make col­legiality a core practice and reminded the audience that the Holy Spirit is working with and through all people. Hin­sdale described previous popes as tremendous witnesses to the faith of the Church, but argued that real dialogue is needed with women in the church who do most of the groundwork for and with the faithful.
While none of the panelists (nor the packed audience nor any of the usual Vatican observers!) predicted Cardinal Bergoglio's election as Pope Francis two weeks later, their wisdom and vision gave everyone an excellent framework by which to reflect upon the new pontiff's leadership.
Read More
Further Reading
Chester Gillis. Papal Term Limits? Give it some thought. Commonweal, Vol.131(15), p.12. 2004.
John L. Allen. Conclave: The Politics, Personalities, and Process of the Next Papal Election. (Image, 2002).
John-Peter Pham. Heirs of the Fisherman: Behind the Scenes of Papal Death and Succession. (Oxford Press, 2006).
Chester Gillis. The Political Papacy: John Paul II, Benedictine XVI And Their Influence. (Paradigm, 2005).
Frederic J. Baumgartner. Behind Locked Doors: A History of Papal Elections. (Palgraves Macmillan, 2005).
NEWS ARTICLES AND OTHER SOURCES
James M. Weiss. "Conclave amid Vatican discord". The Boston Herald, March 12, 2013.
James M. Weiss. "Papal Politics". The Boston Globe,  April 13, 2005.
James M. Weiss. The Conclave and the New Pope: Precedents, Paradoxes, and Priorities. Event at The Boisi Center for Religion and American Public Life, April 20, 2005.
Carol J. Williams. "Pope's resignation, 'a generous act,' could transform Vatican". The Los Angeles Times, February 13, 2013.
Mark-David Janus. "Servant of the Servants of God". America Magazine, February 19, 2013.
Rev. James T. Bretzke, S.J. "Pope's big move a bold legacy". The Boston Herald, February 12, 2013.
Lisa Wangsness. "Pope Benedict stuns Catholic world with resignation". The Boston Globe, February 12, 2013.
John L. Ellement. "Theologians expect Vatican insider to be chosen as next pope". The Boston Globe, February 11, 2013.
"'Papabili': Twelve to watch as cardinals gather in Rome". The Catholic Sun, February 18, 2013.
America Magazine archive: The Papacy of Pope Benedict XVI
In the News
Boston College theologian Rev. James M. Weiss, in a Boston Herald op-ed article, gives a succinct summary of his remarks at our February 27th panel, "The Papacy After Benedict XVI". Weiss surveys the unique nature and the pressing implications of the 2013 conclave.