Climate Change and Christian Ethics
Abstract
What must a Christian ethic accomplish in order to adequately address climate change? A wide range of Christian churches have issued statements recognizing climate change as a matter of theological and ethical concern. But in the midst of chronically irresolvable global debates over fairness across inequalities, intergenerational obligations, and responsibilities to other species, those statements seem to offer little help or hope to a global public. Christian ethics should avoid the temptation, Jenkins argues, to content itself with general theological interpretations of the problem and work instead to foment moral and social creativity. Problems with unprecedented moral and physical dimensions challenge theological communities to show how their traditions of faith can generate unanticipated responsibilities.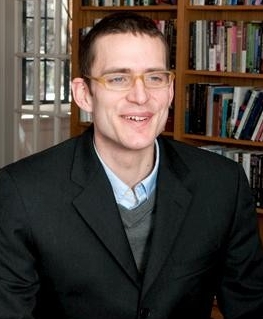 Willis Jenkins is the Margaret Farley Assistant Professor of Social Ethics at Yale Divinity School, and holds a secondary appointment at the Yale School of Forestry & Environmental Studies. Professor Jenkins' research focuses on environmental ethics, sustainable communities, global ethics, and theological ethics. He is author of Ecologies of Grace: Environmental Ethics and Christian Theology (Oxford, 2008), which won a Templeton Prize for Theological Promise, and editor of several other works. He is also editor of The Spirit of Sustainability, and co-editor of Bonhoeffer and King: Receiving Their Legacies for Christian Social Thought (Fortress Press 2010). Professor Jenkins previously taught at the University of Virginia and on the rural campus of Uganda Christian University. He has significant international experience in community development initiatives, was co-founder of the Episcopal Young Adult Service Corps, and served on the Episcopal Church's Standing Commission on World Mission, 2000–2006. He is currently at work on a book entitled Sustainability and Social Justice.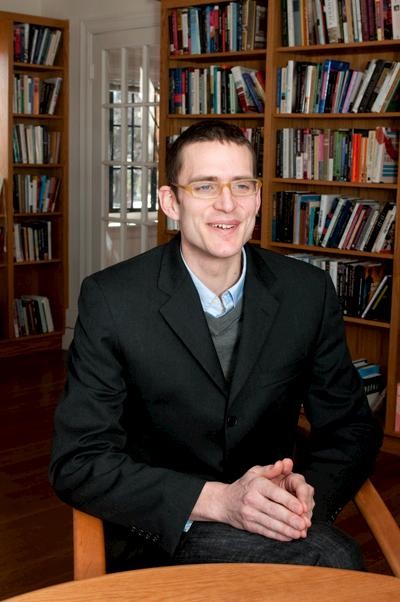 Event Recap
In an engaging lunch colloquium that packed our seminar room, Willis Jenkins, assistant professor of social ethics at Yale Divinity School, called for a new approach to climate change among Christian ethicists. Climate change, he argued, is an unprecedented moral problem because of its scope, duration, uncertainty and susceptibility to perverse incentives, yet the Christian community has mostly just issued broad blanket statements that do little to help Christians take concrete steps to address the problem. To maintain the relevance of their tradition to contemporary global issues, Christian communities must show how climate change is a theological problem, and how solutions to climate change fit into larger Christian moral commitments. Most importantly, Jenkins said, Christians must take actions to address specific problems in particular areas, for example by partnering with churches in less-developed nations threatened by climate change.
Creative responses to climate change must combine knowledge of climate change with theological reflection in the ecological dimensions of justice. Rather than merely a theoretical exercise, Christian ethics can be a springboard to creative, targeted approaches to this unprecedented global problem. Substantively, Christian ethics can better combat climate change by linking environmental issues to the churches' stories of God, the experience of God and what Jenkins called the "ecologies of grace," that is, the modes of understanding God's grace in the context of environmental ethics.
During the lively discussion that followed, colloquium participants drew a wide range of disciplines from environmental science to business to discuss alternative strategies to address climate change. Participants struggled with the apparently simple question, "What is so difficult about this for Christian communities?" Jenkins responded that there are perverse incentives for individuals to ignore the issue—or existence—of climate change, and thus to defer responsibility to the next generation. He argued that those most able to do something are those with the least incentive to do so, such as owners of big businesses, and that human beings do not feel an obvious responsibility to animals and the environment. While some argued that religion might obstruct steps to address climate change, Jenkins replied that no one group has "the answer" and that Christian communities, as well as other communities, can all provide compelling, and effective, responses to climate change.
Read More
Further Reading
Books by Willis Jenkins
Ecologies of Grace: Environmental Ethics and Christian Theology, by Willis Jenkins, New York: Oxford University Press, 2008.
From the publisher: "In Ecologies of Grace, Willis Jenkins presents a field-shaping introduction to Christian environmental ethics that offers resources for renewing theology. Observing how religious environmental practices often draw on concepts of grace, Jenkins maps the way Christian environmental strategies draw from traditions of salvation as they engage the problems of environmental ethics. He then uses this new map to explore afresh the ecological dimensions of Christian theology. Jenkins identifies ecojustice, stewardship, and ecological spirituality as three major strategies for making environmental problems intelligible to Christian moral experience, by drawing on patterns of sanctification, redemption, and deification."
Articles by Willis Jenkins
"Prophetic Environmental Pragmatism: Adaptive Management and Cultural Reform" (under review)
"After Lynn White: Religious Ethics and Environmental Problems," Journal of Religious Ethics, 37.2: 283-309 (2009).
"The fields of environmental ethics and of religion and ecology have been shaped by Lynn White Jr.'s thesis that the roots of ecological crisis lie in religious cosmology. This article examines the critiques of White's legacy and presents a pluralist alternative that focuses religious ethics on the contextual strategies produced by moral communities as they confront environmental problems." 
"Global Ethics, Christian Theology, and the Challenge of Sustainability," Worldviews: Global Religions, Culture, and Ecology, 12.2-3: 197-217 (2008).
"This paper considers how theology confronts sustainability as a global problem, and what that confrontation can contribute to the challenge of global ethics. After reviewing major models of religious engagement with global ethics, Jenkins argues for an analogical conception in which Christian social practices generate moral patterns with the capacity to meet the integrative challenge of global ethics. Theological reflection on those practices then helps sustain the discourse of sustainability as an effective working concept."
"Missiology in Environmental Context: Tasks for an Ecology of Mission," International Bulletin of Missionary Research, 32.4: 176-84 (October 2008).
In this article, Jenkins describes "a series of tasks for making environmental issues more visible, intelligible, and significant for missiology. He argues, "each of the tasks may be approached from a range of theological commitments and registers. Missiological engagement with environmental issues is an ecumenical task, requiring all Christians to show how the gifts of living with God make sense of the gifts of living on earth." 
"Biodiversity and Salvation: Thomistic Roots for Environmental Ethics," Journal of Religion, 83.3: 401-20 (July 2003).
In this essay, Jenkins explores the writings of Thomas Aquinas and applies his theories to Jenkins' argument in support of a distinctively Christian environmentalism "one that happily avoids the determination of anthropocentric, ecocentric, or even theocentric by showing the harmony of several centrisms: it is in our own best interests to be able to perfect our nature (anthropocentric) by seeking the knowledge of God through worship (theocentric), which we are able best to do by understanding the many different perfections of the cosmos and our particular place among them (ecocentric). That is to say, for Thomas, part of the way God works for the perfection of humans is to invite them into the wisdom, beauty, and goodness made available on earth through active participation in God's love for creation."
In the News
"Global Warming and American Christianity," by Martin E. Marty, Sightings, November 15, 2010.
In this article, Marty critiques those members of the conservative party, Tea Party, and fossil fuel industries who refuse to acknowledge the reality of global climate change.  She heralds Bill McKibben, arguably the nation's leading environmentalist, for his work as an advocate of measures to confront climate change.  
"Bill McKibben and The Moral Math of Climate Change," a conversation with Bill McKibben, Krista Tippett on Being, August 5, 2010.
In this broadcast, McKibben, a leading environmentalist and author of The End of Nature (1989), discusses his "evolving perspective on human responsibility in a changing natural world."
"A Climate Skeptic With a Bully Pulpit in Virginia Finds an Ear in Congress," by John Collins Rudolf, New York Times, February 22, 2011.
This article discusses Virginia's Republican attorney general, Kenneth T. Cuccinelli II's, actions against those working to promote research and policies concerning climate change, most notably Dr. Mann, a climatologist at Pennsylvania State University, and the Environmental Protection Agency.