Citizenship in the Global City: Catholic Social Teaching and Community Organizing in East London
Vincent Rougeau
Boston College Law School
Date: March 20, 2012
Abstract
As waves of migrants arrive in their new homelands, globalizing cities in Europe and North America are rapidly becoming home also to new forms of civic identity, citizenship and civil society. Central to this new multicultural cosmopolitanism are people of faith, whose religious identity and commitments—not least their understanding of what constitutes a just and humane society— informs their interaction with one another and with secular actors and institutions. Working in collaboration, and in other cases in competition, Christians, Muslims (as well as Sikhs, Buddhists, Jews, and Hindus), civic and business leaders, and political action groups are striving to build community, gain representation and shape local and national political systems.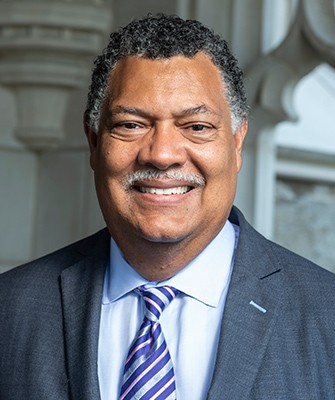 Vincent D. Rougeau is Dean and professor of law of Boston College Law School. He previously served as a professor of law Notre Dame, where he was also the director of the Center for Law and Government and Associate Dean for Academic Affairs. An expert in Catholic social thought, Dean Rougeau's most recent book is Christians in the American Empire: Faith and Citizenship in the New World Order (2008). His current research and writing consider the relationship between religious identity and notions of democratic citizenship and membership in an increasingly mobile global order, one that is marked in certain regions by high levels of economic inequality and political instability. Prior to his arrival at Boston College, Dean Rougeau was a Senior Fellow at the Contextual Theology Center ("CTC") in London and co-founded an effort called "Just Communities: Christian Witness in a Pluralist Society." He is currently the leader of a research group on global migration and cosmopolitanism as part of the Contending Modernities project sponsored by the Kroc Institute for International Peace Studies at Notre Dame. He received his A.B. magna cum laude from Brown University in 1985, and his J.D. from Harvard Law School in 1988. Dean Rougeau is a member of the bar in Maryland and the District of Columbia.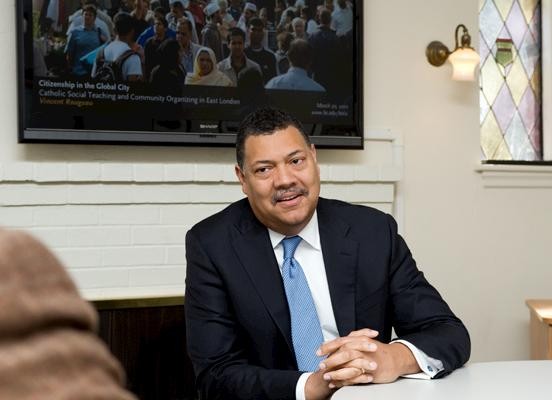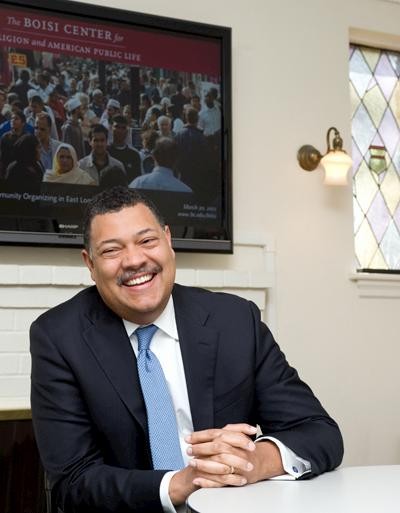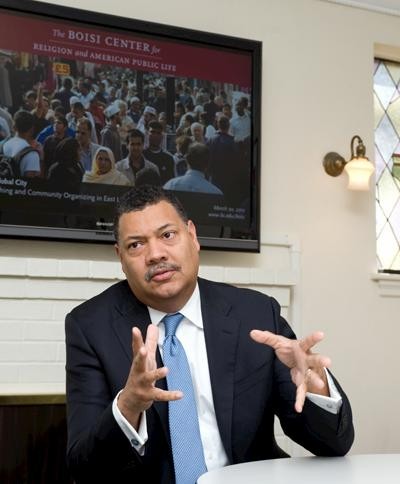 Event Recap
The dynamic multicultural diversity in global cities like New York, Paris or London creates a new and complicated context for citizenship, said Vincent Rougeau, dean of the BC Law School, at a March 20 lunch colloquium. Traditional norms of citizenship are changing in order to accommodate the increasing movement of individuals from the colonial periphery to the center—South Asians to London, for example, or North Africans to Paris. Immigrants to these cities frequently turn to local faith communities to help them make sense of their new identity and make their way in the local economy. As a result, faith communities provide the gateway for broad-based community organizing efforts among immigrants from diverse backgrounds.
Rougeau described his recent work with community organizers in East London who draw upon Catholic social thought in their work with immigrants of all faith traditions. Despite deep differences, the religiously diverse community can still rally around core concepts of Catholic social thought: respect for human dignity, recognition of a common good, solidarity with the underclasses, and the pursuit of social justice through (among other things) the payment of living wages to all workers.
During the ensuing conversation with the audience, Rougeau cited a number of factors that largely preclude the possibility of similar forms of community organizing taking root in the United States. Europeans embrace the concept of cosmopolitan citizenship much more widely than Americans, and the existence of historic church-state relationships in Europe (like England's established church) makes faith-based organizing more politically and logistically feasible there than in the United States. And in this era of increased anti-immigrant sentiment in both places, the persistence of negative stereotypes continues to hinder efforts to work for social justice across religious and cultural boundaries.
Read More
Further Reading
Rougeau, Vincent. Christians in the American Empire: Faith and Citizenship in the New World Order  (2008). Oxford University Press. This book challenges the argument that the United States is a Christian nation, and that the American founding and the American Constitution can be linked to a Christian understanding of the state and society. It also offers a new model for Christian public engagement in the American Empire.
Rougeau, Vincent. "Catholic Social Thought and the New Urbanism: A Shared Vision to Confront the Problem of Urban Sprawl?" in Recovering Self‐Evident Truths, Michael Scaperlanda and Theresa Colette eds. (2007). Catholic University Press. From a Catholic perspective, Rougeau discusses New Urbanism-- or the response to suburban sprawl that has come from the architectural profession--and the various challenges it has encountered in the areas of American local government and zoning law.
Rougeau, Vincent."Enter the Poor: American Welfare Reform, Solidarity and the Capability of Human Flourishing," in Transforming Unjust Structures: The Capability Approach, S. Deneulin, M. Nebel, and N. Sagovsky eds. (2005). Springer. Pointing to key cultural problems that prevent American law and public policy from geninely confronting poverty, Rougeau lays the groundwork for a reassessment of American welfare reform.
Gecan, Michael. Going Public: An Organizer's Guide to Citizen Action (2004). Anchor Books. Critical of the way big business and social service bureaucracies exploit vulnerable communities, Gecan urges citizens to get serious about political organizing if they hope to have a stake in their own communities.
Chambers, Edward. Roots for Radicals: Organizing for Power, Action, and Justice (2004). Continuum. Chambers offers a portrayal of the IAF (Industrial Areas Foundation) and its approach to community organizing.
Stout, Jeffrey. Blessed Are the Organized: Grassroots Democracy in America (2010). Princeton University Press. Stout comments on the successes and failures of grassroots organizing in the United States and offers insight into how to preserve the country's endangered democratic vaues.
Blogs
Contending Modernities. A blog about Catholic, Muslim and secular interactions in the modern world. Hosted by the University of Notre Dame.