Rousseau's Paradoxical Legacy
Abstract
This talk will provide a reassessment of Rousseau's career, and of his remarkable rise from obscurity to fame. Focusing in particular on the paradoxical reception of his works, which brought him both celebrity and marginality, and made him the most famous writer-fugitive of his time, we will see how Rousseau inaugurates a new form of fame in the Republic of Letters, based on a new relationship between the writer and a growing public that is increasingly interested in the life and conduct of the author. Through the intensively polemical reception of his works, Rousseau attempts to shape and control his public image, and in so doing becomes a model for an entire generation of aspiring writers and artists in Europe.
Ourida Mostefai is Associate Professor of French in the Romance Languages & Literatures Department of Boston College. She received a Ph.D. and M.A. from New York University, and a Licence de Lettres from the Université de Paris III-Sorbonne Nouvelle. Her fields of research include 18th century French literature, Rousseau, pamphlets and polemical literature, and strategies of reading and censorship. She is the author of Le Citoyen de Genève et la République des Lettres (2003) as well as numerous articles. Professor Mostefai is also the co-editor of Rousseau and l'Infâme: Religion, Toleration, and Fanaticism in the Age of Enlightenment (2009) and Approaches to Teaching Rousseau's "Confessions" and "Rêveries" (2003). She is a past President of the Rousseau Association and has served on the editorial boards of Eighteenth-Century Studies, Eighteenth-Century Fiction, and Studies in Eighteenth-Century Culture. She is a member of the editorial team preparing a new critical edition of the Complete Works of Rousseau for Classiques Garnier Publishers. In 2009 she was honored by the French National Ministry of Education with the award of Chevalier (Knight) in the Ordre des Palmes Académiques.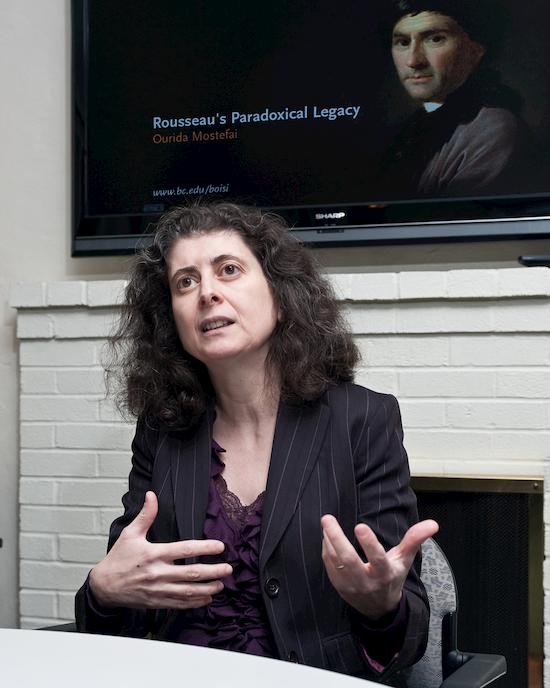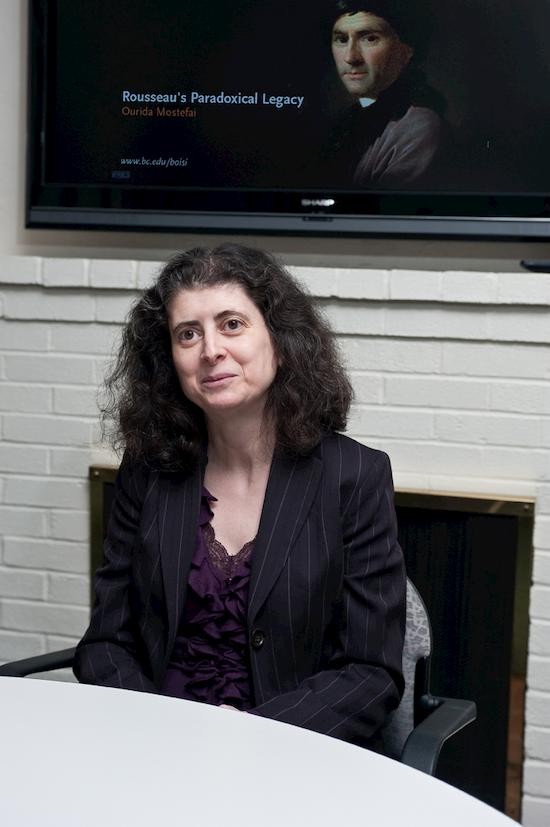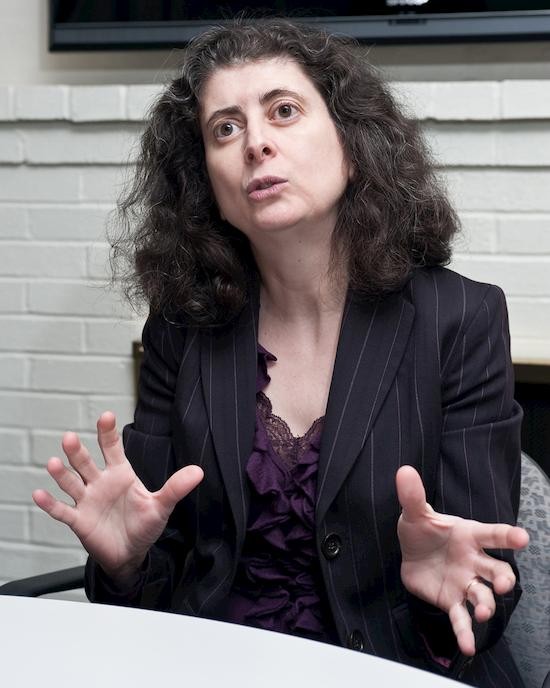 Event Recap
On February 10 the Boisi Center welcomed Ourida Mostefai, associate professor and chair of the Boston College Department of Romance Languages and Literatures, for a presentation of her recent research on French philosopher Jean-Jacques Rousseau. One cannot fully appreciate Rousseau's discourses, she said, without understanding the the paradoxical life and fame of man behind them.
In eighteenth-century Europe the growth of publishing, rise in literacy, and development of gazettes and newspapers made access to new ideas and opinions more accessible. It was in this setting that Rousseau established himself as a public thinker par excellence. Yet his rise from obscurity to fame was as much due to his personal conduct as his written oeuvre. Rousseau broke with the convention of his day not only in his thoughts and radical writings, but through a distinctive lifestyle that has particular resonance in our own celebrity-driven era.
Unlike his contemporaries, Rousseau rejected pseudonymity and claimed authorship of even his most controversial his writings. While he was educated and protected by the elite, he wrote for the masses. Rousaseau eschewed the noble status and preferences of fellow writers, defying convention and provoking the ire of academics and nobility alike. His writings were frequently banned, an act that ironically fueled his popularity and name recognition. Rousseau also balked at the common style of dress, choosing instead the unique dress of Armenian peasants, for example, and refusing to wear a wig as was the custom of his time. He was conscientious of his public persona, and enjoyed his celebrity status, which was enhanced by his peculiar style.
Rousseau's legacy remains both important and paradoxical, Mostefai argued. His writings have influenced major academic and political figures from Napoleon to Kant, yet his distinctive lifestyle also made him a notorious and marginalized figure during his own time.