The Religion and Public Life minor will offer students a way to explore and connect diverse conversations about the role of religion in public life. Bringing together a wide array of courses to choose from, the Religion and Public Life minor will have an interdisciplinary emphasis and be composed of six courses, one introductory course and five electives.
Expectations of undergraduates who minor in Religion and Public Life
The aims of the Religion and Public Life minor are to form undergraduate students who are able to:
Understand and narrate the history of religious and cultural interactions across the U.S. historical landscape.
Speak knowledgeably about what comprises a religiously diverse society-- its constructions, conflicts, and common goods—both within the American tradition and in international contexts.
Understand varying roles of an engaged citizenry and the political consequences of religious associations.
Ask difficult questions that lead to analyses of the moral consequences of public policies.
Articulate what the 'Common Good' might look like in a pluralistic society.
Courses
The introductory course will be a focused and constructive seminar conversation about the various intersections between religion and public life, focusing on the American context. Listed as a theology course (THEO 3253), the introductory seminar, "Religion and American Public Life," will be taught by the director of the minor. All students entering the minor will take this introductory course first. During the course, students will meet with the director to determine which elective courses are the best fit for their interests and, if needed, will be connected with another faculty member who will assist in recommending electives.
These electives will form a "cluster" that narrows the focus of the minor to consider the individual student's interests in religion and public life, either within or expanding beyond the American context. This "cluster" consists of five electives, including at least one "advanced elective." An advanced elective is a writing intensive course that should be taken near the end of the student's fulfillment of minor requirements. The elective courses must be chosen from at least two departments outside of theology. 
Example of Elective Clusters
Religion and the Arts
Religion, Culture, and Media
Religion and Political Philosophy
Religion and the Social Sciences
Religion and American Politics
Religion and International Politics
When the student has completed all six minor courses, the student will be expected to write a short paper (no more than 1000 words) reflecting on their studies in the minor, the relationship between courses in their "cluster" and their major, and how what they have learned may impact their future beyond Boston College. Students who have completed the minor will be expected to give a brief presentation of this reflective paper at a spring reception for affiliated faculty, staff, and fellow students involved in the Religion and Public Life minor.
Interested in the Minor
Students who are interested in the Boisi Center Minor in Religion and Public Life should contact the director, Fr. Mark Massa, by email. His email address is mark.massa@bc.edu.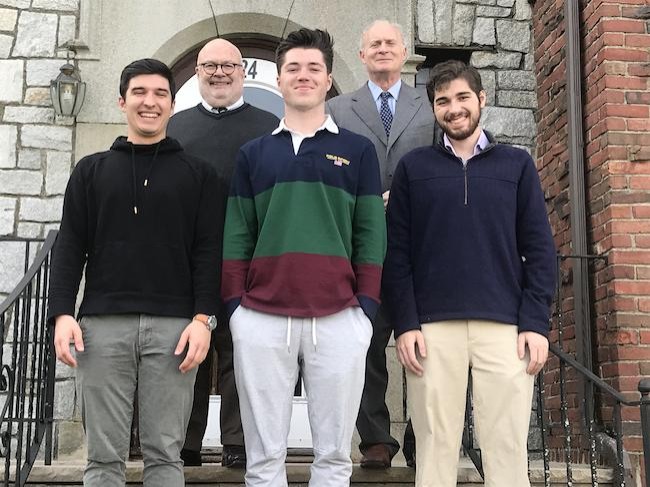 Religion and Public Life Minor
Summer 2021 Internship Practicum
The Religion and Public Life minor program was launched in the fall of 2019 as an
interdisciplinary program offering students a way to explore and connect diverse conversations about the role of religion in public life. Each academic year, the program selects approximately five students for participation. Fr. Mark Massa, director of the minor program and the Boisi Center for Religion and American Public Life, requests recommendations for potential minors from fellow faculty members and current minors. The minor includes one required introductory seminar THEO 3253 entitled "Religion and American Public Life" and five electives which cluster around the individual student's interest.

Last summer, the minor program was complemented by a summer practicum rooted in Jesuit beliefs, practices, and traditions of social justice. The practicum ran for 11 weeks between June and mid-August and included two remote reading and discussion segments and one four-week field work experience in labor and political organizing in the Boston area. The students' labor organizing practicum was supported by the New England's Teamsters Local 25. The political organizing experience was hosted by Boston Mayor Michelle Wu's election campaign. Three rising juniors – Nicholas Letts, Sean O'Neil, and Connor Thomson - volunteered to participate according to Massa.

Massa conceived of the practicum as a way for students to combine close study of key texts from the Catholic social justice tradition with applied, on-the-ground experience in the field of organizing. To further this effort, he worked with Harry Grill, a former partner with the global law firm of K&L Gates and longtime political and labor organizer. Most recently Grill served as the National Political Campaigns Director for UNITE HERE, the labor union that represents workers across the United States and Canada in industries ranging from food service and textiles to hotels and airports.

The syllabus that Grill created for the practicum opened with a reading and discussion of Rerum Novarum, Pope Leo XIII's encyclical on capital and labor. Building on this foundation, additional readings included Thomas A. Shannon's Commentary on Rerum Novarum (The Condition of Labor), Samuel Huntington's The Crisis of Democracy, and B. Holly Schadler's The Connection: Strategies for Creating and Operating 501(c)(3)s, 501(c)(4)s and Political Organizations.
The remote sessions consisted of discussing the readings, current media, and gleanings from Rerum Novarum. The focus was the relationship to the profound crisis America is facing in a bitterly partisan and alarming moment such as income and social inequality, a once-in-a-century global health pandemic, climate change, technology and automation rapidly changing the character of work and the livelihood of workers, and the hostility towards immigrants and various racial, ethnic, and religious groups. Each student also wrote a mission statement on how a non-profit charitable organization would advocate on the principles of Rerum Novarum at this moment in our country's history and each developed an independent research project.
The labor organizer practicum was conducted under the direction of James Donovan, political and research director of Teamsters Local 25. It consisted of weekly meetings with the students and their participation in an organizing drive of unorganized workers in the healthcare industry in Eastern Massachusetts. The students went out with Teamster organizers in the field and conducted house visits with workers whose conditions were similar to those that serve as the spiritual calling of Leo XIII.
"The students were taken out of their 'comfort zone' and learned first-hand from the workers, the harsh conditions, lack of quality health care, and sub-standard wages they and their families are experiencing day to day as they fight for dignity and respect," said James Donovan. "The Teamster's organizers and staff truly enjoyed working with the students and look forward to working again with the Boisi Center and providing another rewarding learning experience for other Boston College students."
The political field practicum with Mayor Michelle Wu's campaign consisted of canvassing several different demographic Boston neighborhoods. The goal was for the students to learn how to engage in practical conversations with a diversity of Boston residents and learn first-hand what were the critical issues of concern as opposed to relying on solely secondary media sources.

Grill's reflections on the program are as follows: "Boston College is recognized for outstanding academics. The goal of the practicum was to couple theory with practice by providing a solid academic foundation with challenging practical experiences that will serve the students well as they move forward in life."
The achievement of this goal is reflected in the students' reactions. According to BC student Nicholas Letts, the practicum afforded a "great real-world experience that linked work to faith issues." Sean O'Neil concurred, stating that the program "has long outlived the three months I spent actively working in it. It was a vital part of my securing a job this past semester and has provided a wealth of resources and mentors to draw from for the rest of my college experience as I pivot to consider what life after BC will look like." Connor Thomson, majoring in Political Science, had this to say: "The program allowed me to get a real, hands on experience in how politics actually gets done in America. I was able to experience labor organizing, political canvassing, and faith-based action and see how change is truly produced. It was an amazing way to see how my studies in political science connect to the real world."
Internship funding for the practicum was generously provided by BC's Clough Center for the Study of Constitutional Democracy which aims to reinvigorate and reimagine the study of constitutional democracy in the 21st century. The Boisi Center for Religion and American Public Life under Massa is working to institutionalize and convene future practica through Boston College's PULSE program.
Reflecting on the program, Massa observed that "this first experiment between students and the Teamsters -- so seamlessly set up by Harry Grill -- was a remarkable success. It will certainly serve as a model for future ventures in the program."