Two Jewish Fathers Who Changed History: Abraham Joshua Heschel and Elie Wiesel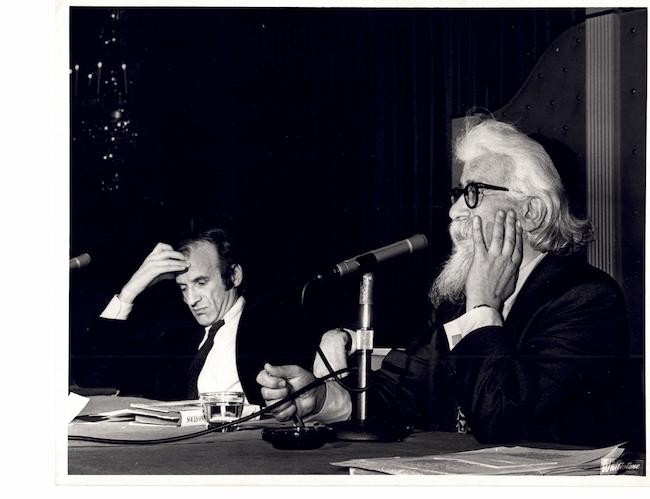 Susannah Heschel
Dartmouth College
Elisha Wiesel
Elie Wiesel Foundation
Date: Wednesday, October 26, 2022
Time: 4 - 5:30pm    
Location: Gasson Hall 100
Co-sponsored with the Center for Christian-Jewish Learning
Photo credit: Whitestone Photo


Abstract
Rabbi Abraham Joshua Heschel and Nobel Peace Prize recipient Elie Wiesel were good friends whose work influenced people around the world to seek peace and justice. Their children, Susannah Heschel and Elisha Wiesel, will speak about the legacies of their fathers.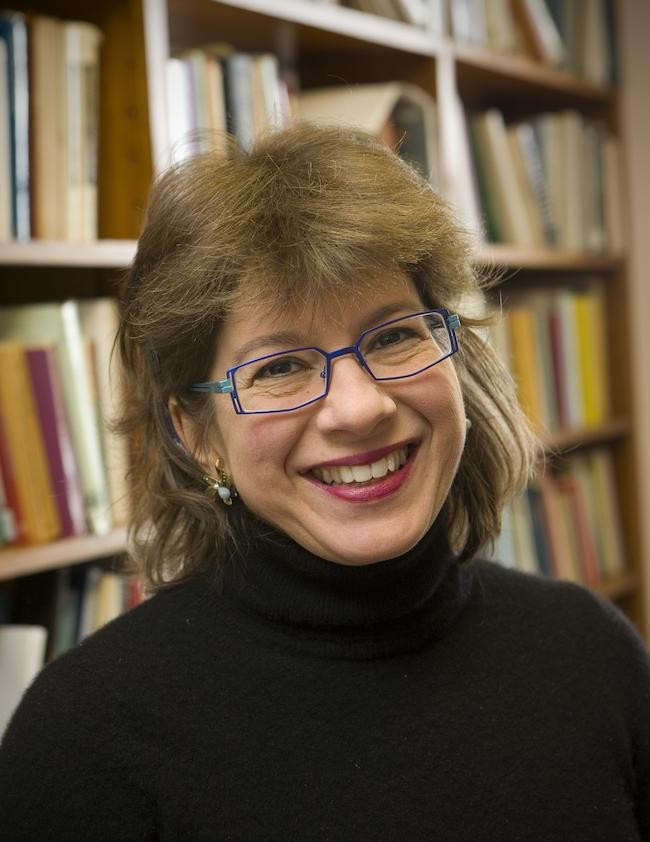 Susannah Heschel is the Eli M. Black Distinguished Professor and chair of the Jewish Studies Program at Dartmouth College. Her scholarship focuses on the history of Jewish and Protestant religious thought in Germany during the nineteenth and twentieth centuries, and she has brought post-colonial theory and feminist theory to her analyses. She is the author of Abraham Geiger and the Jewish Jesus and The Aryan Jesus: Christian Theologians and the Bible in Nazi Germany as well as edited volumes, including Insider/Outsider: American Jews and Multiculturalism and Betrayal: German Churches and the Holocaust. She is the author of over one hundred articles, and she has also edited two volumes of her father's writings, including Moral Grandeur and Spiritual Audacity: Writings of Abraham Joshua Heschel. She has just written a book, together with Sarah Imhoff, Jewish Studies and the Woman Question.
She has been a visiting professor at the Universities of Cape Town, Frankfurt, Edinburgh, and Princeton, and has held research grants from the Ford Foundation, a fellowship in Islamic Studies from the Carnegie Foundation, a year-long Rockefeller fellowship at the National Humanities Center, and a year-long fellowship at the Wissenschaftskolleg zu Berlin. In 2013, she became a Guggenheim Fellow. Her current research focuses on the history of European Jewish scholarship on Islam, and she just published her first book on that topic, in German, Jüdischer Islam: Islam und jüdisch-deutsche Selbstbestimmung. She has also published a co-edited volume with Umar Ryad, The Muslim Reception of European Orientalism.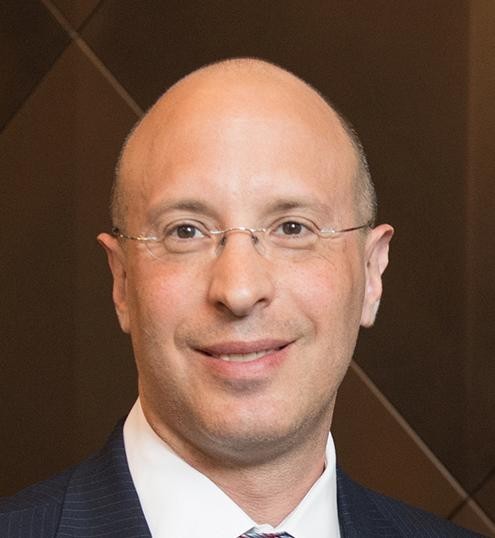 Elisha Wiesel is a recovering Wall Street executive. Since retiring from a twenty-five year financial markets career at Goldman Sachs at the end of 2019, he served in 2020 as one of the lead technologists in Mike Bloomberg's presidential campaign. In his most recent board position at Good Shepherd Services, Wiesel raised millions of dollars for New York's neediest by convening "Midnight Madness", where hundreds of finance professionals stayed up all night solving elaborate puzzles on the city streets.
 
When his father passed, Wiesel realized how many others missed his voice––and so, when opportunities for impact arise, he shares his father's message and continues his legacy by standing up for persecuted communities. In the last few years, Wiesel has spoken at the United States Holocaust Memorial Museum about the need to protect the LGBTQ community; shone a light while speaking at Auschwitz on the plight of Syrian refugees being denied Western asylum; written for the Financial Times about the urgency of upholding DACA; and taken his son to peacefully march for Black Lives.
 
Wiesel is currently advising several start-ups in the FinTech space, chairing the Elie Wiesel Foundation, learning a little Talmud every day, and generally trying to be a good father, husband and son.

Read More
Abraham Joshua and Susannah Heschel:

Abraham Joshua Heschel: Essential Writings. Susannah Heschel, editor. Maryknoll, NY: Orbis Books, 2011.

__________. Moral Grandeur and Spiritual Audacity: Essays. Susannah Heschel, editor. New York: Farrar, Straus and Giroux, 1996.

__________. The Prophets. New York: Perennial Classics, 1962.

Heschel, Susannah. Abraham Geiger and the Jewish Jesus. Chicago: University of Chicago Press, 1998.

__________. The Aryan Jesus: Christian Theologians and the Bible in Nazi Germany. Princeton: Princeton University Press, 2008.

__________. On Being a Jewish Feminist: A Reader. New York: Schocken Books, 1983.

Heschel, Susannah, David Biale, and Michael Galchinsky. Insider/Outsider : American Jews and Multiculturalism. Berkeley, CA: University of California Press, 1998.

Zelizer, Julian E. Abraham Joshua Heschel: A Life of Radical Amazement. New Haven, CT: Yale University Press, 2021.
Elie and Elisha Wiesel:

Berger, Joseph. Elie Wiesel: Confronting the Silence. New Haven, CT: Yale University Press, 2023

Merkle, John C. "Abraham Joshua Heschel: Witness to God in Word and Deed." Studies in Christian-Jewish Relations 2, no. 2 (2007): 3–12.

Wiesel, Elie. An Ethical Compass: Coming of Age in the 21st Century. New Haven, CT: Yale University Press, 2010.
__________. The Gates of the Forest: A Novel. New York: Schocken Books, 1966.

__________. A Jew Today, 1st ed. New York: Random House, 1978.

__________. The Night Trilogy: Night • Dawn • Day, Rev. ed. New York: Hill and Wang, 2008.

__________. Open Heart, 1st American ed. New York: Alfred A. Knopf, 2012.

"Elisha Wiesel Remembers His Father." Moment. Interview. September-October 2016. https://momentmag.com/elisha-wiesel-remembers-father/. 

__________. "My father Elie Wiesel would have been ashamed of Beijing Olympics. The Jerusalem Post. February 9, 2022. https://www.jpost.com/opinion/article-695822.

__________. "I helped organize the Washington rally against antisemitism. It wasn't perfect, but it was necessary. Jewish Telegraphic Agency. July 19, 2021. https://www.jta.org/2021/07/19/opinion/i-helped-organize-the-washington-rally-against-antisemitism-it-wasnt-perfect-but-it-was-necessary. 
In the News
In his opinion piece in the Washington Post, Elie Wiesel's son, Elisha, explains the wrestling that took place when the Washington National Cathedral asked to erect a bust of his father in the cathedral. He explains that his father would have struggled with it as well. At the heart of this struggle is the Christian history of anti-semitism and anti-Zionism that continues even today and is exploited by both the Left and Right. After agreeing to the honor, Wiesel says he hopes that his father's image challenges all to root out anti-semitism from the movements to which they belong.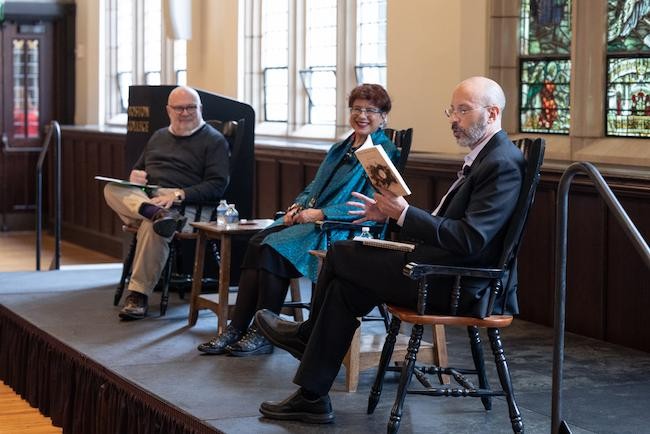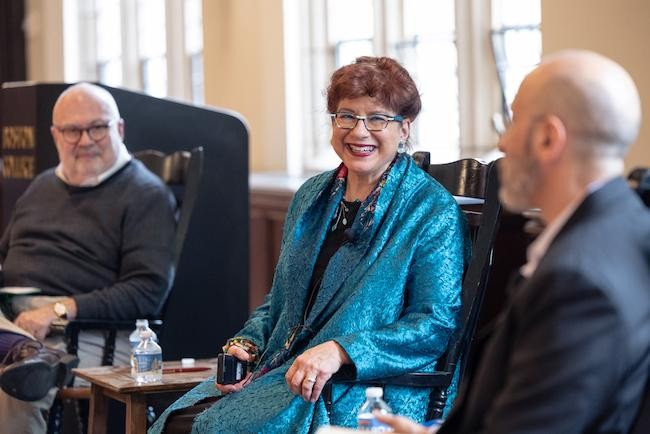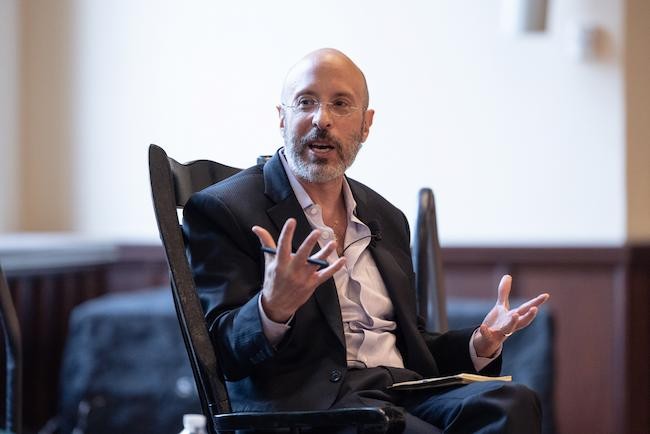 Photo Credits: Christopher Soldt, MTS
On October 26th, Susannah Heschel, the Eli M. Black Distinguished Professor and chair of the Jewish Studies Program at Dartmouth College, and Elisha Wiesel, chair of the Elie Wiesel Foundation, came together for the Boisi Center event, "Two Jewish Fathers Who Changed History: Abraham Joshua Heschel and Elie Wiesel." Susannah and Elisha discussed their fathers' legacies and relationship in a wide-ranging conversation with Boisi Center director Mark Massa, S.J. This event was co-sponsored with the Center for Christian-Jewish Learning at Boston College.
Massa began the conversation by asking Susannah and Elisha to elaborate on how they saw their fathers' relationship. What followed was a recollection of stories that illustrated the close friendship between them as well as with each other's families. The anecdotes that Susannah and Elisha shared revealed the kindness and strength of the relationship that was shared between their two fathers.
Massa asked Susannah and Elisha at what point did they realize their parents were famous. Elisha talked about how kids his age would discuss what their fathers did for a living. Through that, Elisha realized that he didn't know what his father did. He remembered his father keeping the answers to his questions very simple, and that most of Elisha's knowledge was gained through a sort of "osmosis." This osmosis was the knowledge he gained when his family vacations were to Auschwitz instead of the Hamptons. Susannah's experience was similarly osmotic as she also described walks with her father during which he would share his experiences and family stories.
When asked about reading their fathers' works, Susannah talked about her experience reading the books Wiesel gave to her family and how she, in return, would have her friends read them. Elisha reflected on reading Heschel's writings on the Sabbath, noting how important it was to his own understanding of Shabbat.
The panel turned to their fathers' legacies. Elisha began by describing his father's legacy as that of a Universalist, ensuring that the world was a better place but not as often envisioned with his reputation as an observant Jew. Susannah added her own perception of Wiesel's legacy, particularly his conversation with President Ronald Reagan before his planned visit to Bitburg (this controversial visit included a stop at a military cemetery in which many SS members were buried). She found it moving that Wiesel had the strength to stand up to the President to draw attention to the location's notoriety and the impact such a visit would have on the American Jewish community.
Regarding Rabbi Heschel's legacy, Susannah explained it very similarly to Wiesel's. She remarked that their fathers preserved something that was destroyed. This highlighted again the importance of their deeply rooted Jewish faith. Looking at the different perspectives of legacy, she observed that Rabbi Heschel's political activism and the pictures of him with Martin Luther King, Jr. sometimes overshadow the work he did preserving Jewish life and how his social justice is deeply connected to Jewish tradition. Susannah and Elisha reflected on how people tend to boil their parents' legacies down to simple sayings when they are much more. While expressing the root of both fathers' work in their strong Jewish faith, Susannah and Elisha emphasized the intersectionality that their fathers' legacies were built through–the matrices of their theologies, social justice movements, and intersectional conversations with Jews, Christians, and beyond. As Elisha reminded the audience, his father always said the opposite of love is not hate but indifference. The intersectionality of their legacies is an ongoing testament to the foundational role love plays.
To continue building these understandings of Wiesel and Heschel, the audience presented questions about encounters they had with one or both men and experiences they felt that their fathers' perspectives would have shed light on. These questions ranged from discussing school curriculum on the Holocaust, interreligious dialogue, and current struggles with antisemitism. Answering these questions, Susannah and Wiesel spoke about experiences of Elisha and his father at family dinner, how both speakers see the importance of Holocaust education, and how reading their father's works should be an ongoing dialogue to find the best methods in approaching an education that rightfully grasps vibrant Jewish life and its devastation. The audience's questions brought the event to a great conclusion, revisiting Susannah and Elisha's fathers' legacies, and the need for their continued influence today.