A Capital Congregation: Proximity, Community, and Ministry for American Statehouse Neighborhoods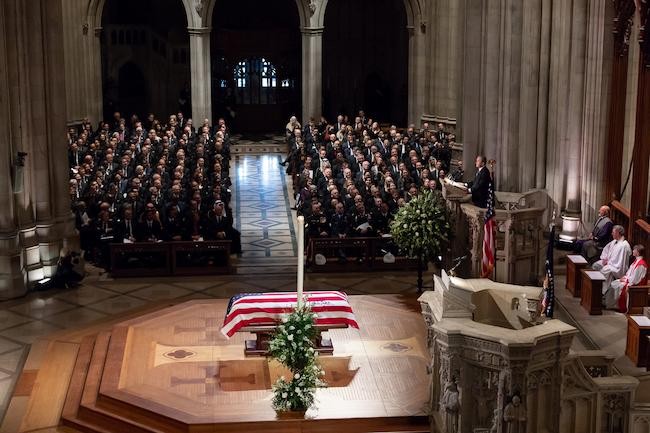 Rev. Richard Burnett
Trinity Episcopal Church on Capitol Square, Columbus, Ohio
Date: Wednesday, March 29, 2023
Time: 12 - 1:15pm    
Location: Boisi Center, 24 Quincy Road
Abstract
Why are some forty congregations of The Episcopal Church, and many other ecumenical partners, located either in direct proximity or very near statehouses in American capital cities? And, given this fact, what difference does it make (or might it make) for public policy, social witness, and community ministry today?
Rev. Dick Burnett, past rector (1997-2021) of Trinity Episcopal Church on Capitol Square in Columbus, OH, will explore these three active responses to this mission of location - 'opening the doors,' 'celebrations for all the people,' and 'proclaiming justice'. Through story, symbols, creative tensions, and valued ecumenical citizenship, 'Capitol Congregations' serve the heart of state politics & culture by, as sociologist Robert Wuthnow says, being places of healthy diversity and disagreement. Local clergy and lay leaders will be able to connect with theologians, political scientists, and historians in this exploration of a vital lever for renewed democracy in American states.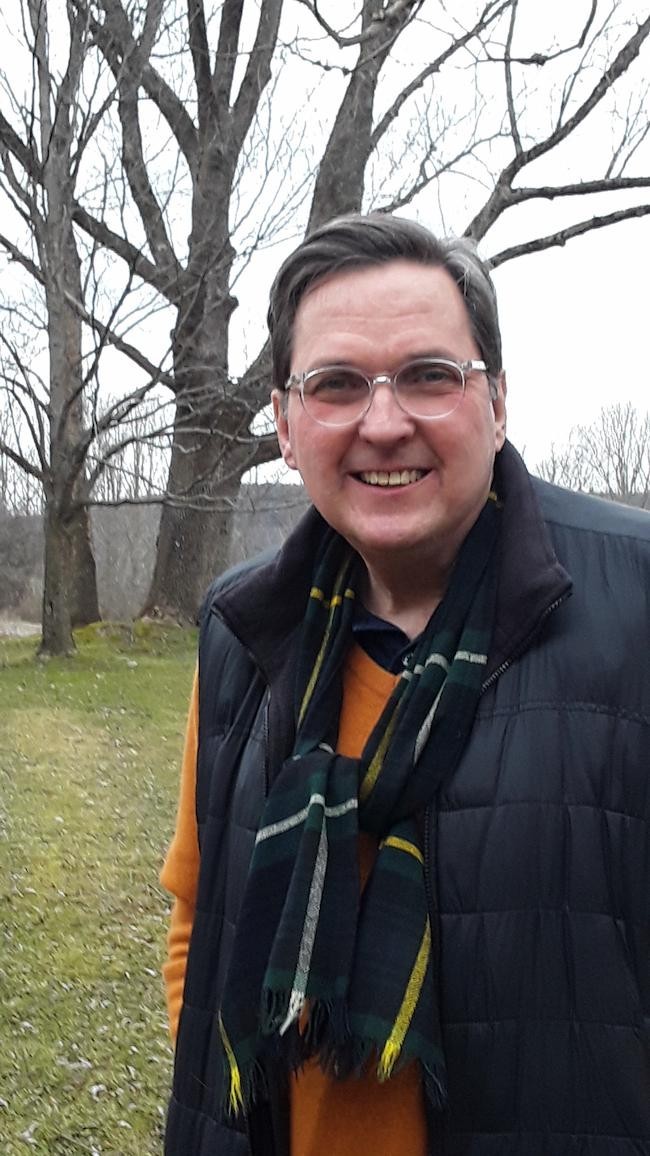 Rev. Richard Burnett, an Episcopal priest recently retired from pastoral ministry as rector of Trinity Episcopal Church in Columbus, OH, has a long history serving with community and ecumenical/interreligious partners in urban public ministry. For 24 years, Burnett experienced the fluidity of ministry at Trinity, Capitol Square - like Boston's Episcopal Cathedral of St. Paul an historic "capitol congregation" - and now wants to convene leaders of similar congregations to share best practices and mission strategies for a more robust witness in public life. Raised blocks from the Pennsylvania State Capitol in Harrisburg and ordained at Washington National Cathedral, Burnett now resides with his spouse, Katharine, in Lenox, Massachusetts - The Spiritual Capital of the Berkshires!

Read More
Bellah, Robert N. "The Politics of Care: The Episcopal Church in a Changing Society." Anglican and Episcopal History 60, no. 4 (1991): 433-442.
Djupe, Paul A. and Christopher P. Gilbert. The Prophetic Pulpit: Clergy, Churches, and Communities in American Politics. Lanham, MD: Rowman & Littlefield, 2003.

Oliphint, Joel. "Rev. Richard Burnett reflects on 24 years of ministry and the city's racial equity problem." Columbus Alive (July 29, 2021).

Ringer, Benjamin B., and Charles Y. Glock. "The Political Role of the Church as Defined by Its Parishioners." Public Opinion Quarterly 18, no. 4 (1954): 337-347.
In the News
In a long-ranging interview with Jon Meacham, presiding bishop of the Episcopal Church, Michael Curry, discussed religion and politics from a specifically Episcopal perspective. Meacham occupies an interesting position as both canon historian at the Washington National Cathedral and a speechwriter for President Biden. The Episcopal Church has a longstanding proximity to the politics of the nation.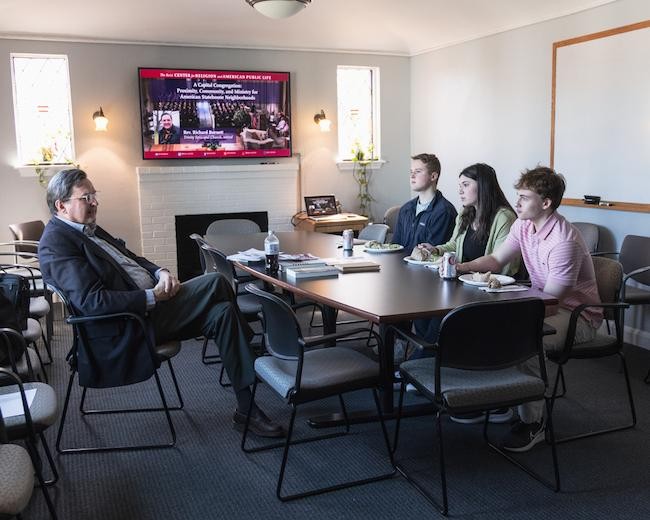 Rev. Richard Burnett talks with three RPL Minors (L to R): Owen Fletcher, Delphine Gareau, and Nick Priest.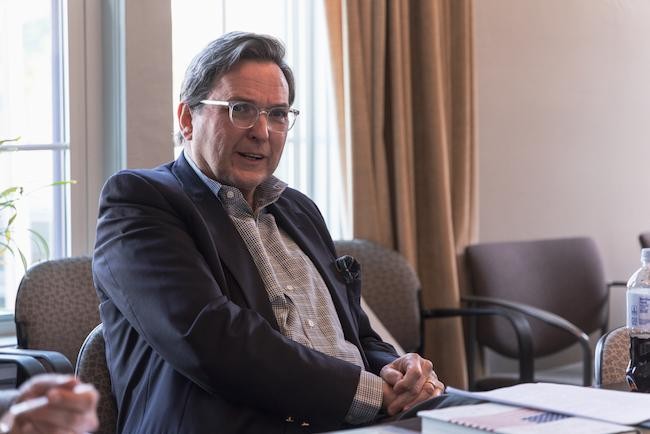 Photo Credits: Christopher Soldt, MTS
On Wednesday, March 29, the Boisi Center hosted Reverend Richard Burnett, the retired rector (1997-2021) of Trinity Episcopal Church, for an engaging lunch discussion. Trinity Episcopal Church is located on Capitol Square in Columbus, Ohio. Drawing from his experience at this "Capitol congregation," Burnett led an interesting conversation about the relationship between the Church and State in faith communities in proximity to government centers. While Burnett's experience was in Columbus, he began the conversation by exploring the capital congregations of those in attendance.
The event began with an examination of the proximity between state houses and churches; the majority of capitals have churches and active congregations within a few blocks of their state houses. In Columbus, Burnett described how politicians were active worshipers in his congregation. Similarly, the Massachusetts State House sits just across Boston Common from the Cathedral Church of Saint Paul. Burnett showed a fascinating video, recorded by St. Paul's Cathedral Dean, Reverend Amy McCreath. McCreath discussed how one of the core missions of the Archdiocese is to promote justice, and McCreath explained how its location enables community programming to promote this value among those in need of justice as well as those who are charged with protecting justice, such as state legislators. 
After listening to McCreath's insightful presentation, Burnett encouraged us to reflect on the location and local influence of our own churches. Hence, the luncheon concluded with all of its attendees conversing about their own religious communities and those communities' political involvement. In that conversation, one attendee raised the concern that congregations like these have a difficult time managing what he perceives to be two desired roles: the prophetic role (i.e., calling for societal reform toward just ends) versus the participatory role (i.e., wanting to be at the table with key decision-makers). These two roles, the attendee acknowledged, are often at odds with one another, making either the prophetic or participatory role less effective.  
Burnett concluded that these congregations have choices as to how they will respond to their role as "capital congregations." The first is illegitimate: keep the doors closed and pretend the Capitol is not there. But there are three legitimate responses too. First, the congregation can have its doors open and welcome people. Second, it can be a place of gathering and celebration, such as holding a liturgy for each new legislature. And third, it can be a place of protest, advocacy, and dissent. He believes that the more they do the third option, the less the congregation is able to do the second. However, the more they do the third option, the more easily they are able to open their doors to the community. It was a fascinating comparison among experiences of students and professors of different faiths and geographic backgrounds to further our collective understanding of the diversity of religious experiences in America.