Prophecy without Contempt: A Conversation about Religion, Identity, and Exclusion in Our New Political Era
A Clough Center Special Event featuring panelists M. Cathleen Kaveny, Rowan Williams, Charles Taylor, and Jonathan Lear.
Date: April 7, 2017

Sponsored by the Clough Center for Constitutional Democracy.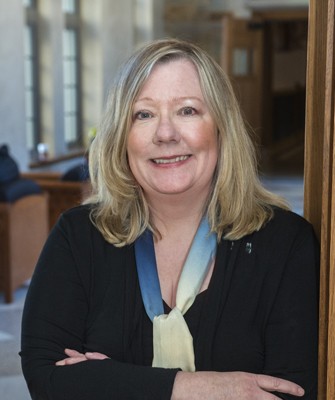 Speaker Bio
Cathleen Kaveny joined the Boston College faculty in January 2014 as the Darald and Juliet Libby Professor, the first role of its kind at Boston College, which has appointments in the Theology department and Law School.
Kaveny has published over a hundred articles and essays in journals and books specializing in law, ethics, and medical ethics. She serves on the masthead of Commonwealth as a regular columnist. Her book, Law's Virtues: Fostering Autonomy and Solidarity in American Society, was published by Georgetown University Press in 2012. It won a first place award in the category of "Faithful Citizenship" from the Catholic Press Association.
Kaveny has served on a number of editorial boards including The American Journal of Jurisprudence, The Journal of Religious Ethics, the Journal of Law and Religion, and The Journal of the Society of Christian Ethics. She has been a visiting professor at Princeton University, Yale University and Georgetown University, and a visiting scholar at the University of Chicago's Martin Marty Center. From 1995 until 2013 she taught law and theology at the University of Notre Dame, where she was a John P. Murphy Foundation Professor of Law.
She is also the president of the Society of Christian Ethics, the major professional society for scholars of Christian ethics and moral theology in North America. It meets annually in conjunction with the Society of Jewish Ethics and the Society for the Study of Muslim Ethics.