Youth and Diplomacy: My Experience as the U.S. Youth Delegate
Abstract
Brooke Loughrin '14 will speak about her experience as the first-ever Youth Delegate to join the U.S. Delegation to the United Nations. In her position, Loughrin attended the UN General Assembly in New York in September and October. She worked closely with forty other Youth Delegates to ensure that youth voices and priorities are better incorporated into the institutional framwork of the UN. She will also speak about how her coursework and activities as a BC student have influenced her agenda at the U.S. State Department and the UN.

Brooke Loughrin is a junior in the Presidential Scholars Program at Boston College where she studies Political Science and Islamic Civilizations and Societies. She is the Editor-in-Chief of Al-Noor: The Boston College Middle East and Islamic Studies Journal and the Vice President of the Iranian Culture Club. She is also an Undergraduate Research Fellow for Dr. Ali Banuazizi. Her research focuses on political cultures of the Middle East; comparative study of religion, civil society, and politics in the Middle East; and Iran's social history and contemporary domestic politics and foreign relations. In Boston, she volunteers for ACEDONE, Haley House, and in the Education Department of the Suffolk County House of Corrections. Since 2005, she has also volunteered for the Fabric of Life Foundation, based in Seattle, Washington, which works to stop the begging cycle of poor girls on the streets of Mali, Africa. She has studied abroad in Visakhapatnam, India and Dakar, Senegal, and has traveled extensively in Iran, Nicaragua and Tajikistan. Most recently, she was named the first-ever U.S. Youth Observer, making her the first student to ever join the U.S. Delegation to the United Nations.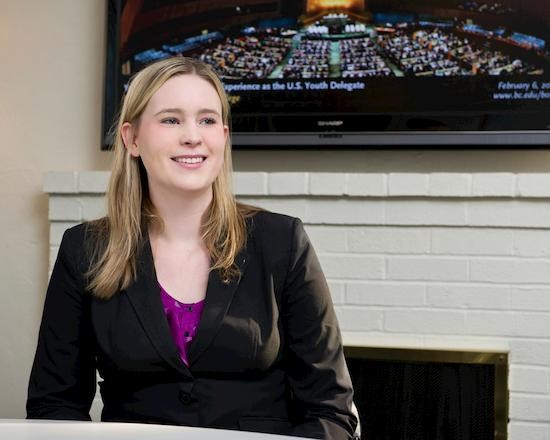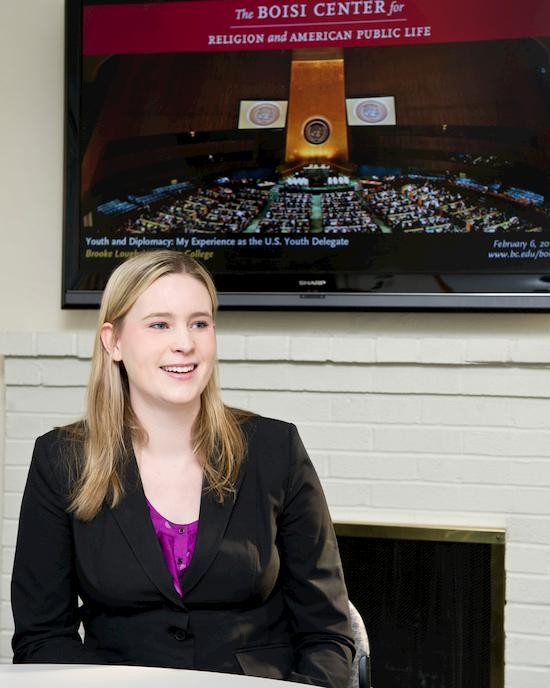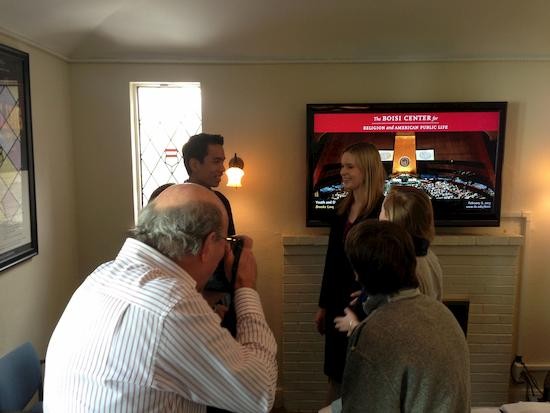 Event Recap
For the first time in the Boisi Center's twelve-year history, on February 6 we hosted an undergradu­ate speaker at one of our headline events. We were delighted to hear BC junior Brooke Loughrin de­scribe her experience as the first Youth Delegate in the United States' mission to the United Nations.
Appointed in 2012 for a one-year term, Loughrin at­tends international conferences, connects with young people through social media and has even addressed a full meeting of the UN General Assembly—all while managing her heavy courseload as a Presidential Scholar at BC. Loughrin said she has been deeply inspired by her encounters with young people during her travels to India, Iran, and Tajikistan, and is keen to promote youth involvement in international politics. Over fifty percent of the world population is under the age of thir­ty, yet youth often have little influence on international decisions that profoundly affect their lives. Through the Youth Delegate program, Loughrin joins representatives from forty countries committed to giving the world's young people a voice at the UN.
During General Assembly Week in September 2012, Loughrin spoke on panels and attended meetings along­side prominent international leaders including Hillary Clinton and Bill Gates. She was even able to address the full General Assembly on behalf of American youth. Al­though the world's youth face major challenges today—education and employment among them—Loughrin expressed optimism for the future of her generation. She announced that the U.S. Youth Delegate program will continue next year, a sign of the program's success in improving American youths' involvement in UN dis­course. She encouraged eligible young people to apply to serve as the youth delegate in future years.
Read More
Further Reading
In the News
The Boston Globe reports on Loughrin's life as the US Youth Observer to the UN. Loughrin describes the joys and difficulties of her new post, such as balancing work and school, learning about diverse cultures, and acting as a liason between leaders and youth. Brooke also shares how her experiences travelling and volunteering have fostered her commitment to social justice. At a Boisi Center colloquium on Wednesday, February 6, Brooke will go into further detail about her life and her work.