Ways of Knowing: Field Science in the 21st Century
Abstract
Geology is a field-based science. In the 18th and 19th centuries, broadly trained naturalists developed the modern discipline by observing earth features and processes. As geomorphologist, Snyder studies the evolution of landscapes, primarily through topographical observations. River erosion, transport and deposition -- these processes respond to changes in climate, land use and tectonics. Using data collected with a laser-based elevation mapping system deployed from airplanes, Snyder analyzes the changes in these geological areas. The surveys done by air yield high-resolution digital elevation models: raster representations of the landscape with a 1-meter grid scale. These datasets allow scientists to visualize landscapes and quantify processes in new ways. However, on-the-ground fieldwork is essential to developing new insights into how rivers work. In this talk, Snyder will explore how the modern geomorphologist combines high technology with field measurements and observations to gain knowledge about earth processes and history. In particular, he will use examples from his research in rivers in coastal Maine and Death Valley, California.
Noah Snyder is an Assistant Professor in Boston College's department of Geology and Geophysics. He holds a PhD in geology from Massachusetts Institute of Technology and a BS from Bates College, Lewiston, ME. Snyder's research focuses on understanding how rivers respond to perturbations, ranging from long-term changes in tectonics or climate to short-term changes in management style or land use. In addition to field measurements and mapping of stream morphology, tools used for his research include numerical modeling, and analysis of digital elevation data and remote-sensing imagery using state-of-the-art computer hardware and software.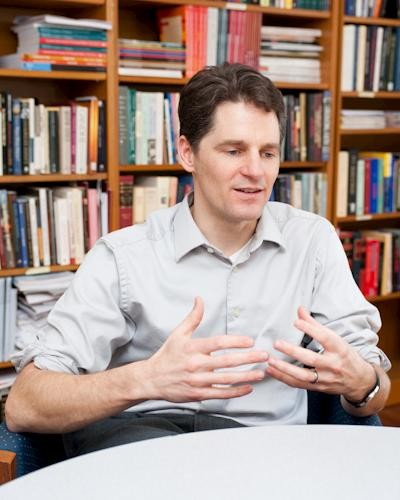 Event Recap
Noah Snyder, Assistant Professor of Geology, spoke about technology and field observation in his geologic work on rivers on February 4. Snyder noted that paths to knowledge across disciplines have similarities, incorporating different perspectives and approaches to knowledge.
Snyder talked about the ways in which geologists approach their field research. Using advanced technology, there is a temptation to simply work off of aerial photography images, topographic maps and digital elevation models. Snyder noted how helpful technology can be, but emphasized how important field work remains. By observing a given area, a geologist can contextualize the rest of the data, making field work imperative. In an example of the relationship between technology and fieldwork from his own research, Snyder recounted his experience while doing his PhD near the San Andreas Fault in California. After months of work, he expected a certain result from the data he collected, and when he did not get that result, he was only able to account for the variables because of the work they had done on site. Intimate familiarity with the physical traits of the ground explained the surprising outcome. Digital technology enhances the possibilities of fieldwork, but the two should be pursued in tandem.
The kind of work Snyder conducts has wide applications, and he cited the work done in New Orleans on the levees to avoid catastrophe again. Snyder himself is currently working in Maine to help protect endangered species. By recognizing different "ways of knowing," one can connect disparate threads to arrive at constructive and revealing conclusions, as Snyder's work proves.