Mormons in American Politics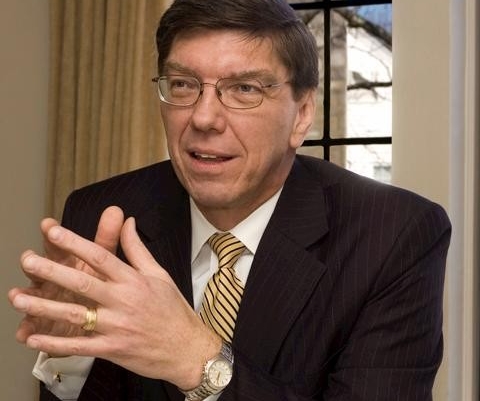 Clayton M. Christensen
Harvard Business School
Date: February 14, 2008
Abstract
Mitt Romney's presidential campaign has raised new questions about the role of religion in American politics, especially when that religion falls outside the Catholic-Protestant-Jewish mainstream of the late twentieth century. Romney's December 2007 speech on religious freedom was widely praised, but he offered a very different position than John F. Kennedy did in his 1960 speech to Houston religious leaders.

In his presentation at the Boisi Center, Clayton M. Christensen ­ Harvard Business School professor and active member of The Church of Jesus Christ of Latter-day Saints ­ will discuss Romney and other Mormons in American politics. Christensen argues that religious institutions provide the foundation for the enjoyment of American civil liberties, and that the principles practiced by Mormons (and religious people everywhere) do in fact belong at the center of public discourse.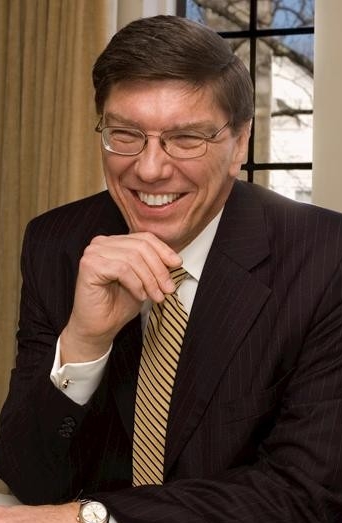 Clayton M. Christensen is the Robert and Jane Cizik Professor of Business Administration at the Harvard Business School, with a joint appointment in the Technology & Operations Management and General Management faculty groups.

He holds a B.A. with highest honors in economics from Brigham Young University (1975), an M.Phil. in applied econometrics and the economics of less-developed countries from Oxford University (1977), an MBA with High Distinction from the Harvard Business School (1979) and was awarded his DBA from the Harvard Business School (1992).

In 1982 Professor Christensen was named a White House Fellow, and served as assistant to U.S. Transportation Secretaries Drew Lewis and Elizabeth Dole.  In 1992, Professor Christensen became a faculty member at the Harvard Business School.  He has also served as an elected member of the Town Meeting (council) in Belmont Massachusetts, as vice-chairman of the town's personnel board and as chairman of its long-range financial planning task force.

Professor Christensen was born in Salt Lake City, Utah. He worked as a missionary for the Church of Jesus Christ of Latter-day Saints in the Republic of Korea from 1971 to 1973 and speaks fluent Korean. He currently serves his church as an Area Authority Seventy, and recently published an essay about his beliefs, entitled "Why I Believe".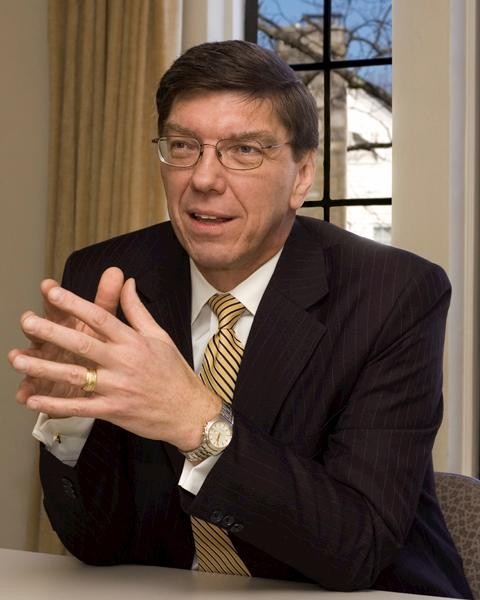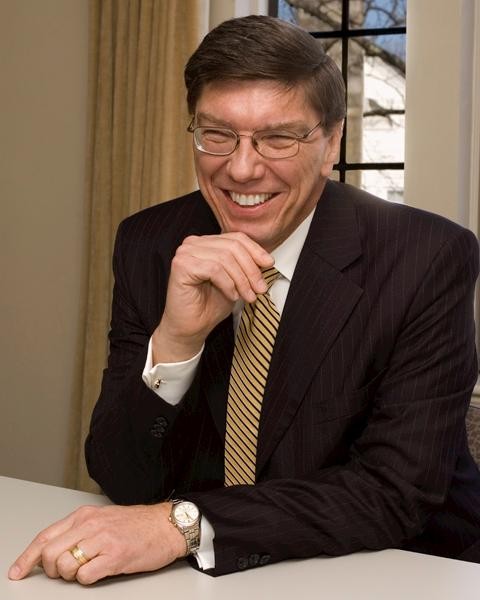 Event Recap
On February 14, just a week after Mormon presidential candidate Mitt Romney ended his campaign, the Boisi Center hosted a lively discussion on Mormons in American politics. Our guest was Clayton Christensen, a distinguished professor at Harvard Business School and prominent member of the Church of Jesus Christ of Latter-day Saints (LDS). Christensen described the growth of the LDS Church from Joseph Smith's divine encounter to the present day, and placed the Mormon experience in the context of American religious history. He spoke eloquently about his experience as a Mormon, and his understanding of the LDS Church's position on the intersection of religion and politics.
Christensen argued that all Christians, and particularly Mormons, should act on their obligations to "love thy enemy" and care for the poor, widowed and orphaned; and furthermore that they should encourage elected officials to do the same as they make public policy. Mormons have unique political and moral insights to offer as a result of their missionary work, which puts them in direct contact with a wide array of peoples and cultures around the world. Restricting these insights by setting limits on the role of religion in the public square is a mistake, he said, both because it improperly limits the most basic civil liberty we have (i.e. religious freedom), and because religious communities are often the best sources of civic virtue in society.
A lively discussion followed, ranging from Mormon theology to business ethics to presidential primaries. To hear Christensen' opening remarks or read his interview with Erik Owens, please visit our web site.