#Religion @OMG Faith db8 in 21st Century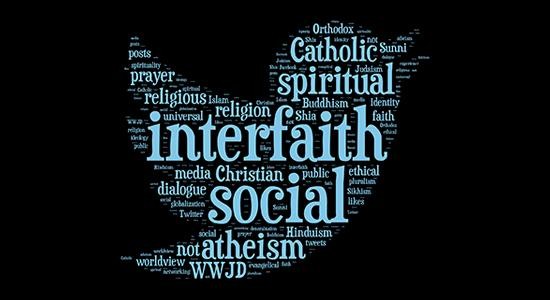 David Cowan
Boisi Center, Boston College
Date: March 27, 2014
Abstract
How do we communicate about religion and faith in the 21st Century? This presentation will assess this question and offer some lines of inquiry in the context of globalization. Firstly by taking a look at changes and trends in communication in recent years, with changes in technology and the transmission of ideas. Secondly, an examination of how the Christian churches have sought to communicate the content of faith and remain relevant, responding to changes in spiritual and ethical debates in the public square, while engaging in religious dialogue with other faiths.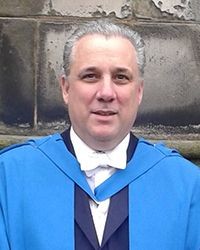 David Cowan is a visiting scholar at the Boisi Center during the Spring 2014 semester, where he is researching diplomacy and communication regarding religion in American foreign policy, with a focus on Christianity and Islam. A senior tutor in Politics and Religion at King's Evangelical Divinity School and approved tutor at the University of Chester, he is also a communications advisor with over twenty-five years experience working for such organizations as the World Bank and the Institute of Islamic Banking & Insurance. He has lived and worked in North America, Europe and the Middle East. He is the author of Strategic Internal Communication (2014) and Economic Parables: The Monetary Teachings of Jesus Christ (2007), among other works. He is also a regular reviewer for the Journal of Theological Studies. Cowan earned his Ph.D. at the University of St. Andrews, jointly undertaken in the School of Divinity and the School of International Relations, and holds a B.Th. and M.Th. from the University of Oxford, an M.Litt. from the University of St. Andrews, and a Diploma in Theology from Westfield House, Cambridge, where he was Lutheran chaplain to the University of Cambridge.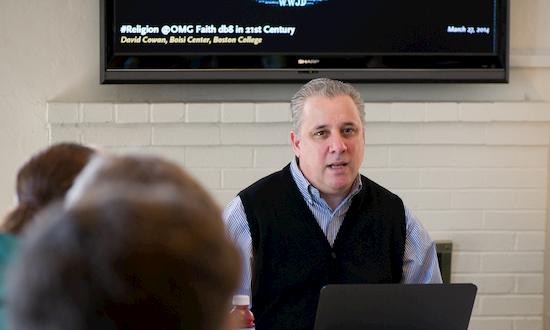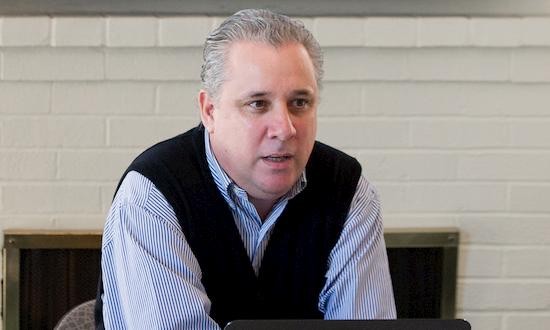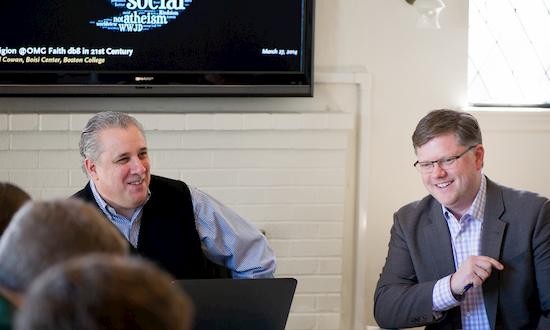 Event Recap
The Boisi Center was pleased to host visiting scholar David Cowan during the spring 2014 semester. Cowan is a senior tutor in politics and religion at King's Evangelical Divinity School, and an approved tutor at the University of Chester, both in the U.K. In addition, he has over twenty-five years of experience working as a communications advisor for companies and organizations throughout the world.
At the Boisi Center, Cowan researched diplomacy and communicating religion in American foreign policy, with a focus on Christianity and Islam. His latest book, Strategic Internal Communication, is also being published this spring.
Cowan headlined two Boisi Center events this semester. At a March lunch talk he explored how new technology and social media affect discourse on matters of reli- gion and faith. In April he lectured at the business school about business ethics in Saudi Arabia, drawing from his own long experience as a communications consultant in the gulf state.
Read More
Further Reading
Alan J Torrance, Persons in Communion: An Essay on Trinitarian Description and Human Participation, with Special Reference to Volume One of Karl Barth's Church Dogmatics (Edinburgh: T. & T. Clark, 1996).
Anne Birgitta Pessi, "'The Parish Must Be Where The People Are': A Study of a Parish Shopping-Center Project, Viewed as Communication," Implicit Religion 15, no. 3 (2012).
Atef M. Gendy, "Style, Content and Culture: Distinctive Characteristics in the Missionary Speeches in Acts," Swedish Missiological Themes 99, no. 3 (2011): 247–265.
Christopher Lasch, The Culture of Narcissism: American Life in an Age of Diminishing Expectations (New York: Norton, 1991).
Craig Blomberg, Interpreting the Parables (Downers Grove, IL: IVP Academic, 2012).
David Cowan, Economic Parables: The Monetary Teachings of Jesus Christ (Downers Grove, IL: IVP Books, 2012).
Jyette Klausen, The Cartoons That Shook The World (New Haven: Yale University Press, 2009).
Martin Buber and Ronald Gregor Smith, Between Man and Man (London; New York : Routledge, 2002).
Robert P. Carroll, When Prophecy Failed: Reactions and Responses to Failure in the Old Testament Prophetic Traditions (SCM-Canterbury Press Ltd, 1979).
Ulrich H. J. Körtner, "Towards an Ecumenical Hermeneutics of Diversity: Some Remarks on the Hermeneutical Challenges of the Ecumenical Movement," Theology Today 68, no. 4 (January 1, 2012): 448–466.
William M Schweitzer, God Is a Communicative Being: Divine Communicativeness and Harmony in the Theology of Jonathan Edwards (London; New York: T & T Clark, 2012).