Nonviolent Campaigning for Nuclear Disarmament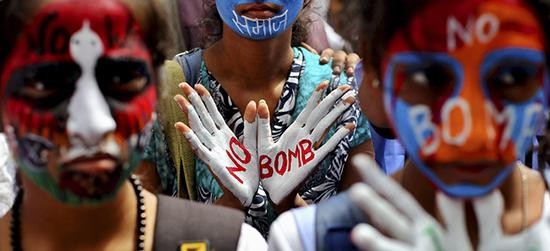 Joseph Gerson
American Friends Service Committee
Date: January 30, 2014
Abstract
Since joining the American Friends Service Committee in 1976, Joseph Gerson has collaborated with Hiroshima-based organizations of bomb sufferers and peace activists to promote movement toward nuclear disarmament. Informed by his Jewish heritage and involvement in the Civil Rights and Vietnam-era peace movements, he will discuss the connection between peace and nuclear nonproliferation as well as the moral dimensions of nuclear weapons abolition.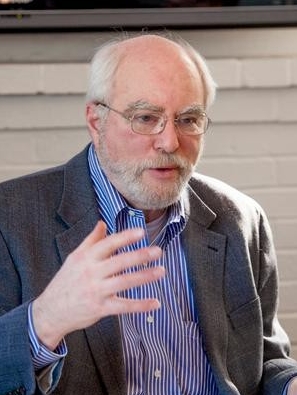 Joseph Gerson is disarmament coordinator, director of programs in New England, and director of the Peace and Economic Security Program for the American Friends Service Committee. He serves on the board of the International Peace Bureau and the Abolition 2000 Global Council and works closely with Asian, Pacific, and European peace and disarmament movements. In September, Dr. Gerson gave one of two speeches on behalf of the world's disarmament NGO organizations during the United Nations High Level Meeting on Disarmament. His work focuses on U.S. foreign and military policies, particularly challenging U.S. hegemony in the Asia-Pacific, preventing nuclear war, and achieving nuclear weapons abolition and the withdrawal of foreign military bases. His scholarly work includes the publication of four books, most recently Empire and the Bomb: How the U.S. Uses Nuclear Weapons to Dominate the World, as well as numerous articles. He has taught at Regis College, College of the Holy Cross, and Tufts University. He received a B.S. from Georgetown University School of Foreign Service and a Ph.D. in Politics and International Security Studies from the Union Institute and University.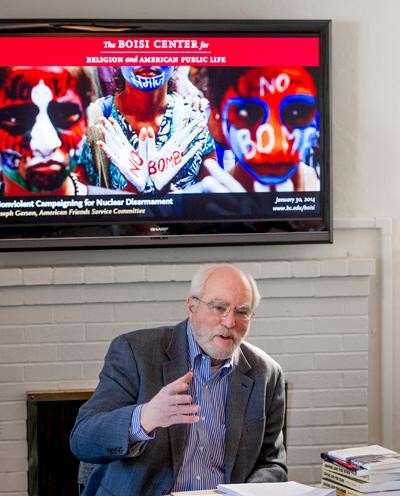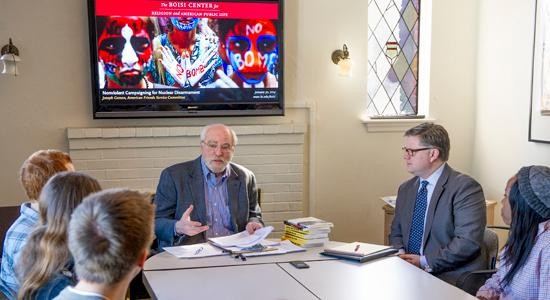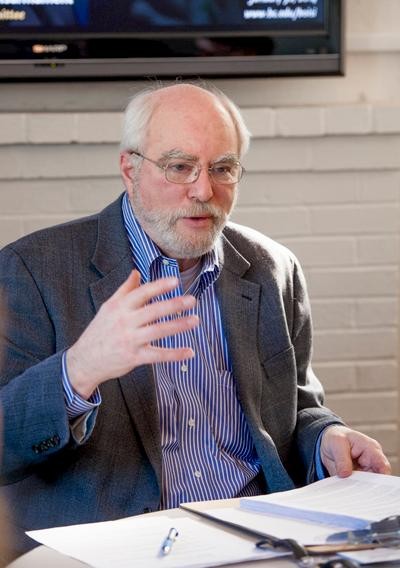 Event Recap
On January 30, Joseph Gerson visited the Boisi Center to speak about his work at the American Friends Service Committee (AFSC). Since 1976 Gerson has organized initiatives to advance nuclear disarmament and abolition, working closely with Japanese hibakusha (victims of atomic bombings in Hiroshima and Nagasaki) and others around the world affected by nuclear testing.
Gerson described the AFSC's Quaker-based commitments to human dignity, nonviolent resistance, and international justice—and engagingly recounted how these values squared with his Jewish heritage, his engagement with Buddhism, and his work in the Civil Rights and Vietnam-era peace movements.
Gerson's work with AFSC highlights the power of ordinary people to assert their rights and overcome political obstacles. In 1979, for example, Gerson and his colleagues became involved with the Nuclear Freeze Movement, which called on the United States and Soviet Union to adopt a mutual halt on nuclear weapon testing, production and deployment. Thanks to successful organizing and teamwork, 330 towns in New England had voted for the freeze by 1982, when a million people traveled to New York to join the largest peace march in U.S. history.
Nuclear weapons continue to pose a threat today, Gerson reminded the audience. Since the Nagasaki bombing, the United States has threatened to use nuclear weapons over thirty times. The AFSC is currently preparing for the 2015 Nuclear Nonproliferation Treaty (NPT) Review Conference and is lobbying the Obama administration, which plans to gradually modernize the U.S. nuclear arsenal.
In the lively discussion following his talk, Gerson addressed questions about his religious influences, Northeast Asian peace movements, and the Middle East.
Read More
Further Reading
Gar Alperovitz, The Decision to Use the Atomic Bomb (New York: Vintage Books, 1996).
Noam Chomsky, At War with Asia (Oakland, CA: AK Press, 2004).
John Dower, Japan in War and Peace (New York: New Press, 1995).
Joseph Gerson, Empire and the Bomb: How the US Uses Nuclear Weapons to Dominate the World (London: Pluto Press, 2007).
Joseph Gerson, The Deadly Connection: Nuclear War and U.S. Intervention (Philadelphia: New Society Publishers, 1984).
Joseph Gerson, The Sun Never Sets...: Confronting the Network of Foreign U.S. Military Bases (Boston: South End Press, 1999)
Joseph Gerson, With Hiroshima Eyes: Atomic War, Nuclear Extortion and Moral Imagination (Philadelphia: New Society Publishers, 1995).
John Hersey, Hiroshima (New York: Vintage Books, 1989).
Michio Kaku and Daniel Axelrod, To Win a Nuclear War: The Pentagon's Secret War Plans (Boston: South End Press, 1987).
Primo Levi, Survival in Auschwitz (New York: Touchstone, 1996).
Joseph Rotblat et al., A Nuclear-weapon-free World: Desirable? Feasible? (Boulder, CO: Westview Press, 1995).
Martin Sherwin, A World Destroyed: Hiroshima and its Legacies (Stanford, CA: Stanford University Press: 2003).
Howard Zinn, Vietnam: The Logic of Withdrawal (Boston: South End Press, 2002).
Recent News Articles
Katrin Benhold and Michael J. Gordon, "U.S. and Iran Offer Clashing Accounts of the Civil War in Syria," New York Times, Jan. 23, 2014.