Pope Francis: A Man of His Word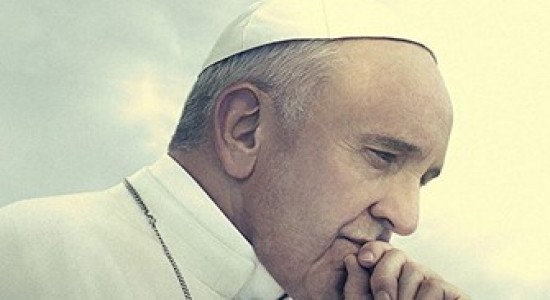 Film Screening and Panel Discussion
Peter Folan, S.J.
Boston College
Mary Ann Hinsdale, IHM
Boston College
Theresa O'Keefe
Boston College
Date: September 12, 2018
Abstract
A documentary by renowned German filmmaker Wim Wenders, Pope Francis: A Man of His Word offers a candid and unconventional look at the Catholic pope, who has captivated the world, and continues to invigorate the role and vision of the modern Catholic church. The film offers the opportunity to hear Francis discuss his papacy in his own words, in an intimate format: if the viewer suspends disbelief for even a moment, it is as though he or she were sitting in the same room as the pope. The Boisi Center is proud to offer a screening of this compelling documentary, with a panel discussion to follow.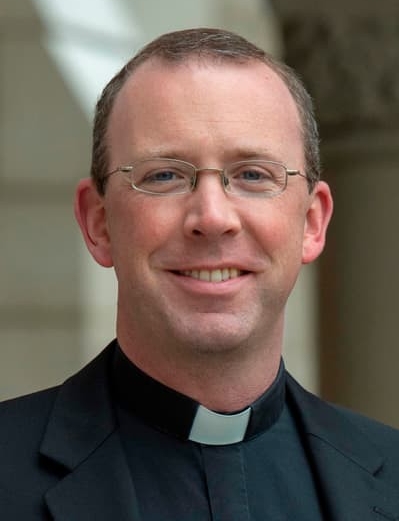 Peter Folan, S.J., is a doctoral candidate in systematic theology at Boston College. His research focuses on the use of Scripture in theological reflection, specifically in the theological reflection that accompanies ecumenical dialogue. He holds degrees from the University of Notre Dame, Fordham University, and Boston College's School of Theology and Ministry. Currently, he is a teaching fellow in the theology department, serving this year as an instructor in the course Exploring Catholicism, one of the theology core courses available to BC undergraduates.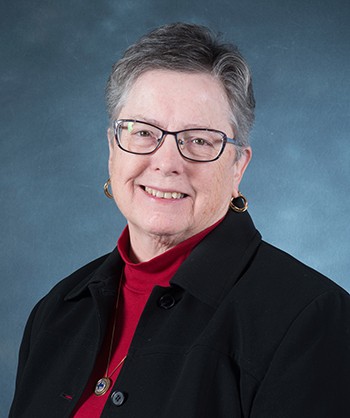 Mary Ann Hinsdale, IHM, is an associate professor of theology at Boston College. A sister of the Immaculate Heart of Mary, Hinsdale writes and teaches in the areas of ecclesiology, Christology, theological anthroplogy, and feminist theology. Current research focuses around multidisciplinary approaches to Catholic Studies, the use of participatory action research in theological reflection on the U.S. Catholic experience, and Mary Magdalene as a resource for women's ecclesial leadership. Hinsdale has authored numerous articles and book chapters, and a recent book is Women Shaping Theology (Manwah, N.J., Paulist Press, 2006). Hinsdale received her Ph.D. in Systematic Theology from the University of St. Michael's College in Toronto; her S.T.L. in Systematic Theology (magna cum laude) from Regis College; her M.A. from the The Catholic University of America; and her B.A. from Marygrove College in Detroit, MI.
Theresa O'Keefe is an associate professor of the practice of youth and young adult faith at the Boston College School of Theology and Ministry, where she also leads the Contextual Education program, in which students use field opportunities to develop their praxis. Both of these focuses are shaped and informed by her years of experience working in and around Catholic parishes, schools and dioceses. Her current research interests include, youth and young adult faith; developmental theory; feminist theology; ministerial and educational formation; and Catholic-Jewish dialogue. Her recent publications are "Growing Up Alone: The new normal of isolation in adolscence," Journal of Youth Ministry, Vol 13, no. 1 (Fall 2014), 63-84. and "Companioning Adolescence into Adulthood: Schools as communities of care and growth," in At the Heart of Education: Chaplaincy, Guidance and Pastoral Care (Dublin: Vertias Publications, 2014). O'Keefe received her M.Ed. and Ph.D. from Boston College and her B.A. (with honors) from the University of Toronto.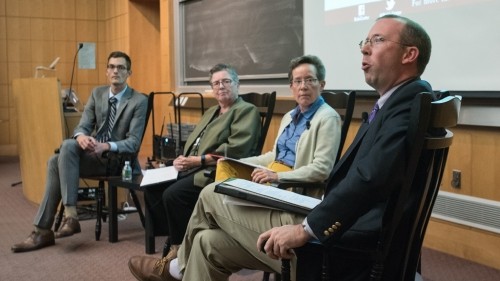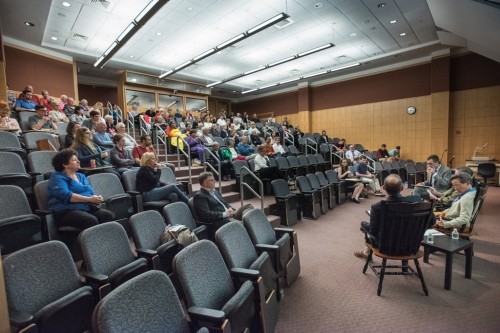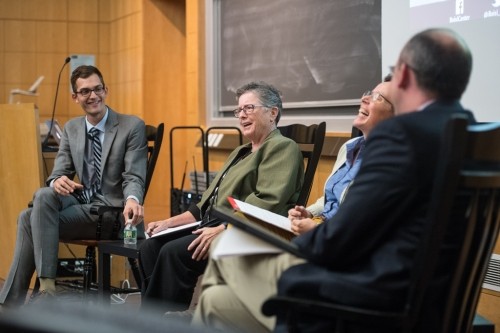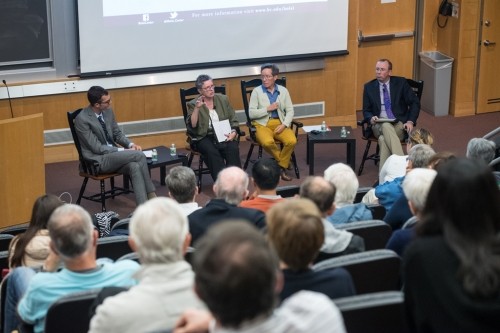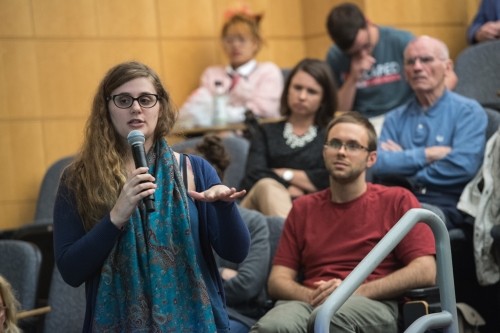 Event Recap
For the first event of the 2018-2019 academic year, the Boisi Center welcomed Peter Folan, S.J. (Boston College), Mary Ann Hinsdale, IHM (Boston College), and Theresa O'Keefe (Boston College STM) for a screening of Pope Francis: A Man of His Word, a 2018 documentary by German filmmaker Wim Wenders. Following the screening, Interim Assistant to the Director Jack Nuelle guided the panelists through a discussion which alternated between reviewing the film and discussing Pope Francis' papacy more broadly. Each panelist gave their initial reactions, with Hinsdale commenting on how Francis seemed to be a Catholic particularly formed by the Second Vatican Council and its messages of love, service, dialogue, and difference. O'Keefe echoed Hinsdale's sentiment, remarking on the changing role of the Papacy as it becomes a platform increasingly suited to speak about issues of a global nature. She stressed the courage Francis exhibits by speaking up about issues like poverty and climate change when addressing world leaders with tremendous authority. Folan and Hinsdale both initially commented on the exhaustive nature of the film, in its scope of Francis' activities as well as the length of the film itself.
The discussion moved to the topics Francis addressed and those left unsaid. Panelists noted that not only was this film released before recent allegations against Francis, but also that Francis' interviews were subject to editing and directorial review. With this in mind, all three panelists expressed their satisfaction with the breadth of topics the film portrayed, while questioning the depth and specifics of Francis' answers, particularly regarding the role of women and the problem of clerical abuse. Hinsdale noted that we may be too early to judge if Pope Francis is "A Man of His Word," adding her unease at the manner in which the Pope answered the question of the role of women. O'Keefe agreed, saying it was clear the director chose to focus on other issues as the core of the piece and position the Church in a listening stance, but it left these remaining topics to seem like "cameo appearances". Folan concluded that while he appreciated that they were at least addressed, he disliked the specific phrasing of the Francis' answers on the importance of dialogue and the response to clerical abuse. He characterized Francis' response on this last issue as viewing the problem as episodic, not systemic.
That issue was the topic of the final section of the night, first with the final question asking if the film should be viewed differently now, post-allegations, returning later with audience questions. Folan stressed that Francis showed authentic anger at the problem, but it is difficult to translate that into direct action. Hinsdale agreed, mentioning that the Pope's emphasis on discernment leads often to careful but slow action. O'Keefe, responding to these critiques, highlighted that the film focused on showing Francis as human more than as bureaucratic leader. As Hinsdale mentioned, the film was almost hagiographic in its style. The evening concluded with our panelists discussing the roles of subsidiarity and authority in Church accountability and reform, agreeing that we have and want to retain an ordered church, but wondering if that order needs to be quite so hierarchical.
Read More
Books
Ambrogetti, Francesca and Sergio Rubín. Pope Francis: Conversations with Jorge Bergoglio. New York: G. P. Putnam's Sons, 2013.
Gaillardetz, Richard. An Unfinished Council: Vatican II, Pope Francis, and the Renewal of Catholicism. Collegeville, MN: Liturgical Press, 2015.
Francis, Pope. The Allure of Goodness and Love: Pope Francis in the United States: Complete Texts. Collegeville, MN: Liturgical Press, 2015.
Faggioli, Massimo. Pope Francis, Tradition in Transition. New York: Paulist Press, 2015.
Wenders, Wim. The Logic of Images. Trans. Michael Hofmann. London: Faber, 1990.
Articles
Boudway, Matthew. "Worthy of His Name: Wim Wenders Discusses 'Pope Francis: A Man of His Word." Commonweal, June 1, 2018.
Other 
Wim Wenders. Paris, Texas. Film. 1984.
Wim Wenders. Wings of Desire. Film. 1987.
In the News
Read a review of the event in BC's The Torch.
In a May issue of The New Yorker, Paul Elie reviews Wim Wenders' film Pope Francis: A Man of His Word. Elie describes the film as capturing "an aesthetic of nearness" that reflects a "conviction that the central Christian mystery—God becoming man, the father sending his son—is about the divine effort to draw nearer to humanity, and vice versa." Wenders' describes the task of creating the film as to capture that nearness for the audience by reflecting Pope Francis in images of St. Francis of Assisi, "the apostle of the ear."