Race, Class, and Ethnicity in College Admissions: Deans Discuss the Harvard Case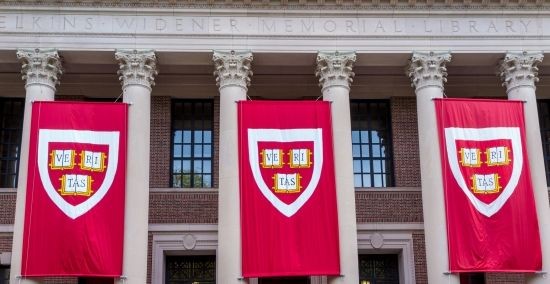 Susan Gennaro
Dean, Connell School of Nursing
Vincent Rougeau
Dean, Boston College Law School
Stanton Wortham
Dean, Lynch School of Education and Human Development 
Date: February 24, 2020
Co-sponsored with Thea Bowman AHANA and Intercultural Center
Abstract
"Race, Class, and Ethnicity in College Admissions" will feature three current deans at Boston College: Susan Gennaro (Connell School of Nursing), Vincent Rougeau (School of Law), and Stanton Wortham (Lynch School of Education and Human Development) will discuss the significance of the "Harvard Case" for higher education in the United States, and its possible long-term effects for selective institutions like Boston College.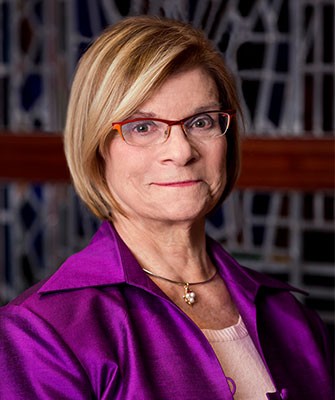 Susan Gennaro is dean and professor of the William F. Connell School of Nursing at Boston College. Gennaro's research focuses on the improvement of perinatal health and has been conducted in the U.S., Malawi and Uganda. Most recently, with a $3.3 million grant from the National Institutes of Health/ National Institute on Minority Health and Health Disparities, Gennaro is co-leading a study that examines how best to improve health behaviors in pregnant women. She has also just completed a study investigating mechanisms underlying preterm birth in minority women at Jacobi Medical Center, New York and in Austin, Texas, also funded by the National Institute for Nursing Research. Gennaro's long history of funding from the National Institute of Health (for over 20 years) has also focused on improving nursing education through innovative programs to increase the number of nurse scientists from a minority background trained to work with vulnerable populations. As the founder of the evidence-based practice program at the Association of Women's Health, Obstetric, and Neonatal Nurses, her goal is to translate research into clinical practice internationally.
Gennaro is the editor of Sigma Theta Tau's Journal of Nursing Scholarship, ranked 2nd out of 118 nursing journals in the world, a Fellow of the American Academy of Nursing, was a McClure Scholar at New York University Medical Center, was a member of the National Advisory Council for NINR, on the National Advisory Committee for the March of Dimes and a Distinguished Alumna at the UAB School of Nursing. Gennaro has been recognized for her outstanding contributions to maternal and child health by the Distinguished Service Award of the Association of Women's Health, Obstetric and Neonatal Nurses.
---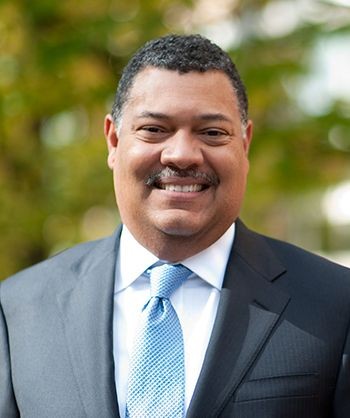 Vincent Rougeau became dean of Boston College Law School in July of 2011. He previously served as a professor of law and Associate Dean for Academic Affairs at Notre Dame. Rougeau was recently named Association of American Law Schools (AALS) President-elect.
A vocal advocate for change in legal education, Rougeau has led a reorganization in leadership structure at the law school that supports a more holistic approach to student services, expands the school's national and international recruitment of a diverse student body, and enhances the School's commitment to experiential learning and global engagement. BC Law's new Center for Experiential Learning brings all the school's hands-on training programs under one roof, while the Global Practice Program builds on the school's longstanding presence in Europe by launching new opportunities for students in Dublin, Germany, Chile, France and other locations around the globe.
An expert in Catholic social thought, Rougeau's current research and writing consider the relationship between religious identity and citizenship and membership in highly mobile and increasingly multicultural democratic societies. He serves as Senior Fellow at the Centre for Theology and Community in London, where he researches broad-based community organizing, migration and citizenship in the United Kingdom as part of the Just Communities Project.
Rougeau has served as a member of the Executive Committee of AALS, as chair of the AALS Deans Steering Committee, and on the Council of the Boston Bar Association. His teaching interests are in contract and real estate law, as well as in law and religion. Before entering the academy, he practiced law at the Washington, DC office of Morrison & Foerster from 1988-1991.
---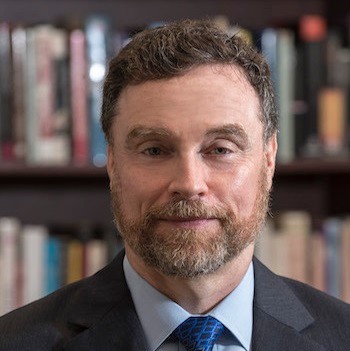 Stanton Wortham is the Charles F. Donovan, S.J., Dean of the Lynch School of Education at Boston College. He earned his B.A. with highest honors from Swarthmore College and his Ph.D. from the University of Chicago in Human Development. He is a member of Phi Beta Kappa and has been a Javits Fellow, a Spencer Foundation Dissertation Fellow, a National Academy of Education Postdoctoral Fellow, a W.T. Grant Foundation Distinguished Fellow and an American Educational Research Association Fellow. He has received the American Educational Research Association Cattell Early Career Research Award and the University of Pennsylvania Lindback Award for Distinguished Teaching.
Wortham's research applies techniques from linguistic anthropology to study interaction, learning, leadership development and talent management in classrooms and organizations. He has also studied media discourse and autobiographical narrative. His books include: Narratives in Action (Teachers College Press, 2001), Education in the New Latino Diaspora (Ablex, 2002; coedited with Enrique Murillo and Edmund Hamann), Linguistic Anthropology of Education (Praeger, 2003, coedited with Betsy Rymes), Learning Identity (Cambridge, 2006), Bullish on Uncertainty (Cambridge, 2009, with Alexandra Michel), Revisiting Education in the New Latino Diaspora (Information Age, 2015, coedited with Edmund Hamann and Enrique Murillo) and Discourse Analysis beyond the Speech Event (Routledge, 2015, with Angela Reyes).
Wortham has recently done work on talent management in organizational contexts. His book Bullish on Uncertainty describes how two organizations managed uncertain environments differently and how this yielded very different outcomes for individuals and the organization. He is also doing research with Mexican immigrant and Mexican American adolescents who live in areas of the United States that have only recently been home to large numbers of Latinos. This work explores the challenges and opportunities facing both Latino newcomers and host communities, in places where models of newcomers' identities and practices for dealing with newcomers are often more fluid than in areas with longstanding Latino populations. This work has yielded films as well as traditional publications.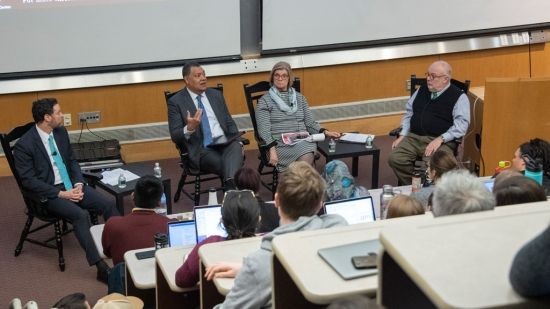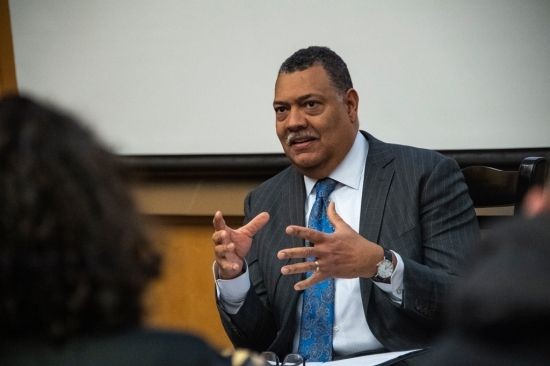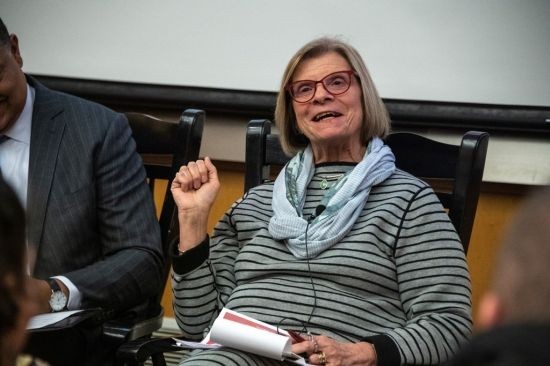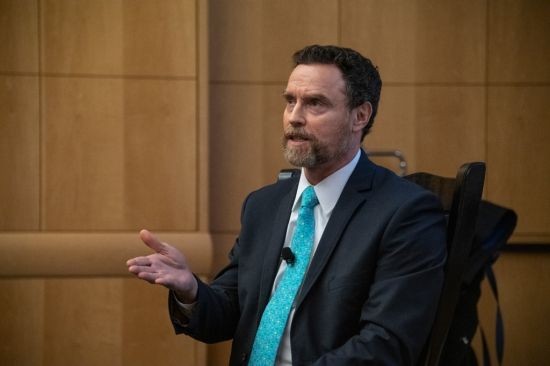 Event Recap
On February 24th, three Boston College Deans--Susan Gennaro, Vincent Rougeau, and Stanton Wortham--gave their take on the recent lawsuit against Harvard University and its implications for elite institutions such as Boston College. 
By way of context, the case was brought by an organization called "Students for Fair Admissions." They accused Harvard of discriminating against Asian applicants by holding the group to a higher academic standard than other racial groups. They asked the court to mandate Harvard to omit the consideration of race from its admissions process entirely. Though the court ruled in favor of Harvard and the maintenance of race-based affirmative action, the role race should play in college admissions processes has remained a topic of concern.
Mark Massa, S.J., began by asking the three panelists what they saw as the most important issues raised by the case, specifically in relation to Boston College. Rougeau (Boston College Law School) responded first by highlighting what he sees as the fundamental question at play in the case: Is there an appropriate use of race in college admissions? He explained that the deep division related to this question is because everybody cares about elite education--these arguments aren't happening at lower-ranked schools. 
Gennaro (Connell School of Nursing) interestingly noted the timing of this case alongside another infamous college admissions lawsuit, involving celebrity Lori Laughlin and a cheating scheme to get her daughter into a prestigious school. The common denominator, explained Gennaro, is that there is a capacity issue. These elite schools are receiving too many applications with perfect SAT scores and perfect GPAs. They simply cannot use these scores as criteria for admittance--too many would qualify. Even if the number of valedictorians applying was just enough to fill a class, she argued, nobody wants an entire class composed of valedictorians. Thus, there is a need for additional criteria, among them, race. 
Wortham (Lynch School of Education and Human Development) mentioned the thoroughness with which the judge ruled. Quotas are an inappropriate, illegal way to use race in forming a class, but the idea of using race as one of many factors through which to holistically evaluate students, is beneficial and even necessary. 
The panelists insisted, however, that the Harvard ase failed to raise some important issues surrounding the debate of affirmative action. Rougeau explained, the root of the entire discussion is privilege. We want to believe in a meritocracy, but we can no longer pretend as if that is the case, the United States has reached record income disparity. The most important mechanism for mobility in society is education, which people access by way of ability, money, and athleticism. The argument against using race in college admissions is that it allows people who "don't deserve it," according to those other metrics to access education, particularly at elite institutions. But, he argued, what is the difference between someone who accesses education in part because of their race, and someone who accesses education in part because of family wealth? Those who benefit from affirmative action are just the easy ones to target--they are new to the scene, perhaps with less economic power. 
Gennaro chimed in, explaining that because of the long, deep history of racism in our country, the omission of race, class, and ethnicity from college admissions decisions would leave little more than grades alone as criteria-- and, schools would likely be left with a class entirely composed of the wealthiest, best-schooled, most-tutored applicants. In other words, no diversity whatsoever. 
Wortham touched on the idea of "fairness" as the buzzword everybody is looking for in college admissions. But, he explained, people have wildly different experiences of access before they even get to college. Citing some previous research, for example, he explained the tremendous effect that K-12 education has on later performance but the extreme disparity in the quality of elementary schools, a disparity largely along racial lines. So, he concluded, fairness really needs to be about access: to be fair, one needs to consider all of the factors which shape who has the resources to get through the admissions system. 
The conversation then shifted to how, if at all, different institutions should implement diversity goals, and the importance of diversity at educational institutions. Rougeau discussed an apparent difference between private and public schools. Public schools, he insisted, are created by and for the public, so there is a responsibility to serve the entire public, for whom it was created. He sees private schools as having more flexibility. Many, such as Boston College, have a mission, and thus can tailor their classes to fit this mission. But any mission is better achieved when there is a diverse body. Wortham elaborated on this point, highlighting some of the research that has been done on the benefits of diversity, the most important of which being the creation of an empathy that diversity sparks. As we begin to see humanity as heterogeneous, we gain a capacity to see things in a new way, honing a valuable skill of "reimagination." Diversity is crucial to accomplishing this. 
Gennaro touched on the difficulty of defining diversity. She also wondered about a religiously affiliated school's right to maintain religious preferences in admissions. Rougeau added that  he sees diversity as inherent to the Catholic mission. If humankind is created in the image of God, surely a Catholic institution would want to embrace proudly all of the diversity possible-- as a fundamental way to understand humanity, in all its forms. And Wortham added to Rougeau's point, citing some of his work involving the merging of two parishes, one composed of white men and the other of recent immigrants from Mexico. While at first the merge was difficult, the pastor described it as a taste of the '"Kingdom of God," in which all of humankind will be together. 
Following this discussion, a lively Q & A only proved the complexity of the topic, as audience members asked how to best educate the public about the importance of affirmative action, how to improve the experiences of minority college students once they are through the doors, and how to come to terms with the fact that affirmative action may never truly end--as the upsetting reality is that oppression and inequality are deeply rooted in our society. It will take time, effort, and thoughtful policy to correct the injustice along racial, ethnic, and class lines, but college admissions is a good place to start.
Read More
Books
Cleveland, Darrell, ed.  When "Minorities" Are Strongly Encouraged to Apply: Diversity and Affirmative Action in Higher Education. New York: Peter Lang Publishing, 2009.  
Crosby, Faye J. and Cheryl VanDeVeer. Sex, Race, and Merit: Debating Affirmative Action in Education and Employment. Ann Arbor, MI: University of Michigan Press, 2000. 
Guofang, Li, Gulbahar H. Beckett. Strangers of the Academy: Asian Women Scholars in Higher Education. Sterling, VA: Stylus, 2006. 
Park, Julie J. When Diversity Drops: Race, Religion, and Affirmative Action in Higher Education. New Brunswick, NJ: Rutgers University Press, 2013.
Articles
Dong, Selena. " 'Too Many Asians': The Challenge of Fighting Discrimination Against Asian Americans and Preserving Affirmative Action." Stanford Law Review 49, no. 5 (May 1995): 27-1057. https://www.jstor.org/stable/1229181. 
Park, Julie J. & Amy Liu. "Interest Convergence or Divergence? A Critical Race Analysis of Asian Americans, Meritocracy, and Critical Mass in the Affirmative Action Debate." The Journal of Higher Education 85, no. 1 (October 2016): 36-64. https://doi.org/10.1080/00221546.2014.11777318. 
Teigen, Mari. "The Affirmative Action Controversy." Nordic Journal of Feminist and Gender Research 8, no. 2 (November 2010): 63-77. https://doi.org/10.1080/08038740050167515. 
Unzueta, Miguel M. et al. "How Believing in Affirmative Action Quotas Protects White Men's Self Esteem." Organizational Behavior and Human Decision Processes 105, no. 1 (January 2008): 1-13. https://doi.org/10.1016/j.obhdp.2007.05.001.
In the News
Nick Anderson writes that on October 1, 2019, U.S District Judge Allison D. Burroughs ruled that Harvard does not discriminate against Asian Americans in undergraduate admissions. She concluded that racial disparities in incoming classes and groups of applicants, "are not the fault of any racial animus or conscious prejudice." The judge further surmised that Harvard's admissions process does seek to ensure racial diversity in each of its classes, though perhaps through imperfect means. The group "Students for Fair Admissions" was disappointed with the ruling.