On Having Civil Conversations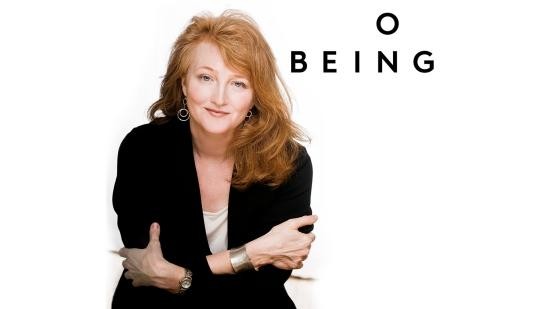 Krista Tippett
Author and Broadcaster
Date: January 24, 2017
Abstract
In advance of her Lowell Humanites Series Lecture, Krista Tippett, author of Becoming Wise and host of the NPR show and podcast "On Being," graciously spoke with Boston College students on the themes of her new book and anxieties pertaining to the heated political rhetoric of 2017.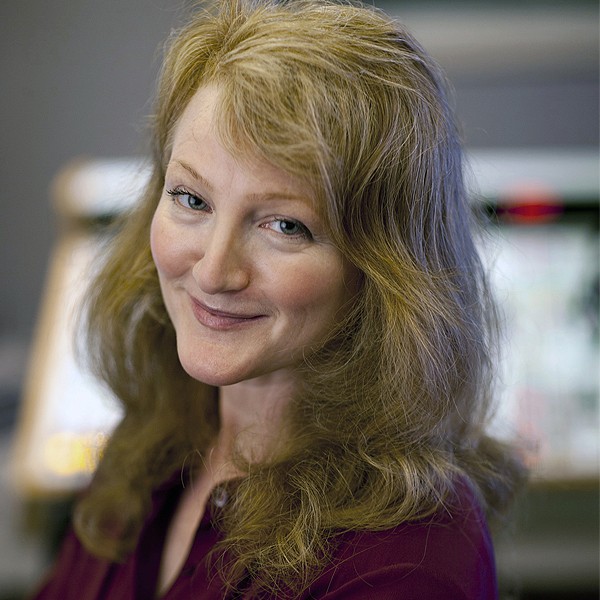 Krista Tippett is a Peabody Award-winning broadcaster and New York Times best-selling author. In 2014, she received the National Humanities Medal at the White House for "thoughtfully delving into the mysteries of human existence. On the air and in print, Ms. Tippett avoids easy answers, embracing complexity and inviting people of ​every background to join her conversation about faith, ethics, and moral wisdom."
Krista grew up in Oklahoma, the granddaughter of a Southern Baptist preacher. She studied history at Brown University and went to Bonn, West Germany in 1983 on a Fulbright Scholarship to study politics in Cold War Europe. In her 20s, she ended up in divided Berlin for most of the 1980s, first as the New York Times stringer and a freelance correspondent for Newsweek, The International Herald Tribune, the BBC, and Die Zeit. She later became a special assistant to the U.S. Ambassador to West Germany.
Krista left Berlin in 1988, the year before the Wall fell. She lived in Spain, England, and Scotland for a time, then pursued a M.Div. from Yale. When she graduated in 1994, she saw a black hole where intelligent coverage of religion should be. As she conducted a far-flung oral history project for the Benedictines of St. John's Abbey (pdf) in Collegeville, Minnesota, she began to imagine radio conversations about the spiritual and intellectual content of faith that could open imaginations and enrich public life.
In 2007, Krista published her first book, Speaking of Faith. It is a memoir of religion in our time, including her move from geopolitical engagement to theology and the cumulative wisdom of her interviews these past years. In 2010, she published Einstein's God, drawn from her interviews at the intersection of science, medicine, and spiritual inquiry. And now, Krista's New York Times best-seller Becoming Wise: An Inquiry into the Mystery and Art of Living opens into the questions and challenges of this century.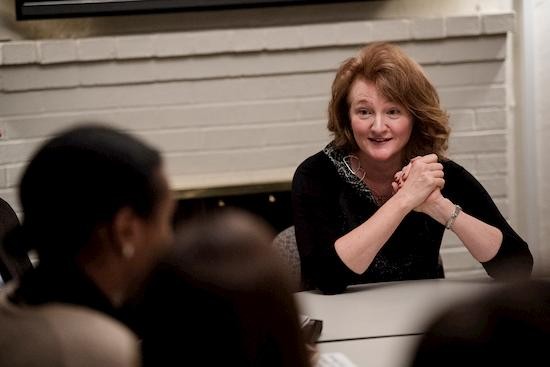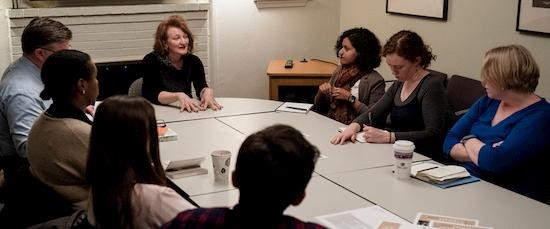 Event Recap
On Tuesday, January 24, Krista Tippett, host of the Peabody Award-winning radio show and podcast On Being, came to the Boisi Center for an informal conversation with a group of Boston College students before giving her Lowell Humanities Series lecture. After Boisi Center Interim Director Erik Owens's introduction, Tippett opened the floor to the ideas and questions of the students. Tippett explained that she was curious about what is concerning, confusing, and encouraging college students today, especially in light of the recent inauguration and Women's March. The conversation explored topics such as the nature of wisdom, public expression of pain and fear, identity politics, and fruitful conversation across party lines.
Early on in the conversation, one student asked what we can do with the rage and sorrow that has become apparent in light of this election. Tippett noted that, in the United States, sorrow is not rewarded, though it may be justified. She argued that we need to create spaces that welcome emotional expression and to attend to one another's pain and fear. Tippett also encouraged a commitment to talking and thinking about the current political climate on "the level of reality." She argued that it is important not to equate any politician with all of the people who voted for them. Instead, we must learn to accompany and respect one another regardless of whom we supported on Election Day.
In response to this, a student asked how we can encourage conversation, solidarity, and action from the "silent majority" without being accusatory. Tippett argued that one of the major inhibitors of discourse is the tendency to imagine groups of people as monolithic. If we are willing to step out of our comfort zones and reach out to people on the other side, we begin to realize there is a lot of untapped possibility for meaningful conversation. 
Social change, she said, actually happens one relationship at a time. In the same vein, Tippett responded to a question about identity politics, saying that, while identity politics has been critical for acknowledging diversity and trains us to be advocates for ourselves, we also need to be better listeners, more curious, and more open to new realities.
Tippett closed the conversation by reflecting on a question about the nature of wisdom—the theme of her most recent book, Becoming Wise (Penguin, 2016). She said that wisdom is where consciousness grows when it grows up, and that the measure of wisdom is the impact you make on the people around you.
Following the conversation, Tippett gave a Lowell Humanities Series lecture entitled The Adventure of Civility to a packed Gasson lecture hall. Remarking that we are "turn-of-the-century people," she invited the audience to continue to engage the questions that remain unanswered from the twentieth century. Tippett expressed the need for all people to reconsider common life as something bigger than politics, to overcome polarization that inhibits understanding, and to approach conflicts with imagination and creativity.
Tippett framed her remarks as "a few encouragements," providing her thoughtful, hopeful take on the power and purpose of human relationships, dialogue, and openness. She emphasized the importance of words, noting the shortcomings of some familiar words such as "tolerance." Tolerance requires merely bearing the existence of others, rather than treating others with openness and love. Citing poet Elizabeth Alexander, Tippett encouraged the use of "words that shimmer" and words that convey real truth.
Tippett also invited the audience to rediscover listening, which requires presence, vulnerability, and a willingness to be surprised. In addition to listening, Tippett encouraged "generous questions;" questions that may not want immediate answers. Achieving common ground, she remarked, cannot be a prerequisite for living common life. Instead, we ought to live in "the crack in the middle where people on both sides absolutely refuse to see the other as evil."