Update on the 'War on Terror': Facts and Fears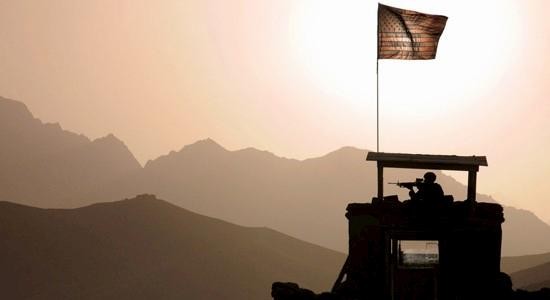 Glenn Carle
Author and Former Deputy National Intelligence Officer for Transnational Threats, National Intelligence Council
Date: November 14, 2012


Co-sponsored by: Institute for the Liberal Arts • Law School • International Studies Program • Islamic Civilization and Societies Program • Sociology Department • History Department • Boisi Center for Religion and American Public Life
Abstract
The promise of the American Dream brought mass-migration of Jews between 1880-1920, with many settling in New York City's Lower East Side slums. By the 1930s their children had Americanized and improved their lot and formed an increasing percentage of the Broadway audience, supporting musicals that were almost exclusively written by Jewish composers, lyricists and librettists. Not surprisingly, the Broadway musical reflected their collective journey of upward mobility. In their hands, most Broadway book musicals came to project an inclusive vision of America through a form which they inadvertently developed into a template on how to achieve those lofty ends: success through assimilation. This Broadway musical "template" has subsequently been used by other fringe groups to gain legitimacy in the eyes of the American mainstream, be it women, gays, African Americans, Latinos/Latinas, amongst many others.
Glenn L. Carle served twenty-three years in the Clandestine Services of the Central Intelligence Agency, working in a number of overseas posts on four continents and in Washington, DC. Carle has worked on terrorism issues at various times since the mid-1980s. He has worked extensively on Balkan, Central American, and European political, security, and economic issues. His last position was as Deputy National Intelligence Officer for Transnational Threats, on the National Intelligence Council, where his office was responsible for strategic analysis of terrorism, international organized crime, and narcotics issues. Carle is author of The Interrogator: An Education (2011). He holds a B.A. in Government from Harvard University, and a M.A. in European Studies and international Economics from the Johns Hopkins University School of Advanced International Studies. He did additional graduate work in International Relations at the Institut d'études politiques de Paris, France, and studied at the Université de Grenoble, France. Glenn Carle speaks French and Spanish fluently.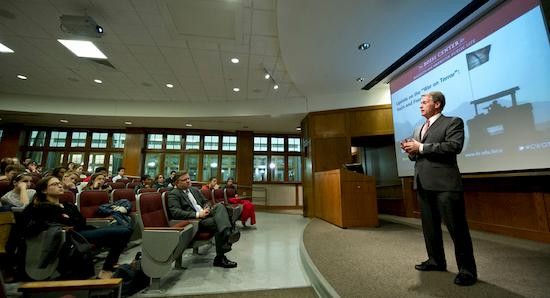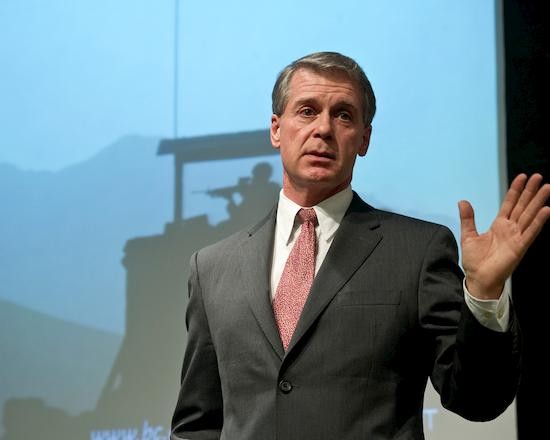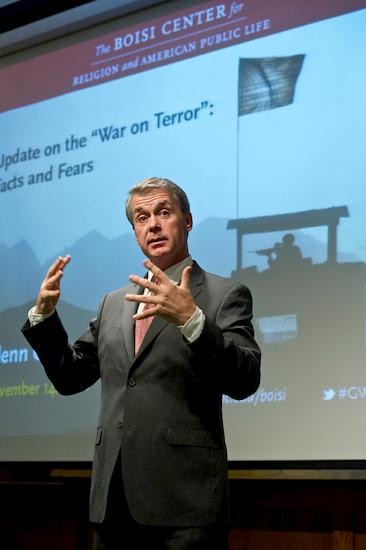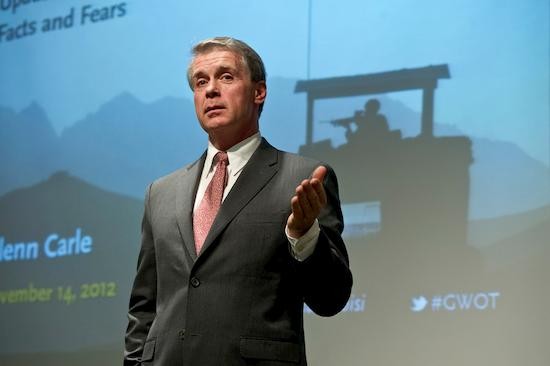 Event Recap
A 23-year veteran of the Central Intelligence Agency's clandestine services, Glenn Carle retired in 2007 as the Deputy National Intelligence Officer for Transnational Threats. Having spoken at the Boisi Center about interrogation policy a year earlier, Carle returned on November 14 to discuss the current state of the "Global War on Terror," or GWOT, to a packed room in Fulton Hall. He centered his talk on a discussion of two "fears" and four "facts."
The first widespread fear, stoked by the government and media alike, Carle said, is that al Qaeda is a coherent global organization with operations in up to eighty countries, when in reality it is dangerous but only fully operational in six countries. The second fear driving the GWOT is nuclear terrorism, but Carle said the odds of terrorists stealing a major nuclear weapon or constructing one themselves is "infinitesimal."
Four facts are key to understanding the current context, Carle noted. First, al Qaeda is a relatively small organization with goals quite distinct from Hamas, the Taliban and other terrorist organizations; and we know that it has been "decimated" by U.S. attacks in the last decade. "It's hard to be a terrorist," Carle told the audience. "The life expectancy is short and there aren't a lot of places to go." Second, the FBI has aggressively sought and prosecuted would-be terrorists in the U.S., even when the planning was not yet operational. Third, globalization and modernization are the root causes of Glenn Carle modern terrorism, so the long-term solution is not to "win" the GWOT but to help societies manage these structural transformations. Fourth, said Carle, the Obama administration has been ruthless in its use of drones but quite nuanced in its assessment of different terrorist organizations.
Carle closed by arguing that the idea of a unified GWOT was a fiction that is now properly put to rest. We are currently engaged in an aggressive counter-terrorism campaign that targets individual terrorist operatives, he said, but our long-term interests are best met by fostering economic and social opportunities for women and broad economic growth that makes particular populations less vulnerable to terrorist influences.
Read More
Further Reading
Akyrod, Jay. Interview with Glenn Carle. Politics Progressive. September 20, 2012.
Glenn Carle discusses the CIA's interrogation methods during the War on Terror and the upcoming Senate bill on intellignce practices.
Carle, Glenn. The Interrogator. (Nation Books, 2011).
A shocking and intimate look at the world of espionage that leads readers through the underworld of the Global War on Terror, asking them to consider the professional and personal challenges faced by an intelligence officer during a time of war, and the unimaginable ways in which war alters our institutions and American society.
Evitar, Daphne. "Voting for Drones." Huffington Post. November 2, 2012.
Are drones a "huamne way" to fight an "irregular enemy" as many senior officials assert? The growing number of civilian deaths and amount of collateral damage would suggest otherwise.
Hanif, Mohammad. "The Tailban's Main Fear is Not Drones but Educated Girls."  The Gaurdian. November 4, 2012.
In Pakistan and elsewhere an educated female population is the primary threat to the Taliban's interests.

Rosen, Armin. "Is It Time to End our Obsession with al Qaeda?" The Atlantic. October 19, 2012.
While al Qaeda is centainly still dangerous, many experts claim that the organization has been severly weakened and can no longer effectively inflict terror on the scale that the organization was capable of eleven years ago.
Sachs, Rob. "Career CIA Officer Says Agency Has Surpassed Tourture Scandals: An Interview with Glenn Carle." Voice of Russia. September 18, 2012.
Glenn Garle discusses how the CIA has evolved in its practices and purpose since the agency's inception in 1947.