South Africa After Mandela
Abstract
Following the death of former president Nelson Mandela, South Africa must look ahead to a political and social future without Madiba's calming and unifying presence. As the May 7 national election looms amidst continuing social strife, the African National Congress seeks to solidify its position as the leading party in the face of strengthening opposition from the Democratic Alliance. Professor Zine Magubane, a South African native and internationally recognized scholar of her home country's culture and politics, will discuss the challenges South Africa faces in the wake of its national hero's death.

This event continues a conversation begun at our December screening of Mandela: Long Walk to Freedom at the Coolidge Corner Theatre.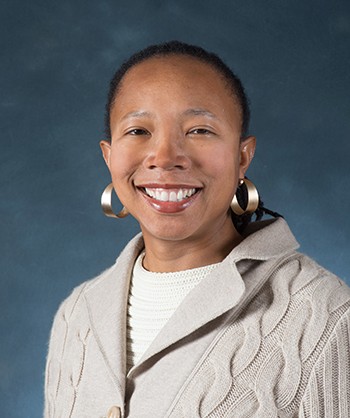 Zine Magubane is an associate professor of sociology at Boston College, where she also holds a courtesy appointment in the African and African Diaspora studies program. Professor Magubane specializes in social theory and the sociology of race, ethnicity, and African societies. She has professional experience in South Africa, previously serving as a research associate for the Human Sciences Research Council in Pretoria, and holding a guest lecturer position at the University of Cape Town. The author of several books and scholarly articles in her discipline, she has notably published Bringing the Empire Home: Race, Class and Gender (Chicago: University of Chicago Press, 2004). She earned her Ph.D and M.A. in Sociology from Harvard University, and her B.A. in Politics from Princeton University.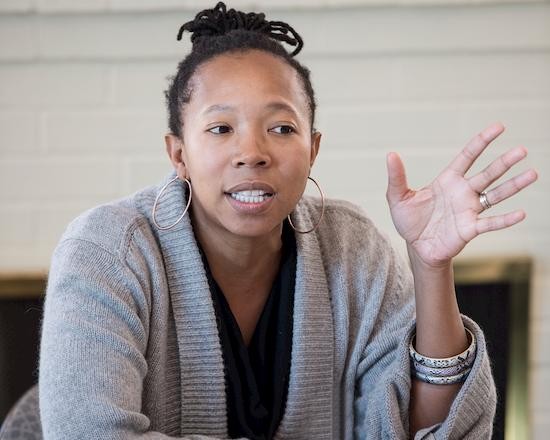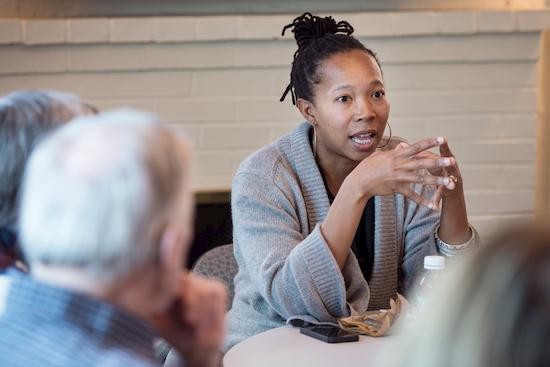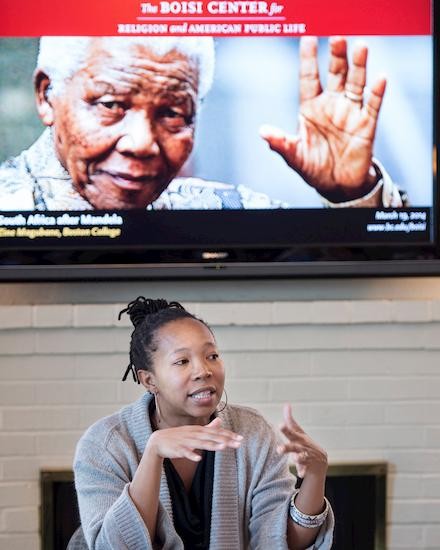 Event Recap
On March 19, BC sociology professor Zine Magubane, a native of South Africa, spoke at the Boisi Center about her home country's contemporary challenges. The luncheon continued a conversation began at the Boisi Center's advanced screening of the biopic "Mandela: Long Walk to Freedom" at the Coolidge Corner Theatre in early December, coincidentally on the very day Nelson Mandela died.
Magubane explained that South Africa's most pressing issues concern the relationship of sexual equality, gender equality, religion, traditional culture, and public life. South Africa's constitution seeks to protect both human rights and the rights of traditional culture—goals that sometimes conflict. Women's rights are protected, for example, as are the rights of gays and lesbians. (In fact,South Africa legalized same-sex marriage before the United States did.) Yet in the name of traditional culture, these rights are being undermined. The practice of ukuthwala is a poignant example: what had been a rite of marriage negotiated between families has become a practice of kidnapping young girls and marrying them to adult men. Similarly, the widespread sexual violence against women and the "corrective rape" of lesbians (of which President Zuma has himself been accused) undermines the law's efforts.
South Africa is in a position to act as a leader on these issues in Africa, where human rights are increasingly being trampled in the name of culture. Uganda recently declared homosexuality illegal; Senegal and Nigeria are contemplating similar steps. Traditionalists argue that efforts to protect women and sexual minorities are impositions of Western values, but many South Africans have stood up for these protections—rural women who organize against the absolute rule of the traditional leadership councils, for example—and there is the hope that these voices will win out in the next decade.
Read More
Further Reading
In the News
As the May 7 national election approaches, many South Africans are increasingly disenchanted with the perceived levels of corruption by President Jacob Zuma and the A.N.C. This New York Times article explores the discontent in the country two weeks prior to the election.
South Africa's new political opposition alliance foundered in February 2014,  reducing the possibility of a stable opposition emerging to challenge the ruling African National Congress.