What's Wrong with the New Genealogy of Religious Freedom?
Abstract
The new genealogy of religious freedom contends that religious freedom is incoherent, systemically biased, oppressive, ideological – and necessarily so. Its critique deploys a methodology inherited from Nietzsche and targets a vision of religious freedom associated with "foundationalists" like Kant and Rawls. This talk calls both the methodology and the vision into question. NGRF's genealogy proves self-destructive and incoherent. Its attack on foundationalist religious freedom is effective but presupposes – and targets – conceptions of freedom, neutrality, and power we needn't endorse. For foundationalists and genealogists alike, these assumptions define religious freedom. They don't have to. We can – and should – dispense with those assumptions without dispensing with religious freedom.
David Decosimo works in theology, ethics, religion and politics, and philosophy and theory of religion, focusing especially on Christianity and Islam and on philosophical, theological, and theoretical questions surrounding relations among Christians, Muslims, Jews, and atheists. He has particular interests in pre-modern texts and figures, both on their own terms and as resources for philosophical and theological work that offers religious believers and non-believers alike new ways of imagining their relations to one another and fresh responses to the political and ethical challenges they face. 
His first book, Ethics as a Work of Charity: Thomas Aquinas and Pagan Virtue (Stanford, 2014) examines Aquinas's account of whether non-Christians can lead  virtuous lives, offering a reinterpretation of Thomas's moral theology and synthesis of philosophy and theology. His second book, Four Tasks of Christian Ethics which is nearing completion, offers a new way of understanding the history and work of Christian ethics and an account of how and why that work so often goes awry.
Prior to joining Boston University, he served on faculty at Loyola University Maryland. During 2014-15, he was William Scheide Research Fellow at the Center of Theological Inquiry, where he pursued work on his third book, No Lord but God: Domination in Christianity and Islam. In 2015, he will deliver a keynote lecture at the Thomas Instituut in Utrecht, in celebration of the institution's 25th anniversary.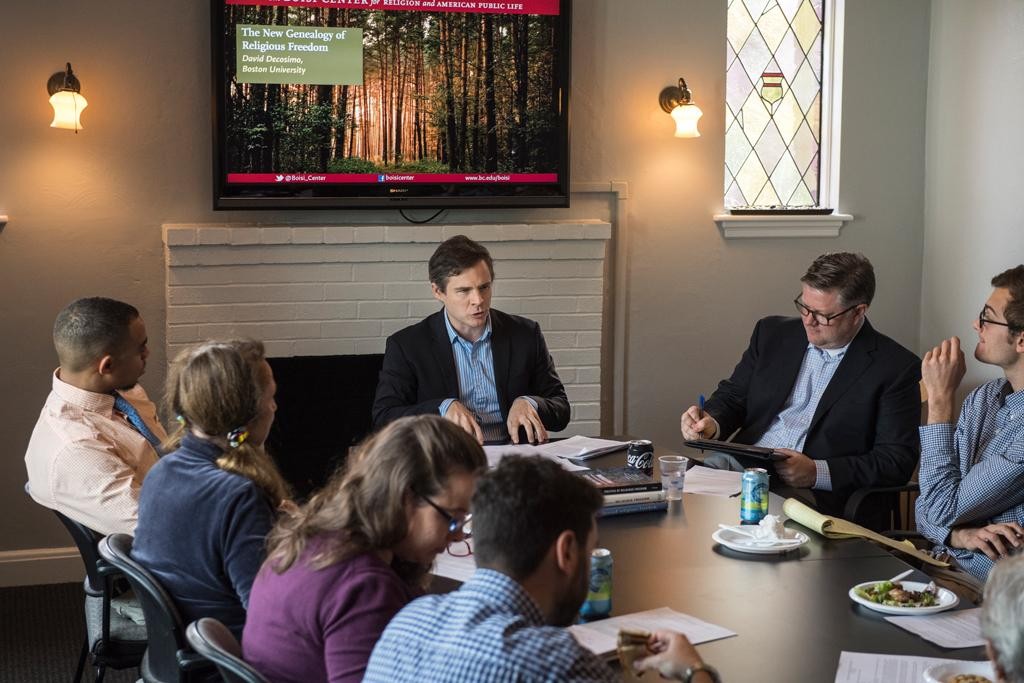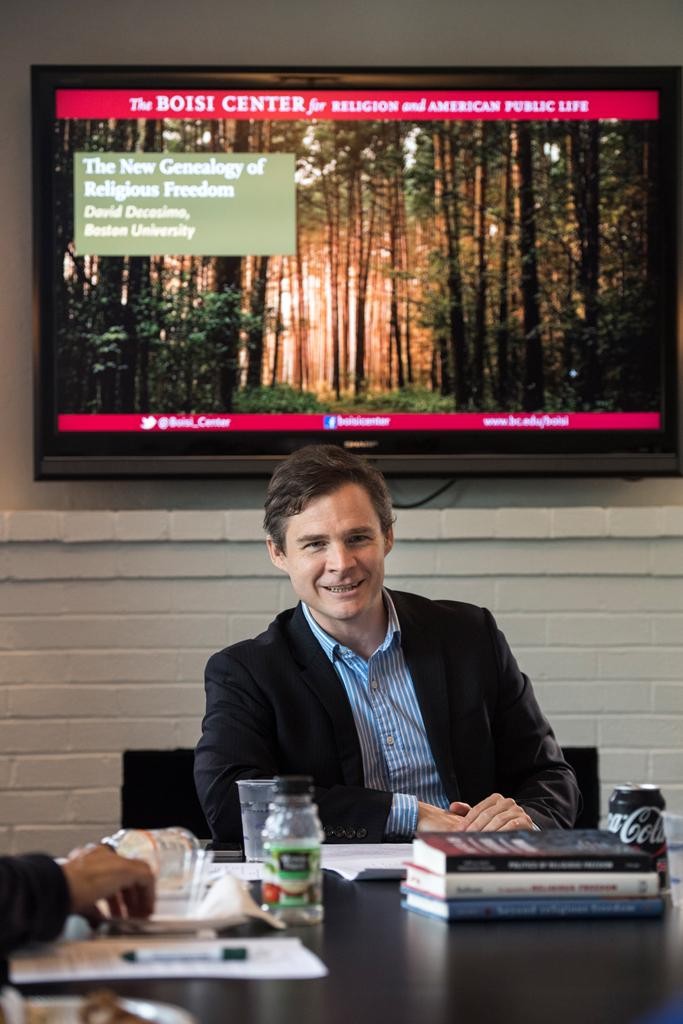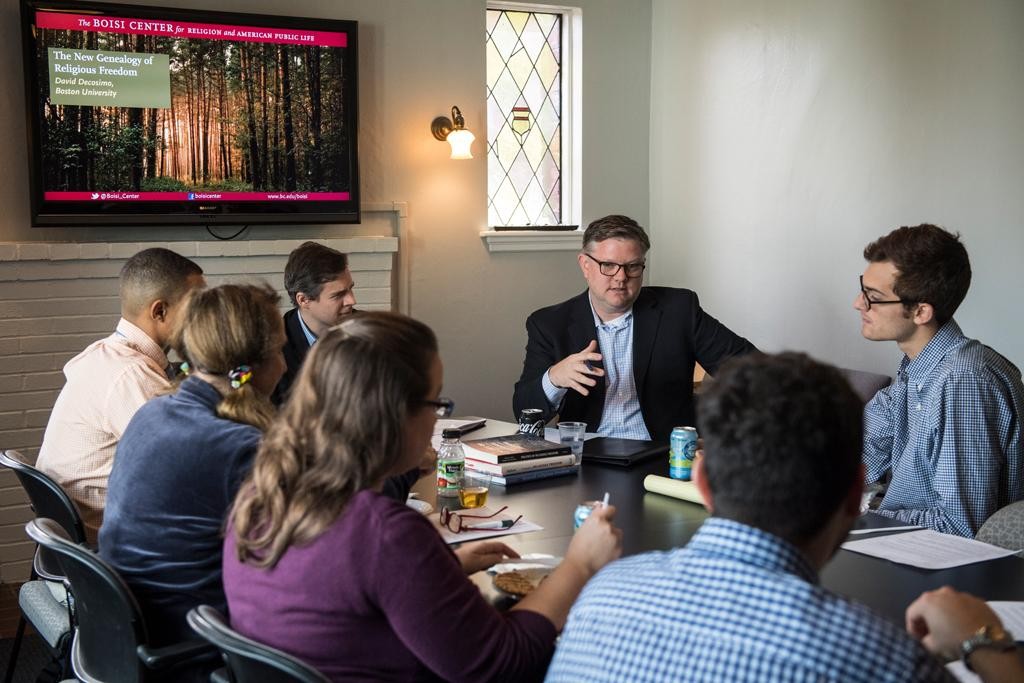 Event Recap
On November 2, 2017 in a luncheon colloquium at the Boisi Center, Professor David Decosimo from Boston University spoke on the New Genealogy of Religious Freedom (NGRF), challenging its assumptions and offering a constructive illustration of what religious freedom can look like.
Decosimo outlined the New Genealogy of Religious Freedom's critique of religious freedom itself.  The NGRF states that religious freedom is unstable, impossible, and systematically biased against religions that are not compatible with liberal Protestantism.  It further argues that religious freedom is employed as a tool of oppression and neo-colonialism, and it generates new forms of religious prejudice, thus facilitating hegemony of powerful geopolitical actors.
Decosimo explained the main currents of NGRF's critique of religious freedom, namely that religious freedom is inherently dominative, and this domination limits freedom and perpetuates a destructive system of power, and the dangerous power of dominant countries.  While NGRF has criticized religious freedom as being destructive of human freedom and a tool of control for the state and secular power, Decosimo's evaluation of religious freedom highlights how understanding the ideals of religious freedom can be constructive in realizing more ideal societies.
Decosimo's approach to religious freedom incorporates freedom as non-domination in conjunction with an understanding that not all power asymmetries need to be oppressive.  In order to move forward with a comprehensive understanding of religious freedom, Decosimo argues that we must reject the assumptions that are implicit in the NGRF, in order to see religious freedom as a constructive process that creates a dialectical and democratic vision of freedom.  This becomes possible when we reject a foundationalist understanding of religious freedom that creates religious homogeneity in political society.
During a discussing following his talk, Decosimo engaged with questions of historical genealogies of religious freedom, arguing that although these histories often reveal darkness and domination, examining them honestly will reveal possibilities for future civic friendship and even love.
Read More
Books
Reichenbach, Bruce R. Divine Providence: God's Love and Human Freedom. Eugene, Oregon: Cascade Book, 2016.
Batnitzky, L., and Dagan, Ḥanokh, editor. Institutionalizing Rights and Religion: Competing Supremacies. Cambridge, UK: Cambridge University Press, 2017.
Cartabia, M., & Simoncini, Andrea, editor. Pope Benedict XVI's Legal Thought: A Dialogue on the Foundation of Law. Cambridge, UK: Cambridge University Press, 2015.
Articles
Taber, Shirin. "The enduring gift from my father: Freedom of religion." New York Times, June 22, 2017, http://nytlive.nytimes.com/womenintheworld/2017/06/22/the-enduring-gift-from-my-father-freedom-of-religion/?mcubz=0.
Malik, Maleiha. "Religious Freedom, Free Speech and Equality: Conflict or Cohesion?" Springer Science & Business Media, February 3, 2011.
Other Resources
"Politics of Religious Freedom and the Minority Question: A Middle Eastern Genealogy." Presentation by Saba Mahmood co-sponsored by the Berkley Center for Religion, Peace, and World Affairs and the Prince Alwaleed bin Talal Center for Muslim-Christian Understanding. https://www.youtube.com/watch?v=ASxMZFWGyts
"Global Restrictions on Religion Rise Modestly in 2015, Reversing Downward Trend." Pew Research Center, Religion & Public Life, April 2017, http://www.pewforum.org/2017/04/11/global-restrictions-on-religion-rise-modestly-in-2015-reversing-downward-trend/.
In the News
In this essay, the first in a discussion series  hosted by The Immanent Frame, Elizabeth Shakman Hurd and Winnifred Fallers Sullivan (also the series' co-editors) explore theologies of American exceptionalism as they impact American policies of religion, which often coincide with questions of religious tolerance and religious freedom.