Service Learning and the PULSE Program at BC
Abstract
The PULSE Program for Service Learning began in 1969, founded by Boston College students who wanted to integrate their academic work in philosophy and theology with social action and "real world" concerns. While PULSE's original goal focused on improving urban social conditions by emphasizing rapid and marked social change through coordinated student action, eventually the program's emphasis shifted towards participation in community-based initiatives and continued reflection on the challenges of modern community life. Today PULSE offers sixteen sections of its core course and nine elective courses, it partners with fifty-five community organizations, and it expects to enroll about 500 students in 2016-2017.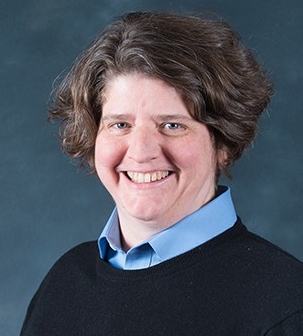 Meghan T. Sweeney, associate professor of the practice of theology, joined the Boston College faculty in 2006 to teach in the PULSE Program for Service Learning. In June, 2014 she became the program's Cooney Family Director. Active in parish ministry as an Episcopal priest, Meghan has been a hospital chaplain, campus minister, and has volunteered in a variety of community organizations.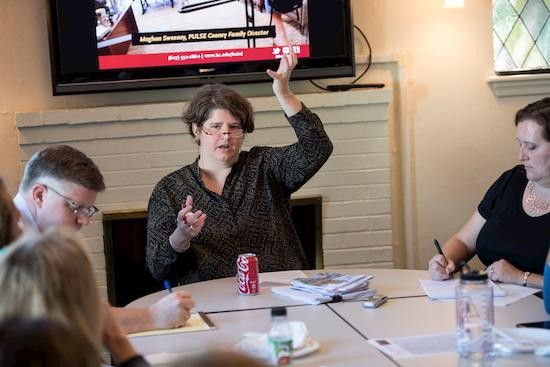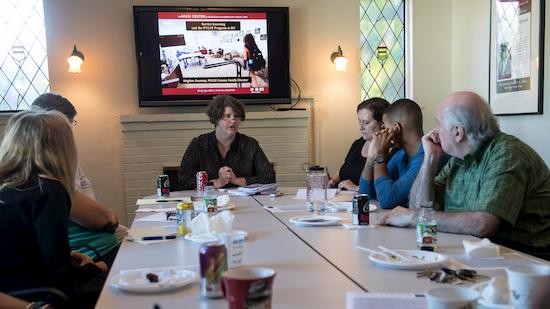 Event Recap
On September 13, the Boisi Center welcomed Meghan Sweeney, associate professor of the practice of theology and the Cooney Family Director of the PULSE Program for Service Learning at BC. PULSE is an undergraduate program that combines academic learning with service work. It seeks to educate undergraduate students about social justice through volunteer placements at one of 55 community partner organizations throughout Boston. PULSE incorporates the works of classical and modern thinkers to discuss themes such as civic virtue and spirituality and relate them to students' service experiences.
Sweeney began the luncheon by describing the importance of service learning in one's educational and personal development. The program reinforces classroom learning by encouraging students to develop a meaningful relationship with people outside of BC. In the greater Boston community, undergraduates experience firsthand socioeconomic and social disparities. There are approximately 500 students currently in the PULSE program; each student is tasked with volunteering eight hours a week at various community partners. 
Students are often challenged by their PULSE experiences. PULSE engages these problems through weekly discussion sections that allow participants to reflect on their service placements with their peers. Students learn from the experiences of their classmates. The pairing of academic study with service learning incorporates the theories of great Western thinkers in discussions about volunteerism and service.
Read More
Books
Farmer, Paul. Pathologies of Power: Health, Human Rights, and The New War on the Poor. Vol. 4. Univ of California Press, 2004.
Kaye, Cathryn Berger. The Complete Guide to Service Learning: Proven, Practical Ways to Engage Students in Civic Responsibility, Academic Curriculum, and Social Action. Golden Valley, MN: Free Spirit Publishing, 2010. 
Articles
Blouin, David D., and Evelyn M. Perry. "Whom Does Service Learning Really Serve? Community-Based Organizations' Perspectives on Service Learning." Teaching Sociology 37, no. 2 (2009): 120-135.
Cermak, Michael J., Jonathan A. Christiansen, Amy C. Finnegan, Aideen P. Gleeson, Shelley K. White, and Darcy K. Leach. "Displacing Activism? The Impact of International Service Trips on Understandings of Social Change." Education, Citizenship and Social Justice 6, no. 1 (2011): 5-19.
McKnight, John. "Services are Bad for People." Organizing Spring/Summer (1991): 41-44.
Remen, Rachel Naomi. "In The Service of Life." Meredians-Columbia 5 (1998): 15-16.
Blogs
Brotzman, Kelly. "Got Ethics? In Higher ED Communtiy Engagement, Not So Much," Ethics of Engagement, September 1, 2016, http://www.ethicsofengagement.org/blog.
In the News
In 2009 New York Times reporter, Stephanie Storm investigated the effectiveness of service learning in colleges and universities in the United States.