Peacebuilding and Reconciliation: Lessons from an Irish Context
Abstract
Tired voices said the Irish conflict was intractable. Who could blame them? It had lasted for centuries and defied many efforts at resolution. But they were wrong. Toward the end of the twentieth century, against the backdrop of yet more intercommunal violence, there came a new generation, educated and determined. These "intelligences brightened and unmannerly as crowbars"—to quote the late Seamus Heaney—with the extensive help of friends and family in the United States, negotiated a road map to peace. It is an imperfect peace but it is infinitely better than anything that litters the dysfunctional past and at its core is the concept of "parity of esteem," the acknowledgment that what underpins true peace is justice, equality, respect for difference, and an infrastructure which reassures all citizens that they matter. Peace is a hard road but conflict is the true impossibility, for it diminishes and wastes human life. Wherever there is conflict in the world, peacemakers need to be hard at work, no matter how intractable the problems.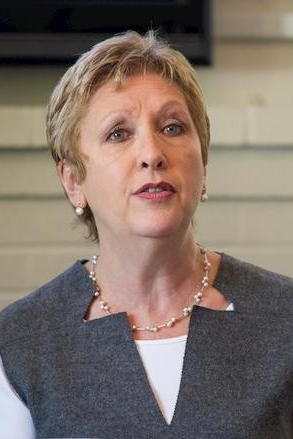 Mary McAleese served as president of Ireland from 1997 to 2011, during which time she was instrumental in the peace process in Northern Ireland. Her famous "Building Bridges" platform saw Ireland through a celebrated period of reconciliation and economic growth. She also made history as the first Northern Irish native to be elected president of Ireland. As a child, she experienced "The Troubles" first-hand, with sectarian violence forcing her and her family to flee their North Belfast home in the Ardoyne. After earning her law degree from Queens University, Belfast and successful service as a barrister, she was appointed Reid Professor of Criminal Law at Trinity College Dublin. During her years at Trinity College, she also worked part-time as a radio and television journalist. In 1987, she returned to Queens University, where she first served as director of the Institute of Professional Legal Studies, and then in 1994 became the university's first female pro-vice chancellor. She is currently pursuing a doctorate in canon law at the Gregorian University in Rome, and in residence at Boston College as the Burns Library Visiting Scholar in Irish Studies.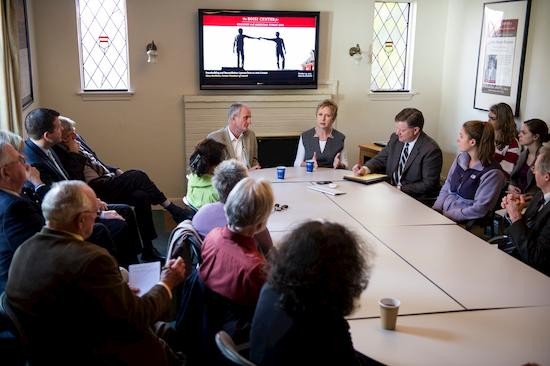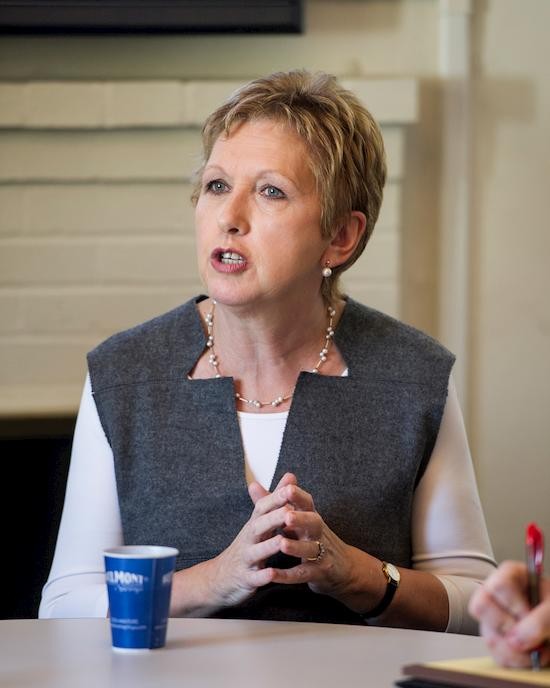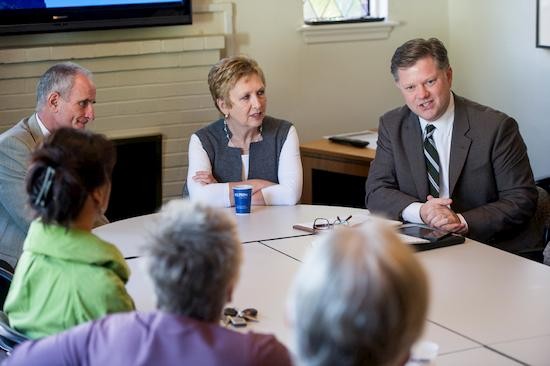 Event Recap
Former Irish President Mary McAleese spoke to a packed room at the Boisi Center on October 29 about her decades of peace and reconciliation work as well as her historic fourteen-year presidency, which ended in 2011. Irish presidents are heads of state, not government, a fact that allowed McAleese to embrace the pastoral dimension of the position. She used her office to promote respect for the claims, and wounds, of Irish Protestants and Catholics alike. The office gave her the prominence to provide important moral leadership, as well as the institutional support required for the difficult work of political reconciliation. She told the audience that she was consistently motivated by the gospel of love she imbibed as a child, and by the Irish hero Daniel O'Connell's reminder that "rights are not something government gives, but something government protects."
"Building Bridges" was the theme of McAleese's presidency. She and her husband Martin—who also played an instrumental role in the peace process—sought to foster genuine dialogue between Catholics and Protestants in both Northern Ireland and the Republic of Ireland, often in secret. They established a new language of respectful engagement, resulting in the concept of "parity of esteem" featured in the Good Friday Agreement that signaled the end of "the Troubles." McAleese's efforts culminated in a poignant visit by Queen Elizabeth in 2011, the first ever by a British monarch to the Republic of Ireland. Over four days, the Queen's visit helped to healed a painful past, and proved a powerful example of McAleese's use of collective memory as a tool to unite a divided populace.
The first Northern Irish native to be president of the Republic of Ireland, McAleese drew from her experiences growing up in a highly sectarian society to inform her peacemaking policy. She spoke of the norm of violence that had consumed her society, taking the lives of many of her friends and prompting others to join paramilitaries as a means to fight for their political objectives. McAleese herself found strength and solace from the violence in the Gospel of love proclaimed every Sunday in her Catholic parish. These teachings, coupled with her family's disapproval of violence, prompted her to find alternative means of conflict resolution. Rather than adding to "the toxin of violence" that begets more violence, she tried to put herself in Protestant shoes: to understand what Protestants held as their fiercest objections to Irish rule, and to work through their resentment to find ways to compromise and forge peace.
Part of Northern Ireland's first generation to receive free secondary education, McAleese came to see education as the key to breaking cycles of violence. She recounted how biased education can perpetuate discrimination, as when textbooks repeat old prejudices, and how an educated minority can still be locked out of the job market. Ultimately, though, education and truth proved to be tools for great healing. McAleese recounted one instance of biased history about the First World War that had been widely promulgated in Ireland: Protestants and Catholics alike were taught that only Protestants volunteered for the British cause during the war, a story that suited the Protestant narrative of allegiance to the Crown and the Irish narrative of resistance. The truth, however, was that the vast majority of those who volunteered and died for the British cause were Irish Catholics. When this truth came out, a divisive memory was transformed into a common cause, illustrating the power of memory-building in conflict resolution.
Read More
Further Reading
McAleese, Mary. Love in Chaos: Spiritual Growth and the Search for Peace in Northern Ireland. London: Continuum International Publishing Group Ltd, 1999.
McAleese, Mary and Heaney, Seamus. President Mary McAleese: Building Bridged- Selected Speeches and Statements. Stroud: The History Press, 2011.
McAleese, Mary. Quo Vadis?:Collegiality in the Code of Canon Law. Dublin: Columba Press, 2013.
McAleese, Mary. Reconciled Being: Love in Chaos. Berkhamsted: Arthur James Ltd, 1997.
BBC History. "Good Friday Agreement." Accessed October 23, 2013.
BBC History. "The Troubles." Accessed October 23, 2013.
McGarry, Patsy. First Citizen: Mary McAleese and the Irish Presidency. Dublin: O'Brien Press, 2008.
Walsh, Jason. "15 Years after Good Friday Agreement, an Imperfect Peace in Northern Ireland." Christian Science Monitor, April 10, 2013.
Walsh, Jason. "A New, Different Kind of 'Troubles' in Northern Ireland." Christian Science Monitor, February 5, 2013.
In the News
In a recent NYT article, a former member of the IRA draws parallels between the violence it perpetrated and recent episodes like the Nairobi Mall Shooting and the atrocities in Syria and Egypt. On October 29, the Boisi Center hosted former Irish president Mary McAleese, who spoke about building bridges between religious communities and her efforts in brokering peace in Ireland.