What Has HIV/AIDS Led Us To Understand about Global Ethical Challenges?
Abstract
In the aftermath of SARS and swine flu, many public health officials have acknowledged that thirty years of combatting HIV/AIDS made the world more prepared to deal with other potentially catastrophic global health threats. The experience of HIV/AIDS has also prompted those in public health and in ethics to understand that questions of income, gender, and social structures are deeply related to bioethical questions. Finally, while looking to the global, people cannot but acknowledge that success in both prevention and treatment programs depends not on universal generalizations but rather with the specific experience of the local.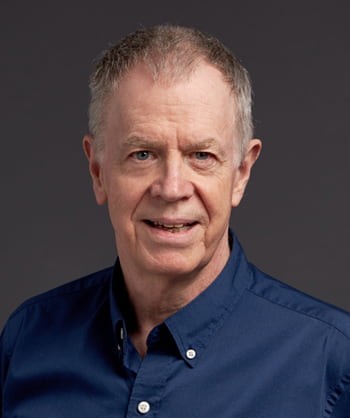 James Keenan, S.J. holds the Founders Professorship in Theology at Boston College.  He has been a Jesuit of the New York Province since 1970, and an ordained priest since 1982. Keenan received his S.T.L. and S.T.D. from Gregorian University in Rome. He has served as a consultant to National Conference of Catholic Bishops for the Revision of the Ethical Guidelines for Catholic Health Care Institutions and a group leader on Surgeon General's Task Force on Responsible Sexual Conduct. Keenan currently is an advisor to the Global AIDS Interfaith Alliance, chair of the Catholic Theological Ethics in the World Church, and a member of the Board of Directors of the Society of Christian Ethics. His has recently edited Catholic Theological Ethics in the World Church: The Plenary Papers from the First Cross-cultural Conference on Catholic Theological Ethics (Continuum, 2007) and is also the author of numerous works including Toward a Global Vision of Catholic Moral Theology (Dharmaram Vidya Kshetram Press, 2007) and The Works of Mercy: The Heart of Catholicism (Sheed and Ward, 2007). His research interests include fundamental moral theology, the history of theological ethics, Thomas Aquinas, virtue ethics, HIV/AIDS, genetics, and church leadership ethics.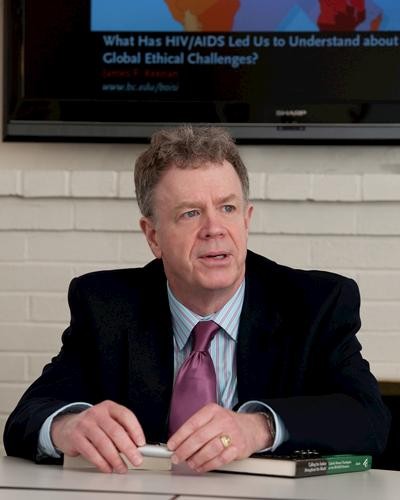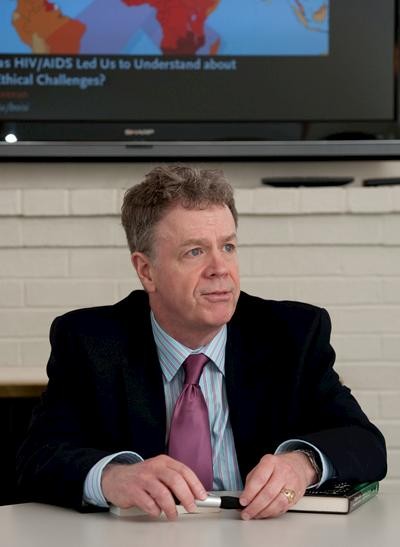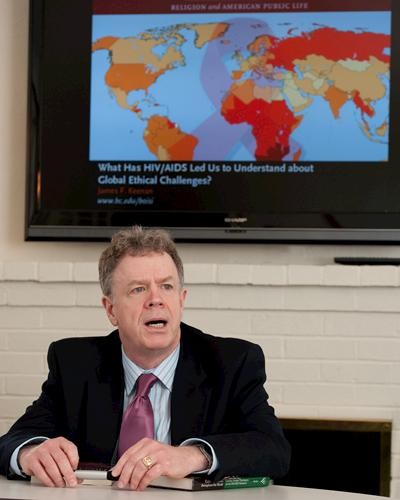 Event Recap
On April 8 James Keenan, S.J., Founders Professor of Theology at Boston College, spoke on the importance of public information and education in addressing the HIV/AIDS crisis, and how the epidemic has informed the ethical responses to contemporary global challenges.
Keenan argued that HIV/AIDS prevention and treatment efforts cannot succeed without concurrent attempts to rectify existing structural inequalities in the developing world. HIV/AIDS disproportionately affects women, migrants, and impoverished people, all of whom also have less access to preventative care and treatment options.
To illustrate some of the problems of gender inequity facing the developing world, Keenan shared a story from Costa Rica in which a woman learned that her husband was HIV positive three days before he died from AIDS-related complications. Her husband (who contracted the disease from extramarital affairs) had known he was HIV-positive for five years but both he and the family doctor neglected to tell her or their eight children. Paternalistic medical professionals in many parts of the developing world refuse to share information or effective treatments with women, Keenan noted, which quickens the spread of the epidemic.
In the industrialized world, where people have access to health care and preventive techniques, AIDS is a chronic but treatable illness. In the developing world, however,
AIDS is widely considered terminal. If we have the capability to prevent and treat HIV/AIDS in the West, Keenan concluded, we have capability to treat it in the developing world as well. But, he argued, ethicists won't be able to truly address the issue of HIV/AIDS and other global epidemics until they deal with the structural social and economic inequalities exacerbating the problem.
Read More
Further Reading
"Four of the Tasks for Theological Ethics in a Time of HIV/AIDS," Regina Ammicht-Quinn and Hille Haker, ed., AIDS. (Concilium 3/2007) (London: SCM Press, 2007) 64-74.
"Educating in a Time of HIV/AIDS: Learning from the Legacies of Human Rights, the Common Good, and the Works of Mercy," Opening Up: Speaking Out in the Church, Julian Filochowski and Peter Stanford, ed., (London:Darton Longman & Todd, 2005) 95-113.
"Developments in Bioethics from the Perspective of HIV/AIDS," Cambridge Quarterly of HealthCare Ethics, 14.4, (2005) 416-423.
"The Language of Human Rights and Social Justice in the Face of HIV/AIDS," (with Jon Fuller)  Budhi: A Journal of Ideas and Culture. 8.1-2 (2004) 211-233. 
Virtues for Ordinary Christians (Sheed and Ward, 1996).
Catholic Ethicists on HIV/AIDS Prevention edited, assisted by Lisa Sowle Cahill, Jon Fuller, and Kevin Kelly (Continuum, 2000).
Jesus and Virtue Ethics: Building Bridges Between New Testament Studies and Moral Theology with Daniel Harrington, (Sheed and Ward, 2002).
Moral Wisdom: Lessons and Texts from the Catholic Tradition (Sheed and Ward, 2004).
The Works of Mercy: The Heart of Catholicism Second Edition (Lanham, Md.: Sheed and Ward, 2007).
External Links
A review and summary of Father Keenan's Catholic Ethicists on HIV/AIDS Prevention
by Cristoph Benn in the Ecumenical Review
A review of Father Keenan's Jesus and Virtue Ethics:
Building Bridges Between New Testament Studies and Moral Theology.
by Mark S. Latkovic of Sacred Heart Major Seminary in Detroit
Educating in a Time of HIV/AIDS
a videorecording of a 2005 lecture at BC by Father Keenan. In this lecture he explains how two disciplines have had to rethink their conceptual framework in their attempt to fight the spread of HIV/AIDS: In public health, this means a greater focus on human rights, while in Catholic bioethics, there is a new emphasis on social justice.
The International AIDS Conference in Bangkok: Two Views
From America magazine, the national Catholic weekly, in 2004 – Father Keenan and Jon Fuller on the ethical and scientific perspectives on the International AIDS Conference