Catholic Afterlives: What Identities and Practices Persist When Catholics Leave the Church?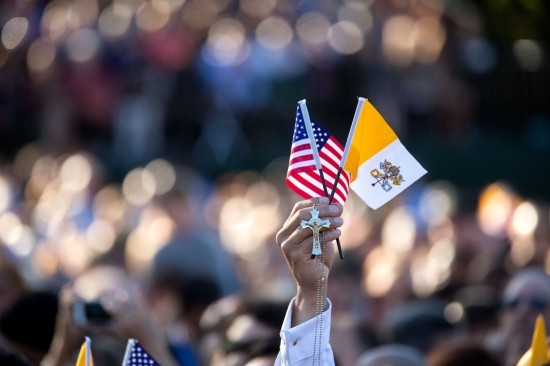 Lisa Sowle Cahill, Boston College
Massimo Faggioli, Villanova University
Rev. J. Bryan Hehir, Harvard University 
Nancy Pineda-Madrid, Boston College
Date: April 26, 2018

Co-sponsored with the Organization of Latin American Affairs.
Abstract
Upon the election of Cardinal Jorge Mario Bergoglio to the Chair of Peter in 2013, the Catholic Church received its first Jesuit pope and its first ever pope from the Southern Hemisphere. This year Pope Francis celebrates the fifth anniversary of his election. A distinguished panel will discuss the trajectory of those five years and how Francis has engaged with, connected to, and changed the American Church, as well as what the future holds for his papacy and the American Catholic faithful.
Lisa Sowle Cahill is the J. Donald Monan professor of theology at Boston College. Cahill has taught at Boston College since 1976 and has also been a visiting professor at Georgetown and Yale Universities. She received her Ph.D. from the University of Chicago, and is a past president of the Catholic Theological Society of America and the Society of Christian Ethics. Her research interests include the history of Christian ethics, New Testament ethics, Catholic social ethics, feminist theology, bioethics, and the ethics of war and peace.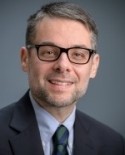 Massimo Faggioli is professor in the department of theology and religious studies at Villanova University. He writes regularly for Italian and English-speaking journals and magazines on the Church, religion and politics, has a column in La Croix International, and is contributing editor for Commonweal. His most recent book in English is Catholicism and Citizenship: Political Cultures of the Church in the Twenty-First Century (Liturgical Press 2017).
Rev. J. Bryan Hehir is the Parker Gilbert Montgomery Professor of the Practice of Religion and American Public Life at the Harvard Kennedy School of Government. A Catholic diocesan priest, he is also the Secretary for Health Care and Social Services in the Archdiocese of Boston, and a close advisor to Cardinal Sean O'Malley. Fr. Hehir's research and writing focus on ethics and foreign policy, and the role of religion in world politics and in American society. He is one of the world's foremost experts on just war theory, and has a long history of engagement with policymakers in the U.S. government. Hehir holds A.B. and M.Div. degrees from St. John's Seminary, and a Th.D. from Harvard Divinity School.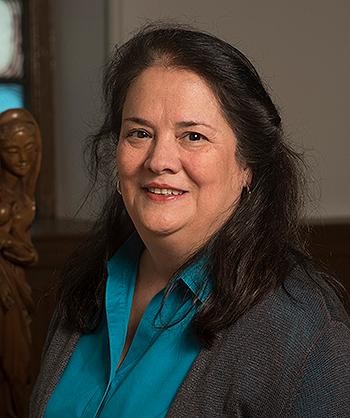 Nancy Pineda-Madrid is an associate professor of theology and Latino/a ministry at the Boston College School of Theology and Ministry.
Dr. Pineda-Madrid holds a Ph.D. in systematic and philosophical theology from the Graduate Theological Union and a M.Div. from Seattle University. Her areas of specialization and interest include: systematic and philosophical theology, practical/pastoral theology, U.S. Latino/a theologies, feminist theologies (U.S. and Third World), and United States and North American pragmatism and religious thought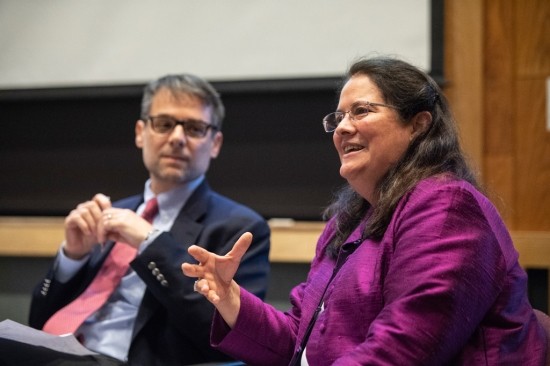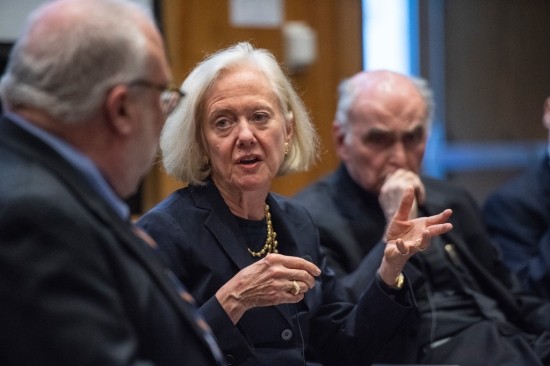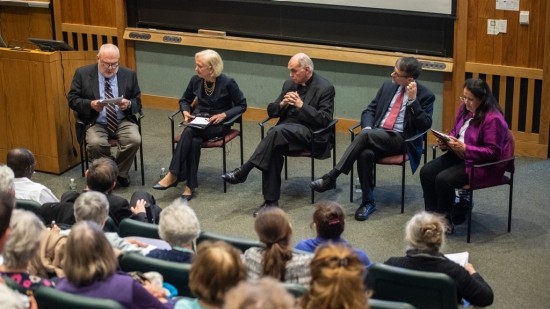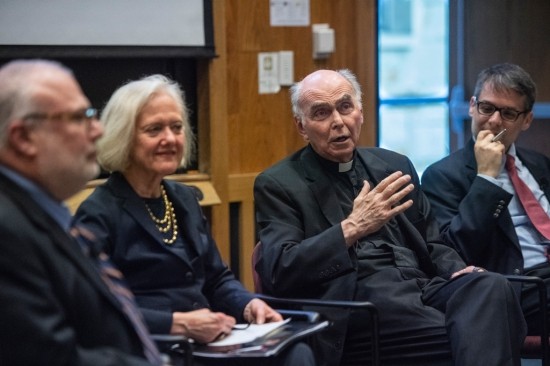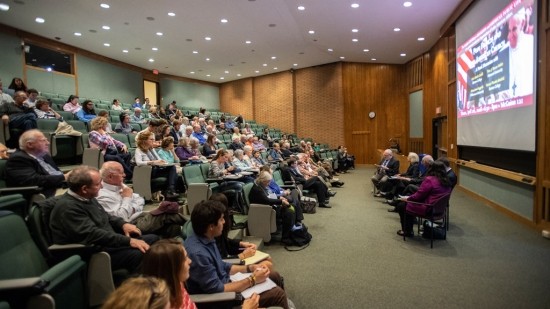 Event Recap
For the last event of the 2017-18 academic year, the Boisi Center welcomed Lisa Sowle Cahill (Boston College), Rev. J. Bryan Hehir (Harvard University), Massimo Faggioli (Villanova University), and Nancy Pineda-Madrid (Boston College), for a panel discussion on the state of the papacy and Pope Francis' relationship with the American Catholic Church. Guided by questions posed by director Mark Massa and members of the audience, the panelists discussed the successes and shortcomings of Pope Francis' papacy, how the Vatican has functioned since his election, and questions about gender and the role of women in the Catholic Church. Early in the discussion, Hehir proposed three characteristics of an effective pope. He maintained that he must be an excellent pastor, a solid administrator, and a smart diplomat. Accordingly, Hehir praised Pope Francis for largely succeeding in these three categories. He said that Pope Francis' ability to connect with Catholics worldwide, despite being positioned in Rome, demonstrates a "magnetic quality about him." Most important, Francis has appointed professionals to advise him on financial and economic questions, having recognized this as an area his papacy needs external support. Hehir also commended Pope Francis for travelling to a range of countries around the world and for lifting up the lives of the people he interacts with.
Furthermore, Cahill and Pineda-Madrid explained how Francis' use of symbolic, prophetic language, and culture served as positive signs of his personal connection to the Catholic Church.  Pineda-Madrid referenced, for example, his use of Spanish during a Mass in Washington, D.C. during his visit to the United States. She noted that, "symbols matter, and they matter greatly," in reference Francis' use of symbols to lift up the Church and its members. However, Faggioli was not equally optimistic about Pope Francis' progress. He addressed a few of Francis' administrative weaknesses since ascending to the role five years ago. Faggioli's primary concern was the lack of communication between the Vatican and the Catholic Church worldwide. Faggioli argued that the lack of an official Vatican spokesperson diminishes Vatican politics in countries where media culture is an integral part of everyday life. This lack of communication, in turn, distances the United States and the West from the Vatican and creates ecclesial and political rifts.  
Nevertheless, Cahill continued to praise Francis for not only focusing on the American Church, but also the global church. Francis' use of prophetic discourse enables him to reach a diverse Catholic audience, particularly members of the burgeoning Latino church in America. Additionally, Pineda-Madrid argued that Pope Francis has brought issues of environmental degradation and poverty to the forefront of public attention by his willingness to openly discuss such topics. Through his attention to pastoral care and administrative and diplomatic expertise, Pope Francis is calling the American Catholic Church to "a higher standard and a higher ground." His unique prophetic discourse and use of symbolism have defined the first few years of his papacy.
Read More
Articles
"Catholic Leaders Reflect on Pope Francis' 5-year Anniversary." Catholic News Agency. March 13, 2018, https://www.catholicnewsagency.com/news/catholic-leaders-reflect-on-pope-francis-5-year-anniversary-59595.
Faggioli, Massimo. "The Church They Don't Like May Be Their Own." Commonweal. August 8, 2017, https://www.commonwealmagazine.org/church-they-dont-may-be-their-own.
Faggioli, Massimo. "Was It Better Back Then?" Commonweal. November 13, 2017, https://www.commonwealmagazine.org/was-it-better-back-then.
"Five Years Into Pope Francis' Papacy, There is Much More Noise to be Made." February 23, 2018, https://www.americamagazine.org/faith/2018/02/23/five-years-pope-francis-papacy-there-much-more-noise-be-made. 
Martin, S.J., James. "Looking Back: The Election of Pope Francis." America Magazine. February 18, 2018, https://www.americamagazine.org/arts-culture/2018/02/18/looking-back-election-pope-francis.
Poggioli, Sylvia. "After 5 Years As Pope, Francis' Charismatic Image Has Taken Some Hits." National Public Radio. March 12, 2018, https://www.npr.org/sections/parallels/2018/03/12/592872104/after-5-years-as-pope-francis-charismatic-image-has-taken-some-hits. 
Reese, Thomas. "Five Great Achievements of Pope Francis' First Four Years." National Catholic Reporter. March 9, 2017, https://www.ncronline.org/blogs/faith-and-justice/five-great-achievements-pope-francis-first-four-years.
Horowitz, Jason. "Pope Apologizes to Abuse Victims but Again Doubts Them." New York Times. January 22, 2018,http://nyti.ms/2nbh0EW.
In the News
An article recently written by the Los Angeles Times highlights Pope Francis' fifth visit to Latin America in January 2018 and his attempt to "recapture the soul of the Roman Catholic church." While the Church has been a traditionally powerful force in the region, it has been at the center of controvery over allegations of sexual abuse and misconduct. The Pontiff's anticipated visit was met with protests and reports of church attacks in the Chilean capital of Santiago.