Pope Francis' Initiatives: Effective Action on Environment, Hunger and Human Rights
Abstract
How can Vatican initiatives on the environment and ending hunger be combined effectively? In this colloquium, Dr. Ellen Messer will address the best practices in theory, theology, and action for these initiatives. She will share and update findings from an American Anthropological Association symposium in 2014, "Pope Francis and Ending Hunger: Anthropological, Sacred, and Secular Frameworks Advancing the Human Right to Food."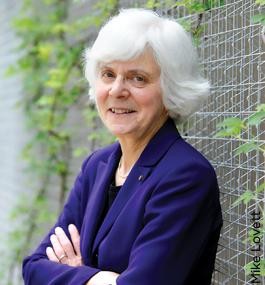 Ellen Messer is an anthropologist dedicated to rooting out hunger and promoting human rights. She specializes in cross-cultural perspectives on the human right to food, sustainable food systems, and cultural history of nutrition, agriculture, and food science. Dr. Messer received her PhD in ecological anthropology from the University of Michigan. She is the former director of the World Hunger Program at Brown University. She currently has faculty affiliations at Tufts University, Boston University, and Brandeis University. Dr. Messer is the co-author of Who's Hungry? and How Do We Know? Food Shortage, Poverty, and Deprivation.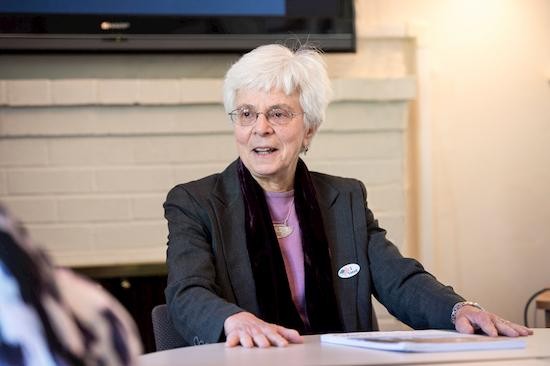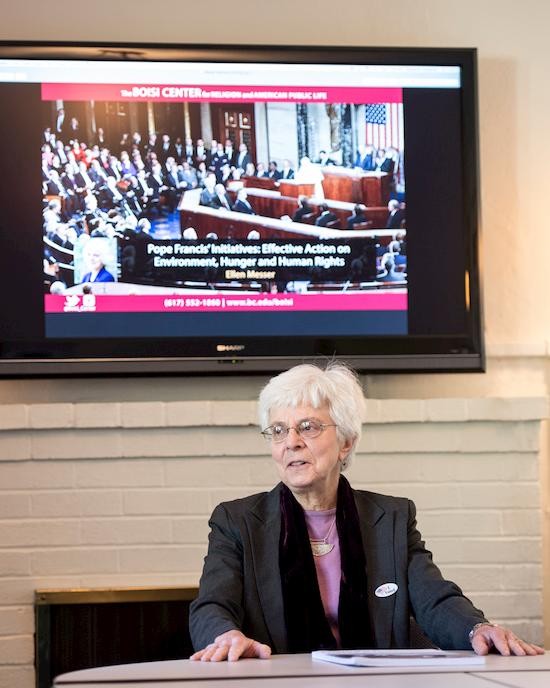 Event Recap
Anthropologist Ellen Messer led a discussion on the "human right to food" at the Boisi Center on November 3. Messer, who holds faculty affiliations at Tufts University, Boston University and Brandeis University, addressed the causes of food insecurity around the globe and the role of the Catholic Church in addressing global hunger from a structural perspective.
Messer spoke about a broad spectrum of political and cultural variables that play into the issue of global hunger including immigration, Pope Francis' efforts to promote solidarity in action and the impact of climate change on food supplies.
Messer also spoke about the handling of statistical analysis related to food. Messer challenged whether current statistics are calibrated accurately enough to fully capture the issues of global hunger and access to adequate nutrition. According to Messer, better analysis of the data might better inform policymakers and market participants when addressing the challenge of global hunger.
Messer highlighted that a central focus of the effort being led against global hunger is assessing the problem's structural causes, not merely its symptoms. Some of these causes have substantial correlation with issues of biodiversity, environmental sustainability and climate change.
Under the leadership of Pope Francis, the Vatican has begun playing a significant role in rallying the attention of communities towards these issues, according to Messer. Its influence extends beyond the Catholics to other Christians and people of other faiths.
In the News
A recent CNBC article cites that 52 developing countries are suffering from dire levels of hunger, according to the most recently released Global Hunger Index (GHI). 
According to the report, 795 million people are still chronically undernourished, a significant portion of which are children. According to the GHI, more than one in four children are affected by malnutrition-related stunting.
In his remarks to the U.S. Congress this past September, Pope Francis called attention to the growing challenges of global poverty and hunger that exist in the third millennium.