Russia's War in Ukraine One Year Later: Orthodox Christianity, Geopolitics, and Power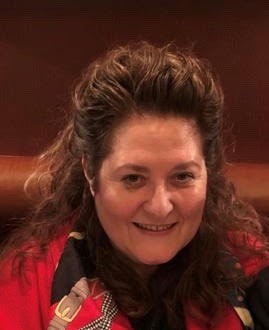 Elizabeth Prodromou
Boston College
Date: Tuesday, April 4, 2023
Time: 12 - 1:15pm    
Location: Boisi Center, 24 Quincy Road
Abstract
One year since Russia launched a military invasion of Ukraine, academic and policy experts have focused extensively on the military and economic dimensions of the prosecution and impacts of the war. Yet, a nuanced understanding of Russia's war in Ukraine is impossible without analyzing the significance of religion for types of power and meanings of geopolitics at stake. This presentation deconstructs Russia's war in Ukraine by providing a synopsis of: the Kremlin-Moscow Patriarchate perspective on religion as part of global geopolitical competition; the Russian Orthodox Church's aspirations to hegemony in global Orthodox Christianity; and, the deployment of religion as a tool of diverse forms of power. The presentation suggests the importance of taking religion seriously as a factor in 21 st -century geopolitical contests over interests and values in Europe, Eurasia, and beyond.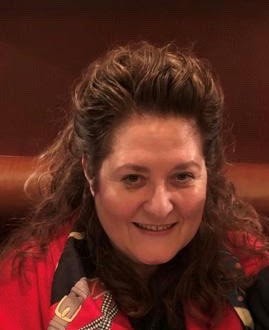 Dr. Elizabeth H. Prodromou is a visiting scholar in the International Studies Program at Boston College and non-resident senior fellow at the Atlantic Council's Eurasia Center. Her research interests and policy work focus on the intersections of geopolitics, religion, and human rights, with particular focus on the Eastern Mediterranean and Middle East. Prodromou served a diplomatic appointment on the U.S. Commission on International Religious Freedom (2004-2012), and she was also a member of the U.S. Secretary of State's Religion & Foreign Policy Working Group (2011-2015). The author of two edited volumes, many book chapters, and widely published in academic journals, her most recent publication deals with Russian influence-building through religious soft power, in The Kremlin Playbook 3: Keeping the Faith. She has taught at Tufts University, Boston University, and Princeton University, and she was a consultant member of the delegation of the Ecumenical Patriarchate at the Holy and Great Council of the Orthodox Church (2016). She holds a Ph.D. and an S.M. in political science from MIT. She is married to Dr. Alexandros Kyrou, and they are happy parents to their daughter, Sophia.

Read More
Bezzerides, Ann Mitsakos, and Elizabeth H. Prodromou, eds. Eastern Orthodox Christianity and American Higher Education: Theological, Historical, and Contemporary Reflections. Notre Dame: University of Notre Dame Press, 2016.
Elsner, Regina. The Russian Orthodox Church and Modernity: A Historical and Theological Investigation into Eastern Christianity Between Unity and Plurality. Stuttgart: Ibidem-Verlag, 2021.
Oliker, Olga. Religion and Violence in Russia: Context, Manifestations, and Policy. Lanham, MD: Rowman & Littlefield, 2018. 
Papanikolaou, Aristotle, and Elizabeth H. Prodromou. Thinking through Faith: New Perspectives from Orthodox Christian Scholars. Crestwood, NY: St. Vladimir's Seminary Press, 2008.
Prodromou, Elizabeth. "The Ambivalent Orthodox." Journal of Democracy 15, no. 2 (2004): 62–75. 
Prodromou, Elizabeth H., and Nathanael Symeonides. "Orthodox Christianity and Humanitarianism: An Introduction to Thought and Practice, Past and Present." The Review of Faith & International Affairs 14, no. 1 (2016): 1–8. 
Wanner, Catherine. State Secularism and Lived Religion in Soviet Russia and Ukraine. New York: Oxford University Press, 2012.

In the News
A PBS interview with Patriarch Kirill, patriarch of Moscow, and Cyril Hovorun, a Ukrainian orthodox priest and professor, showcases how religion is front and center in Russia's war against Ukraine. From the beginning of the war until now and on both sides of the conflict, religion has condoned both attacks and defense. Read more about religion's hand in the war with these first account interviews.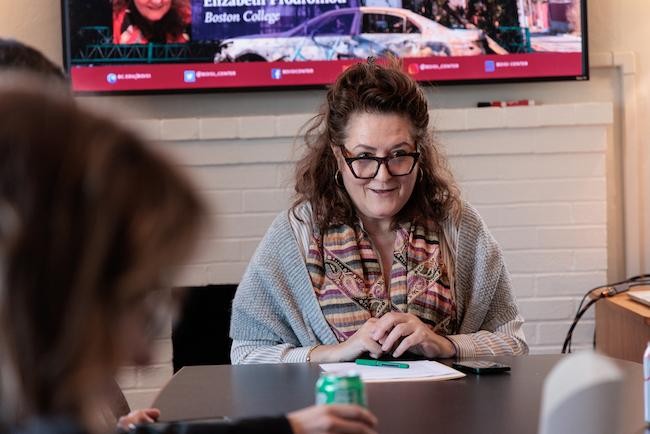 Dr. Elizabeth Prodromou gives a luncheon talk at the Boisi Center.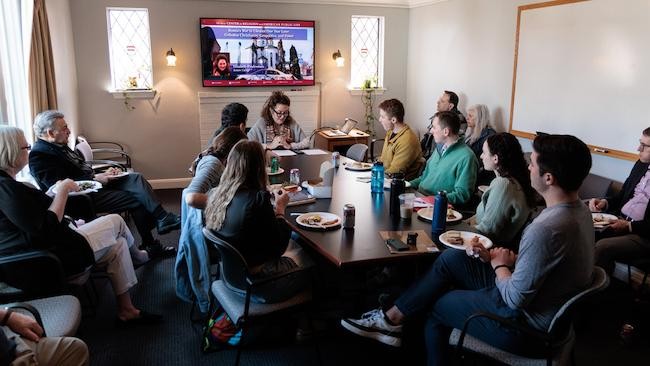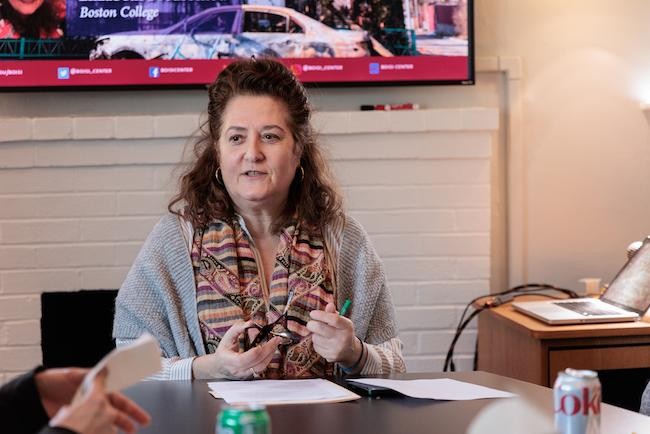 Photo Credits: Christopher Soldt, MTS
Elizabeth Prodromou, a visiting scholar in Boston College's International Studies Program, spoke at the Boisi Center, presenting on Orthodox Christianity, geopolitics, and the power that has influenced Russia's war in Ukraine.
Prodromou looked at understanding and explaining geography by spheres of identity rather than physical territories. She analyzed how geopolitics focuses more on these identities -  ethnicity, race, civilization, language, culture, and religion - than on the arbitrary lines between nations. In the case of this discussion, Prodromou looked at religious spheres involved in Russia's war in Ukraine. She described how these identities can work with or against the state, allowing non-state, though still authoritative voices, to emerge in geopolitical events. She considers this relationship as the"geopolitics of religion," which is when religious actors utilize relationships with the state to influence state identity among religious adherents toward a political end. 
Discussing the geopolitical and religious impact within Russia and Ukraine, Prodromou emphasized the idea of a disruptive relationship within religious geopolitics, when states use religious power to buttress the rationales for their actions, and religions use state power for their own ends. She examined the Orthodox Christian traditions in Moscow and Kyiv to illustrate the power transfers and disputes between political and religious leaders, such as the dispute over religious property regarding ownership, access, and use of Caves Monastery in Kyiv. 
Many students and faculty attended the event leading to a great Q&A section. The questions led to discussions about just and holy wars, "Russian Nuclear Orthodoxy," the relationship between Vladimir Putin and Patriarch Kirill, the religious freedom of enemy combatants, and liberation theology.