The Democratic Party and Catholic Voters in the 2020 Election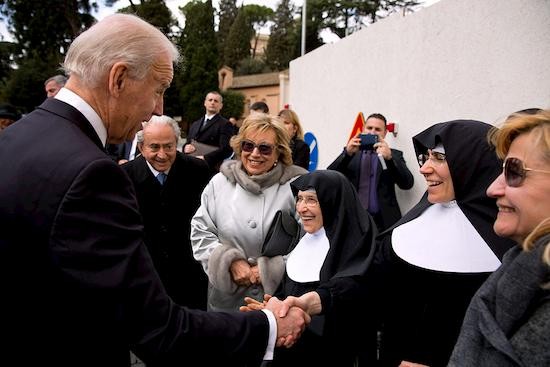 Session III of a Webinar Series on Catholic Voters and the 2020 Election
Co-sponsored by The Boisi Center for Religion and American Public Life, Boston College; The Greenberg Center for the Study of Religion in Public Life, Trinity College; and The New Hampshire Institute of Politics, St. Anselm College
Shaun Casey, Director, Berkley Center for Religion, Peace & World Affairs, Georgetown University 
Timothy Matovina, Chair, Department of Theology, University of Notre Dame
 Joseph Tomás McKellar, Co-Director of PICO California 
Convener: Mark Silk, Director, The Greenberg Center for the Study of Religion in Public Life, Trinity College


Date: Tuesday, September 29, 2020
Time: 4-5 p.m.

Event Flyer
Abstract
As white Catholics trend Republican, the Latino Catholic population—a growing portion of the Church—remains staunchly in the Democratic camp. A longtime Democratic insider, the foremost academic expert on Latino Catholics in America, and a leading community organizer discuss the complex challenge the Catholic vote poses for Democratic candidates.

Shaun Casey is director of the Berkley Center and a professor of the practice in Georgetown's Walsh School of Foreign Service. He is also a senior fellow with the Luce Project on Religion and Its Publics at the University of Virginia. He previously was U.S. special representative for religion and global affairs and director of the U.S. Department of State's Office of Religion and Global Affairs. He has also held positions at Wesley Theological Seminary in Washington, D.C., the Center for American Progress, and the Center for Strategic and International Studies. Casey has written on the ethics of the war in Iraq, as well the role of religion in American presidential politics. He is the author of The Making of a Catholic President: Kennedy vs. Nixon 1960 (2009) and co-editor of The Oxford Handbook of Political Theology (forthcoming, with Michael Kessler); he is writing a book on ethics and international politics tentatively titled Niebuhr's Children. Casey holds a B.A. from Abilene Christian University, MPA from Harvard Kennedy School, and M.Div. and Th.D. in religion and society from Harvard Divinity School.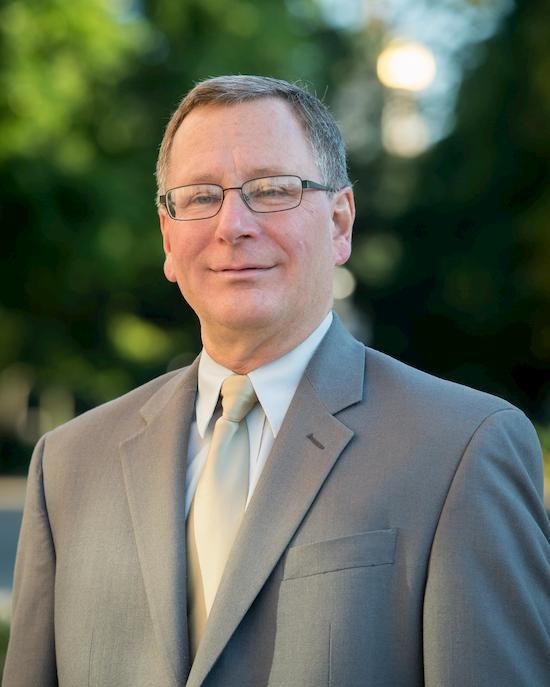 Timothy Matovina is a Professor and Chairperson of the Theology Department at the University of Notre Dame. His most recent books are Theologies of Guadalupe: From the Era of Conquest to Pope Francis and Latino Catholicism: Transformation in America's Largest Church, which won five book awards, including selection as a CHOICE "Outstanding Academic Title" for 2012. In addition to his scholarly work, Matovina offers presentations and workshops on U.S. Catholicism and Latino ministry and theology throughout the United States. 
Joseph Tomás McKellar is co-director of PICO California, the largest faith-based organizing network in California focused on racial equity and promoting a culture of belongingness. In his role, McKellar provides strategic leadership to 10 multi-faith, multi-racial community organizations representing 450,000 Californians, and accompanies a talented staff team running power building and leadership programs for 2,500 volunteers. He also helps lead PICO's "Faith Votes" program, which seeks to engage one million more young voters, low-income voters, and voters of color by 2020 around a vision for a State of Belonging. McKellar guides PICO's statewide campaigns to transform the criminal justice system, protect and promote immigrant families, increase affordable housing, and create an inclusive economy. McKellar founded and directed Faith in New York and Faith in the Valley in California, nonprofits dedicated to advancing racial, economic, and environmental justice. McKellar previously worked as a Community Organizer in San Diego and Orange County, as an Assistant Teacher with the Jesuit Volunteer Corps in Boston, and as a Prison Minister in San Diego. He earned a Bachelor of Arts in Spanish and Political Science, with a minor in Biology, from the University of San Diego. McKellar is a Fellow of the inaugural class of the Civil Society Fellowship, A Partnership of ADL and The Aspen Institute, and a member of the Aspen Global Leadership Network.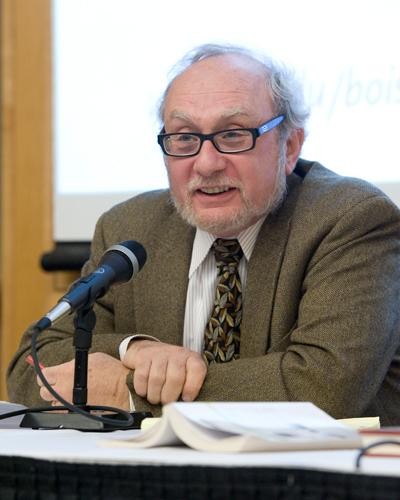 Mark Silk (convener) is director of the Leonard E. Greenberg Center for the Study of Religion in Public Life and Professor of Religion in Public life at Trinity College in Hartford. He is the author of Spiritual Politics: Religion and America Since World War II, Unsecular Media: Making News of Religion in America, and (with Andrew Walsh) One Nation, Divisible: How Regional Religious Differences Shape American Politics. He writes a weekly column for the Religion News Service.
Event Recap
The final session of the Boisi Center's three-part webinar on Catholic voters concluded with, "The Democratic Party and Catholic Voters in the 2020 Election." The panel featured Shaun Casey, the director of the Berkley Center for Religion, Peace & World Affairs at Georgetown University; Timothy Matovina, chair of the department of theology at the University of Notre Dame; and Joseph Tomás McKellar, the co-director of PICO California.
Mark Silk, director of the Greenberg Center for the Study of Religion in Public Life at Trinity College, moderated the panel and opened by asking Casey about the significance of Biden's Catholicism and the expectations of the Catholic vote for the election. Casey noted three things: first, Biden would be only the second Catholic president in history; second, if he wins, he may win with a majority of Catholic votes, but that is due to the votes of Hispanic Catholics; finally, it would mark the death of the 40-year utopian vision of Rev. Richard John Neuhaus for a Catholic-Evangelical alliance emerging and dominating the political scene in this country.
Silk then asked Matovina about the role of Latinx voters, especially given their proclivity toward the Democratic Party. Matovina noted that in 2016, Hillary Clinton garnered between 70 and 79% of the Hispanic/Latinx vote, and Trump just 18% to the high 20s. The Latinx vote is not monolithic—it varies by region, state, religious background, nation of origin/cultural background. Some have voted Republican since Eisenhower. If the high number for Clinton was 79%, it is unlikely that Biden could add to that. If it is the low 70s, however, it is possible that more Latinx voters will come out for Biden.
McKellar was asked about the distinctions between Democratic and Republican Latinx voters. He noted two main factors: first, race and one's proximity to whiteness; and second, proximity to the poor and excluded. Many factors influence this, including how long the family has been in the United States, economic opportunity, their legal status, etc. Sixty-eight percent of Latinx voters identify as Democrats (more than white Catholic voters identify as Republicans). A central concern among Latinx voters is belonging: Who matters? Who belongs? Who deserves a share in our prosperity? Unfortunately, the current political narrative being peddled is that we are safer the more segregated we are, and the Catholic Church has not done much to challenge this narrative.
Of Casey, Silk asked what the parties' outreach looks like during this campaign to religious groups. Casey noted that the pandemic has not allowed traditional methods. Republicans continue with superspreader rallies and social media posts that enforce the narrative that McKellar noted. But he noted that Democrats have gone fully virtual and his team did little religious outreach. Instead, they argued that this is a character election, Biden versus Trump. They are failing, Casey also said, to utilize the sophisticated technology that exists to put them in touch with religiously-motivated voters.
Returning to the Latinx base, Silk asked Matovina what could drive turnout in the 2020 election. Matovina argued that there are structural causes the account for this poor turnout, particularly the electoral college and voter suppression/gerrymandering. Latinx voters know what will happen if they live in Texas, California, or New York, so their incentives to vote are lessened. The same is true if it is a majority Latinx district, the outcome is already known. He argued that organizers need to focus on two things: voter registration and fighting gerrymandering. In this way, the external and internal factors could be addressed.
Regarding the internal factors, McKellar added that recent polling shows that while certain sports figures, Latinx politician, and pop-culture figures are influential on the Latinx population, so are religious leaders, even amid the decline in religious practice. The narratives that are not working are those that appeal to partisanship or fuel polarization. Narratives that resonate enhance belongingness and family values. While some Latinx voters favor expanded criminalization and public safety measures through policing, much of that is an "imagination gap" regarding other ways that public safety can be affected. "Encuentro," or encounter, is the main message McKellar believes to be most effective. It can overcome political exploitation and dualistic binaries.
Finally, Silk asked the panelists about the possibility of the appointment of Amy Coney Barrett to the Supreme Court and the possibility of overturning Roe v. Wade. Casey noted that while abortion is an important matter, it is the primary concern for few Catholic voters. Democrats should focus instead of showing that under Bill Clinton and Barack Obama, abortions declined by the largest numbers compared to their Republican counterparts. If we embrace these policies on an agenda of Catholic social teaching, like employment, livable wage, and healthcare, the goals of both parties could be realized. But this will need to come from a Democrat to keep pro-choice advocates on board. Matovina spoke specifically to Latinx voters, noting that many are pro-life across the board, but few have abortion as their primary issue. McKellar agreed. He asked further that an important question PICO has been asking in parishes is whether faith informs politics of vice versa. This is an important question for reflection, he argues, because political parties mandate a purity—maintaining the party line despite one's own beliefs. Instead, he said, parties should be places where people can coexist without agreeing on everything. Catholic social teaching certainly does not jibe well with this purity.
On the subject of abortion, the audience asked just how important abortion is, given that recent Pew polls showed it being a low priority for many voters. Casey noted that there are three different groups in this issue: political parties, who have a single answer; religious groups, who have a single answer; and the electorate, who seem to be disinterested in making that the foundation of their political life like the other two have.
Another audience member noted that Cardinal Raymond Burke was advocating for parishes to deny Biden communion and asked what effect that might have on the election if bishops begin to make that statement. Casey thought it might actually help Biden. Like Kennedy, when one is perceived a victim of anti-Catholic bias (or anti-religious bias, more generally), sympathy can be garnered. But Catholics are 1 or 2% of the undecided vote, and it is unclear whether that will be decisive in this election. Matovina noted, however, that because of the pandemic's restriction on our ability to attend mass, that might not have the same effect. McKellar argued that denying communion would be unappealing to the Latinx population who are largely looking for inclusion and belonging.
The influence of social media was raised by an audience member. McKellar noted that while Latinx Catholic do use social media, they do so to maintain social connections and root themselves in the community, especially during the pandemic. But the algorithms of social media produce division and polarization, the platforms do not change minds. Casey thought, however, that social media could be used to tell a story about the country in a way that counters the narratives of division discussed earlier. However, while that might have been the practice earlier in the campaign, by the time of the webinar, so close to the election, those better narratives have given way to attacks.
The panel concluded with noting that it is surprising that many bishops have not raised issue with some of the recent issues emerging from the Trump administration, particularly the Secretary of State's article in First Things criticizing the Vatican for their relationship with China. That it went unchecked was a surprise to Casey. Matovina concurred, adding that the Church is best when it is not aligned with a particular party but maintains a critical distance. Pope Francis's teaching, in the case of China, is not a partisan issue, but a stance in the missionary discipleship of Jesus Christ.
Read More
Shaun Casey
Shaun Casey. The Making of a Catholic President: Kennedy vs. Nixon 1960. New York: Oxford University Press, 2009.
Timothy Matovina