Philanthropy as Spiritual Exercise: Soul, Relationships and Community
Abstract
Every era needs to formulate the ideas, emotions, and actions of its deepest religious and spiritual orientations in a way commensurate to the questions of its day. However, the spirituality of a contemporary discourse and practice of allocation is not, with some exceptions, adequately provided today by the theology and ethics of churches and pulpit sermons. Schervish's goal is to offer one modest understanding of the spiritual underpinning of receiving and giving as an asceticism or spiritual exercise. He will approach this asceticism or spiritual methodology as involving three related dimensions: the inner life, social-psychological relations, and societal engagement. Each one of these levels entails, at their deepest level, carrying out a related yet nominally distinctive spiritual exercise. He will first address the meaning of spiritual exercise and then discuss how the spirituality of receiving and giving occurs at the intersection of soul, personal relations, and community. Although he will often focus on the allocation of wealth (financial and personal) as spiritual exercise, what he says applies, cēterīs paribus, for all people across the economic spectrum.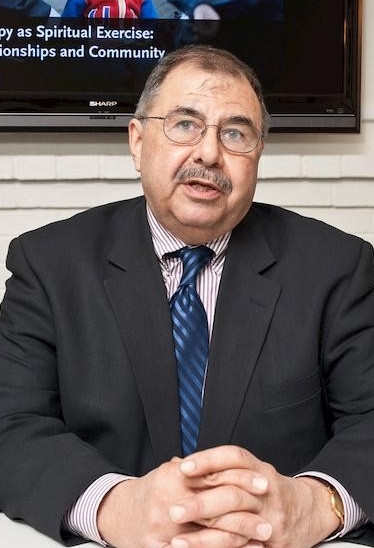 Paul Schervish is a professor of sociology and the director of the Center on Wealth and Philanthropy at Boston College. He is also the National Research Fellow at the Indiana University Center on Philanthropy and to the John Templeton Foundation. He received his Masters in sociology from Northwestern University, a Masters of Divinity degree from the Jesuit School of Theology at Berkeley, and a Ph.D. in Sociology from the University of Wisconsin. In 2000-2001, Schervish was a Fulbright Scholar at University College Cork in the area of research on philanthropy. He is currently the director of the Study on Wealth, Values, and Philanthropy funded by the Bill and Melinda Gates Foundation. He also helped found the Wealth and Giving Forum, an organization founded in 2003 to promote greater generosity by the nation's wealthiest households. His publications include the forthcoming Wealth and the Will of God: Discerning the Use of Riches in the Service of Ultimate Purpose (2009), Care and Community in Modern Society (1995), Wealth in Western Thought: The Case for and against Riches (1994), and Gospels of Wealth: How the Rich Portray their Lives (1994). He has been named five times to the NonProfit Times' "Power and Influence Top 50" list, naming the most prominent leaders in the non-profit world.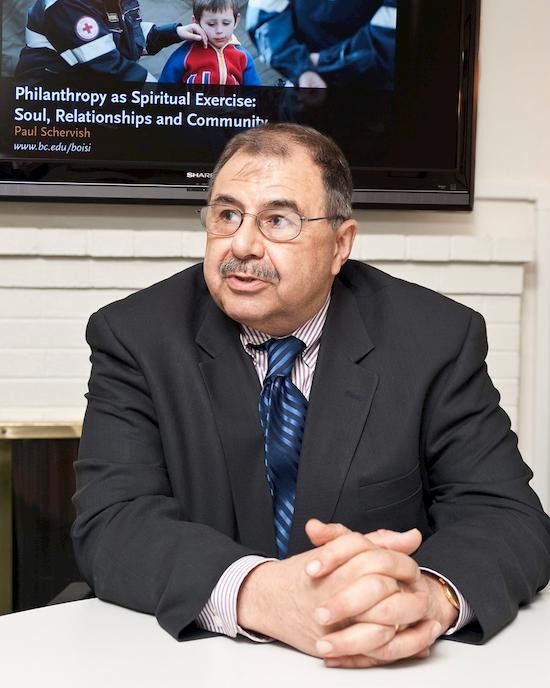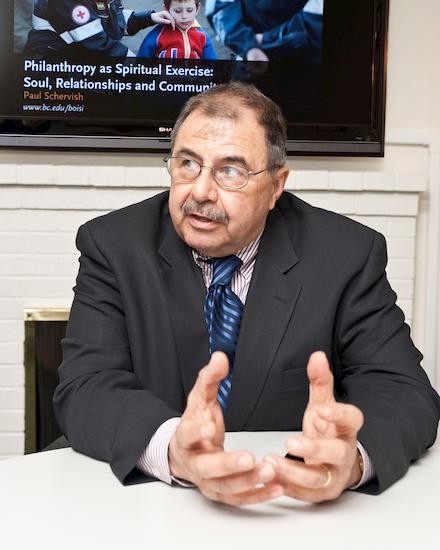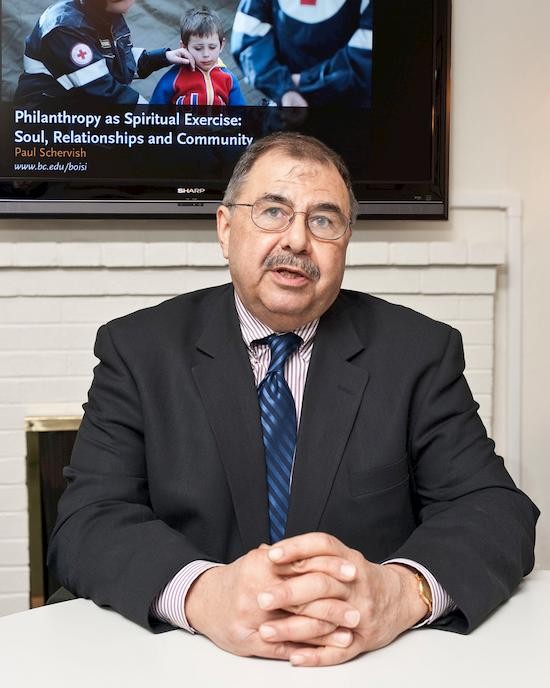 Event Recap
Paul Schervish, professor of sociology and director of the Center on Wealth and Philanthropy at Boston College spoke of "philanthropy as spiritual exercise" at the Boisi Center on February 24. Properly understood, he said, giving is a productive and spiritual enterprise, not simply a distributive one. In fact, he argued, a modern spirituality of allocation is available if you listen for it in generations of wealth holders. At root is the "Holy Trinity" of spiritual exercise: the union of soul, relationships and society.
Humans are both receivers and givers, Schervish said. Just as breathing entails both inhaling and exhaling, wealth entails both receiving and giving. Though we begin our lives as receivers, giving develops later. Children receive the gift of life from parents and other caretakers. "Children do not need to learn how to love; they need to learn how to be loved," Schervish stressed. Inner development leads to care and compassion for others through relationships. In society, there is a moral citizenship of care for others, which creates mutual nourishment rather than a commercial relationship. By giving, individuals pay attention to the person in need, not the medium of expressing this need. Being able to address another's need builds relationships, and daily life is a way to experience
Sociologist Emile Durkheim said that to be fully human requires a unity of worldly and inner tasks. A healthy inner life is important for entering in community with others. Saint Thomas Aquinas promoted love of self, and we must not forget to give ourselves love as well.
Schervish noted that Americans give five times more to their family and friends than they do to formal charities, when giving is properly understood to include non-financial goods and services. Shoveling a neighbor's driveway in addition to your own is a form of care-giving because it focuses on the needs of the person, not the ways in which this is achieved. As a result, the act of giving strengthens communal relationships. Generosity is not an end virtue, but wisdom is, according to Professor Schervish. Philanthropic expressions of gratitude such as these foster the individual inner life, communal bonds through societal engagement, and one's spiritual life with God.