Latinos and the 2012 Elections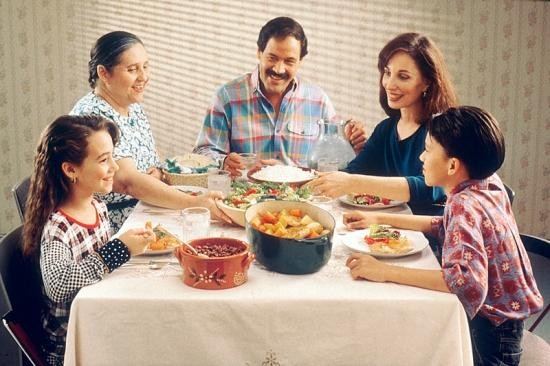 Susan Eckstein, Boston University
Luis Lugo, Pew Forum on Religion & Public Life
Alan Wolfe, Boston College
Moderated by Erik Owens, Boston College
Date: November 1, 2012
Abstract
The historic and unprecedented contribution of American Catholic sisters to the areas of Catholic education, health care, and social services is one of broad consensus. As sisters embrace the Vatican II mandate to expand their role in public life, the consensus regarding their social justice service has been increasingly divided among the church. This panel will examine the contributions of Catholic sisters to American public life since Vatican II.  
Susan Eckstein is professor of sociology and international relations at Boston University. She specializes in urbanization, immigration, poverty, rights and injustices, and social movements in the context of third world countries. She is primarily interested in Latin America and has written most extensively on Mexico, Cuba, and Bolivia. Her publications include The Immigrant Divide: How Cuban Americans Changed the U.S. and their Homeland (2009); Back from the Future: Cuba under Castro (1994); and The Poverty of Revolution: The State and Urban Poor in Mexico (1977). She received her B.A. from Beloit College and Ph.D. in sociology from Columbia University.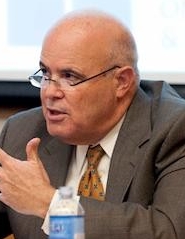 Luis E. Lugo is director of the Pew Forum on Religion & Public Life, a project of the Pew Research Center. During his tenure the Pew Forum has become a leading non-partisan research organization on issues at the intersection of religion and public affairs. In addition to its many research reports and public events, the Pew Forum is now known for its landmark surveys on religion in the United States (the U.S. Religious Landscape Survey, the U.S. Religious Knowledge Survey, and surveys of Muslim Americans and Latinos) and around the world (with special emphasis on global Pentecostalism and on sub-Saharan Africans). As part of the Pew-Templeton Global Religious Futures project, the Pew Forum also now studies the size, distribution and projected growth of the world's religious populations, and it produces an annual analysis of the level of religious restrictions in 198 countries. Prior to leading the Pew Forum, Lugo served as director of the religion program at The Pew Charitable trusts in Philadelphia and was a professor of political science for more than twelve years before that. Among his published works are several edited volumes, including Sovereignty at the Crossroads? Morality and International Politics in the Post-Cold War Era (1996) and Religion, Public Life and the American Polity (1995). A Native of Cuba, he received his B.A. from University of Memphis, his M.A. from Villanova University, and his Ph.D. in Political Science from University of Chicago.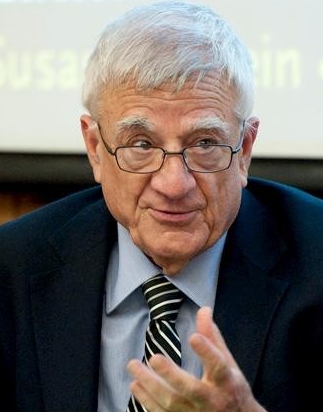 Alan Wolfe is the founding director of the Boisi Center and Professor of Political Science at Boston College. He is author of more than a dozen books, including, most recently, Political Evil: What It Is and How to Combat It (2011), The Future of Liberalism (2009), Does American Democracy Still Work? (2006), Return to Greatness (2005), The Transformation of American Religion: How We actually Practice our Faith (2003), Moral Freedom (2001) and One Nation After All (1999). Widely considered one of the nation's most prominent public intellectuals, he is a frequent contributor to the New York Times, Washington Post, The New Republic and The Atlantic, and has delivered lectures across the United States and Europe.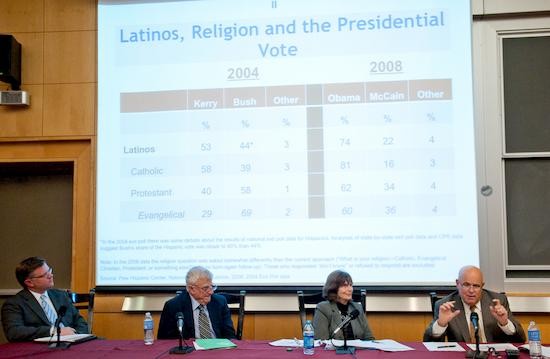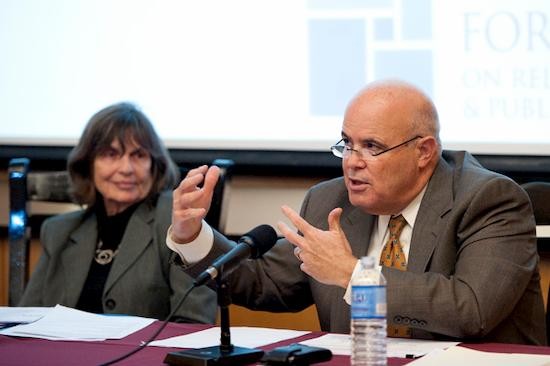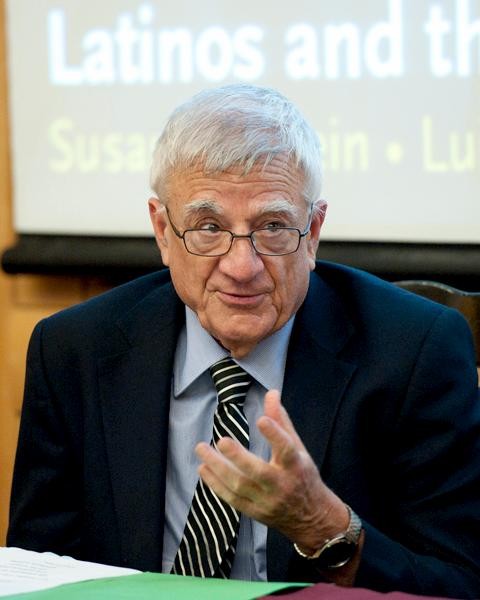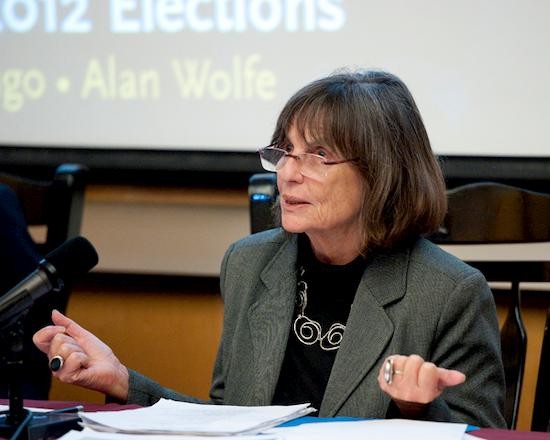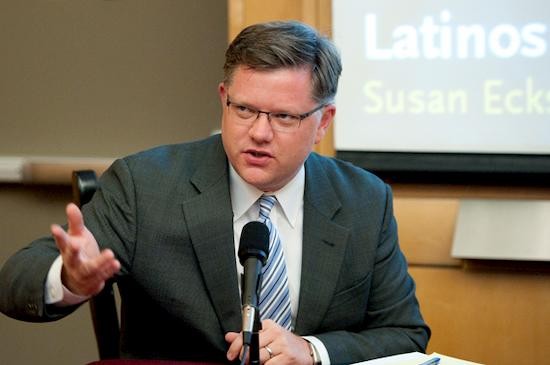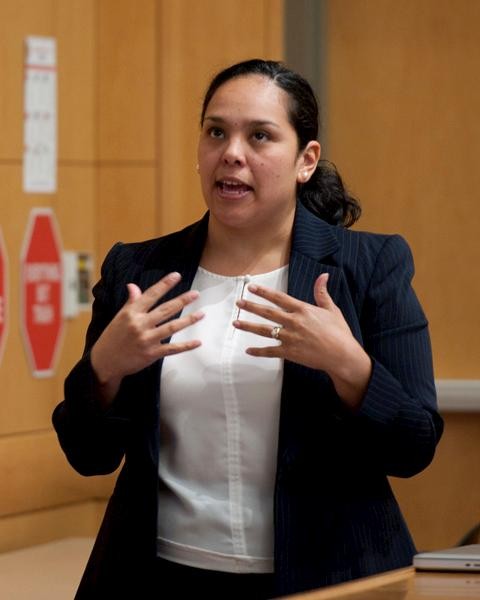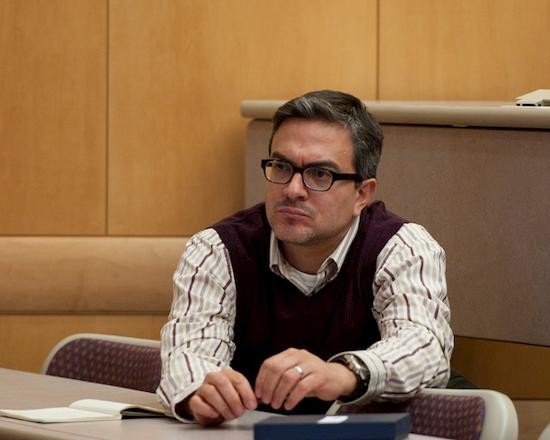 Event Recap
With a burgeoning population and increasing national political participation and prominence, Latino voters promised to be a decisive factor in the 2012 elections. On November 1, the Boisi Center hosted a panel featuring Alan Wolfe, Susan Eckstein, and Luis Lugo to discuss various dimensions of the Latino vote in the 2012 elections.
Alan Wolfe, director of the Boisi Center and professor of political science, illustrated the larger political context in which the discussion about the Latino vote takes place. In 1969 political scientist Kevin Phillips correctly predicted the rise of the conservative Republican movement in his book The Emerging Republican Majority. In 2002 as conservative Republicans continued to maintain a firm grasp on national electoral power, political scientists John B. Judis and Ruy Teixeira predicted that the nation would soon experience a political realignment in favor of the Democratic party in their book, The Emerging Democratic Majority. This shift, they argued, would be driven by the increasing electoral influence of young people, women, professionals and Hispanics, who tend to favor the Democratic party. In 2008 these constituencies played a key role in the political coalition that elected Barack Obama, but in the week prior to the 2012 election it was still uncertain if the Obama coalition would rematerialize. Wolfe argued that heavy Latino turnout in favor of the Democrats could signal an important shift in national politics.
Boston University sociologist Susan Eckstein argued that while Latinos on average tend to favor the Democratic party, it remains difficult to speak of a pan-Latino vote. Cuban-Americans in Florida, for example, lean heavily for Republican candidates and in 2004 were integral to securing a second term for George W. Bush. The Cuban-American preference for the Republic party, Eckstein claimed, reflects the unique circumstances that shape their relationship to the United States, especially the symbolic importance of resistance to the Castro regime in U.S. foreign policy and Cuban local political, social, and economic prominence in Florida. Cuban-Americans are thus more interested in maintaining anti-Castro policies and pro-business policies than other Latino groups. Additionally, immigration is a less significant issue among Cuban-Americans than other Latino communities, since Cubans have much higher rates of naturalization owing to the Cuban Refugee Adjustment Act of 1996. The Cuban-American anomaly indicates the importance of a nuanced view of Latino voters and communities in light of complex circumstances that influence voter behavior.
In light of these tensions, Luis Lugo, director of the Pew Forum on Religion and Public Life, provided statistical analysis that is integral to understanding political dynamics among U.S. Latinos. Latinos comprise 17 percent of the U.S. population and thus promise to play an increasingly significant role in politics in future elections. Still, the size of the Latino community has not yet translated into political and electoral power. One major reason for this lag, in addition to low registration among eligible voters, is the relative youth of the Latino community: the median age for U.S. Latinos is 18 years old—20 years younger than the population at large. With 50,000 native born Latinos turning 18 every month, however, this bloc will play an even bigger role in determining the character of our national politics. The increase in the number of eligible, registered, and active Latino voters can have a major effect on both major political parties. As Lugo noted, Catholic and evangelical Latinos (who still constitute a majority of this population) combine social conservatism with support for a larger government that provides more services. This is presently an unusual set of political opinions to hold together, but as the Latino vote increases in size and influence, both major parties will need to carefully scrutinize their platforms if they hope to successfully reach out to these communities.
Read More
Further Reading
Abalos, David. Latinos in the United States: The Sacred and the Political. (University of Notre Dame, 2007). Abalos addresses salient sociological issues among Latinos, including autonomy and community, assimilation, and religion.

Abrajano, Marisa A. and R. Michael Alvarez. New Faces, New Voices: The Hispanic Electorate in America. (Princeton University Press, 2010). Is there a clear Hispanic politics? Who are Hispanic voters? What are their political preferences and attitudes, and why? The first comprehensive study of Hispanic voters in the United States, this monograph paints a complex portrait of this diverse and growing population.
Beltran, Cristina. The Trouble With Unity: Latino Politics and the Creation of Identity. (Oxford University Press, 2010). The existence of a coherent, pan-ethnic Latino political agenda is, as this work argues, not only highly debatable but democratically unviable. Situated at the intersection of political theory and Latino studies, the book is a nuanced critique of civic Latinidad and the Latino electoral and protest politics that work to erase diversity and debate in favor of images of commonality.
Eckstein, Susan.The Immigrant Divide: How Cuban Americans Changed the US and their Homeland. (Routledge, 2009). While it is widely known that Cuban émigrés have exerted a strong hold on Washington policy toward their homeland, Eckstein argues the recent arrivals, although poor and politically weak, have done more to transform their homeland than the influential and prosperous early exiles who have tried for half a century to bring the Castro regime to heel. The impact of the so-called New Cubans is an unintended consequence of the personal ties they maintain with family in Cuba, ties the first arrivals oppose.
Garcia, John A. Latino Politics in America: Community, Culture, and Interests. (Rowman & Littlefield, 2003). Latinos constitute the fastest-growing population in the United States today, and Latino political participation is growing rapidly. Still, Latino political power is not commensurate with the numbers, and much potential remains to be tapped. García examines the development of this community and points the way toward a future of shared interests and coalitions among the diverse Latino subgroups.
Hardy-Fanta, Carol. Latina Politics, Latino Politics: Gender, Culture, and Political Participation in Boston. (Temple University, 1993). Through an in-depth study of the Latino community in Boston, Hardy-Fanta addresses three key debates in American politics: how to look at the ways in which women and men envision the meaning of politics and political participation; how to understand culture and the political life of expanding immigrant populations; and how to create a more participatory America.
Lopez, Mark Hugo and Paul Taylor. "Latino Voters in the 2012 Election".  Pew Hispanic Center. November 7, 2012. The Pew Hispanic Center's analysis of exit poll data on Hispanic voters in the 2012 presidential election.
The Pew Forum on Religion and Public Life. "Latinos, Religion and Campaign 2012: Catholics Favor Obama, Evangelicals Divided". October 18, 2012.
Pitti, Stephen. The Devil in Silicon Valley: Northern California, Race and Mexican Americans. (Princeton University Press, 2003). Based on dozens of oral histories as well as unprecedented archival research, The Devil in Silicon Valley shows how San José, Santa Clara, and other northern California locales played a critical role in the ongoing development of Latino politics.
Santos, Fernanda. "Campaigns Find That for Many Latinas, Issues Are Personal, and Financial". New York Times. October 25, 2012. A breif analysis of the role of gender in U.S. Latina/Latino politics.
Valentin, Benjamin. Mapping Public Theology: Beyond Culture, Identity, and Difference. (Trinity Press International, 2002). Valentin explores the ways that Hispanic/Latino theology can overcome its fractious nature and strengthen its relevance to society and politics in general.