What Do We Owe the Iraqis?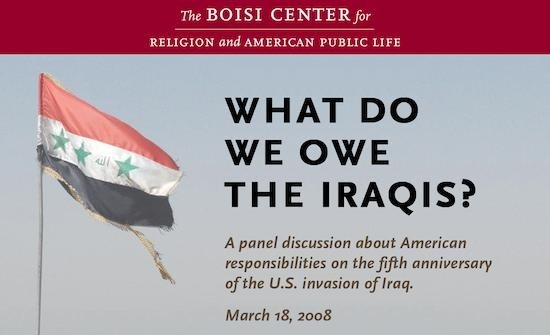 Andrew Bacevich, Boston University
Rev. Bryan Hehir, Harvard University / Archdiocese of Boston
Rev. Paul McNellis, S.J., Boston College
Alan Wolfe, Boston College (moderator)
Date: March 18, 2008
Abstract
What is America's moral responsibility to the Iraqi people? The fifth anniversary of American military action in Iraq is rapidly approaching, and discussion of troop withdrawal dominates presidential primary debates. But what do American citizens owe the Iraqis? What does continued American action, reconstruction or withdrawal mean for our moral responsibility to a country that we invaded and to which we introduced radical change? Three distinguished professors will discuss the religious and moral implications of the American presence in Iraq.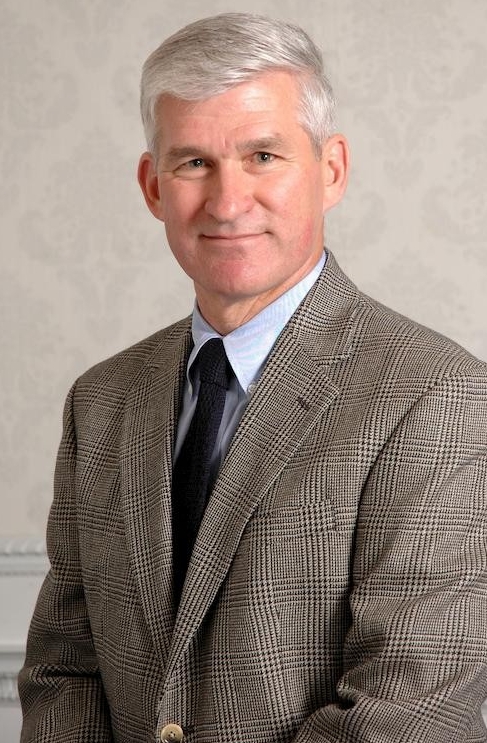 Andrew J. Bacevich is professor of history and international relations at Boston University.  A graduate of the U.S. Military Academy, he received his Ph.D. in American diplomatic history from Princeton.  Before joining the faculty of Boston University in 1998, he taught at West Point and at Johns Hopkins. Bacevich is the author of several books, to include The New American Militarism:  How Americans Are Seduced by War (2005) and American Empire:  The Realities and Consequences of U. S. Diplomacy (2002).  He is the editor of The Long War:  A New History of U. S. National Security Policy since World War II (2007) and Imperial Tense:  Problems and Prospects of American Empire (2003).  His essays and reviews have appeared in a wide variety of scholarly and general interest publications to include The Atlantic Monthly, The Wilson Quarterly, The London Review of Books, Foreign Affairs, Foreign Policy, The Nation, and The New Republic.  His op-eds have appeared in The New York Times, Washington Post, Wall Street Journal, Financial Times, International Herald Tribune, Boston Globe, and Los Angeles Times among other newspapers. Bacevich is a member of the Council on Foreign Relations.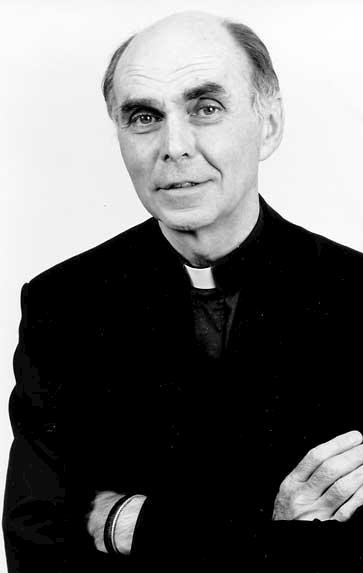 Rev. J. Bryan Hehir is the Parker Gilbert Montgomery Professor of the Practice of Religion and Public Life at the Kennedy School of Government at Harvard University. He is also the Secretary for Social Services in the Archdiocese of Boston. Prior to assuming these positions, Father Hehir served as President and CEO of Catholic Charities USA from 2001-2003. Before that he served on the staff of the U.S. Catholic Conference of Bishops in Washington, D.C. and served on the faculty at Georgetown University. He also served as faculty and later Dean of Harvard Divinity School. He was named a MacArthur Fellow in 1984. His research and writing focus on issues of ethics and foreign policy, Catholic social ethics and the role of religion in world politics and in American society. Hehir's publications include: "The Moral Measurement of War: A Tradition of Continuity and Change"; "Military Intervention and National Sovereignty"; "Catholicism and Democracy"; "Social Values and Public Policy: A Contribution from a Religious Tradition"; and "The Moral Dimension in the Use of Force."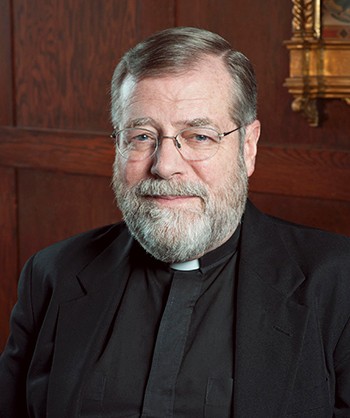 Rev. Paul W. McNellis, S.J. is a member of the Philosophy Department at Boston College, where he has been teaching in the Perspectives Program since 2000. He was formerly director of the political philosophy program at the Pontifical Gregorian University in Rome. McNellis completed his undergraduate degree in Asian Studies at Cornell University, holds additional degrees from Fordham University and the Gregorian University and a Ph.D. in political philosophy from Boston College. Before entering the Society of Jesus in 1977, he worked as a journalist in Vietnam and with Catholic Relief Services in Cambodia, where he was awarded the Chevalier du Sisowath by the government of the Khmer Republic for humanitarian service to refugees. From 1970-71 he served as an infantry officer with the US Army in Vietnam.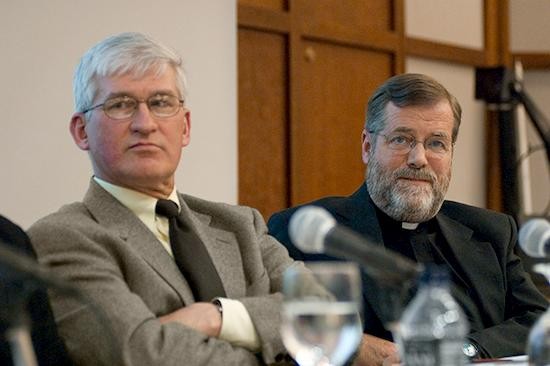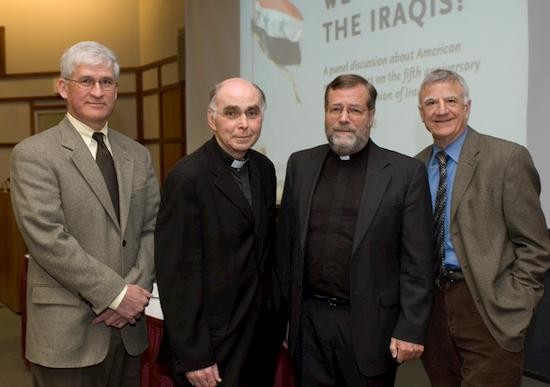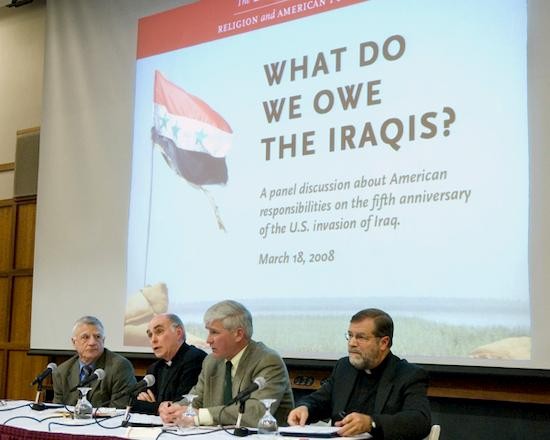 Event Recap
The Boisi Center marked the fifth anniversary of the U.S. invasion of Iraq with a major panel discussion on March 18 about what obligations—if any—Americans now have to the Iraqi people.
Leading off the panel was distinguished just war theorist Rev. J. Bryan Hehir, a professor at Harvard University's Kennedy School of Government and Secretary of Social Services in the Catholic Archdiocese of Boston. Hehir began with a vigorous claim that because the United States chose to invade Iraq, rather than being forced by necessity to do so, it created for itself a number of moral and legal obligations. He surveyed various perspectives on how we could best discharge those duties (staying for the long term, leaving immediately, reducing our military presence, etc.), and closed with several general recommendations. American military presence should continue, he argued, only as long as it takes to raise an international force to replace it; we are responsible for maintaining a basic level of security for the Iraqi people in the meantime. Hehir also noted that the U.S. cannot effectively run both security and rebuilding efforts at the same time, so we should continue to fund the rebuilding effort but allow others to direct and manage it.
Andrew Bacevich, a retired Army colonel and professor of history and international relations at Boston University, followed Hehir with an argument from the realist tradition. Bacevich said the U.S. government properly has obligations only to its own citizens, not the Iraqi people as such. The American president's moral obligations\ in this context are thus simple: if our involvement in Iraq benefits Americans, we should stay; it if does not, we should leave. Because this war has been "a disaster"—it was unnecessary and misguided from the outset, he argued— that has cost Americans dearly, the president is morally obliged to end the American military presence in Iraq. Bacevich noted that the U.S. does, however, have moral obligations to individual Iraqis directly harmed by the invasion and occupation. To acquit ourselves of these responsibilities, the U.S. should bear the cost of refugee camps that now shelter, feed, and provide medical care for thousands of displaced Iraqis in Jordan and Syria; it should admit large numbers of Iraqi refugees into the U.S.; and it should continue to fund the reconstruction of Iraqi schools, roads, hospitals and other infrastructure. However, Bacevich ended his remarks by saying he doubts these obligations to individual Iraqis will ever be met.
The final panelist was Rev. Paul McNellis, S.J., a member of the Boston College philosophy department. McNellis noted that the current American military presence in Iraq is in many ways a continuation of the first Gulf War. The fact that Saddam Hussein failed to abide by the terms of his 1991 surrender led to a dozen years of ineffectual UN sanctions and ultimately supplied the just cause for our current military operations. But more importantly, said McNellis, in failing to support the attempted Iraqi coup that President George H.W. Bush had personally encouraged, the U.S. directly contributed to the deaths of many thousands of Iraqis killed by Saddam in retribution. Our moral obligation to the Iraqi people derives from this failure to come to their aid, he argued, and the present military engagement must remain long enough to establish conditions of justice there. If we do not do it now, despite the many challenges and the unfortunate (though temporary) loss of Iraqi sovereignty, the results will be catastrophic for Iraq and the entire region.
After these thought-provoking opening remarks, Alan Wolfe moderated a robust discussion among the students and faculty who packed the lecture hall.
Read More
Further Reading
·  Andrew Bacevich and Matthew Shadle, "No Exit from Iraq?" Commonweal CXXXIV:17 (October 12, 2007).
·  Andrew J. Bacevich, "Downsizing: What the 'Surge' Really Means," Commonweal CXXXIV:7 (April 6, 2007).
·  Andrew J. Bacevich and Elizabeth H. Prodromou, "God Is Not Neutral: Religion and U.S. Foreign Policy after 9/11," Orbis 48. 1 (Winter 2004): 43-54.
·  J. Bryan Hehir, "Religion, Realism and Just Intervention," in Dionne/Elshtain/Drogosz, eds., Liberty and Power (Brookings, 2004), 11-33.
·  J. Bryan Hehir, "The Moral Measurement of War: A Tradition of Change and Continuity," in John Carlson and Erik Owen, eds., The Sacred and the Sovereign (Georgetown, 2003), 41-65.
·  Nigel Biggar, "Making Peace or Doing Justice: Must We Choose?" in Nigel Biggar, ed., Burying the Past: Making Peace and Doing Justice after Civil Conflict (Georgetown, 2003), 3-24.
·  Jean Bethke Elshtain, "Politics and Forgiveness," in Burying the Past, 45-64.
·  R. Scott Appleby, The Ambivalence of the Sacred: Religion, Violence, and Reconciliation (Rowman & Littlefield, 2000), 207-44 [Chap 6].