Gun Rights and the Threat to Freedom and Democracy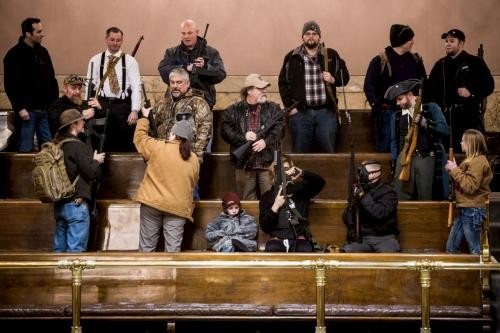 Firmin DeBrabander
Maryland Institute College of Art
Date: October 22, 2015
Abstract
Possibly the most emotionally charged debate taking place in the United States today centers on the Second Amendment to the Constitution: the rights of citizens to bear arms. Despite the horror of the Sandy Hook school massacre in Connecticut, the gun rights movement, headed by the National Rifle Association, appears as strong as ever in its fight against gun control laws. The core argument of Second Amendment advocates is that the proliferation of firearms is essential to maintaining freedom in America, providing private citizens with a defense against possible government tyranny, and thus safeguarding all our other rights. But is this argument valid? Do guns indeed make us free? 
In this talk, the first philosophical examination of every aspect of the contentious and uniquely American debate over guns, Firmin DeBrabander critiques the claims offered in favor of unchecked gun ownership. By exposing the contradictions and misinterpretations inherent in the case presented by gun rights supporters, this provocative talk seeks to demonstrate that an armed society is not a free society but one that actively hinders democratic participation.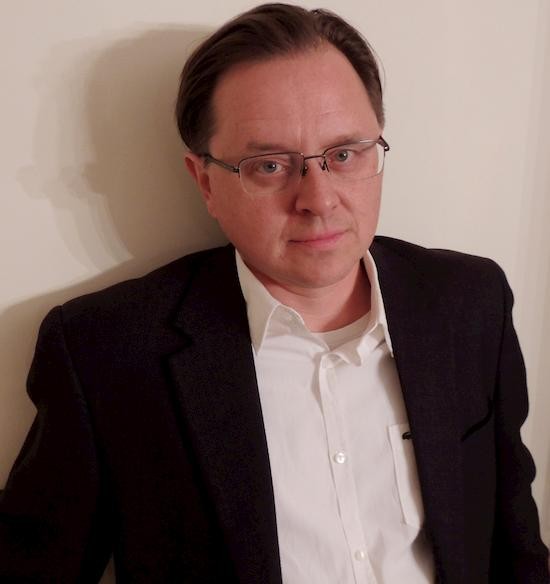 Firmin DeBrabander studied Philosophy at Boston College and the Catholic University of Louvain in Belgium, and received his Ph.D. in the field from Emory University in 2002. He has taught at MICA since 2005, and served as chair of the Humanistic Studies department from 2009 until 2012. His specialties include the History of Western Philosophy, Ethics, Political Theory, and Environmental Ethics. He also teaches courses on Media Ethics, Economic Theory, Eastern Philosophy, Philosophy of Science, and Medical Ethics. In 2007, he published a book entitled Spinoza and the Stoics (Continuum). He has published academic articles in journals such as History of Philosophy Quarterly, International Philosophy Quarterly, and in a volume issued by Cambridge University Press entitled Stoicism: Traditions and Transformations. More recently, he has written social and political editorials for the Baltimore Sun, Counterpunch and Common Dreams. He has organized several symposia in honor of Constitution Day at the college, including such speakers as John Waters, Helen Thomas, Angela Davis, Ralph Nader, Jesse Jackson, Amy Goodman, Andrew Sullivan, and Cornel West.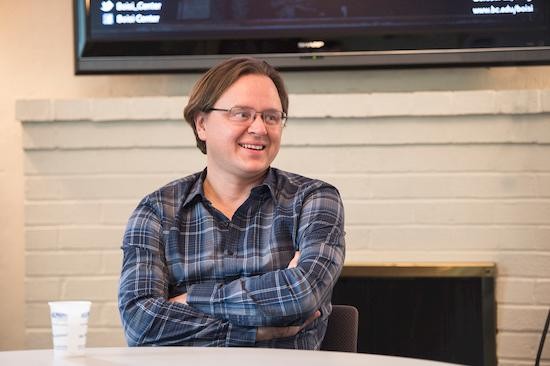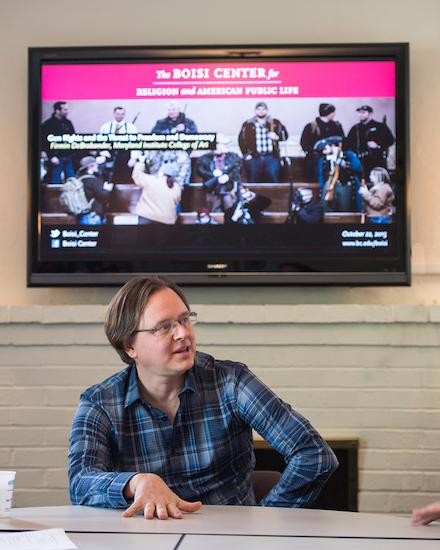 Event Recap
Firmin DeBrabander, professor of philosophy at the Maryland Institute College of Art, spoke about the importance of gun safety in the United States at the Boisi Center on October 22. Drawing on his recently published book, Do Guns Make Us Free?: Democracy and the Armed Society, DeBrabander addressed the National Rifle Association's (NRA) claims that the Second Amendment safeguards all other American freedoms.
He argued that the prevalence of guns in American society undermines the freedoms of speech and assembly. For example, DeBrabander asked, what teacher is going to bring up difficult and divisive topics in the classroom if one or more of their students is armed, as many proposed campus carry laws allow? Or if protestors were heavily armed, wouldn't the police be more likely to clamp down with force, limiting the freedom of assembly? While clear in his rebuttal of the NRA's platform, DeBrabander sympathized with the legitimate concerns of many gun owners about personal security. He also contended that the root cause of many lower and lower-middle class white rural and suburban Americans' insecurity is their deeply felt loss of political power due to the Citizens United v. Federal Election Commission Supreme Court decision, declining job security and economic stagnation.
Addressing these issues, DeBrabander argued, is critical to reducing the vitriol of the gun rights debate in America and enacting sensible policies that can avert future mass shootings.
Read More
Books
DeBrabander, Firmin. Do Guns Make Us Free? (Yale University Press, 2015).
Feldman, Richard. Ricochet: Confessions of a Gun Lobbyist (John Wiley & Sons, 2007).
Henigan, Dennis A. Lethal Logic: Exploding the Myths that Paralyze American Gun Policy (Potomac Books, 2009).
Lott Jr., John R. More Guns, Less Crime: Understanding Crime and Gun Control Laws (University of Chicago Press, 2010).
Whitney, Craig R. Living With Guns: A Liberal's Case for the Second Amendment (Public Affairs, 2012).
Winkler, Adam. Gun Fight: The Battle over the Right to Bear Arms in America (W. W. Norton & Company, 2013).
Articles
Adam Gopnick's article in The New Yorker, "The Second Amendment is a Gun-Control Amendment."
Firmin DeBrabander's article in The Baltimore Sun, "Protect Life: Limit Access to Guns."
Firmin DeBrabander's article in The Atlantic, "How Gun Rights Harm the Rule of Law."
Firmin DeBrabander's article in America, "Our Armed Society."
Gary Wills's article in The NYRB, "To Keep and Bear Arms."
Read Supreme Court Justice John Paul Stevens's dissent from "Distict of Columbia v. Heller" here.
Read the full transcript of President Barack Obama's speech following the Umpqua CC mass shooting here.
In the News
In response to the recent shootings of two Virginia based TV journalists and of nine people in the Charleston Baptist Church there have been renewed calls for stricter gun regulations. Despite these tradgedies the NRA remains defiant that it is not gun laws, but the enforcement of existing gun laws that is the issue. Upcoming at the Boisi Center, Firmin DeBrabander will explain how the prevalence of guns in our society actually hinders the freedoms most Americans claim to cherish.