Humanitarian Intervention and the "Responsibility to Protect"

David Hollenbach, SJ, Boston College
Mahmood Mamdani, Columbia University
Alan Wolfe, Boston College
Date: September 16, 2010
Abstract
What is the world to do when a particular government cannot, or will not, stop large-scale violence and human rights abuses within its borders? What if the state itself is the source of this violence? For the past twenty years "humanitarian intervention" has been the key concept in the debate over international military action to stop such violence within a state. But a new concept called "the responsibility to protect" is gaining ground in the world community, seeking to reframe the debate on state sovereignty and the warrants for military intervention. Join our panel of distinguished scholars as they consider the implications of the "R2P" paradigm for U.S. foreign policy and the international community.

David Hollenbach, SJ, is the University Chair in Human Rights and International Justice at Boston College. Professor Hollenbach's research interests are in the foundation of Christian social ethics, particularly in the areas of the human rights, theory of justice, the common good, and the role of religion in social and political life. He teaches periodically at Hekima College of the Catholic University of Eastern Africa, in Nairobi, Kenya.
Professor Hollenbach's many publications include The Global Face of Public Faith: Politics, Human Rights, and Christian Ethics (2003), The Common Good and Christian Ethics (2002); Justice, Peace, and Human Rights: American Catholic Social Ethics in a Pluralistic World (1988); Nuclear Ethics: A Christian Moral Argument (1983); and Claims in Conflict: Retrieving and Renewing the Catholic Human Rights Tradition (1979). He is the co-editor most recently of Modern Catholic Social Teaching: Commentaries and Interpretations (2005), co-edited with Kenneth R. Himes, Lisa Sowle Cahill, Charles E. Curran, and Thomas Shannon. Professor Hollenbach served as President of the Society of Christian Ethics and is on the Editorial Board of the Journal of Religious Ethics. He completed his B.A. at St. Joseph's University in Philadelphia, and his Ph.D. at Yale University. In 1998, Hollenbach received the John Courtney Murray Award for outstanding contributions to theology from the Catholic Theological Society of America.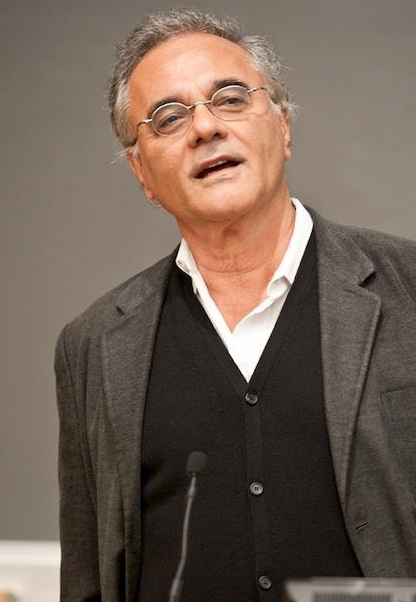 Mahmood Mamdani is the Herbert Lehman Professor of Government at Columbia University. He received his Ph.D. from Harvard University in 1974 and specializes in the study of African history and politics. His works explore the intersection between politics and culture, a comparative study of colonialism since 1452, the history of civil war and genocide in Africa, the Cold War and the War on Terror, and the history and theory of human rights. Prior to joining the Columbia faculty, Mamdani was a professor at the University of Dar-es-Salaam in Tanzania (1973-79), Makerere University in Uganda (1980-1993), and the University of Cape Town (1996-1999).  He has received numerous awards and recognitions, including being listed as one of the "Top 20 Public Intellectuals" by Foreign Policy (US) and Prospect (UK) magazine in 2008. From 1998 to 2002 he served as President of CODESRIA (Council for the Development of Social Research in Africa). His essays have appeared in the New Left Review and the London Review of books, among other journals.
He teaches courses on: major debates in the study of Africa; the modern state and the colonial subject; the Cold War and the Third World; the theory, history, and practice of human rights; and civil wars and the state in Africa.
Mamdani's books include Saviors and Survivors: Darfur, Politics, and the War on Terror (2009); Good Muslim, Bad Muslim: America, the Cold War and the Roots of Terror (2004); When Victims Become Killers: Colonialism, Nativism and Genocide in Rwanda (2001); 1996. Citizen and Subject: Contemporary Africa and the Legacy of Late Colonialism (1996), which was awarded the Herskovitz Prize of the African Studies Association; Politics and Class Formation in Uganda(1976); From Citizen to Refugee (1973); and The Myth of Population Control: Family, Class and Caste in an Indian Village (1972).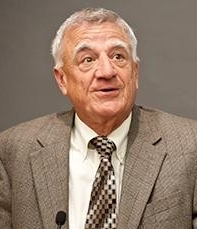 Alan Wolfe is the founding director of the Boisi Center and Professor of Political Science at Boston College. He is author of more than a dozen books, including the forthcoming Political Evil: What It Is and How to Combat It (2011), as well as The Future of Liberalism (2009), Does American Democracy Still Work? (2006), The Transformation of American Religion (2003), Moral Freedom (2001) and One Nation After All (1999). Widely considered one of the nation's most prominent public intellectuals, he is a frequent contributor to the New York Times, Washington Post, The New Republic and The Atlantic, and has delivered lectures across the United States and Europe.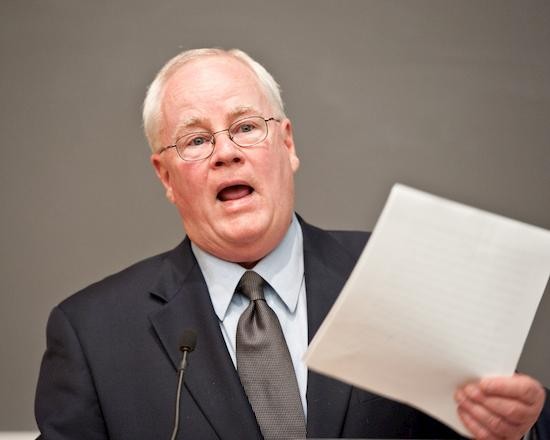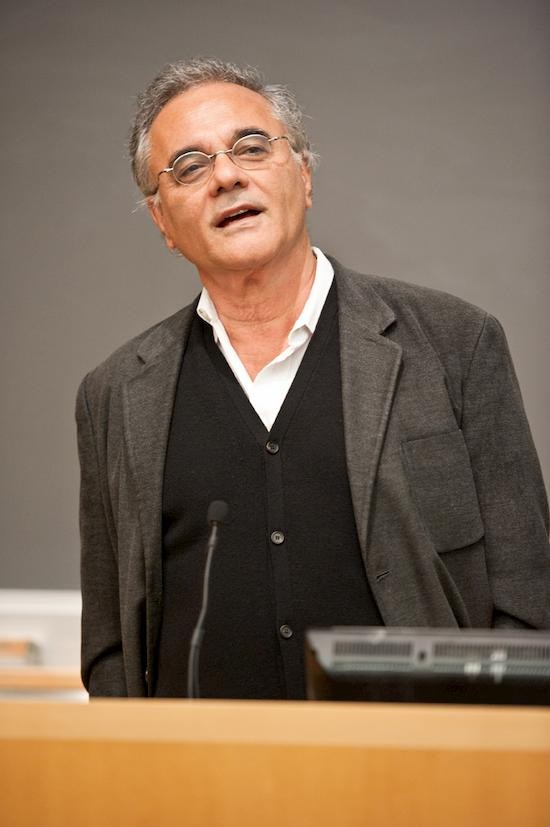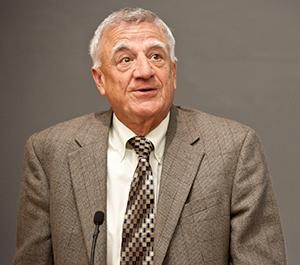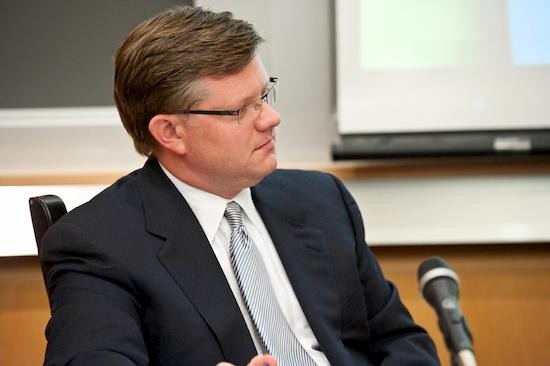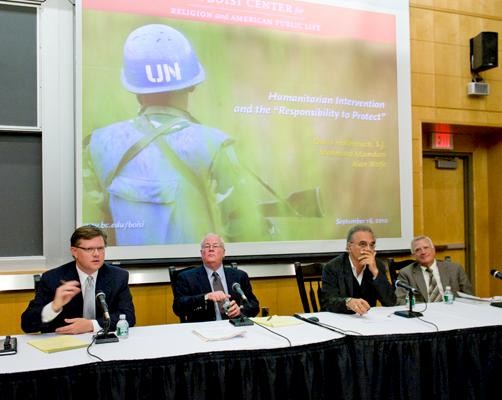 Event Recap
The Boisi Center's first event of the academic year 2010-2011 brought three distinguished panelists—David Hollenbach, S.J., Mahmood Mamdani, and Alan Wolfe—together before a packed auditorium for a vigorous debate about the international human rights regime and the emerging paradigm of the "Responsibility to Protect" (R2P).
The panel began with an overview of R2P by Fr. Hollenbach, University Professor of Human Rights and International Justice, and director of the Center for Human Rights and International Justice at Boston College. A prominent human rights advocate and expert on refugee issues, Hollenbach outlined R2P's origins early this decade, and described its key principles: every nation-state has a responsibility to protect the human rights of its citizens; but when that responsibility is abdicated or willfully violated in cases of genocide, ethnic cleansing, war crimes, or crimes against humanity, other states have a responsibility to intervene. Though state sovereignty (and its claims to non-intervention) is in principle subordinate to human rights, Hollenbach said, the actual cases that require military intervention are quite rare.  R2P is thus best understood as a responsibility on the part of a state not to inflict harm on its citizens and, more positively, as a responsibility on the part of citizens to build up institutions that secure human rights.
Mahmood Mamdani, the Herbert Lehman Professor of Government at Columbia University, then took the podium to offer a very different perspective. A native of Uganda, Mamdani specializes in the study of African history and politics, and has written extensively on colonialism, genocide and human rights. He noted that R2P has its roots in the colonialist ambitions of Western powers to dominate Africa, and it is this context, not the slogans of "humanitarianism," that should guide our thinking about its value. In fact, Mamdani argued, we should reject R2P's conception of Africans as passive recipients of charity and victims of corruption, and embrace instead a robust notion of citizenship, deeply rooted in political affiliation to sovereign states, that promotes active participation in authentically African political life. Only this stance will allow African nations to focus on their many internal problems without unwanted foreign intervention.
Alan Wolfe followed Mamdani's presentation with a strong critique of one of the best-known humanitarian movements in America, the Save Darfur campaign. Wolfe called the campaign a well-intentioned "mistake" that oversimplified an enormously complex situation and actually made things worse, for three reasons. First, the organization cast the conflict as one between Arabs and (black) Africans, an oversimplification that also reinforced anti-Muslim prejudices. Second, it overstated the total number killed in the conflict in an effort to build support, but inadvertantly created a kind of "genocide exhaustion." Third, the campaign falsely bred hope on the ground in Darfur that help was coming and, by calling for a no-fly zone and castigating Sudanese President Omar al-Bashir, even prevented aid from reaching refugees.
In the heated Q&A that followed, Hollenbach castigated Mamdani for ignoring the basic responsibility to stop human suffering that underlies R2P. Mamdani clarified that while he did not reject the concept of human rights as such, we must first focus on the context of human wrongs, which will only be corrected by political reconciliation, not abstract universal principles. Wolfe added an appeal to Americans to learn more about the complexities of a situation before supporting intervention. Challenging questions came from the state director of the Save Darfur campaign, a Ugandan theology professor, an undergraduate international studies major, and several others.
Read More
Further Reading
"The Politics of Naming: Genocide, Civil War, Insurgency" by Mahmood Mamdani in the London Review of Books, 8 March 2007.
Saviors and Survivors: Darfur, Politics, and the War on Terror, by Mahmood Mamdani, New York: Pantheon, 2009.
When Victims Become Killers: Colonialism, Nativism and Genocide in Rwanda, by Mahmood Mamdani, Princeton, NJ: Princeton University Press, 2001.
"Introduction: Are We Killers or Peacemakers" in Why Not Kill Them All? The Logic and Prevention of Mass Political Murder by Daniel Chirot & Clark McCauley, Princeton University Press, 2006.
"U.S. Walks Tightrope on Sudan and Uganda," by David Hollenbach, SJ, America, November 2, 2009: 6-8.
Refugee Rights: Ethics Advocacy, and Africa, edited by David Hollenbach, S.J., Washington, D.C.: Georgetown University Press, 2008.
"Corruption and Inaction Leave Kenya on the Brink," America, September 28, 2009: 8-9.  Republished in Jesuit Refugee Service-Eastern Africa Headlines, October 31-November 6, 2009, electronic bulletin.
Political Evil: What It Is and How to Combat It by Alan Wolfe (Knopf forthcoming 2011).
"Students Can Stand up for Sudan," by David Willner, The Heights, September 15, 2010.
In the News
Do we have a "responsibility to protect" the Libyan protesters? In "Act. Now." (Foreign Policy, 2/24/11), Hussein Ibish argues that the world does have a responsibility to protect the Libyans.