Looking for ways to build connections with the Boston College alumni community? The Alumni Association offers many opportunities for alumni and friends to connect with each other and the University based on their interests. The East Coast Technology and Entrepreneurship Council (BCTEC) brings together alumni interested in technology and entrepreneurship to help advance the mission of Boston College.  
BCTEC co-chairs, Karen Walker Beecher '87 and Miguel Galvez '12, shared their stories and the various professional and personal growth opportunities BCTEC offers.
Tell us your story and how you got to BC.
Karen: I grew up in Michigan and, like a lot of Michiganders, I was destined for University of Michigan. But when my mom and I visited Boston College, I immediately knew it was where I belonged. 
Miguel: I grew up on the North Shore of Massachusetts, and I went to St. John's Preparatory School. By the time I was a senior, everyone I knew wanted to go to BC. It felt like BC was our destiny, and I was lucky enough to get in.
How did your time at BC propel you into your current career? 
K: Early in my career, I realized that business majors from other schools often lacked the critical thinking and writing skills that my BC liberal arts curriculum gave me. BC grads really understand how to problem-solve and think critically. These skills helped propel my career out of accounting and enabled me to pursue broader business, operational, and leadership roles.    
M: I was a biology major and was considering dental school while at BC. My best friend and roommate, Brian Sachetta '12, was in the Tech Trek class, and he inspired my interests in entrepreneurship. Together, we built a company, Barmatch, which ultimately failed. But that experience led me to enter the Boston College Venture Capital competition where I met mentors Dave Anderson, PhD'73, and Jim Alvarez. They invested in my current business, NBD Nano, and Dave is still on the board. We remain great friends.
Tell us about your involvement with BCTEC.
K: I've been attending BCTEC events since the beginning of the council. Originally, the BCTEC members were predominantly male, established business people. Now we have much more diversity across generations, gender, and ethnicity—in both the council, and on our executive committee. I've stayed involved for many reasons. I have always loved the energy of entrepreneurship and through BCTEC, I've learned more about innovations like blockchain and solutions in the digital health industry. It has been a great way to learn from thought leaders; stay on top of new trends; connect with current students; and meet interesting, good people.
M:After starting my company, my classmate Tom Coburn and I started SSC Venture Partners to specifically support BC startups. I got to know Popolo Family Executive Director of the Shea Center for Entrepreneurship, Jere Doyle '87, P'15, '21, through the Elevator Pitch Competition and through SSC. When Jere approached me to take on his leadership position on BCTEC, I was truly honored. I want to continue to help people and give back, and BCTEC helps me to do that.
Tell us more about the ways BCTEC alumni interact with current students.
K: In partnership with the Shea Center, BCTEC offers opportunities to connect with current students who are exploring entrepreneurship and those who are actually going through the Shea Center programs. Alumni can also attend the Elevator Pitch Competitions and see what business ideas the students are coming up with. I wish we had had these programs when I was a student!
M: Alumni can also mentor students directly through Eagle Exchange, BC's newest online networking platform. I'd highly recommend signing up!
What have been some of the best events BCTEC has hosted?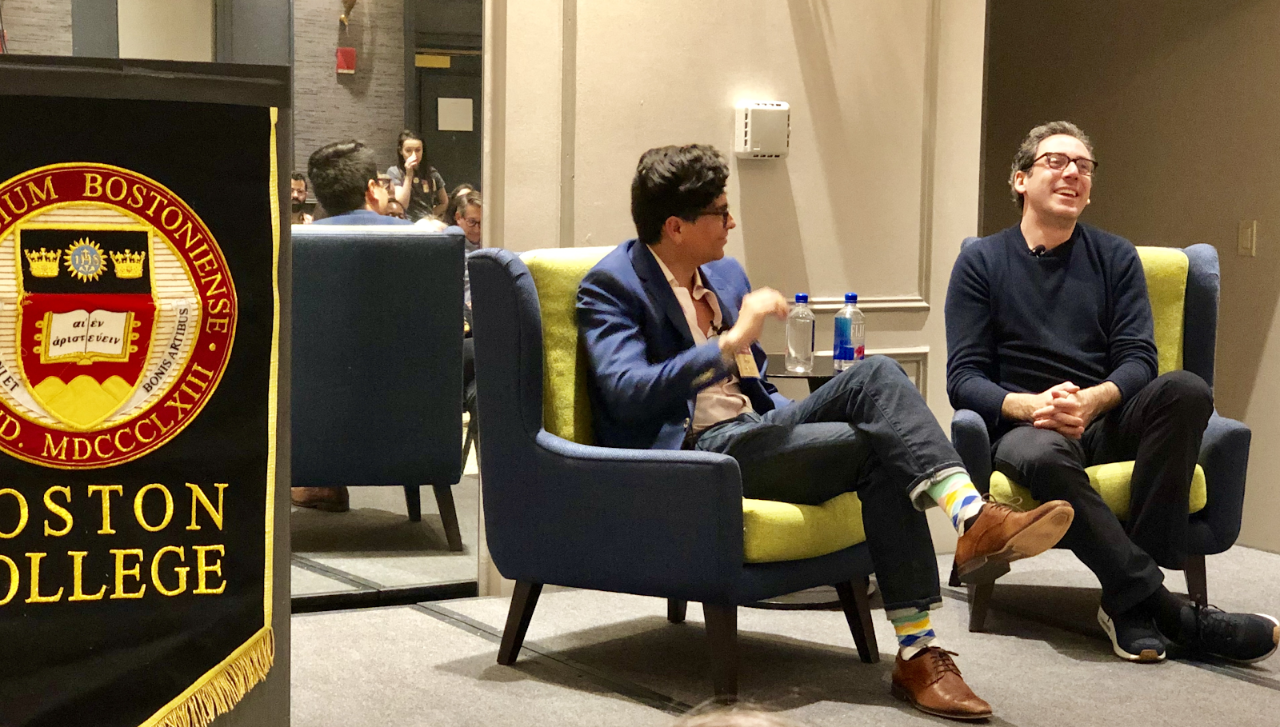 K: This year, Miguel hosted a fireside chat with Neil Blumenthal, the co-founder and CEO of Warby Parker. It was fascinating to hear how he built his company. Our Tech on Tap events are also fun and informal ways to meet people.
M: The fireside chat was an amazing event. My favorite thing about Neil was how down-to-earth he was. He's very cool and collected, but he speaks with authority and precision. We've also featured two of the most influential business leaders in Boston, Brian Halligan, co-founder and CEO of HubSpot, and Neeraj Shah, co-founder and CEO of Wayfair, who spoke about their management styles and company growth. 
Why should someone join BCTEC? Who should join?
K: Anyone who's interested in being part of the tech and entrepreneurship ecosystem should definitely join. BCTEC is a great way to meet people and learn about all the incredible innovation that's happening now—it doesn't matter what field you're in. It's also a great opportunity to be more engaged with the University, to know what's happening on campus, and work closely with the Shea Center. 
M: The best reason to join BCTEC is to build friendships and provide opportunities for others. Also, if you are a recent graduate or are looking to switch careers, it is great for networking and building or growing your career. 
Has participating in BCTEC been rewarding to you? How so? 
K: Yes! I've met many interesting people with a variety of backgrounds, and I always learn something new at our events. And it's been a great opportunity to give back to BC and help alumni and students.
M: I agree. I get a lot of satisfaction from networking, mentoring, and providing opportunities for others. My success with NBD Nano has been influenced by the BC alumni network—many have generously given me their time, advice, and mentorship. I feel like I owe it to them to be a resource for others and continue the cycle of giving back. 
---
To learn more about BCTEC and join us at a future event, please visit bc.edu/bctec or visit us on LinkedIn.