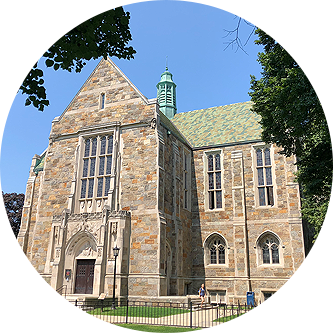 Bapst Circle — $2,500 to $4,999
Named for Boston College's first president, John Bapst, SJ, the Bapst Circle honors BC donors who help generate growth. Father Bapst inherited some $150,000 in debt an unimaginable sum in 1863 when he assumed the seat of president. Launching the first-ever capital fundraising campaign, Father Bapst eliminated nearly half the debt, within a year and set BC on a trajectory to grow and flourish.
Bapst Circle donors drive growth. With an annual gift of $2,500 to $4,999, donors join the Bapst Circle to take the next steps in their journey of philanthropic impact and engagement with BC.
Benefits
Membership in the Bapst Circle, the second donor circle of the 1863 Society, comes with many benefits:
Member discounts for BC Athletics tickets (selection will change annually)
Impact updates on how your giving helps thousands of students fulfill their potential
Invitations to exclusive events recognizing your leadership support throughout the year
Private reception with the President during your Reunion Weekend at BC
How Your Donation Makes a Difference
Boston College Fund

Bapst gifts can help fund a grant to support faculty projects to promote scholarship and education in the liberal arts such as guest speakers or performances.

*This unrestricted fund provides flexibility for fund designation to those areas in most need.

William J. Flynn Fund

Bapst gifts to the Flynn Fund help purchase essential gear for our varsity student-athletes, for example, a full set of cleats for our soccer teams.

Student Financial Aid

Bapst gifts to student financial aid enable BC to award grants and other aid totaling more than $114 million to deserving students, regardless of their economic background.

BC Law School Fund

Bapst gifts to the Law School Fund provide Public Interest Law Foundation (PILF) summer stipends to deserving students.
"

One of my favorite aspects of Boston College has always been the focus on giving back. It's a part of the BC community that I hope only continues to grow. And it's why I support the values and efforts of my alma mater. Leading by example speaks louder than words.

"
►

How to Join

Interested in joining or learning more about the Bapst Circle? Fill out our contact form below and a BC representative will contact you within 48 hours.