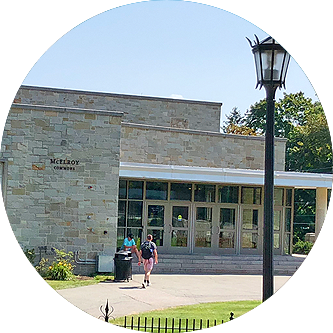 McElroy Circle — $1,000 to $2,499
Named for Boston College's founder, John McElroy, SJ, the McElroy Circle honors BC donors who aim to make a difference in the face of the unknown. In 1863, Father McElroy fought intense prejudice and labored tirelessly for two decades to realize his vision of a Catholic school of higher education in Boston. If not for his tenacity, there would be no BC.
So, too, do McElroy Circle donors dare. With an annual gift of $1,000 to $2,499, donors enter the McElroy Circle to begin their journey of philanthropic leadership and engagement with BC.
Benefits
Membership in the McElroy Circle, the first donor circle of the 1863 Society, comes with many benefits:
Impact updates on how your giving helps thousands of students fulfill their potential
Invitations to exclusive events recognizing your leadership support throughout the year
Private reception with the President during your Reunion Weekend at BC
How Your Donation Makes a Difference
Boston College Fund

McElroy gifts can help cover the the travel expenses for a student to participate in an international service trip. Our Eagles soar far and wide in service to others!

*This unrestricted fund provides flexibility for fund designation to those areas in most need.

William J. Flynn Fund

McElroy gifts to the Flynn Fund help provide vital training equipment such as body shields and tackling dummies for our beloved BC Eagles football team.

Student Financial Aid

McElroy gifts to student financial aid enable BC to award aid and grants and other aid totaling more than $114 million to deserving students, regardless of their economic background.

Academic Excellence

McElroy gifts to academic excellence allow a professor to hire a student research assistant for one semester, furthering research and promoting student formation.
"

When I think about why I give back to BC, it's because my mom always instilled in me the importance of giving back, and I am so thankful for the rich liberal arts education and strong business curriculum, long-lasting friendships, and impressive alumni community and network. I designate most of my giving to the sailing team; I loved the scrappiness of our team. It's been awesome to see the success, now with our own boats, boathouse, and championships.

"