Find Your Purpose. Make An Impact.
Boston College, the first institution of higher education to operate in the city of Boston, is today
among the nation's foremost R1 universities, a leader in the liberal arts, scientific inquiry, and
student formation. While being true to its roots, BC is committed to being the world's leading
Jesuit, Catholic university. Those ambitious goals distinguish Boston College from its peers in
higher education worldwide and reflect its desire to work for the transformation of the world.
Based on a fundamental Jesuit tenet of developing the whole person, University Advancement is
large enough to benefit from many campus resources, yet small enough to be agile and creative
in supporting all associates. With an average tenure of close to 10 years at Boston College, our
250-person centralized organizational structure offers a variety of roles across fundraising,
alumni relations, operations, and communications and engagement. We invest in the
professional growth of every staff member through individual and team-based programs.
Likewise, we aim to attract the very best, seeking team members who are as ambitious and as
committed to our team as we are. We value a culture of diversity, equity, inclusion, and belonging
while actively promoting team members who contribute to the success of University Advancement.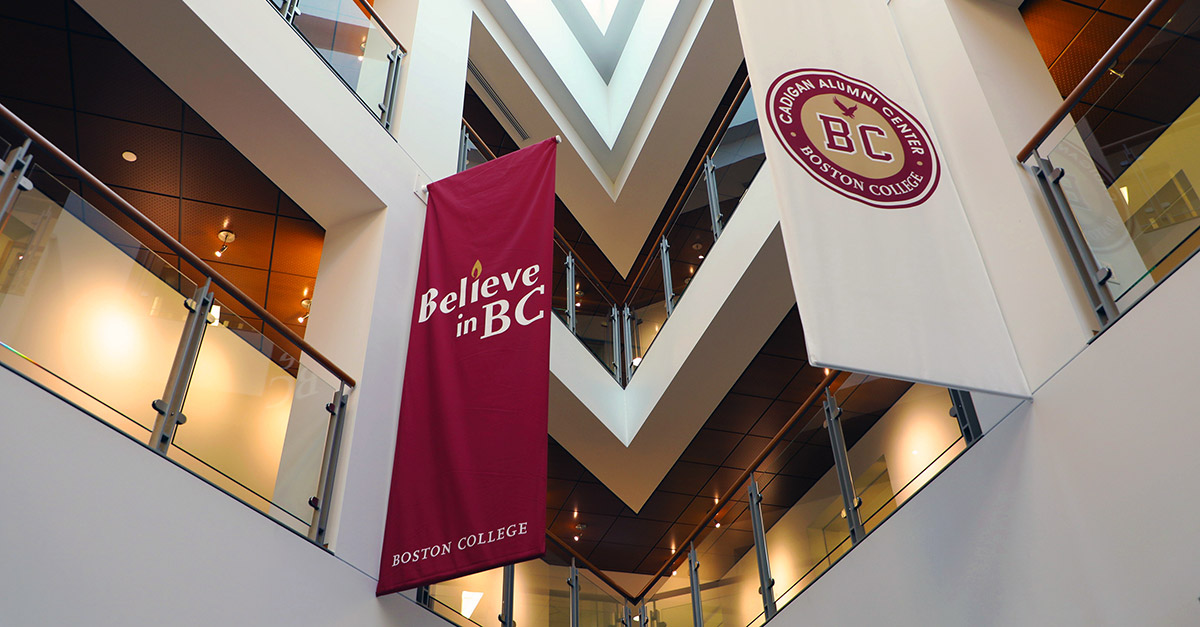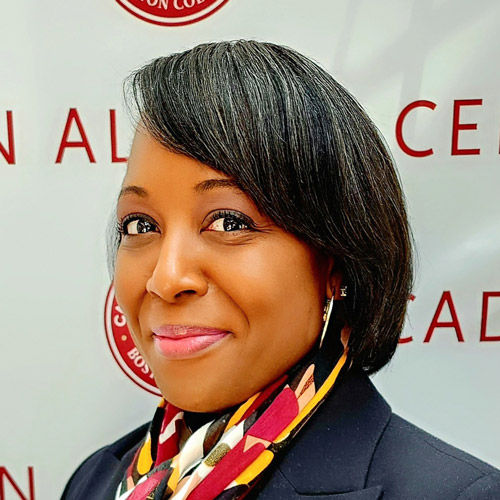 Nicole Dumas
If you are considering your next step in your professional journey, I would love to talk to you. Whether you see a job that interests you below or you are interested in an exploratory conversation, please email me at nicole.dumas@bc.edu
---
University Advancement Positions
Communications & Marketing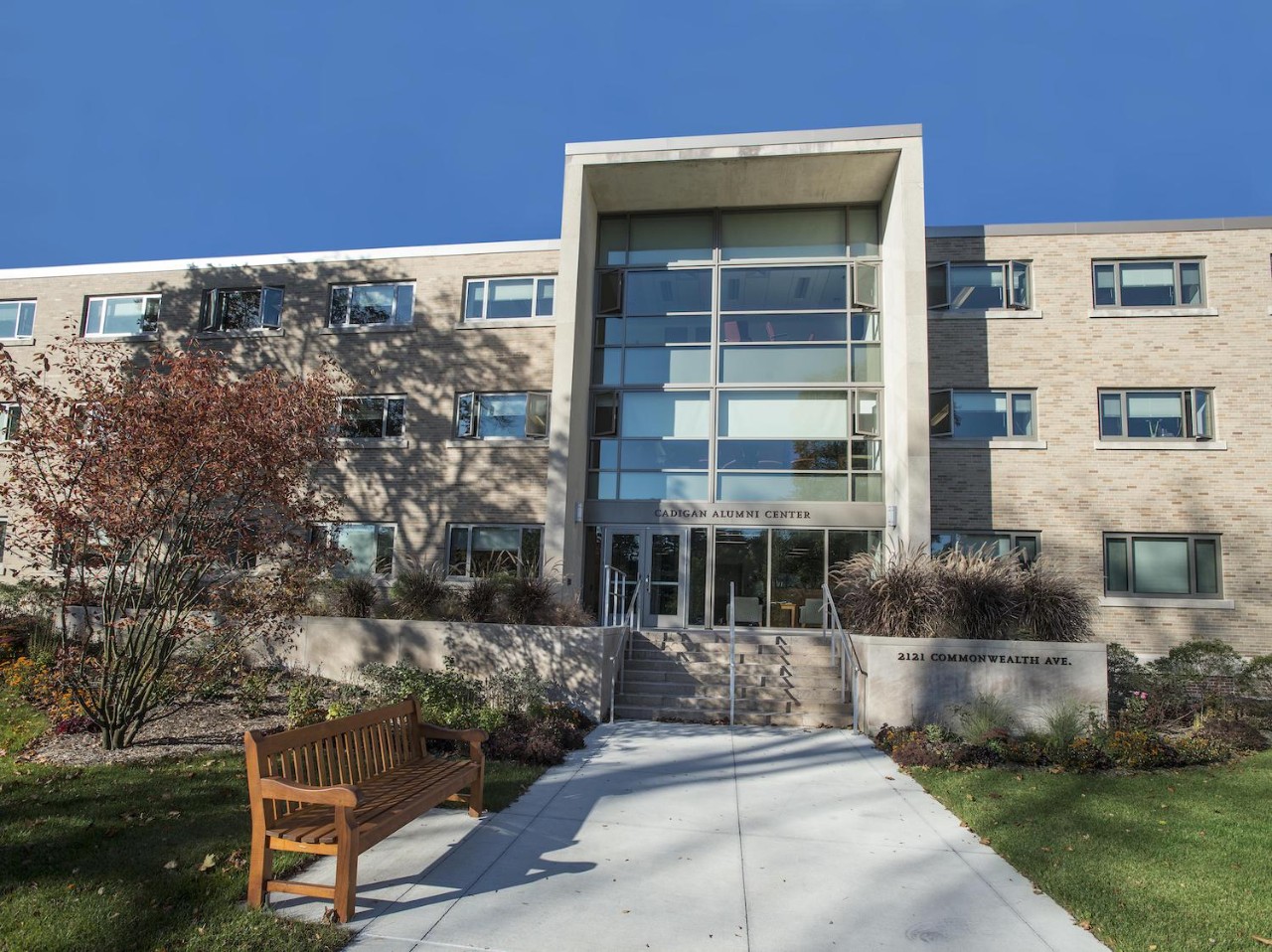 'Home Away from Home'
The Cadigan Alumni Center is a welcoming, state-of-the-art facility open to all Boston College alumni, parents, and friends.

Located on the Brighton Campus at 2121 Commonwealth Avenue (directly adjacent to the former cardinal's residence), the building features spaces designed specifically for alumni and parent visits, including a special guest office and a beautiful, sunlit atrium that provides a warm and relaxed setting where friends can reconnect with one another during visits to the Heights.

The center, reconstructed from the former Chancery of the Archdiocese of Boston, is named in honor of proud BC alumnus and longtime University patron Patrick F. Cadigan '57, Ph.D., and his family's gift to the Light the World campaign. 
Read more about this gift in:
The Boston Globe
WBUR

On June 29, 2012, the Boston College community came together to celebrate the official dedication of its new Cadigan Alumni Center.
Thank You Pat
Reception remarks made by Senior Vice President for University Advancement Jim Husson, P'21
"This evening, we come together to not simply name a building, but to dedicate ourselves to the purpose that this building—the Cadigan Alumni Center—represents. Indeed, we gather in this space very much as honored delegates, representatives of a community that bear witness to the commencement of work that will take place within these walls and that calls upon all those who visit this center to do so as "men and women for others."
And in doing so, we pay tribute to the alumnus who has made this moment possible.
The novelist and sailor, Herman Melville, once said, "Life's a journey that's homeward bound." Few people embody this instinct more than Patrick F. Cadigan. Pat has always remained close to his roots, looking fondly homeward even as he moved to the West Coast as a young man and became a successful business leader and California real estate investor.
The morals and principles that were instilled in him at home and in his Jesuit education at BC High and Boston College have always grounded him, yet have enabled his ambitions and accomplishments to soar.
Anyone who knows Pat can't help but be impressed by his love of family and friends, his deep affection for BC High and Boston College, and his authenticity. With all that he has achieved in life, Pat has remained true to the values of his early, formative years, and is still very much that local neighborhood boy who so quickly called the Heights home.
Like so many of the alumni of his generation, Pat is the son of Irish immigrants, and was raised in Cambridge, where he both studied hard and worked hard to pay his way through college.

Some of you may recall his father's business, where Pat worked part-time. It was officially called the Celtic Café, but was known by the locals in Cambridge simply as Cadigan's. But it was much more than a business—it was the neighborhood stop where friends gathered after a long day to share stories, to celebrate their joys, and to offer encouragement to those who needed support. Looking around this grand atrium, it strikes me that the spirit of that place is very much with us tonight, and will forever set the tone that helps to welcome alumni back to what we might well call BC's version of Cadigan's.
Since graduating from Boston College in 1957, Pat has had a remarkable career. He worked as a product manager at Sylvania Electronic Systems in Waltham for a few years before being recruited to the West Coast to oversee sales and marketing for the Electronic Engineering Company of California. Rapidly rising through the ranks, he became its president and CEO leading the firm for nearly 20 years, and overseeing its national and international expansion. Pat subsequently served on the boards of more than a dozen high-tech and electronics firms, and assumed the reins as chairman and CEO of several public companies.
A successful real estate investor as well, Pat is known in all he does for a keen eye and clear judgment—skills that we might like to think he began to hone first at BC High and later here in the Heights.
Always one to value education, Pat earned an MBA from Boston University, a degree from Harvard University's Advanced Management Program, and a master's degree and PhD from Claremont Graduate University, where he studied under the late, renowned business philosopher Peter Drucker.
And so to Pat, and to all of Pat's family, we officially dedicate this building the Cadigan Alumni Center. Pat, we hope that this crystal flame John now presents to you and Tandi will remind you of how you have heeded that call—that it will call to mind the spark that you have lit, and that will forever glow, here in the Cadigan Alumni Center.
May I ask that everyone join me in applauding and thanking Patrick F. Cadigan, Boston College Class of 1957."
Ever to Excel For Boston
Reception Remarks Made by BC Alumni Association President Vincent Quealy, Jr. '75, P'06, '07, '10
On behalf of the more than 165,000 Boston College alumni, I am delighted to express our deep gratitude to Pat for his splendid gift. You cannot imagine the enormous pride and delight on the faces of our alumni when they visit the Cadigan Alumni Center for the first time. As they can readily see, the Cadigan Alumni Center has it all—spacious meeting and conference rooms, a call center, well-equipped office space, and an atrium that can accommodate occasions as grand as this evening's or as simple as a relaxing conversation with a friend.
This striking building recognizes the central role that alumni play in the life of the University and reminds them that they always have a home at BC. That knowledge is as important for our alumni who live at a distance, as it is for those who reside nearby.
During the past year alone, the Alumni Association hosted 375 events throughout the United States and abroad, with over 43,000 alumni and friends attending. The Cadigan Alumni Center will serve to promote cooperation and coordination among the many staff members essential to the planning and sponsorship of such an extensive schedule of events.
Generous and supportive alumni—such as all of you—are always necessary to advance the fortunes and legacy of any great university and so your Alumni Association engages in a continuing effort to enlist more and more alumni in the vibrant and rich traditions which characterize Boston College and to make clear what so distinguishes this place: commitment to service; commitment to its Catholic, Jesuit traditions; and commitment to lifelong learning.
Our goal in the coming year is to help alumni expand and enhance their connections to BC and to increase their level of investment in its mission and in its future. The Cadigan Alumni Center will be the hub of these endeavors.
Pat, your enormous generosity and heartfelt expression of gratitude for the education you received at BC High and at Boston College inspire others to reach high and to support the University in its ambition to Light the World. You have already made the future of our Alumni Association look brighter than at any time in its history. Thank you.
Boston College Alumni Association
Cadigan Alumni Center
140 Commonwealth Ave.
Chestnut Hill, MA  02467
617-552-4700
800-669-8430
617-552-1491 (fax)
alumni.comments@bc.edu
Boston College Office of University Advancement
(Development Office)
Cadigan Alumni Center
140 Commonwealth Ave.
Chestnut Hill, MA  02467
617-552-4700
617-552-9080 (fax)
uacommunications@bc.edu