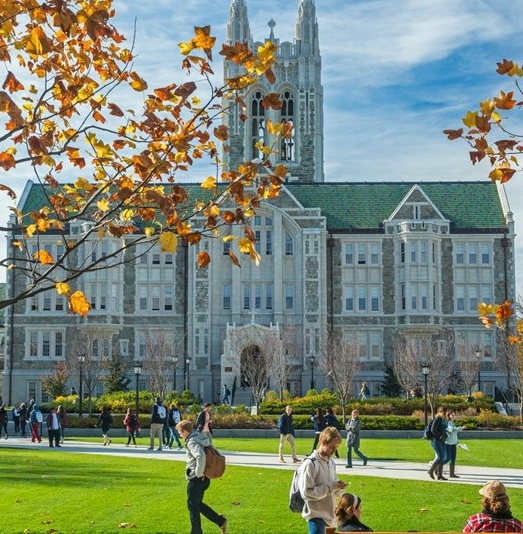 The Gasson Circle
Graduates Of the Last Decade (GOLD)
As a Graduate of the Last Decade (GOLD), we invite you to take advantage of this opportunity to become a member of the Gasson Circle, named for Boston College's 13th president and most significant change-maker, Thomas Gasson, SJ, and enjoy its many benefits.
Gasson Circle members keep the University's mission alive by supporting and shaping the BC experience for current students in the areas YOU most care about such as financial aid, academic excellence, spirituality and formation, athletics, and student life, among others.
Benefits
Membership in the Gasson Circle comes with many benefits:
Opt-in to receive a copy of the First Year Academic Convocation book (selection will change annually)
Opportunity to have your story featured in BC communications
Personal University liaison to facilitate your 1863 Society membership
Opt-in to receive an e-book by a BC author (selection will change annually)
Member discounts for BC Athletics tickets (selection will change annually)
Impact updates on how your giving helps thousands of students fulfill their potential
Invitations to exclusive events recognizing your leadership support throughout the year
Private reception with the President during your Reunion Weekend at BC
GOLD Gasson Giving Levels:
CLASS OF 2021: $250
CLASSES OF 2018, 2019, 2020: $500
CLASSES OF 2013, 2014, 2015, 2016, 2017: $1,000
CLASS OF 2012: $5,000
How Your Donation Makes a Difference
Academic Support

Gasson gifts of $250 can fund the cost of textbooks for a student-athlete in need of financial assistance.


Student Enrichment

Gasson gifts of $500 can sponsor an undergraduate research assistant's travel expenses so that he/she can present his/her research findings at a conference.

Global Service

Gasson gifts of $1,000 can cover the cost for a student to participate in an international service trip.

Faculty Support

Gasson gifts of $5,000 can provide seed money for Connell School of Nursing faculty to research exploratory ideas that can be used as proof of concepts to attract larger national grants.
"

Boston College gave me so much and is still such an important part of my life. This school developed me into the person I am today and helped grow my career. I want others to experience this same benefit and become leaders for our community. With our gifts, we can give back and help students and alumni thrive.

"