Honoring Dedication and Resiliency
Once again it is our great privilege to introduce to you the recipient of this year's BC Strong Scholarship, which you have helped make possible.
Conor McCormick '22 was just 16 when a tragic accident in a swimming pool left him paralyzed from the chest down. He spent the next year having multiple surgeries and battling life-threatening infections. Leaning on his family and his faith, Conor fought hard to regain movement—first in his wrists and arms, then his neck and some back muscles. No longer a quadriplegic, Conor can now lift himself out of bed and into his wheelchair, among other victories.
Conor's community rallied around him and his family just as our community did for me and Jess after the 2013 Marathon, raising money to make their home accessible and to defray hospital expenses. And, when Conor grew stronger, he repaid their support through community service, including serving on the Hampden Youth Advisory Board, the Superintendent Council, the West Side Bible Club, and the Ronald McDonald House Teen Board.
Now a freshman biology student, Conor plans to become a doctor—a dream that began before his accident, when he had heart surgery in middle school.
We held a ceremony on campus earlier this week, and after spending time with Conor and his family, we were struck not only by his determination but also his maturity and his deep faith. This young man embodies perfectly the BC Strong spirit, having overcome great adversity while continuing to excel in his academic, community, and spiritual pursuits.
Thank you for the gifts that helped create the BC Strong Scholarship, which celebrates students with permanent physical disabilities and promotes a community of inclusion and accessibility on the Heights. Your support proves that together we can achieve more than we could ever imagine.
With deepest gratitude,
Patrick Downes '05 with Michael Hundgen '05; Kevin Collins '05, MEd'08; Grace Simmons Zuncic '05; and Liz Stowe Fennell '05
Watch Conor's story on WGBY Springfield
When we gathered on the Boston College campus to announce the first recipient of the BC Strong Scholarship last week, our hearts were lifted by the light that has warmed us in the wake of the 2013 Boston Marathon bombing. Today, we are proud to shine that light on sophomore Jack Manning '20 as the scholarship's inaugural recipient.

Hailing from Norfolk, Mass., Jack is a student in the Carroll School of Management. After losing his leg to cancer 10 years ago, he now volunteers to support and mentor young cancer patients who face the prospect of losing limbs.

The outpouring of support since the launch of the scholarship two years ago has served as a beacon for all of us on the BC Strong team, and especially for my wife, Jessica, and me. Since then, nearly 1,000 supporters have raised close to $400,000 to make this moment possible, epitomizing what the scholarship represents.

BC Strong is a testament to love in the face of hate—and an homage to the power of coming together as one. For Jack, it is a gift of what is possible, and we know that he will exemplify Boston College's great mission of educating "men and women for others" and continue to spread his own light into the world.

For us, BC Strong embodies the best the Boston College family has to offer: one indelible community greater than the sum of its parts, strong in voice, strong in heart, strong in light.

With deepest gratitude,

Patrick Downes '05 with Michael Hundgen '05; Kevin Collins '05, MEd'08; Grace Simmons Zuncic '05; and Liz Stowe Fennell '05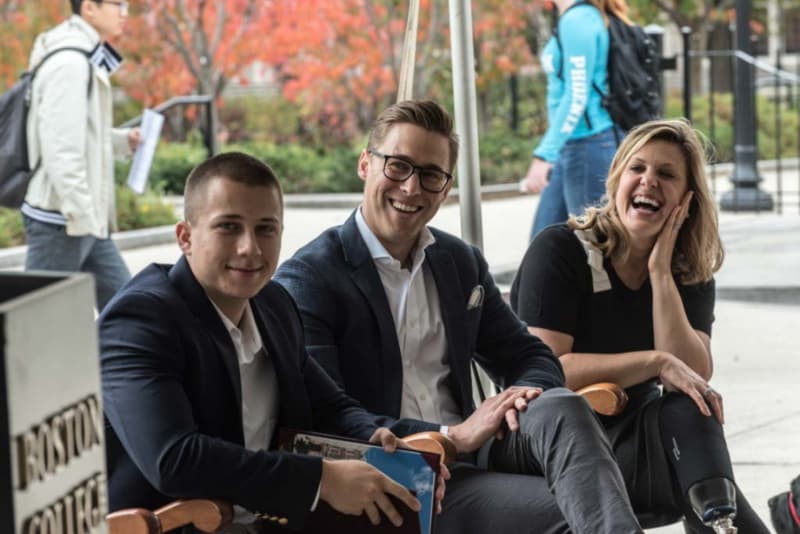 In April 2013, newlyweds Patrick Downes '05 and Jessica Kensky, while watching the Boston Marathon near the finish line, were caught in one of the two blasts that went off that day. Each sustained serious injuries resulting in amputations.
The couple, initially separated by rescue personnel and treated at different hospitals, remained strong. After being reunited, their love and dedication to one another was summed up in the media and captured the attention of the entire country.
In the wake of this tragedy, and despite an ongoing healing process, Patrick and Jessica have spent their time reaching out to others impacted by traumatic injuries, especially people who have undergone amputations and need support. They have used their influence and educations to advocate for better processes for amputees, better conversations among public officials regarding healthcare, and more.
Even the latest addition to Patrick and Jessica's family, Rescue, a NEADS dog who assists Jessica with everyday tasks from walking to fetching her phone to simply being there for a good hug, has caught the eye of the national media. It is no surprise that these two then seized on his fame to raise awareness for the impact of dogs such as Rescue in the lives of disabled Americans everywhere.
As family and friends of Patrick and Jessica, we want to honor their incredible dedication and resiliency. As part of the Boston College family, we look to them and see models of what it means to be "men and women for others." The Boston College Strong Scholarship, once endowed at $250,000, will live on in perpetuity in Patrick and Jessica's names. Each year, it will be awarded to an individual who exemplifies the same character and values as this amazing couple.
This scholarship fund was established by the Class of 2005 in honor of their friend and fellow classmate, Patrick Downes '05 and his wife Jessica Kensky, in the spirit of love they received in the wake of the 2013 Boston Marathon bombings. This gift will establish a scholarship for a student with demonstrated financial need and a physical disability; second preference for a student who exhibits qualities of compassion and service to the community; and third preference for a student who has overcome adversity. The scholarship has been endowed at $250,000, and we continue to raise funds.
---
For more information about the BC Strong scholarship, contact Elizabeth Webster, Director of Annual Giving Programs.