Telling the Boston College Story
Telling the University's stories is at the heart of what we do. University Communications keeps you up to date on Boston College news and events through its print and digital media platforms including the Boston College Chronicle, BC Update, BC News, and Boston College's primary social media channels.
Our news team of writers, editors, media relations, and social media professionals uses a strategic approach to determining the most effective way to reach University audiences, from students, faculty, and staff to alumni, parents, friends, influencers, external media, and the general public.

Our media relations team conveys University news and information, as well as the expertise and insights of Boston College faculty on issues of the day, to local, national, and international print, broadcast, and online news media.
OUC also responds to external media requests for information, interviews, or campus access, and, through the University Spokesperson, provides the official Boston College response to inquiries where appropriate.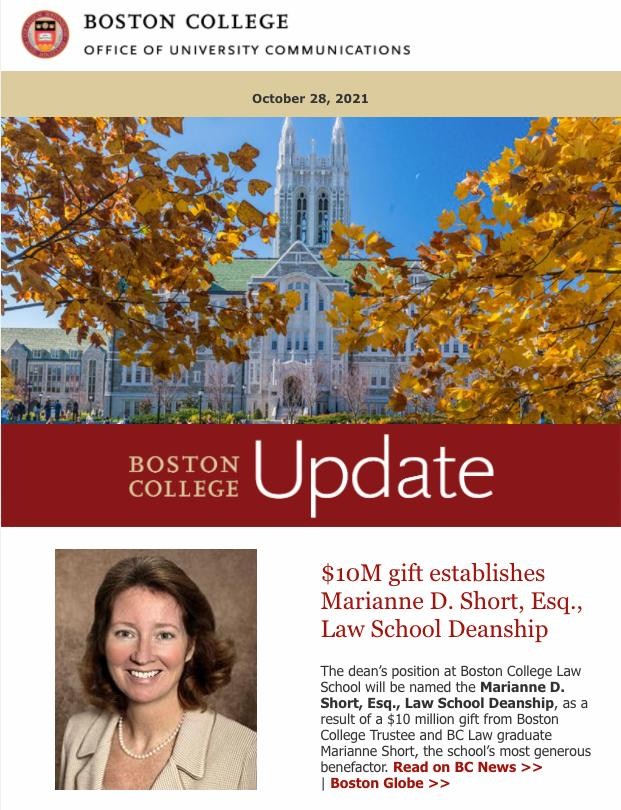 BC Update
Nearly every day, faculty, staff, and administrators find our UPDATE e-newsletter in their inboxes. UPDATE contains selected news items about BC, as well as other news relevant to the field of higher education. 
For Journalists

If you're a member of the media looking for information or access to Boston College, our media relations team is available to help print, broadcast, and web journalists in reporting on BC news; we also can connect you with faculty experts to provide insight and commentary on news of the day.
Faculty Media Training

Our media relations team offers faculty, staff, and administrators help as they prepare for interactions with journalists. Whether you would like to join our directory of faculty experts; are getting ready for an interview with a newspaper, television, or radio correspondent; or are considering writing an op-ed, our professional staff can help you clearly communicate your message.

Contact us for training
BC Bookmarks Blog
Literary news from the Boston College community
Ryan Stovall on how to talk to veterans

Former U.S. Army Green Beret Ryan Stovall will read from his first book, Black Snowflakes Smothering A Torch, at an October 4 event sponsored by BC's Veteran Programs an...
September 29, 2023
Social media influencers

Emily Hund, author of the book, The Influencer Industry: The Quest for Authenticity on Social Media (Princeton University Press, 2023), will offer a history of the rise to pro...
September 28, 2023
Mickey Rowe: Fearlessly different

Boston College's DeVoy Perspectives on Theatre Series will present a conversation with groundbreaking performer Mickey Rowe on October 4 beginning at 7 p.m. The event, free an...
September 25, 2023
Jack Dunn
Associate Vice President,
University Spokesman
Patti Delaney
Senior Director
Ed Hayward
Senior Associate Director,
Media Relations
Phillip Gloudemans
Associate Director
Kathy Sullivan
Senior Media Relations Officer
Rosanne Pellegrini
Senior Media Relations Officer
Sean Smith
Editor,
Boston College Chronicle
Alix Hackett
Senior Digital Content Writer